Oscar-Nominated "Cyrano" Costume Designer Massimo Cantini on a New Vision For a Timeless Tale
Cyrano (in theaters on February 25) boasts megawatt talent – notably, Peter Dinklage in the title role – but newly minted Oscar-nominee, costume designer Massimo Cantini Parrini, may be the film's secret weapon. Parrini has won a bundle of European awards, mostly for his work in his native Italy. He came to Hollywood's attention in 2020 when he was nominated for an Oscar for his costumes for Pinocchio, starring Roberto Benigni.
"Massimo's work is stunning," says Cyrano director Joe Wright, no small compliment from the man behind lush period epics such as Pride and Prejudice, Atonement, and Anna Karenina.
Like Pinocchio, the story of Cyrano has been told over and over and over. Edmund Rostand's play Cyrano de Bergerac was first performed in 1897. In the more than 100 years since, there have been dozens of retellings and adaptations in every major format – opera, radio, musicals, film, television, cartoons – worldwide. Playwright Erica Schmidt had written her own musical adaptation of Cyrano and was tapped by Wright to write a feature film about the oft-told, yet inexhaustible love triangle.
Parrini avoided looking at past Cyranos. "I do not want to be influenced by other people's depictions of that same theme… I did not draw inspiration from anything that was made previously," he says. "I only featured in my work what was the result of my vision and the director's vision. We worked together to concoct this essential way of designing the costumes."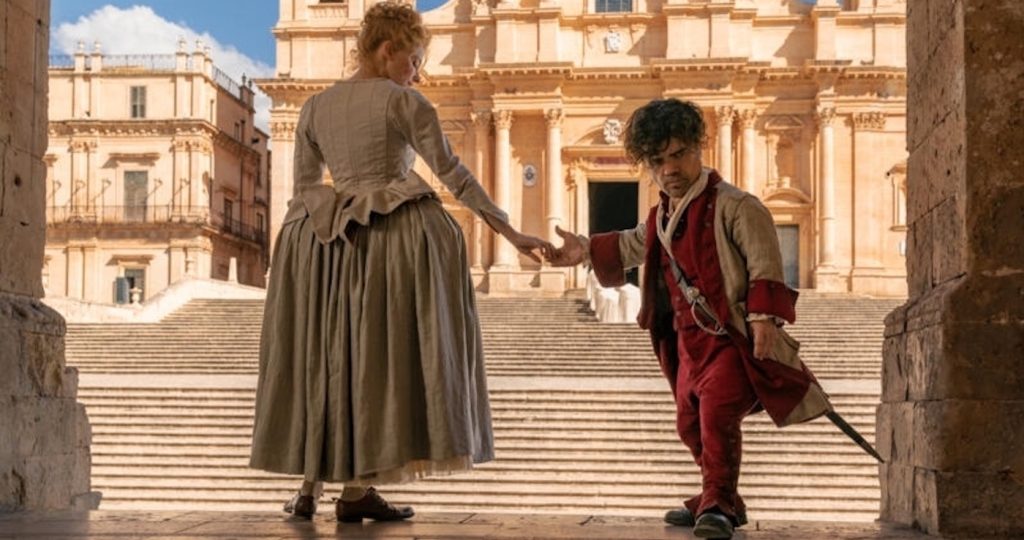 Although Rostand's play is set in the 17th Century, Wright and his creative team aimed to evoke 18th Century aesthetics, allowing Parrini to revel in the light, playful pastels of rococo. Another change: it isn't his large nose that Cyrano regrets but his 4-foot 5-inch stature. Otherwise, the story is familiar: Cyrano is a military officer in love with Roxanne (Haley Bennett). He believes that Roxanne could never love him because of his appearance, and he is right to worry. Roxanne keeps him solidly in the friend zone while falling for Christian (Kelvin Harrison Jr.), a gorgeous new-in-town soldier with whom she's never exchanged a word. Thus ensues the famous plot in which Cyrano feeds Christian the seductively eloquent words with which to woo her into marriage, to Cyrano's torturous regret.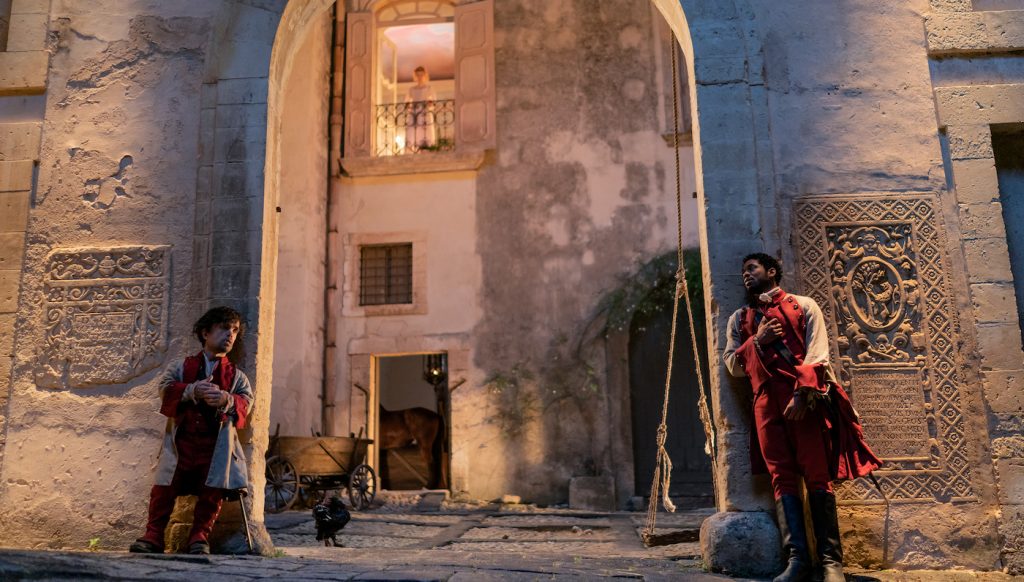 Cyrano is one of the great romantic, sentimental love stories. In conceiving of their 2022 retelling, Parrini and Wright recognized that, in our current moment, such a hoary tale would succeed through a "less is more" approach. "The love story is so powerful, that's what had to stand out. I thought that we did not need more than that – the great challenge here that I had to win or lose was that of eliminating and taking away rather than adding things," Parrini said.
Wright exploits the naked, sundrenched ruins and facades of the Italian hill town, Noto, where Cyrano was shot. Parrini, for his part, edited down and edited down his costumes. He explains with a note of pride that, remarkably, none of the aristocratic characters in the film wear any jewelry. Instead, their superior status is conveyed via layers of transparent or sheer fabric that emphasize or expose the rigid structures – corsets, bustiers, paniers – required for the silhouettes of the period.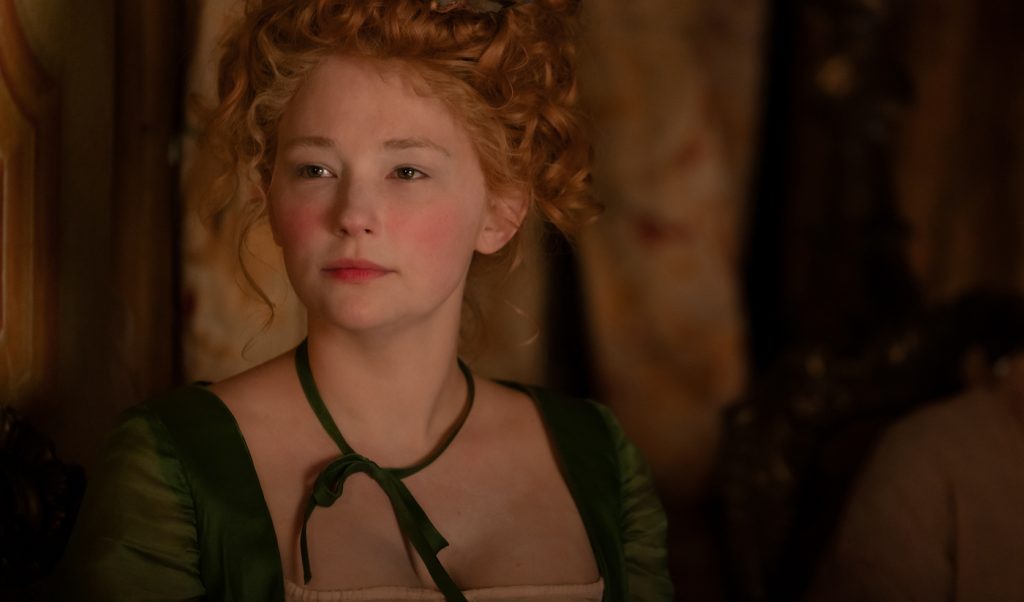 "In a way, I have designed my costumes as if they were an X-ray view of the costume itself, so you could see from the outside, the inside, the bones of the structure … this idea of modernity that we wanted to convey," he says. He adds, "It is practically impossible to use the same laces, the same embroideries that were so sumptuous at the time, the same fabrics – they are all gone. I thought it was far better to go to the essence and go to the bone in this literal sense."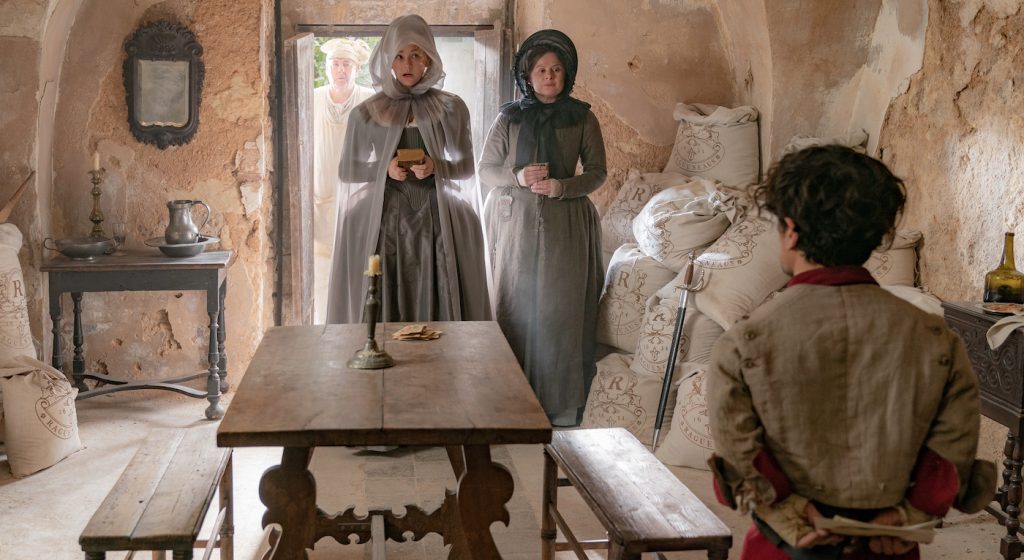 Parrini's concept also mirrors the preoccupations of Cyrano – the difference between who we are inside and out, and the cost of not reconciling the two. That said, Cyrano is, of course, still a romantic, often comedic, musical. It needs to stay light on its feet, literally and metaphorically. Despite the restrictions of period fashion, when the characters burst into song and dance, thanks to Parrini, their clothing appears light as a feather.
That lightness comes in part from fabric choices, for example, the use of Indian organza. "This is a special organza. The effect and appearance of it is incredible because it allows you to have this look which is both sheer and transparent, but still compact in its volumes. So when the actors move around wearing these costumes, it's as if a whole air bubble is moving around," he says.
Director Wright capitalizes on Parrini's choices– in the rousing women's anthem, "I Need More," the color and whoosh of the women's sleeves as they sweep their arms harmonizes theme, music, choreography, costume, and character. "I learned so much about the performance of numerous types of fabrics during the shoots of the dances, and so now, I really only want to work on musicals," Parrini says with a laugh.
One major challenge for Parrini was to engagingly dress hundreds of soldiers, including Cyrano and Christian, who wear their military uniforms for almost the entire movie. Parrini's solution: Buttons of varying colors and textures (depending on the uniform) at the seams of shoulders and the bottom of jackets, so that sleeves and coattails could be removed or added to create subtle variations. In one particularly beautiful number, "Someone to Say," soldiers dance with each other in the vest version of their uniform. The sheer fabric covering their arms gives their motions with a magical grace.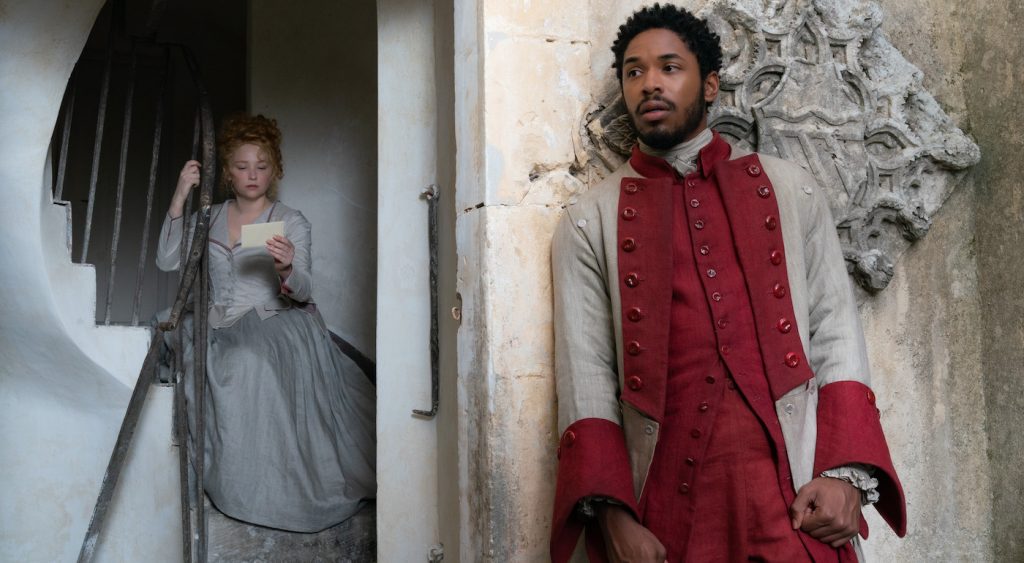 Parrini is a roll-up-your-sleeves craftsman. He and his team dyed hundreds of yards of fabric to get the right shade of red necessary for the soldier's uniforms. He oversaw the creation of some 700 costumes from scratch, rather than hiring from a costume house. Parrini's passion for his work is written on his face when he answers questions. Although he speaks English, he prefers a translator for English interviews. "I want to be as refined as possible when speaking about my job," he says. "I want this passion to shine out and shine through my words. I want to hold true to the passion that moves me."
With Cyrano, Parrini recognizes that he has reached a career milestone. His joyous constructions hark back to MGM's grand-musical tradition. One of Parrini's heroes was MGM's Gilbert Adrian, the legendary costume designer behind everything from Joan Crawford's signature shoulder pads to Judy Garland's ruby slippers in the Wizard of Oz. "In my idea of film and cinema, MGM is like the grande dame, like the Holy Mary of cinema… So for me, working on [Cyrano] was like a dream come true," he says.
Featured image: Haley Bennett stars as Roxanne and Peter Dinklage as Cyrano in Joe Wright's CYRANO. A Metro Goldwyn Mayer Pictures film. Photo credit: Peter Mountain. © 2021 Metro-Goldwyn-Mayer Pictures Inc. All Rights Reserved.