"Cyrano" Screenwriter Erica Schmidt on Adapting the Iconic Love Triangle for Film
It is one of the dramatic arts' most famous and heartbreaking love triangles: Cyrano de Bergerac, in love with Roxanne, who loves Christian and he her, aided in his pursuit by Cyrano's eloquent written and spoken words. Edmond Rostand's 1897 play about the brilliant wordsmith and his unrequited passion has been adapted over the past century-plus for many stages and screens.
Director Joe Wright (Atonement) is the latest filmmaker to tackle the tale with MGM's Cyrano (in theaters on February 25), a sweeping musical spectacular starring Peter Dinklage in the titular role, Haley Bennett as Roxanne, and Kelvin Harrison Jr. as Christian. Wright armed the project with a screenwriter who truly understands the story inside and out: Erica Schmidt. She had previously adapted and directed a stage musical about Cyrano de Bergerac, which Wright saw and which prompted him to approach her about working with him on a film version. He also wanted Dinklage, Schmidt's husband, and Bennett, who both appeared in her play, to come on board. The package included, as well, brothers Aaron and Bryce Dessner to compose the score and Matt Berninger and Carin Besser to pen the lyrics.
Though nearly derailed by the pandemic, cast and crew spent fall 2020 shooting safely on location in Sicily. Swiftly on course was Schmidt's screenplay, in which she modified Rostand's story in several ways, most notably regarding the lead character: Where Cyrano is typically visualized as a man with a large nose, here he is a man of short stature. What definitively remains the same are the story's underlying themes of values, virtue, and the ways we disguise ourselves.
Schmidt recently spoke with The Credits about transitioning from stage to screen, writing for Wright, and learning from her characters. Edited interview excerpts follow.
When did you first read the play by Edmond Rostand and what resonated with you?
I remember seeing the Gerard Depardieu film and loving it, and I read the play and I loved it. I was looking for something to adapt and Michael Gennaro (former president and CEO of the Papermill Playhouse in New Jersey) commissioned me to do an adaptation, to make it into a musical. I guess what I initially loved about it was the unrequited love, or requited but not in the way that is desired, and the emphasis on poetry and words and letters, and that really moved me. And also the comedy, I really loved how funny it was. And I like all the grand style, the swordfights and the big dresses. I just was really interested in all of that stuff and wanted to spend time in that world.
You had adapted and directed Cyrano for the stage, in a production at the Goodspeed in Connecticut, where director Joe Wright saw it. Tell me about when he approached you about writing the story for film and your first reaction to this opportunity.
Well, he saw it and he said, 'I want to make a film of your version of Cyrano, and I want you to write it and I want Haley and Peter to be in it.' I was really shocked, I was so surprised. I couldn't believe it, quite honestly. I still have trouble believing it. It was really wonderful to learn how to write a screenplay and to take these characters and this world that I love so much and continue to work on them in a different medium.
How was it working on the script with him?
We had a lot of conversations and went through every page of the script. He was very, very invested in every detail. It was kind of an amazing process. And then the pandemic happened. In June we'd been in lockdown for three months, and he called and said I think I can make this film happen in the pandemic and asked for the next draft. And I thought, 'That's mad but very exciting.' I wasn't working, I was home and I was like, yes, of course, let's do it. So I sent it to him 10 days later and he called me and said I think it's ready. I was really surprised, I assumed we would spend many months working on it more. He gave it to Working Title and then it was sold to MGM within a week, and then three months later in September we left for Sicily to start filming. So it was a very quick turnaround, all down to Joe really being very determined to make the film.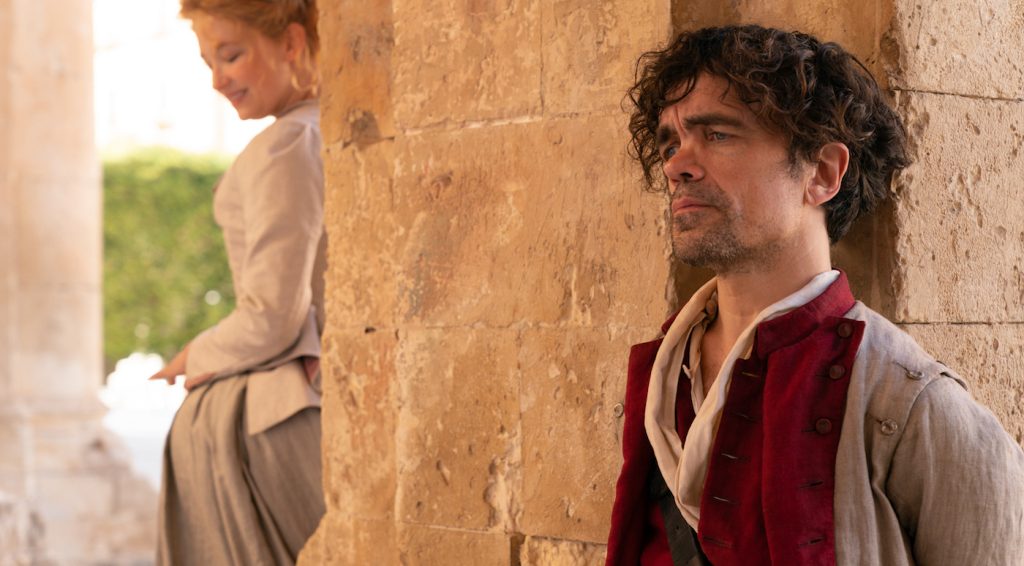 What was easiest and what was hardest in transitioning the story from stage to screen?
What was easiest was that world. I'd spent a lot of time working on the play and on Rostand's words and had looked at every version that existed out there multiple, multiple times. I loved the characters, and I had really distilled it way down to a cast of 10 and really focused on the love triangle. There were also certain big cuts that I'd made: Roxanne not arriving at the front, cutting the nose, and changing the end. What was challenging was that I had never written a screenplay before, so I had to learn the form, which is really, really daunting, especially when you're under the watchful eye of someone who knows it so well. That was a lot of pressure, but a great challenge. And then also writing something for someone else to direct. When I write or adapt, I do it in the theater to direct it myself, so to learn what I had done that Joe liked, what he wanted to see different, and what he was going to do in terms of the location and the kind of spectacle of it, while at the same time balancing Rostand's language and Matt and Carin's lyrics, balancing all of those things was challenging.
Much of the story is told through song. What impact did the music and lyrics have on the script?
Our theater production was a through-composed play with songs. The songs that are in the movie were in the play, but they're never intended to be for a traditional musical. They're much more their own thing, and I actually think that they're more successful in the film than they were on stage because you can continue the narrative story while they're being sung in the film in a way that you simply can't on stage. For example, the first song that Roxanne sings happens at the same time that she's journeying to the theater. It helps you to hear the songs and also feel that you're having a private moment with the character, while at the same time you're gaining all of this information. When I was writing what the action was within the songs, that was really, really joyful for me in the screenplay process, because it's something you could never do on stage in the same way.
You said in a featurette about the film that Peter is good with words. Knowing him as you do, did this capability influence the dialogue in the script at all?
Actually, not in the way you would think. The kind of verbosity that Cyrano has, he'll take an idea and then he'll restate it 36 different ways, which is part of what makes the character so wonderful, but Peter didn't have a lot of interest in that. So I had to really distill it down to the essence of what the character was trying to say, and then allow the songs to be the more verbose moments. We definitely worked on that when we were doing the play version. He wanted to talk less is the point (laughs).
You've lived with these characters for many years now. What have they taught you along the way?
Well, I'm really intrigued by the way that Roxanne and Cyrano allow themselves to live their whole lives within a beautiful lie. She wants so badly to believe in this fairytale and this beautiful dream, that the perfect package can deliver the perfect message and be exactly what she wants to hear. And Cyrano never has to really reckon with what it is to actually love someone. He puts her on a pedestal, and he's unwilling to ever trust her with the truth. I really admire the way Christian follows his own truth. He cannot live with the lie, he cannot abide the deception. He isn't an artist, he's a soldier, and to him, there's a right and a wrong. I think the essential conflict is, is it preferable to live in a beautiful deception, to allow there to be a false image of yourself, an idealized version, a curated version, a version that you think makes you lovable? Or should we agree that there's truth and there are lies and there's right and there's wrong, even if it kills us? I think it's a really interesting question that I have learned from the piece and that I kind of struggle with all the time.
Featured image: Peter Dinklage stars as Cyrano, Haley Bennett as Roxanne and Kelvin Harrison Jr. as Christian in Joe Wright's CYRANO A Metro Goldwyn Mayer Pictures film. Photo credit: Peter Mountain. © 2021 Metro-Goldwyn-Mayer Pictures Inc. All Rights Reserved.