Waves Writer/Director Trey Edward Shults & Stars Kelvin Harrison & Taylor Russell on Their Powerful Drama
From the moment the new film Waves had its premiere at the Telluride Film Festival in August, it started getting awards mentions. Touted were the emotional intensity and authenticity of the script by writer/director Trey Edward Shults, and the powerhouse performances served up by an ensemble cast that included stars Kelvin Harrison, Taylor Russell, Lucas Hedges, and Sterling K. Brown. The story centers on the members of one South Floridian family, and how their personal challenges lead variously to trauma, grief, forgiveness, and redemption.
Teen siblings Ty (Harrison) and Emily (Russell) experience the pressures of high school and first love very differently, but they depend on each other for unconditional support and comfort, no matter what faces them. This connection has been made in part by experiencing the loss of their mother, and through taking direction and criticism from their stern, exacting father (Brown), who loves them, but exerts a lot of pressure to succeed and maintains high expectations from the children he cherishes.
Sometimes panic-inducing, sometimes heartbreaking or transcendent, Waves is a wild, visceral ride. When The Credits interviewed Shults, Harrison, and Taylor about the film at the Middleburg Film Festival, the writer/director spoke first about his subjective use of camera work, music, and lighting to amplify the emotional underpinnings of the film. Shults explains, "I think one of the amazing things about cinema as an art form is you can live through someone else's eyes. You can live through someone else's spirit. Everything I'm doing in the movie cinematically is just to bring you closer to understanding these kids."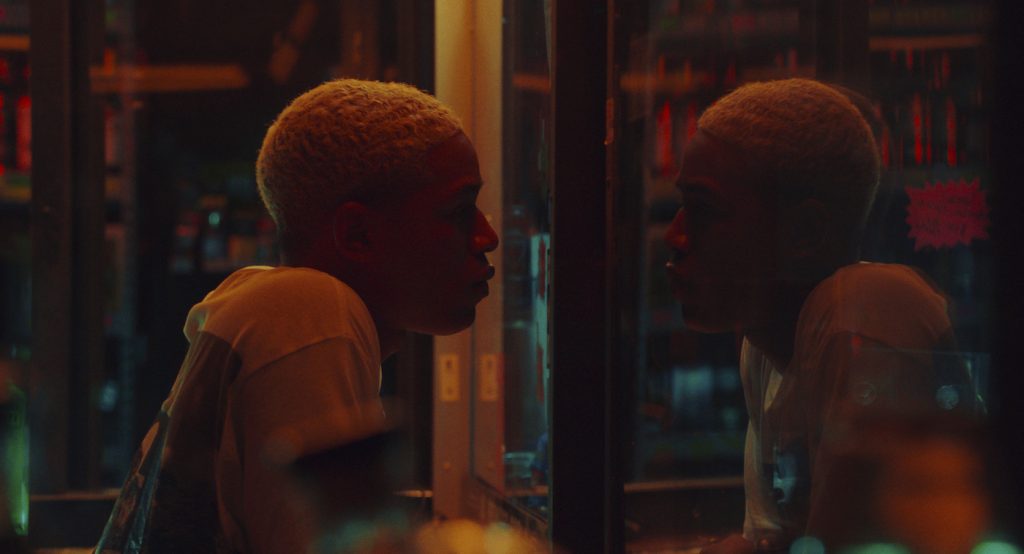 Shults integrates a lot of elements to express the inner world of both Harrison and Russell's characters. He continues, "We're playing with aspect ratios, camera movements, colors, and music, and all of it is just meant to be honest. It doesn't exist just for itself, but is doing what is most true to their spirit, and where they are at that time. Whether that's the camera spinning in the car because that's what that kind of love feels like, and that kind of moment as a teen feels like, or it's a camera locked off, and Emily is walking back in shallow focus, isolated in her environment, because that's how her world and her grief feels like, it's all in service of that. The movie is opening up, and then closing in and kind of consuming you, and then hopefully it's slowly opening back up again. Everything is part of that and the arc of the journey."
The contribution by composing team Trent Reznor and Atticus Ross was also based in emotional authenticity, and articulating the experience and mindset of the lead characters. Even though they were coming into the project knowing the script already had 30 preexisting songs, including a number by Frank Ocean, Shults says the two were excited to navigate that and create a difference with the score.
"Part of the focus was the score feeling like the subconscious of the characters coming out, and the music linking to their spirits. That's why they were so interested in using the sounds of the environment musically. Sometimes it's the kids' voices, or the train, or wrestling sounds, or nature and the outside world," Shults says. "It's sort of manipulating that, and using it as music, and that's combined with some very simple, beautiful piano melodies that we felt would work with it."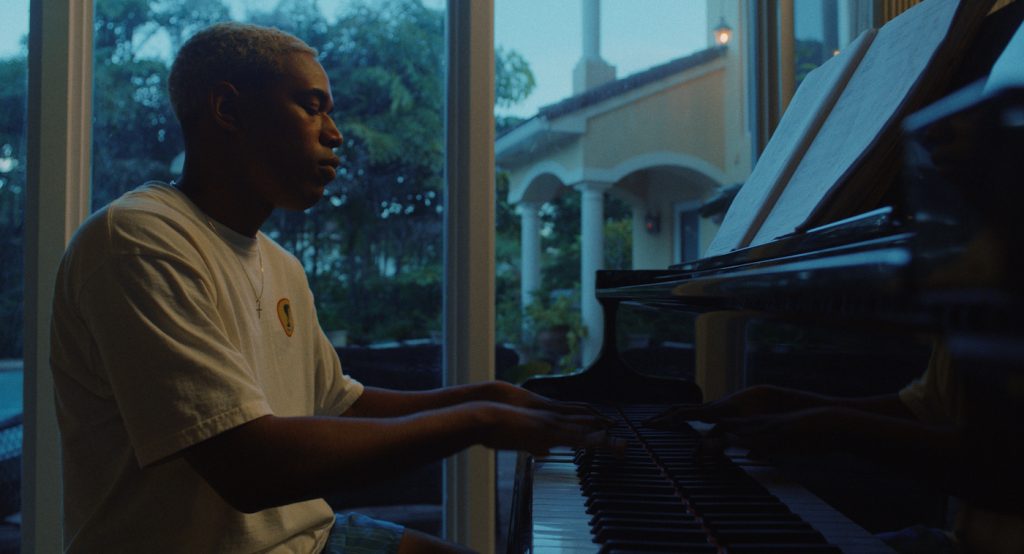 The composers gravitated towards Ty because the character plays piano early on in the film, and that, explains Shults "felt like we were leading off with his spirit. Anytime is was simple piano, with this sonic soundscape score thing they were doing, it meshed together, and it just felt right. That transferred to a link between these two because I feel like that's what happens in the movie, a sort of transference. It was all those things together that helped enhance what was happening onscreen."
For his part, lead actor Harrison had the challenge of having to play a character on a frenetic downward spiral. The audience sees a really intense young man going a mile a minute. Asked how he kept himself anchored to his calm as an actor during his performance, he recalls, "There was no centering myself during the movie. That was the biggest issue, but I asked Trey a lot of questions, and he was so nice to take the time and go through every beat." Harrison goes on to say, "I remember Natalie Portman said about working with Mike Nichols on Closer that he liked to 'name the moment.' For everything in working with Trey, I'd say 'this is the moment when he's feeling the freest, and his life is on 10 and he's feeling beautiful.' 'This is the moment when my dad betrays me.' 'This is the moment when I feel abandoned.' 'This is the moment when Emily serves as my mother.' It's understanding what these things do for him, and where it goes. He's a moment-based person. He's not thinking very far ahead, he's very present."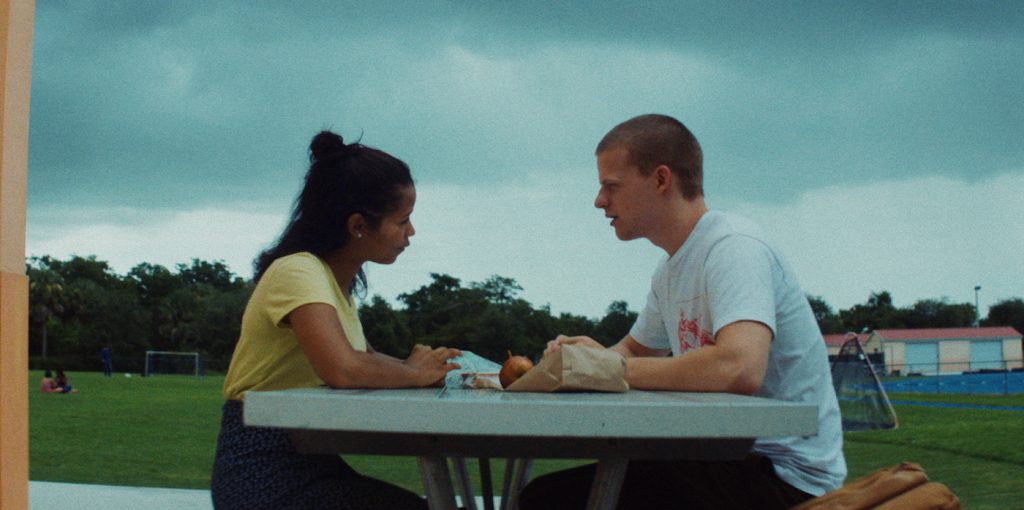 Relative newcomer Taylor Russell holds up the second half of the film as a teen girl at once grieving, and finding first love. Still, the film resonates most with viewers in the powerful scenes in which she partnered with Harrison. She relates how they built such a believable connection between brother and sister, in what proves to be one of the most moving scenes of the film. "We talked about our relationship as siblings a lot right when I got the part, because Kelvin had already been attached a long time, and had helped develop the story with Trey. When I came on, I think we were both really excited to delve into what our relationship looked like, what it meant, and what we wanted to portray with these two characters. For that scene, we hadn't talked before that day, and when I came in to do it, I was really shocked at how it progressed. It was much more intense than I thought it would be." About the pivotal scene, Harrison adds, "I think we both had so many feelings to give to each other, because we had established that bond and what those two siblings had experienced beforehand. There's so much backstory with the two of them and their history."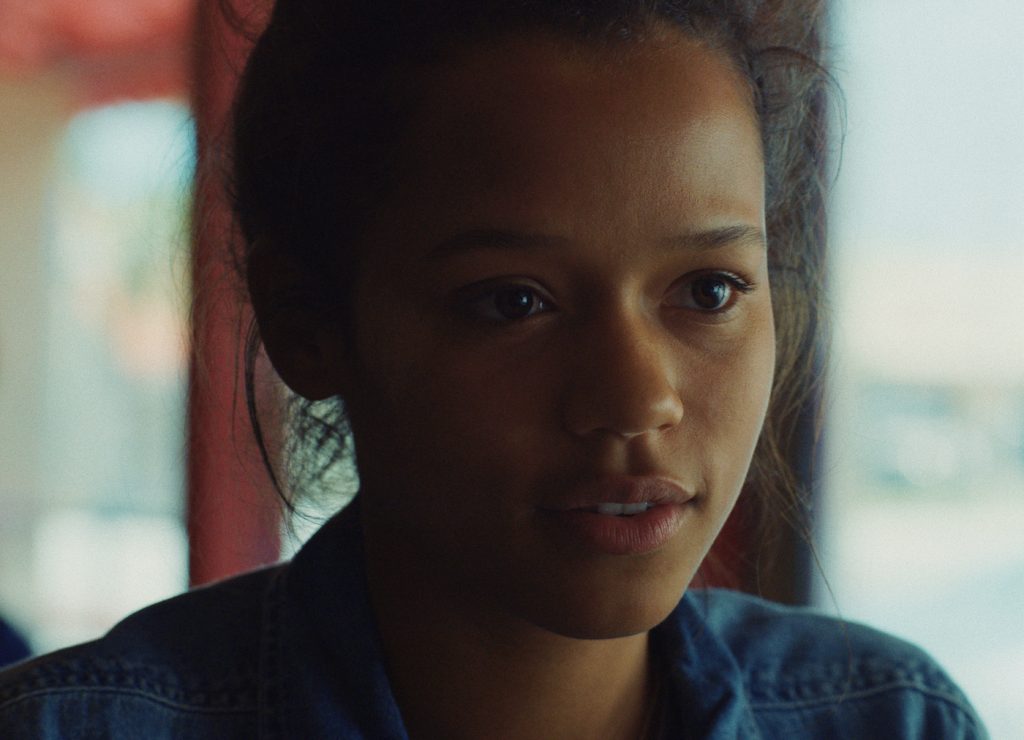 Though written and directed by Shults, who is white, the story is about a family of color. It grew out of conversations between himself and Harrison, whom he had worked with before, and wanted to have star in his next film. Waves is the result of what Shults calls '"a really humbling, amazing, beautiful collaboration." He explains, "A lot of things in the movie I have lived, or my loved ones have lived, so that felt really good starting from an ultra-personal place of knowing this story, and knowing these people, but race was a huge, new element. It was collaborating with Kelvin, and looking outside of my own shoes and understanding that experience, and just trying to do justice to it, and be honest and authentic that made the movie what it is." Adds Harrison, "He wanted to tailor a role for me, because he wanted to work with me again, which was beautiful because he believed in me. Then suddenly, as we were talking, we realized we related. Trey's experiences felt familiar. It goes beyond race. You don't find that without getting to know each other. It wasn't about making something more black. We share a middle-class family and a similar upbringing. It just became nuance at that point."
Waves is in theaters now.
Featured image: Kelvin Harrison Jr., Taylor Russell, Sterling K. Brown, Renée Elise Goldsberry. Courtesy of A24