"Spider-Man: No Way Home" & The Character Sharing Deal That Lets Spidey Swing From Sony to Marvel
With the reviews out for Spider-Man: No Way Home and the resultant excitement and buzz from all the good news they've generated, a helpful bit of explanation was offered by Sony Pictures chairman and CEO Tom Rothman about both Tom Holland's future as Peter Parker and the Sony/Marvel Studios crossover situation. For those of you who haven't been keeping tabs on the confusing corporate legalities that make it feel as if Spider-Man's place in the Marvel Cinematic Universe is always hanging by a thread (apologies), this new information from Rothman might clear things up you haven't even been worrying about. For the rest of us, how exactly Spider-Man fits into both Sony's Spider-Man Universe and the MCU is something we'd like unpuzzled once and for all.
The confusion has been long-standing, but let's just deal with recent news. Sony's Amy Pascal revealed that the studio had a whole new trilogy in the works for star Tom Holland. This was great news for the legions of fans who have delighted in Tom Holland's portrayal of Peter Parker, which, according to critics, is at its best in No Way Home. Yet Holland's Spidey has, of course, swung over to the MCU to appear in Captain America: Civil War, Avengers: Infinity War, and Avengers: Endgame. The new trilogy reveal was surprising because it meant Holland's version of Peter Parker would also be a big part of the MCU going forward.
Then the aforementioned Sony Pictures CEO Rothman threw some lukewarm to downright tepid water on the notion, telling Variety this: "My dear sister-in-arms, Amy, is a very optimistic person. That's what I will confirm. The reality is nothing is set. Nothing has been determined. But on the other hand, everything is still possible."
Now, however, Rothman has sounded a much more upbeat tone, and he's explained a character-sharing deal between Sony and Marvel that explains how Benedict Cumberbatch's Doctor Strange can appear in No Way Home, and then Holland's Spidey swings off into an MCU film. In an interview with ComicBook.com, Rothman clarified all of this. Mostly.
"It's reciprocal," Rothman said of the relationship between Sony and Marvel Studios. "So we lend one [character], and they lend one, and that's how Benedict [Cumberbatch] is in this movie. So we have one more 'lend back' that's committed. But the thing that I can say, and this [is] actually the accurate scoop on this, which is that the two companies have a terrific working relationship. I think it's a mutual hope that that would continue. But there really isn't anything definitive at this moment, because the truth of the matter is, we gotta ride [Spider-Man: No Way Home] and see what happens."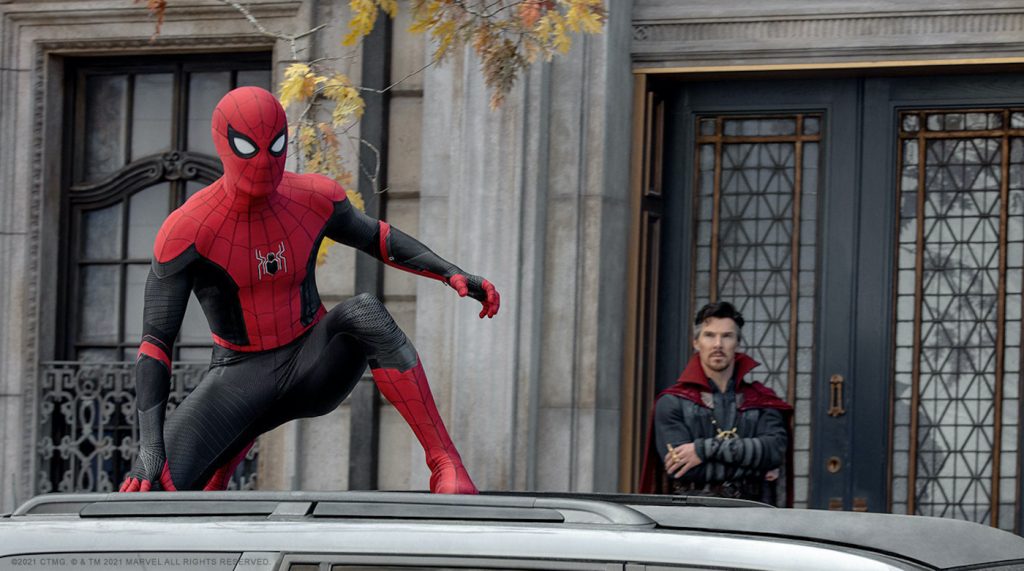 It's still a somewhat guarded statement, but then again, it offers the intriguing concept of the two studios doing a very clean lending program, one-for-one. Rothman also says that Sony has one more "lend back" to give to Marvel, which suggests Peter Parker could appear in, say, Sam Raimi's upcoming Doctor Strange and the Multiverse of Madness. This would make all sorts of sense, considering Doctor Strange is such a big part of No Way Home. He's goaded into helping Peter try to erase the memories of everyone who knows he's Spider-Man and ends up unleashing the multiverse that sends villains from Spider-Man movies past, including the Green Goblin (Willem Dafoe) and Doc Ock (Alfred Molina) from Sam Raimi's original Spider-Man and Spider-Man 2, respectively.
For now, we have an embarrassment of Spider-Man riches with No Way Home swinging into theaters on December 17. We're sure of one thing, as long as these films keep drawing massive audiences and delighting fans, Sony and Marvel will figure out a way to make the situation work.
For more on Spider-Man: No Way Home, check out these stories:
"Spider-Man: No Way Home" Review Round-Up: Most Thrilling Marvel Film Since "Avengers: Endgame"
New "Spider-Man: No Way Home" Footage Gives Glimpse of Green Goblin's New Suit
"Spider-Man: No Way Home" Snags Record Advance Ticket Sale
A New Spider-Man Trilogy Starring Tom Holland is Happening
Villains Reign Supreme in New "Spider-Man: No Way Home" Images
"Spider-Man: No Way Home" Official Trailer Reveals Even More Villains
New "Spider-Man: No Way Home" Poster Reveals the Green Goblin
Featured image: Benedict Cumberbatch is Doctor Strange and Tom Holland is Peter Parker in Spider-Man: No Way Home. Courtesy Sony Pictures.