"Don't Look Up" Editor Hank Corwin on Cutting The End of the World
Editor Hank Corwin has a natural shorthand with Adam McKay. The duo has worked on a trilogy of films together plating the collapse of the 2008 real estate market in The Big Short, framing the power of Dick Cheney during his White House tenure as VP in Vice, and now with Don't Look Up, they poignantly question our modern human condition under the guise of an end of the world satire.
The Big Short and Vice both earned Corwin Academy Award nominations, in part, from the trust they built in the cutting room. With Don't Look Up, Corwin admits their styles have completely rubbed off on each other as they share similar rhythms, but at the end of the day, "the performances dictate everything."
In Don't Look Up, there's a bevy of acting to be entertained by which the editor began to finesse as shooting got underway. The film follows two astronomers – Leonardo DiCaprio as Dr. Randal Mindy, a twitchy astronomer and family man, and Jennifer Lawrence as Kate Dibiasky, a smart, tough grad student – and their discovery of a planet-killing comet that's destined to end life on Earth in six months' time. After bringing their findings to the White House, the president, (played by Meryl Streep) and her chief-of-staff and son (Jonah Hill) shrug off the danger as they have more important needs to attend to – like pushing through a controversial Supreme Court nominee.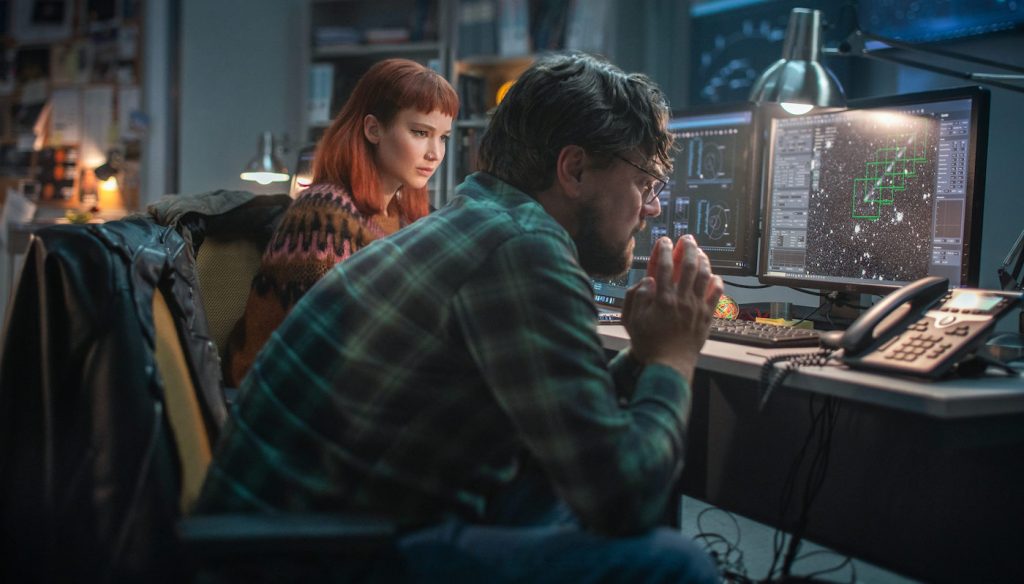 On its face, there's a lot to laugh at – especially the punchy one-liners from Jonah Hill – but below the surface, there are more serious messages at work: climate change, our obsession with pop culture and social media, our aversion to facts and the unwavering interest of big tech. Corwin says the hardest part of the film was "figuring out the tone" and "how funny was funny." "I didn't even want this to be a comedy," he says. "This is one of the greatest tragedies ever, if not the greatest. I always saw the film as an opera and that became my subtext."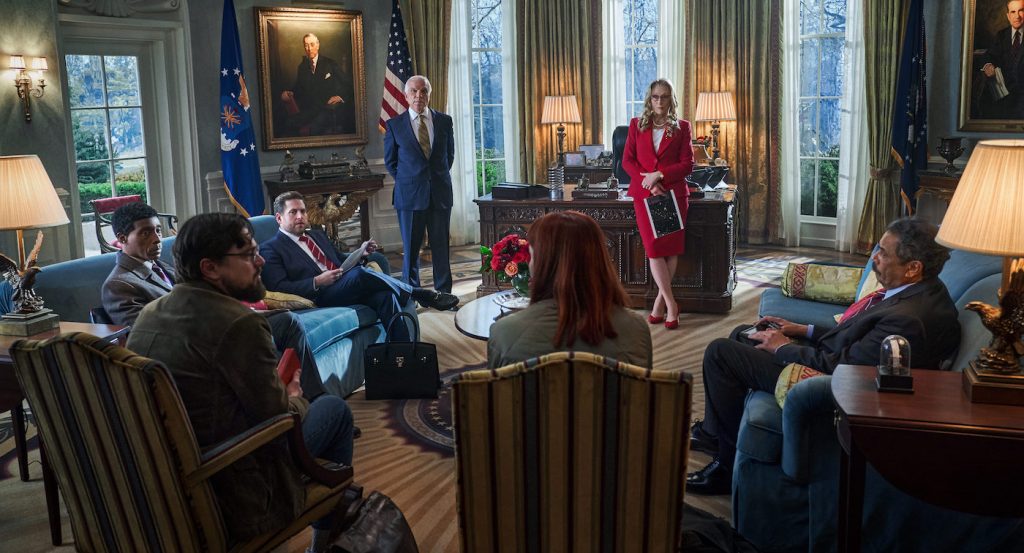 Corwin says the superb performances from the cast made his job easier to zero in on the layers of subtleties. But even with a career that dates back to Oliver Stone's Natural Born Killers, and having edited a number of high profile actors, he confesses he's hesitant to work with big movie stars as he can "lose the character" and find himself looking at the bold faced name. But with DiCaprio, "Leo disappeared" and "he became this nerdy, Midwestern scientist." "He really knew his character," says Corwin. "Not only did he know his character, he knew his arc and he was always very true." For Jennifer Lawrence's Kate, she was the yang to Randal's yin. "This may sound nuts but she was like a suffering Madonna. I just fell in love with her character and she would be a counterpoint for Leo," Corwin explains.
No scene demonstrates their dichotomy more than when Randal and Kate appear on The Daily Rip, a topical news show in the vein of CNN or Fox News hosted by characters played by Tyler Perry and Cate Blanchett. It's here DiCaprio's Dr. Randall Mindy sheds his anxiety-ridden personality and becomes the "hot scientist" and talk of social media and Lawrence's once cool and calm Dr. Kate Dibiasky becomes an emotional fire hydrant over the fact that no one wants to take them seriously that the world is about to end.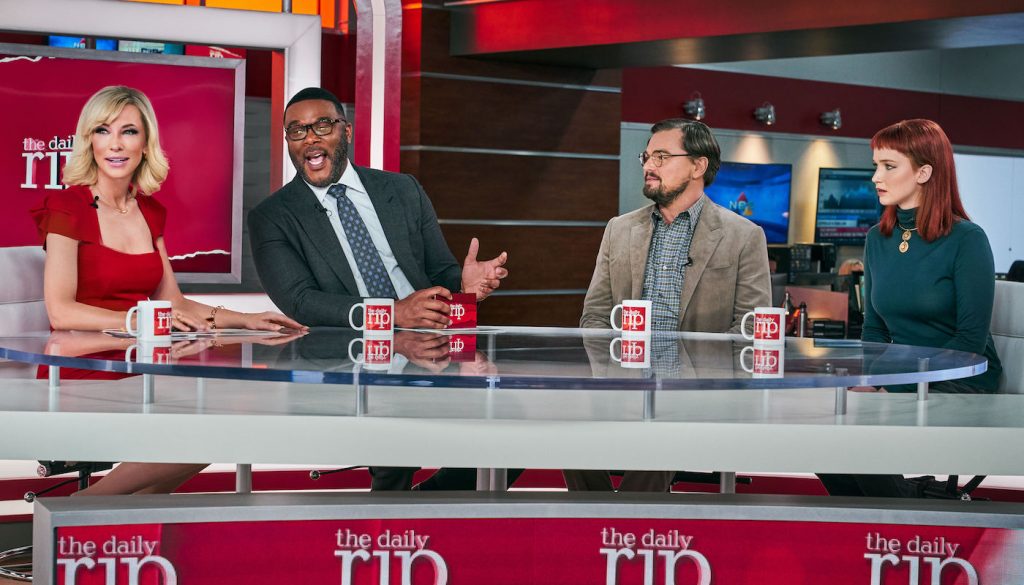 As the comet conversation grows there's a division of belief. Some don't think it is real while others do. Corwin emphasized the duality by inserting a number of static nature shots – hummingbirds, buzzing bees, a mothering hippo – as a way to represent the truth. "There's always this subtext of the common man or the suffering person in the film. And we have the truth being a little stream flowing into this mass of media that ultimately gets lost and there are so many interpretations. Adam and I always saw the truth in the natural world," Corwin says. "You don't interpret a wave sliding onto a rock. It just is."
Channeling the correct tone was important, especially for the front half of the film which played more comedic. It isn't until later when the comet makes its appearance in the sky that the tone pivots to a more serious side. "If the tone was too dour early on, you wouldn't have the counterpoint at the end," he says. "It wouldn't be as effective if the film was too funny or too slapstick. It would upend the whole thing."
When the pending doom becomes an unquestionable reality, Randal, along with Kate, head back home to be with his family. "The movie turns and becomes a spiritual quest," Corwin points out. "It goes from this comedy to this very beautiful, very poignant and obviously very sad moment. To me, it's sort of a manifestation of how fragile we all are and how ultimately we are confronted with the truth, everyone deals with it in a different way. I just love that part of the movie."
Don't Look Up is in theaters now and heads to Netflix in the U.S. on December 24.
For more on Netflix titles, check out these stories:
"Power of the Dog" Cinematographer Ari Wegner on Finding the Light in Jane Campion's Mythic Western
"Passing" Writer/Director Rebecca Hall On Navigating the Complicated History of Racial Identity
Cinematographer Alice Brooks Makes "tick, tick…BOOM!" Sing With Personal Memories
Featured image: DON'T LOOK UP (L to R) LEONARDO DICAPRIO as DR. RANDALL MINDY, JENNIFER LAWRENCE as KATE DIBIASKY. Cr. NIKO TAVERNISE/NETFLIX ©