"Being the Ricardos" Costume Designer Susan Lyall on Capturing Lucy & Desi's Many Lives
Being the Ricardos takes us back to the days of I Love Lucy for an intimate, behind-the-scenes look at its stars, Lucille Ball and Desi Arnaz. Written and directed by Aaron Sorkin and starring Nicole Kidman and Javier Bardem as the iconic TV couple, the film delves into such sensitive subjects as Arnaz's infidelity, Ball's pregnancy, and the turmoil that ensues when columnist Walter Winchell alleges that Ball is a communist.
Being the Ricardos also took costume designer Susan Lyall to another place — a warehouse in New Jersey. Wanting to stay true to the era when the film's action takes place, the New York-based costume designer needed materials more common during the 1950s. "Finding fabric is really a joy for costume designers," said Lyall during a recent Zoom conversation. "I always say that it's all in the hunt —  that's the name of my memoir!"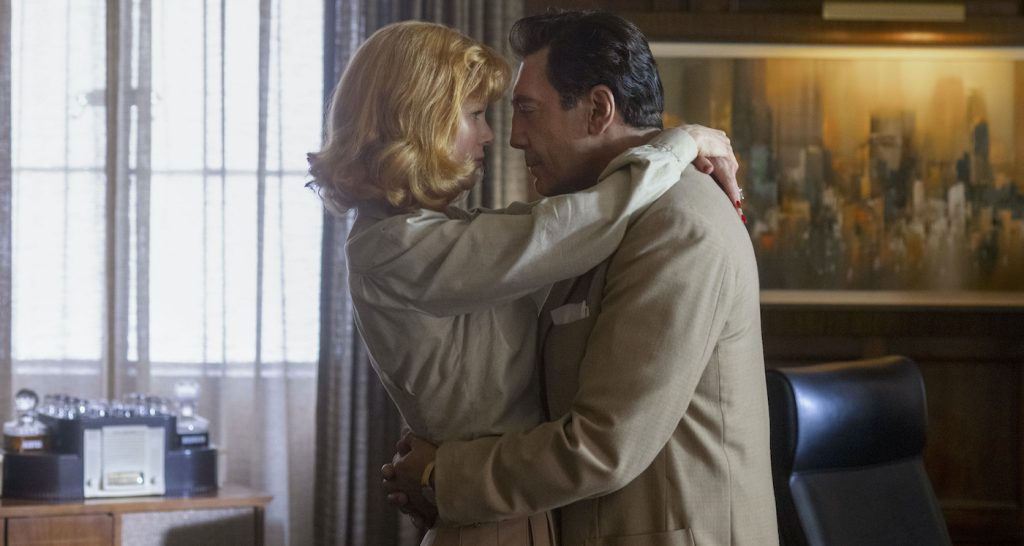 When Lyall put out the word, B&J Fabrics, a local family-owned business, answered the call. It had just received three truckloads of fabric from a chain of recently-closed stores in Florida. After learning the inventory dated back decades, Lyall set out for B&J's New Jersey warehouse.
"It was like being a kid in a candy store," continues Lyall. "It was very early on and I hadn't really started the sketching. I was formulating the big idea."
That "idea" was to design a look that fed the film's emotional roller coaster. Unfolding during one week of filming of the hit TV series, Being the Ricardos begins on Monday with the table read and follows through to Friday night's filming of the show.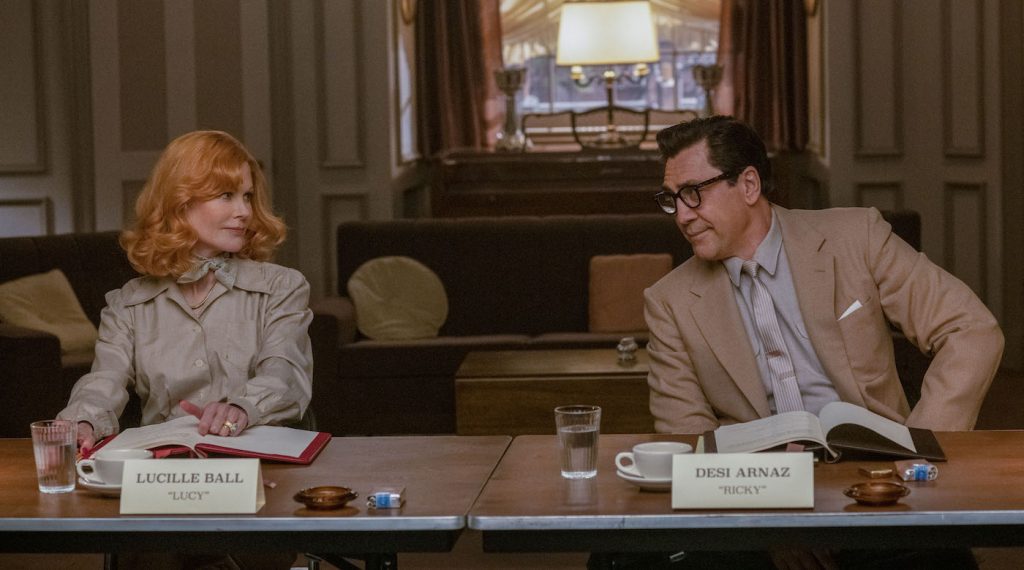 The story opens with a bang with the accusation that Ball is a communist. Taking some dramatic liberties with the timeline, Sorkin layers in the news that the couple is expecting. Arnaz wants to make it a plot point of the show — a concept unheard of during the 1950s. Looming throughout are the couple's mounting marital woes.
Lyall wanted the costumes to accentuate the characters' feelings. The first step was to absorb the script. Having worked with Sorkin before on Molly's Game (2017) and The Trial of the Chicago 7 (2020), she understood the nuances in his writing were the key to her wardrobe choices.
"The script takes place over five days. You need to know each day what's going to happen and where you want to place certain costumes," Lyall explains. "We start the story with a big meeting in the office because of the Walter Winchell broadcast. I know that Lucille and Desi need to come in strong. They come in as a team and present themselves as the boss. They need to inspire their cast and crew — show them that everything's going to be alright. "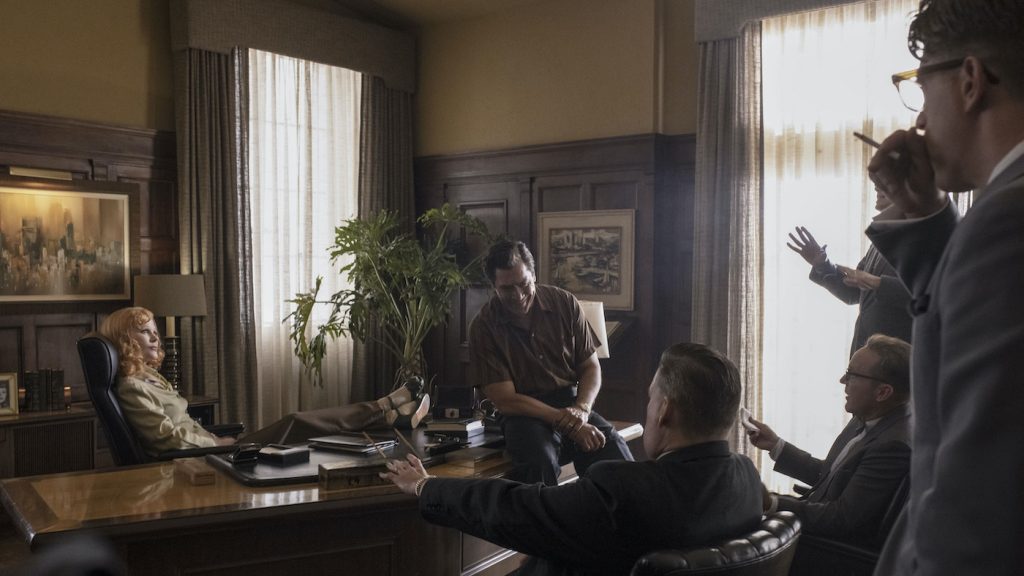 A series of flashbacks factored into the decision process. Interwoven throughout Being the Ricardos are scenes from the 1940s that show how Ball and Arnaz first met, the evolution of their relationship, and how Ball's career path led to I Love Lucy and TV stardom.
"You also want to know in the course of that story day when there is a flashback, how it coincides with what it's flashing from and how it leads back into their present," continues Lyall. "You need to accommodate the design of the flashback within the design of the current day. It's important to know all those elements —  to make sure you don't get lost somehow and just throw some little costume island out that doesn't connect in some way to the whole story."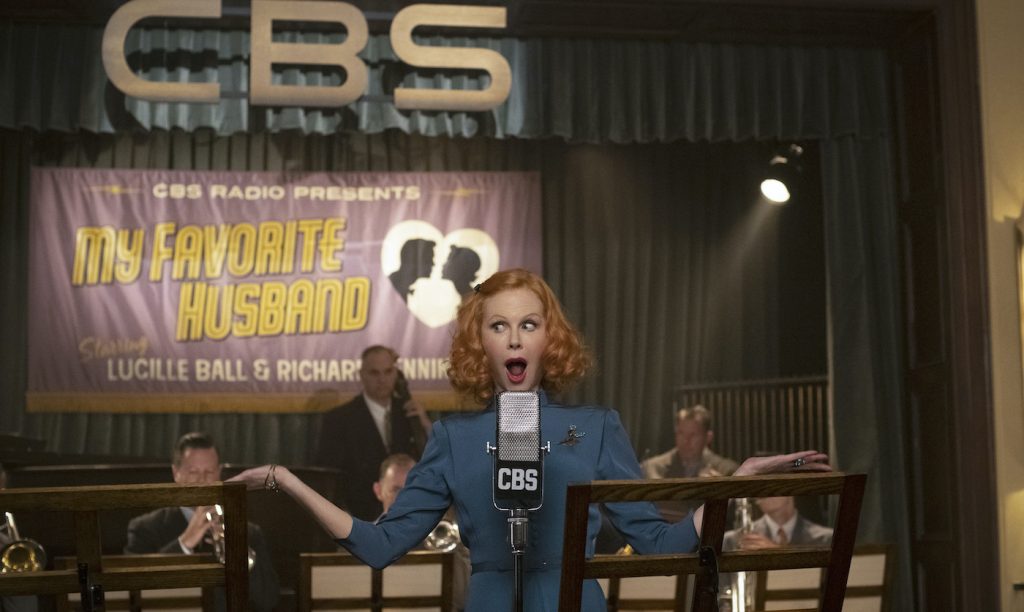 Lyall estimates she created approximately 28 original outfits for Ball's character and 21 for Arnaz. Her fabric choices were era-appropriate — wool, cotton, silk. She avoided synthetic fibers whenever possible.
Being the Ricardos also highlights how Ball's comic genius and Arnaz's keen business sense contributed to the success of I Love Lucy.
Feeding off this idea, Lyall dressed Ball in trouser-like outfits to exemplify her strength. "It was a time when women started to break out of wearing dresses all the time and I would say that Lucille had a lot to do with that," says Lyall. "It took a long time for it to be common for women to wear trousers. That was an important moment in the late 40s or early 50s."
Power suits were used to give Arnaz an air of authority. Lyall's favorite was the one he wears at Thursday's dress rehearsal and then again to address the live audience before Friday's taping. "It's a mixture of mohair and wool that was very popular in the '50s, a kind of blue that is really hard to find," she says. "I worked with a tailor who's very good at fabric history."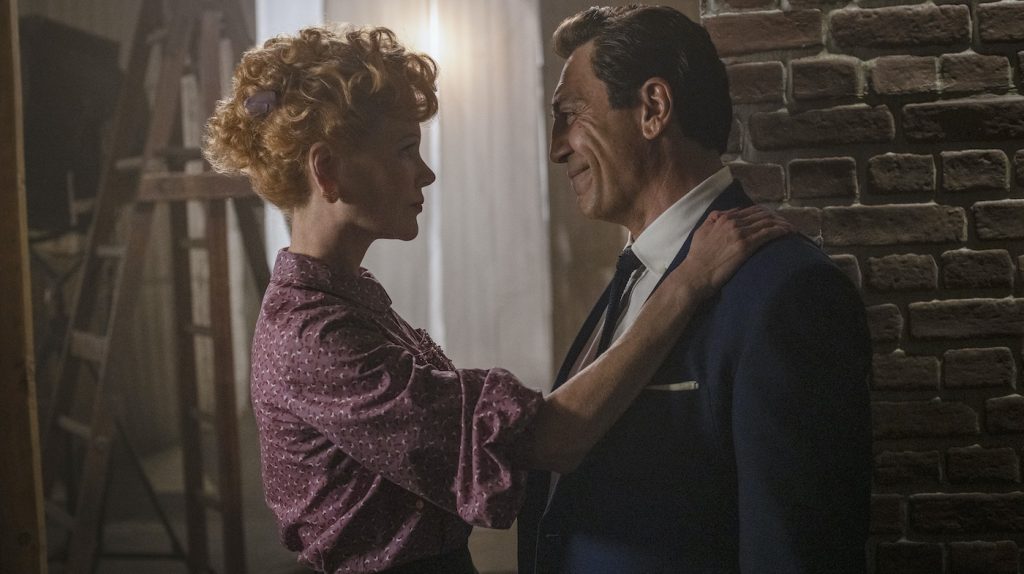 Equally as important was emphasizing Ball's sex appeal. Sorkin wanted the audience to see how beautiful and glamorous she was when she wasn't clowning it up as Lucy Ricardo.
Two of Lyall's favorite designs do just that. The first is an orange striped silk blouse. "I thought it was the most beautiful color and it was so subtle," she says. "I don't know. It just worked so well."
The second outfit is a striking, quilted, gold dressing gown that Ball wears in a poolside flashback where she plots her next career move. "That fabric was so beautiful," continues Lyall. I was desperate to have her wear that same dressing gown when she walked through the rain. But I only had enough fabric for one and you always have to have multiples. So, unfortunately, she couldn't wear it in the rain. But it was so beautiful."
Of course, it didn't hurt to have Kidman playing Ball. Lyall was thrilled at the design possibilities it presented. "She was quite a dream option for me," she adds. "When you have Nicole Kidman, you can pretty much put anything on her and it's going to look right. She can really wear just about anything. No color is bad on her."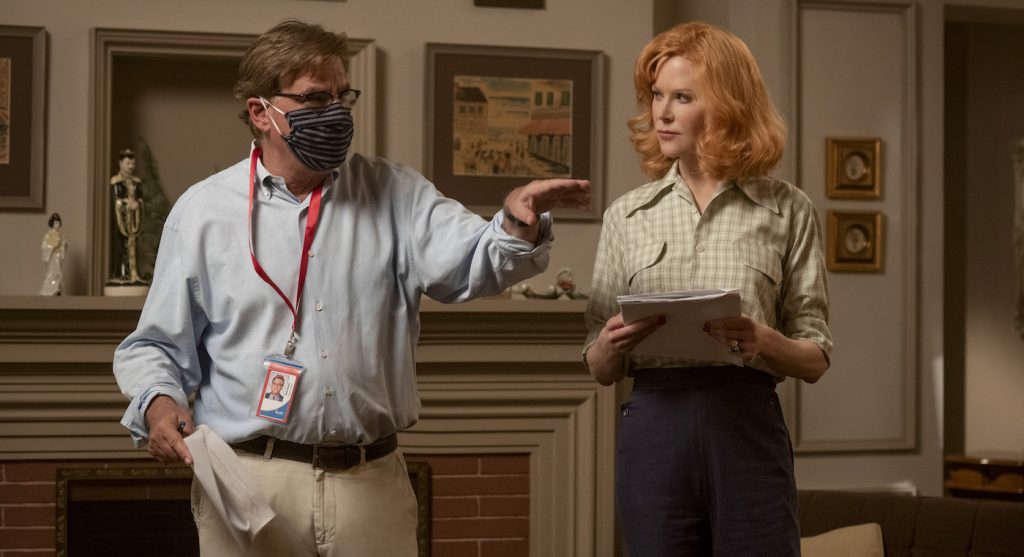 Lyall choices for Bardem included a lot of loose, free-flowing clothing that she describes as California cool. "It just looked great on him," she says. "And it helped to make him look more like Desi."
Lyall also added Cuban heels to the look. She was hesitant at first, knowing they'd make Bardem look taller than Arnaz. But they were a staple of Arnaz's wardrobe and she felt it would help Bardem find his inner rhythm. As soon as he put them on, she knew she had made the right choice. "He just immediately got light on his feet and started dancing around the room," she says."He loved them. We basically put them with every costume."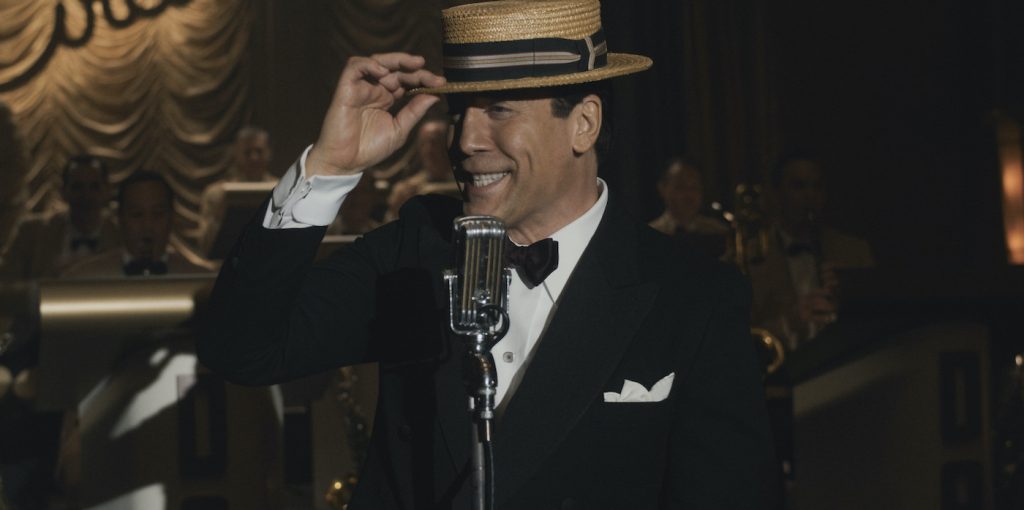 Having just watched the film for a second time, Lyall is thrilled with the end results. Not that she had any doubt. As soon as she was offered the project, she knew it was going to be something special. What gave it away? "The title," she answers. "Because it can only be about one thing and it's going to be great."
Being the Ricardos premiered in theaters on December 10 and debuted on Amazon Prime Video on December 17.
For more on Being The Ricardos, check out these stories:
"Being the Ricardos" Cinematographer Jeff Cronenweth on Blending Period & Modern Techniques
"Being The Ricardos" Hair Department Head Teressa Hill on Wigs Done Right
Aaron Sorkin on Having a Ball Making "Being the Ricardos"
Featured image: NICOLE KIDMAN stars in BEING THE RICARDOS Photo: GLEN WILSON © AMAZON CONTENT SERVICES LLC