Aaron Sorkin on Having a Ball Making "Being the Ricardos"
You might think the opportunity to write a film about the legendary Lucille Ball would have been irresistible for Aaron Sorkin, but he wasn't immediately convinced. "It took me about 18 months to say yes, to commit to it," Sorkin says of the project that would eventually become Being the Ricardos, his propulsive new film that takes us through a week of production on the set of I Love Lucy, the juggernaut 1950s sitcom starring Ball and her real-life husband Desi Arnaz. Sorkin was approached five years ago by producer Todd Black, and he says he didn't jump at it. The reason? "All I was really able to tell him was that I wasn't interested in doing a biopic, to do that cradle-to-grave structure of this happened and then this happened and then this happened. I wasn't interested in that."
So what was Sorkin interested in? A single comment that Black made during the meeting caught his attention. "He did say one thing at that first meeting, which is that Lucille Ball had been accused of being a communist. I didn't know that. So I kind of asked around to see if I was the only one who didn't know that, and it turned out a lot of other people didn't know that, either. The only thing better than a story you don't know is a story you think you know."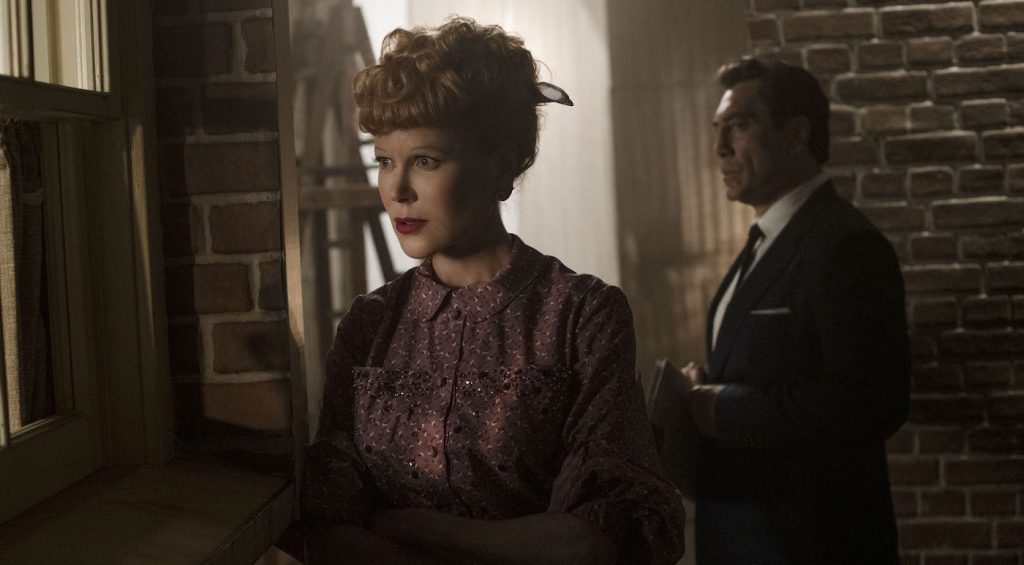 The more Sorkin dug into the story of Lucy and Desi, the more story he found to tell. One of the most brilliant comedic talents of the 20th century led an immensely interesting, at times harrowing life off-camera.
"With each new meeting with Todd there'd be some new bit of information, and it would be a point of friction between either Lucy and Desi or Lucy and Vivian Vance or Lucy and Bill Frawley or Lucy and Jess Oppenheimer," Sorkin says. "I got this notion in my head that a possible structure for this, to avoid that biopic trap, is that if I set the whole thing during one production week of I Love Lucy, from a Monday table read to Friday audience taping. Then finally, there was a lunch, and Lucie Arnaz, daughter of Desi and Lucille, was there. And Lucie leaned into me and said, 'Listen, my mother wasn't an easy woman, take the gloves off.' That's when I said yes."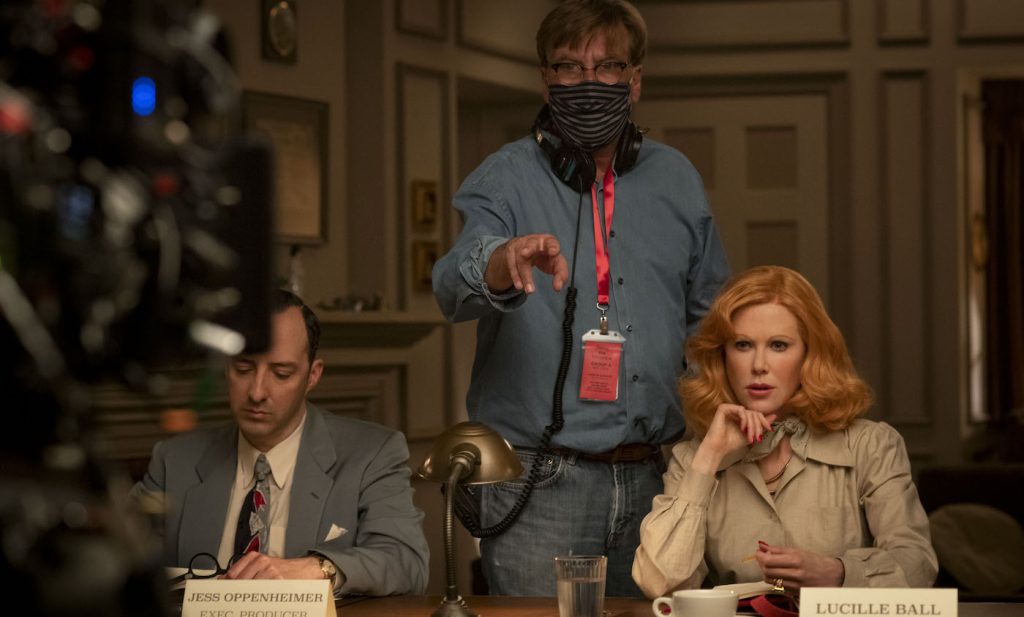 Thus begun Sorkin's odyssey to bring Being the Ricardos to the screen, a film that eschews the limiting sweep of your standard biopic for something nearer and dearer to Sorkin's heart; a story about telling stories. Being the Ricardos opens on a Monday, with the cast and main behind-the-scene players meeting for a read-through of the script. Nicole Kidman steps into the role of Lucy, a massive challenge on many levels, not the least of which was the immediate blowback her casting received from the commentariat online. She succeeds, almost immediately, in making those concerns vanish like so many billions of other online hot takes. Javier Bardem is a force of nature as the wily, warm, winning Desi. If Lucy is the sun upon which everyone else relies to keep I Love Lucy alive, Desi is the gravitational force that keeps all the pieces moving towards showtime on Friday night.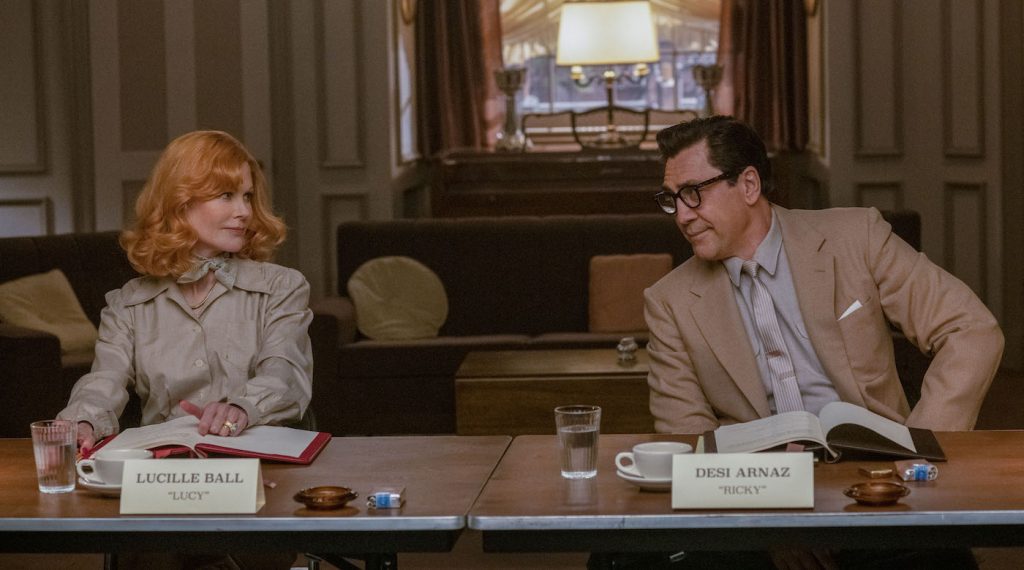 "I've done this structure once before," Sorkin says. "With Steve Jobs, I built the structure first. And it was the same inspiration really. The feeling that I should get claustrophobic, that the smaller you make it, the more dramatic it can be, so that Steve Jobs, instead of being a biopic that begins with a little kid looking into the window of an electronics store or something, that everything took place backstage in the 40-minutes or so before a new product launch."
In Being the Ricardos, the product is episode 37 of I Love Lucy. Arranged around the table for the read-through as the film opens are Lucy, Desi, their co-stars Vivian Vance (Nina Arianda), Bill Frawley (J.K. Simmons), executive producer Jess Oppenheimer (Tony Hale), and writers Madelyn Pugh (Alia Shawkat) and Bob Carroll (Jake Lacy). So, too, is this week's director, Donald Glass (Christopher Denham), who has a target on his back but doesn't know it yet. They will iron out all the kinks and deliver, as they have 36 times previous, a taping of a live show on Friday night. The only catch—or catches—is that Lucy's been accused of being a communist by the Zeus of radio at the time, Walter Winchell, and Desi's late-night carousing has caught the attention of a tabloid that accuses him, with a photo to boot, of cheating on Lucy. Things are only going to get more difficult from there.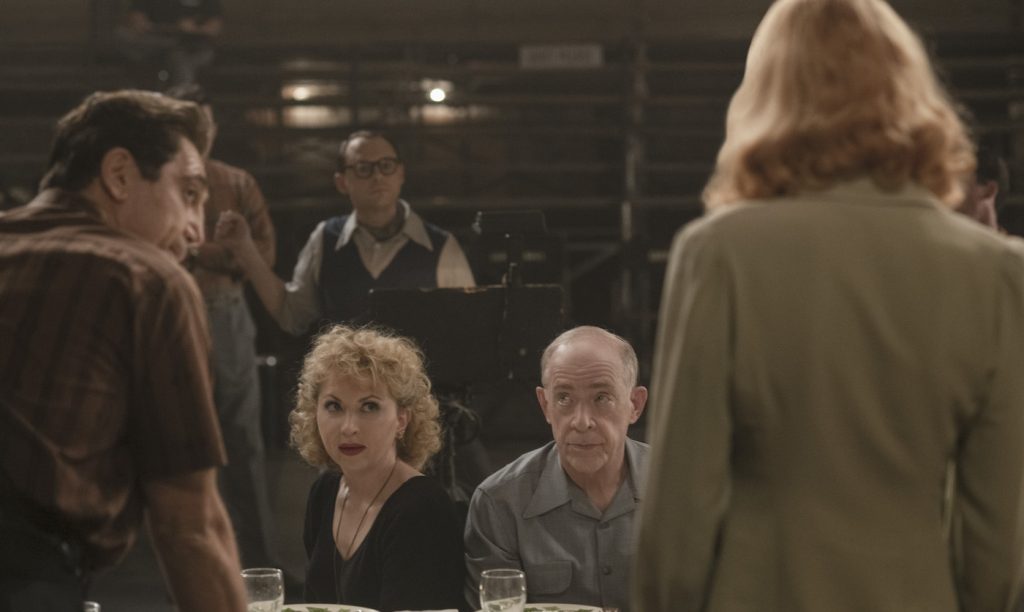 "It was a maximum amount of fun," Sorkin says when asked what it was like to write dialogue for Lucy. He found her voice, he says, when he zeroed in on her lacerating animus towards director Donald Glass. "As soon as I wrote, in the second scene, 'Lucy is unhappy that Donald Glass is directing this week's episode, and she'll say later, 'You make 37 episodes, you make 37 of anything, one of them is going to be your 37th best, and our 37th best was directed by Donald Glass,' I knew. Then she says to him at the table read, 'I'm hazing you, Donald, it's just my way of showing I have no confidence in you at all.' As soon as I wrote that, I thought, okay, I kind of got her now. This is going to be a lot of fun."
Keeping his promise to Lucy's daughter, Sorkin didn't paint a portrait of Lucy as the saintly comedic genius. "She is a little bit prickly. Whether she's ripping apart the director or letting Vivian know why it's important that she remain frumpy and not be too attractive, too glamorous, too desirable, Lucy was withering," Sorkin says. "I really enjoyed not just showing that but showing why she was so incredibly protective of this show. She felt deep down that this is the only place where her marriage works, on set, on that little postage-stamp-sized living room of the Ricardos. As she says in the speech that she gives, 'I've got the greatest life in the world, and all I have to do to keep it is kill, every week, for 36 weeks in a row, and then do it again next year.' So that's why she's pressing so hard."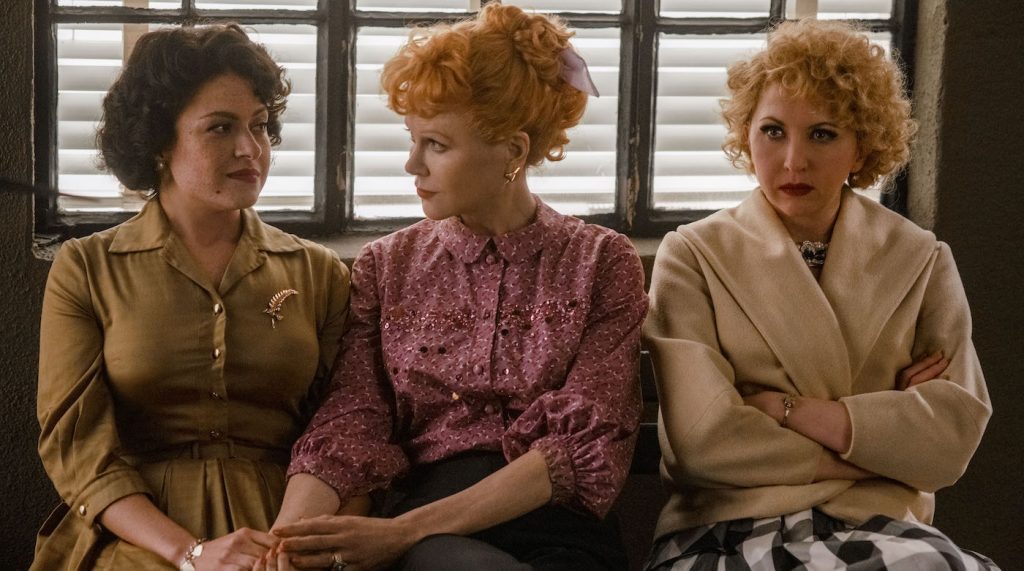 Kidman's brilliance, commentariat be damned, is not just in capturing Lucy's prodigious comedic gifts while in character during the I Love Lucy scenes, but revealing a much more complex, conflicted woman who wanted, even above her hard-won success, a real home with Desi away from the hubbub. This wasn't possible, and this is the bittersweet heart of Being the Ricardos. It's made all the more heartbreaking because of how good Lucy and Desi could be together, and how relentlessly charming Bardem is as Lucy's Cuban-American partner in all things.
"Obviously we made this during Covid, so during casting, there weren't face-to-face meetings, it was all by Zoom," Sorkin says. "I knew a minute into the conversation with Javier that he was the guy because he is so charming, so charismatic, so gregarious, so impossible not to love, all on top of being a world-class actor. I needed him to be the guy because he's going to break our hearts at the end of the film. We can't hate him, we have to be sad about it that these two just couldn't get it together to make it work."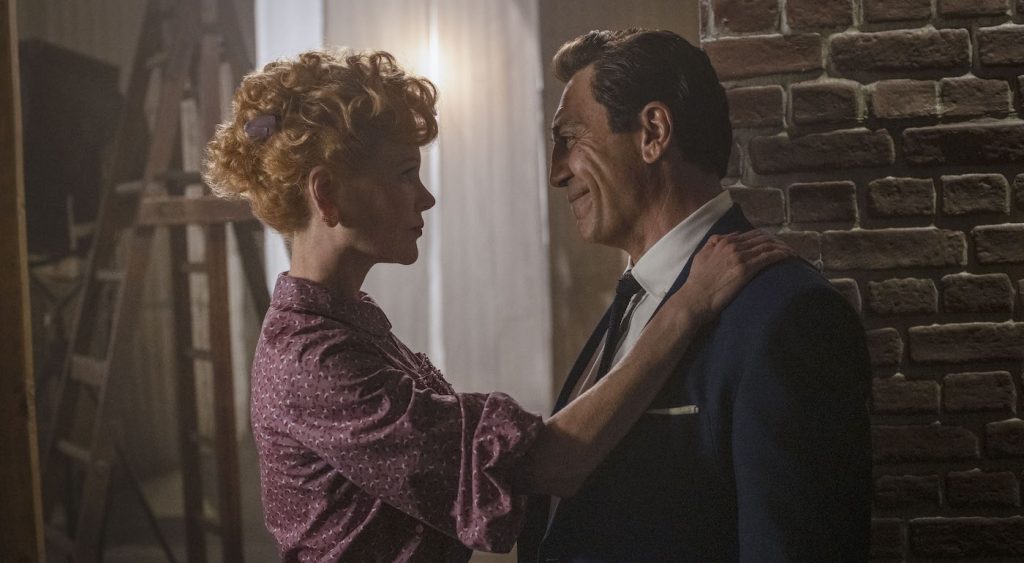 Like the last film he wrote and directed, The Trial of the Chicago 7, albeit less overtly, there are resonances of today's troubles in Being the Ricardos. America has long been obsessed with itself, with what it means to be "American," with who gets to call themselves American, with race, with gender. These issues slither through Being the Ricardos, from Winchell's slandering Lucy as a communist to the thinly veiled (and then not veiled at all) racism Desi faced, to sexism in the workplace.
"It's something I'm thinking about," Sorkin says of those resonances. "For instance, once I realized that, huh, in Lucy's situation, 16-years ago she checked a box, right? As she says, back then being a communist wasn't considered much worse than being a Republican. In fact, Russia was our ally. But in 1952, Russia's not our ally, and she came very close to being literally canceled. I didn't feel the need to hit anybody hard with that. I think it kind of spoke for itself, but I absolutely didn't want the movie to just be an exercise in nostalgia. There needed to be a reason for it to be made."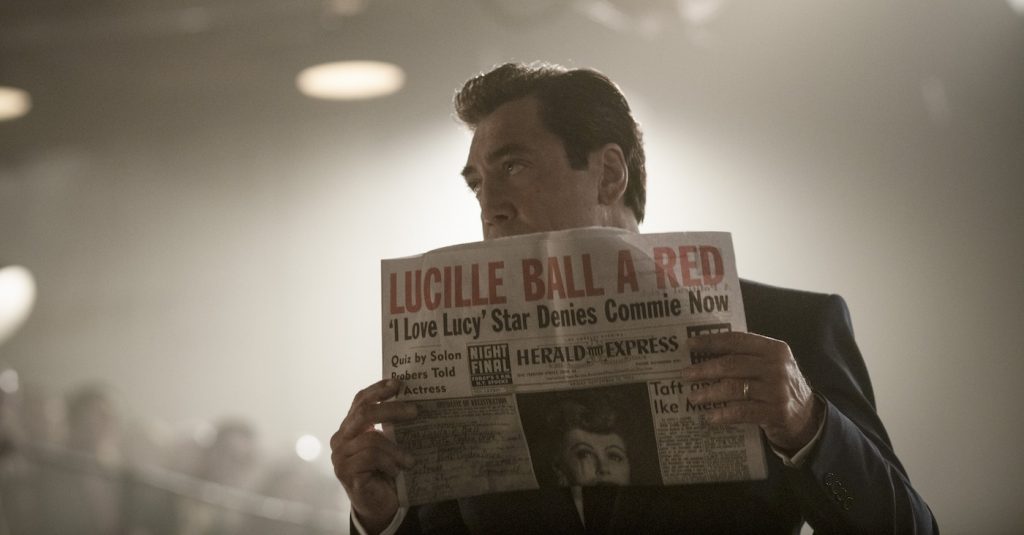 Sorkin offered invaluable advice for aspiring screenwriters towards the end of our conversation.
"The difference between a blank piece of paper and just something, anything, on that piece of paper, even if it's just a scribble or arrows or anything, the difference between nothing and something, the difference between being on page two and page zero, that to me is the difference between life and death," he says. "And don't turn around, don't keep starting over. Get to the end and then you'll look back and you'll see, oh, okay, here's what this movie is about, let me get rid of everything that isn't that and start hanging lanterns on things that are that."
Being the Ricardos is in theaters now. 
Featured image: Director AARON SORKIN and NICOLE KIDMAN on the set of BEING THE RICARDOS Photo: GLEN WILSON © AMAZON CONTENT SERVICES LLC