"Being The Ricardos" Hair Department Head Teressa Hill on Wigs Done Right
Being the Ricardos (in theaters now) faced a Russian Doll challenge when writer-director Aaron Sorkin decided to make a movie about the off-stage drama surrounding I Love Lucy. The fifties-era sitcom drew 60 million viewers every week and made Lucille Ball the most famous redhead in America. Portrayed by Nicole Kidman, Ball starred as daffy housewife Lucy Ricardo. She's married in the show to bandleader Ricky Ricardo, played by her real-life husband Desi Arnaz, embodied here by Javier Bardem. Oscar-winner J.K. Simmons (Whiplash) plays William Frawley, who played the Ricardos grouchy neighbor Fred Mertz. His wife Ethyl, originally portrayed by Vivian Vance, is played in the movie by Tony-winning actress Nina Arianda.
Kidman, working with her regular stylist Kim Sanatoria, churns through some half a dozen wigs from English wigmaker Peter Owen, including the comedienne's signature "poodle bob." Everybody else in the film wears character-defining wigs overseen by hair department head Teressa Hill and her team. "It's amazing when you put a wig on an actor, it really helps them get to the essence of their character," says Hill, whose credits include True Blood, Dollhouse, and Castle. "I remember Javier Bardem would come into the trailer as Javier and walk out as Desi Arnez."
Speaking from her Los Angeles office, Hill talks about recreating Desi Arnez's dashing swirl, making J.K. Simmons slightly less bald, and visiting the L.A. wig shop that reminds her of Game of Thrones decapitation chamber.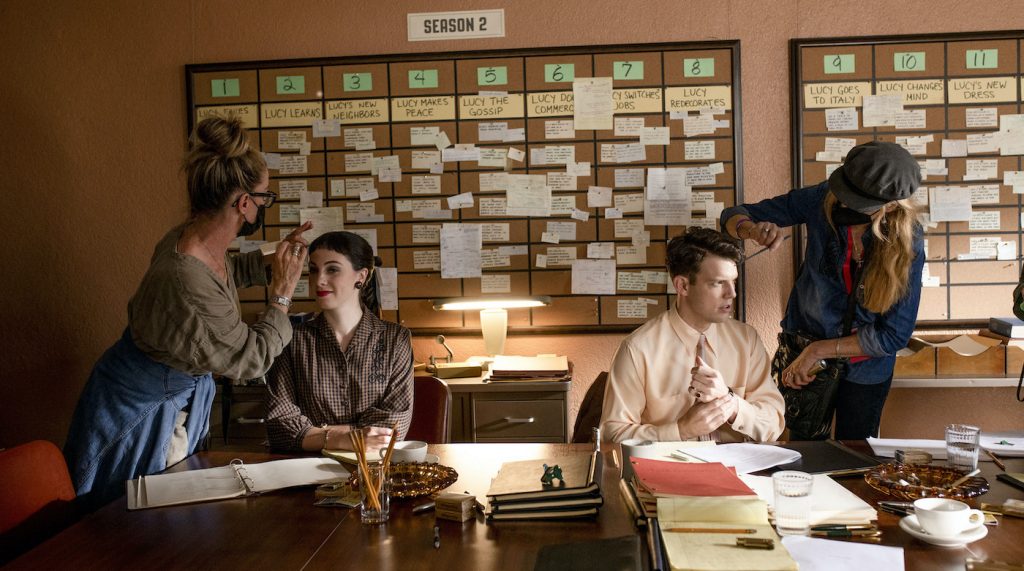 You've done a ton of TV but never worked with Aaron Sorkin before. How did you get on his radar?
I'm also a writer — I write children's books — I met Aaron when I took a class of his at a writer's workshop.
Cut to. . . ?
On President's Day last year, I got an email from my agent saying they wanted to send me Aaron's script. Every hair and makeup person I knew wanted to do this movie. I couldn't believe I had the script in my hands and it was so good. Reading it, I felt the presence of Lucille and Desi, I felt the presence of William and Vivian. I could see it. The night before I'd just watched The Trial of the Chicago 7 and reading the script, I remember thinking, "Wow, he's doing it again."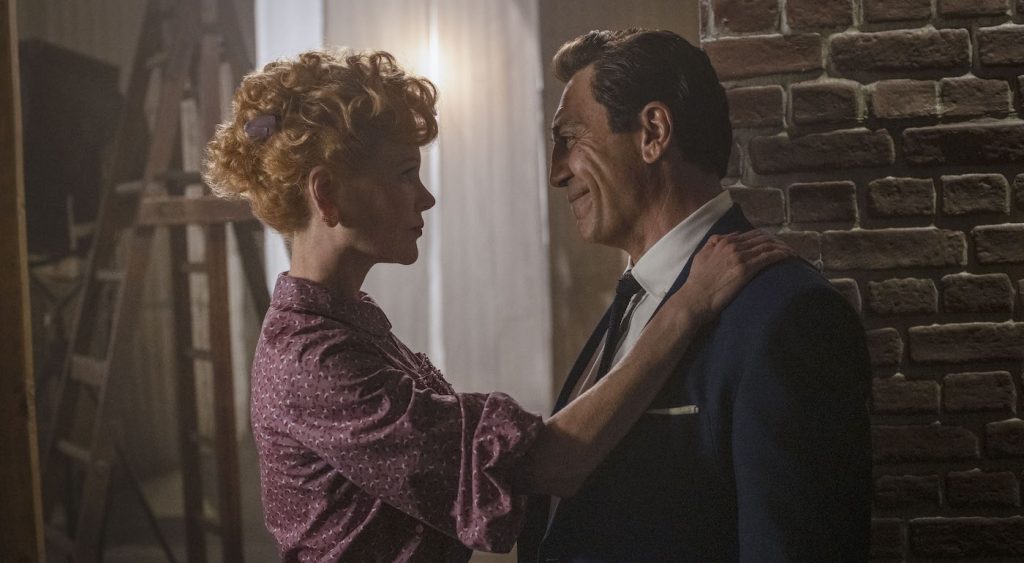 Let's break down the looks you came up with for each character, starting with J.K. Simmons. He doesn't have a whole lot of hair to start with and neither does his character, William Frawley. What did you change?
J.K.'s in everybody's house every day with the Allstate Insurance commercial, so we needed to not have people think of that commercial when they see him in the movie. I told the producers I'd like to put a [combover] hairpiece on him to deter that [association] and lean J.K. a little more toward William Frawley. Then our costume designer Susan Lyall suggested doing a fat suit and they said yes. We were so excited to move forward with that because it really helped the look.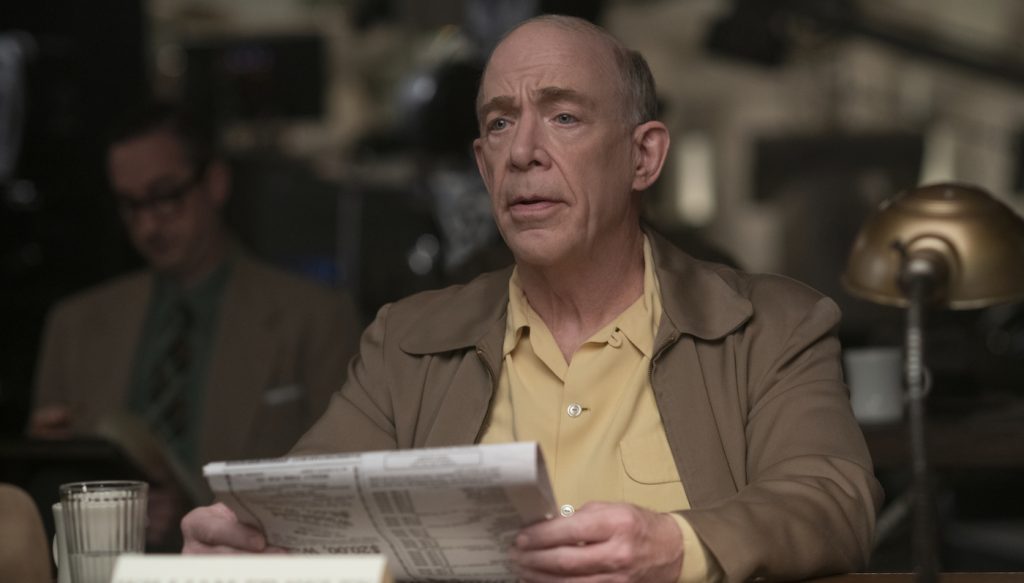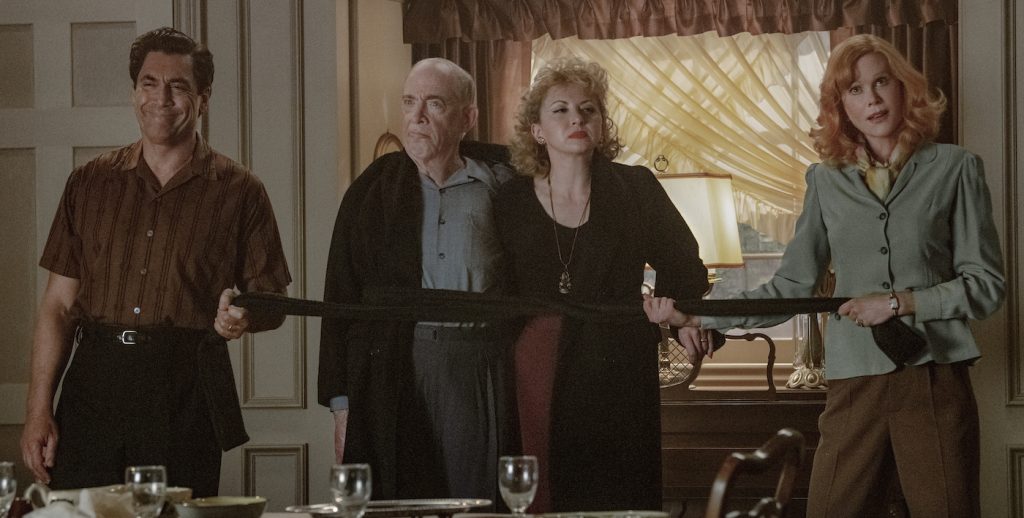 Javier Bardem plays a young Desi Arnez in flashbacks as well as the more mature Desi of I Love Lucy fame. How did you show the passage of time?
We made two wigs for Javier, one for the forties and one for the fifties. In my research, I saw the younger Desi's hair is much darker. If coal black is a one, then Desi was a two when he was younger. For older Desi, the hairline on our wig recedes a little and I did highlights in places. It's very subtle because as someone gets older, generally, their hair color lightens.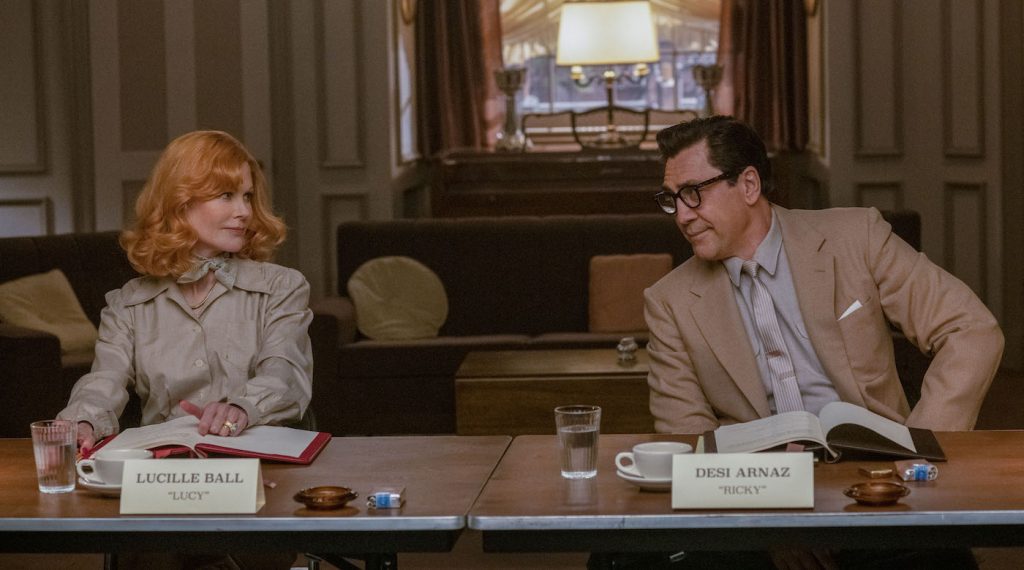 In both versions, the hair itself has a lot of pizzaz.
The wave on Desi's head was very specific. It went a certain way in the front and then it went back and then up [she waves her head above her head in circular fashion]. We had to finger-curl the wig every night.
Nina Arianda looks different as actress Vivian Vance compared to when she's on-camera playing Ethyl Mertz. How did you define her off-stage and on-stage looks?
Vivian Vance and Lucille Ball had a bit of friction because Lucille wanted to make Vivian dowdier on the show, so we made Ethyl's wig shorter, tighter, more matronly. Vivian's wig was longer. For continuity, I kept the curl pattern the same on both wigs but the style and length were different. We wanted people to understand that Vivian was a beautiful woman. With all these characters, we used subtle differences that you might not catch immediately. They don't jump out at you and scream "Hair!" but they help tell the story.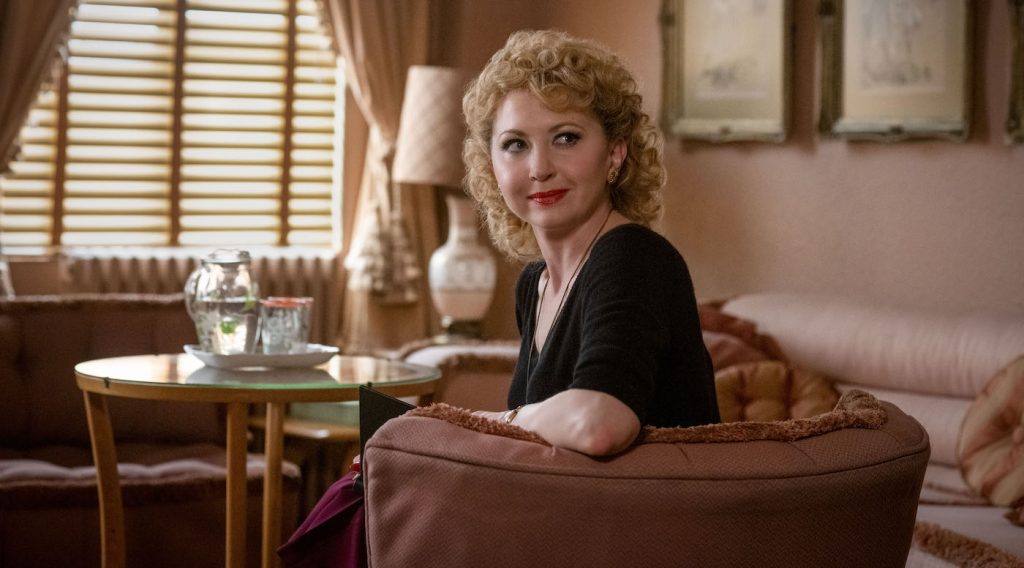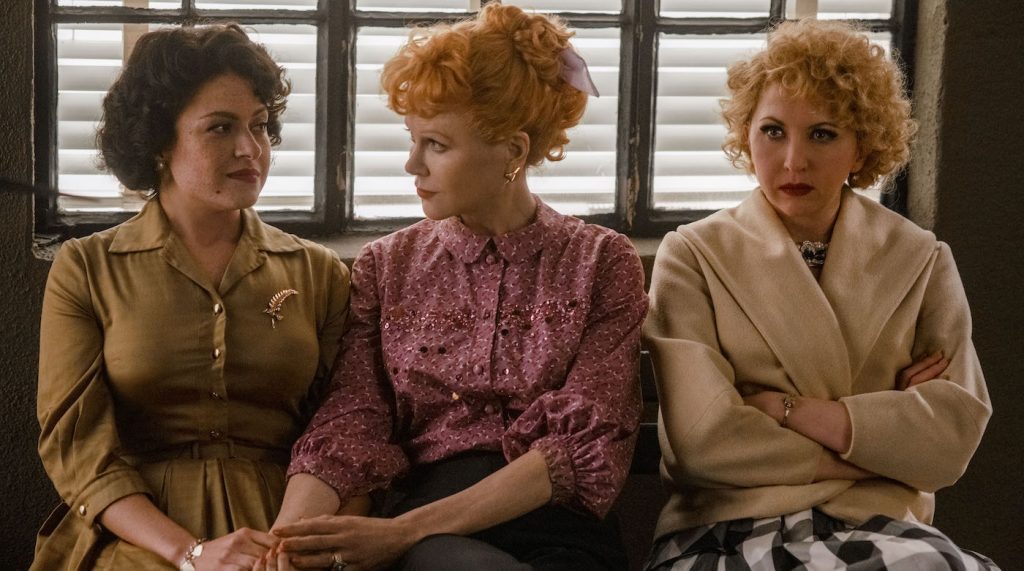 The way women wore their hair in the fifties is completely different from today. How did you get the wigs to look period-appropriate?
We set those wigs every night according to the way they set their hair back then. Women would go to the beauty parlor once a week. Then, every night they set their hair in rollers or pin curls. During production at the end of the night, our wigs would be sitting there in pins and rollers. We'd say goodnight to the wigs, the lights would go off in the trailer and the next morning we'd come in and put the wigs in an oven to dry them out. Then we'd set the wigs, wrap the actors' heads and apply them to the actors.
Nicole Kidman uses her own hair and makeup people, right?
Yes. Kim Sanatoria, a very good friend of mine, does Nicole's hair. It was a lovely team effort. Kim worked with Peter Owen on Nicole's wigs.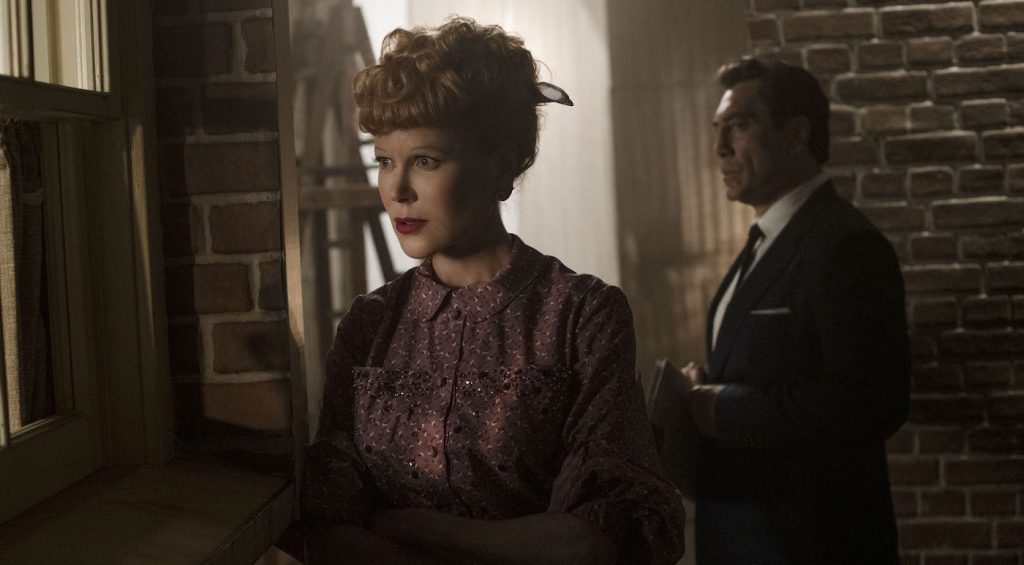 Which wigmakers did you use for J.K., Javier, and Nina?
For Javier, we used Massimo Gattabrusi in Italy. Susan Corrado handled wig patterns in New York, working with J.K. and Nina. Here in L.A., I worked with Natasha Ladek, who's brilliant, to help me with adjustments during shooting. For example, sometimes you have to re-front a wig.
Did you pick the hair for each wig?
I don't know if you're a fan of Game of Thrones, but do you remember the Hall of Faces with all of the decapitated heads? It's like that in Natasha's shop here in L.A. Everybody who's anybody, their [facsimile] heads are in the walls, floor to ceiling. She has drawers and drawers and drawers of hair, so when I go over there I'm a kid in a candy store going through it all. We'd lay all this hair out and pick out hair colors and tones best suited for the actors portraying these characters. Vivian Vance's hair was blonde, right? But you have to take into consideration the tone of Nina's skin and the colors she's going to be wearing. You can't put her in a really bleached-out white blonde because that's not necessarily going to look pretty on Nina. You have to have some warmth in there. When it comes to wigs and hair, I'm very hands-on.
So you're thinking about makeup and costumes as you figure out the wigs. That seems very collaborative.
Absolutely. We're all working together to create the look because when hair and makeup and wardrobe are period-appropriate, it helps transport the audience into the story. We're there to support the performances, not steal the show.
Sounds like a fun show.
There was so much camaraderie! Every night when the first A.D. called "Wrap," the sound guys would play the I Love Lucy theme song as we gathered up our bags. Working with all the departments – – the director, the actors, the crew – – it's a movie experience I'll always remember.
Being the Ricardos is in theaters now, and comes to Amazon Prime Video on December 21.
Featured image: JAVIER BARDEM on the set of BEING THE RICARDOS Photo: GLEN WILSON © AMAZON CONTENT SERVICES LLC