How "The Harder They Fall" Hair Department Head Araxi Lindsey Put History to Work
There are plenty of recognizable names in The Harder They Fall. For his Western epic, director-writer Jeymes Samuel references historical figures like mail carrier Mary Fields, cowboy Nat Love, outlaw Rufus Buck, sharpshooter Bill Pickett, and lawman Bass Reeves. In Samuel's modern update, however, the film's characters align with their historical reference points' careers (with the exception of Mary, now a saloon owner), but otherwise, the story is all new.
Upon learning that Rufus Buck (Idris Elba) is being transported from prison, his young nemesis Nat (Jonathan Majors) gathers his posse, including Mary (Zazie Beetz) and Cuffee (Danielle Deadwyler) to go after the man who murdered his parents. Led by Trudy (Regina King) and Cherokee Bill (LaKeith Stanfield), Buck's group frees him from a cadre of white soldiers, and from there, the chase ensues. Shot primarily on location in New Mexico, the rival groups go after each other across the plains before ending up in Redwood City, the real prize. There, the fight begins in earnest.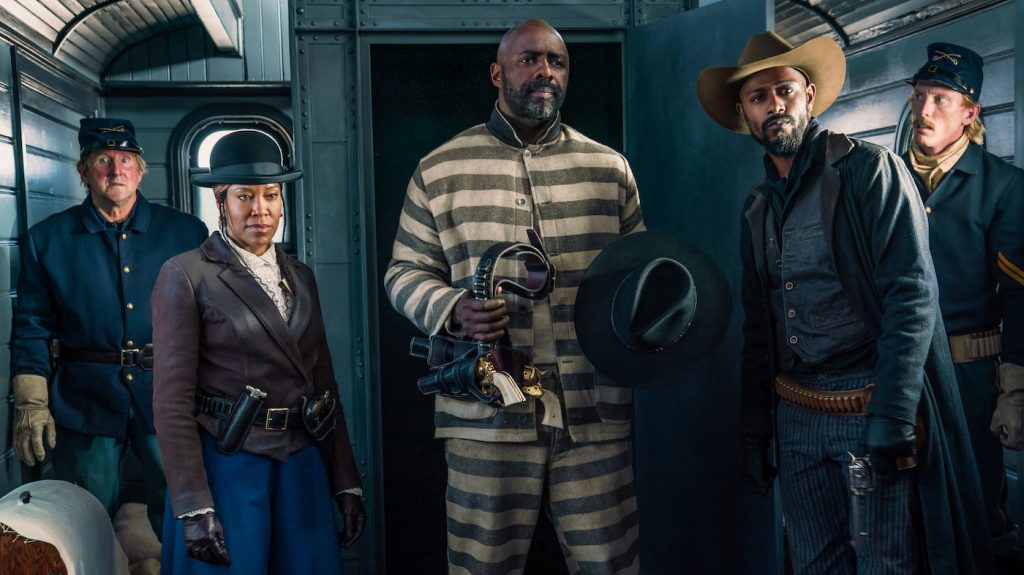 While the characters are given storylines that diverge from their historical namesakes, to get the styling just right, hair department head Araxi Lindsey (After Earth, Black-ish, The Matrix Reloaded) embraced those historic figures and eschewed contemporary styling techniques in order to achieve a sense of authenticity. From Trudy's braids to Mary's loose, natural texture, Lindsey cultivated a mix of styles fitting the time period and which still worked with cowboy hats. We got to speak with the hair department head about the products she embraced and avoided, her historical reference points, and getting back onto set during the Covid-19 pandemic.
What kind of references did you look to do define the main characters' hairstyles?
I got the hair inspirations from looking at historical photos — photos of people during Western times in the late 1800s, early 1900s, and actually looking up the true characters, and trying to make a hodgepodge, or have a soft compliment, from each actual historic figure to the castmates who would be playing those people. I also took the time to read the script forward and backward and converse with Jeymes Samuel and other producers and writers and see what they had in mind for the cast. [Between] the actors, the writers, the historic points, and everything else, I just made my own personal lovechild.
Were there specific requests from Jeymes Samuel or the writers?
For Jeymes and I, we live in agreement on a lot of things, and one of them was to be as natural and as authentic as possible, and to show the natural beauty of each character, and to highlight our African culture as well as the influences, for myself, of embracing the Native American culture that was clearly popularized at that time. Our [goal] in its truest form of a Western is to show some sense of authenticity to the Black cowboys and cowgirls and the Native Americans that were around during that time. I guess in short, to be as authentic and natural with the hairstyles, not doing a lot of wigs or over-coloring.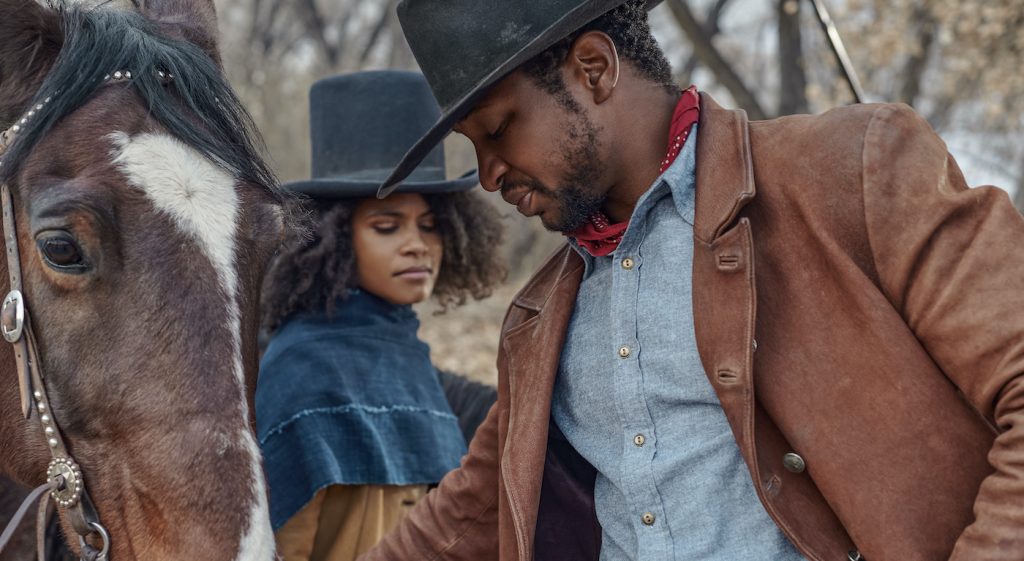 Did you also shy away from contemporary techniques?
Oh yes. I didn't use heat styling on anyone. I didn't use a lot of heavy, thick products. I tried to be as apothecary as I could, using a lot of herbal things or natural wonders that people have used over the years. Primarily, I love water and oil and a good brush. We did a lot of finger styling, wet-set styling, twist-outs, and just used a lot of natural texture.
Can you tell me a bit about how you came up with styles that balanced modernity and the past?
Primarily it was just reading, doing the research, and making sure that everyone was happy. As a hairstylist working in the industry, you want to make sure your actors are comfortable, because they, too, have an idea of what their character should look like. Even though the writers have envisioned something, now they've actually chosen a human spirit to portray these people who've been on paper, so I like to be as respectful as possible to the actors, to the writers, to the producers, and to the actual historic figures we're paying homage to. I just put a little bit of everything and a lot of consideration and skill into creating these people. I like to make sure everyone's happy, that's my goal.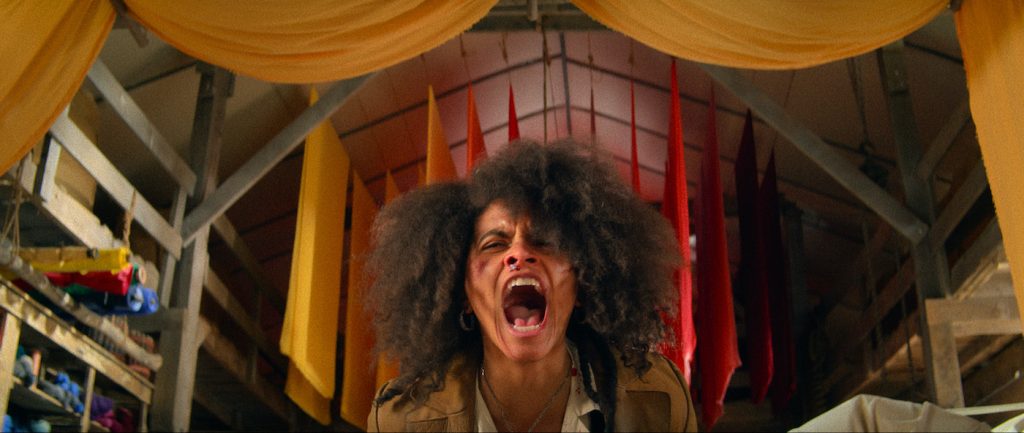 In designing the characters' looks, did you think about them in terms of how they'd fit with one another? For example, Trudy and Mary in combat at the end of the film contrast and complement one another so well.
Yes. Jeymes, it didn't matter where I put it in the frame, but he definitely wanted Trudy to wear Native braids on each side and since everything else is pretty much established, I was like you know what, how about if I give Jeymes the braids during the fight scene. How would that be, to have two feminine energies in combat, where they still look natural and [like] an ode to women, but at the same time, they're showing their strength. Then, naturally, for Zazie, we wanted to celebrate texture, and Afro texture in particular. In the beginning, you'll see that her mane is more tamed, in a sense, but once she gets on that horse and she's looking for Nat, everything goes out the window, unless the morning dew happens to kiss her curls and form them back. So, yes, that was intentional, to have the hair tell the story as well as the characters and the writing.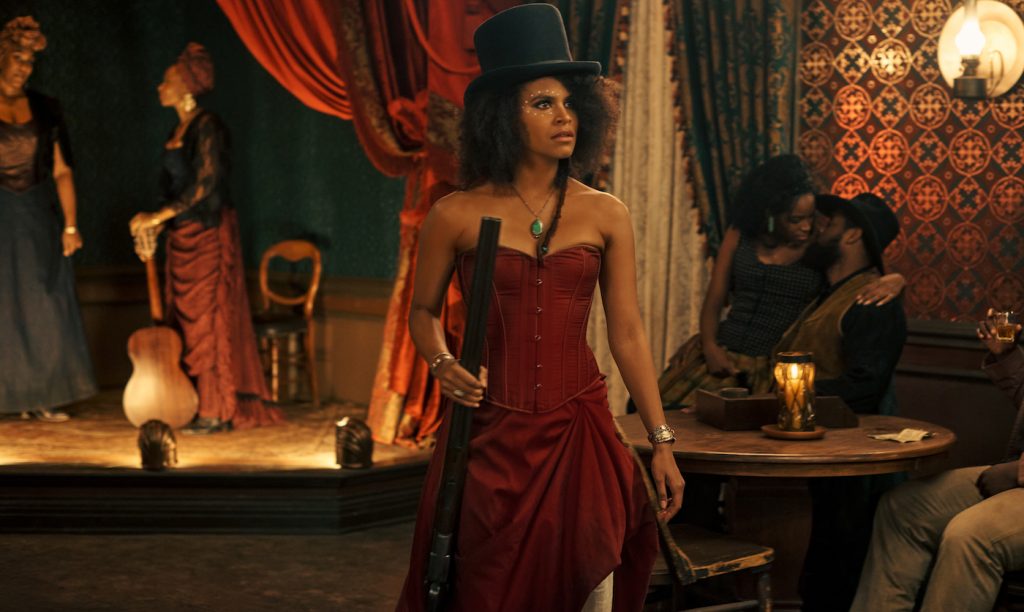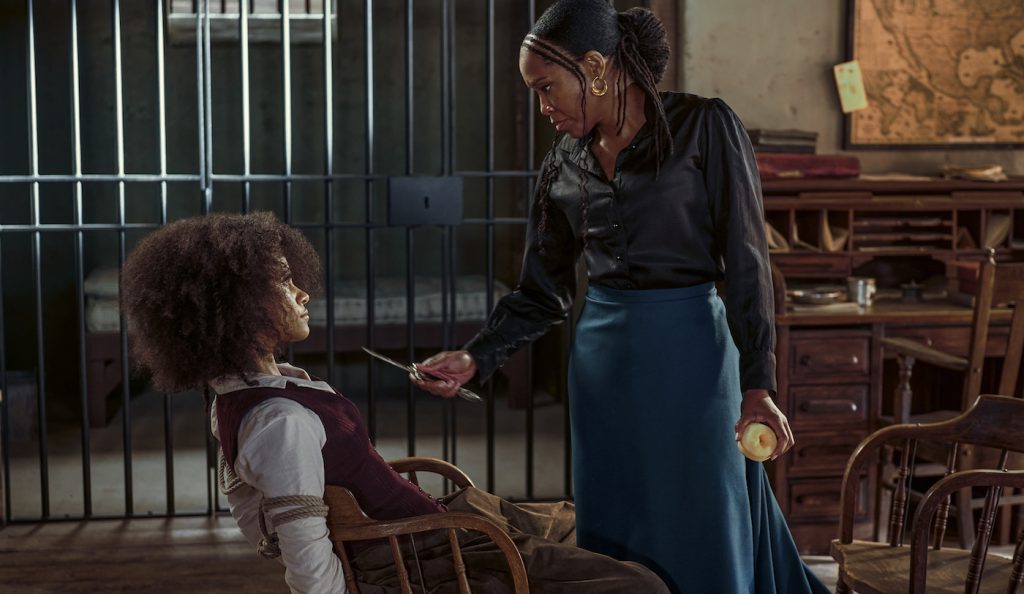 How much in terms of designing the hair did you have to account for hats?
I had the idea that maybe their hats would fly off. I remember having a conversation with Edi Gathegi and I said Edi, what if your hat comes off? He said oh no, this isn't coming off. All the gentlemen made sure their hats were on except for the request of Jim Beckwourth's hat falling off at his death. We had to make sure his hair was still coiled as you saw at the beginning, for continuity. Even though the gentlemen and the women were wearing hats, we wanted to make sure that their hair was still styled underneath. They didn't just wake up and put their hats back on. We wanted to celebrate texture with that as well.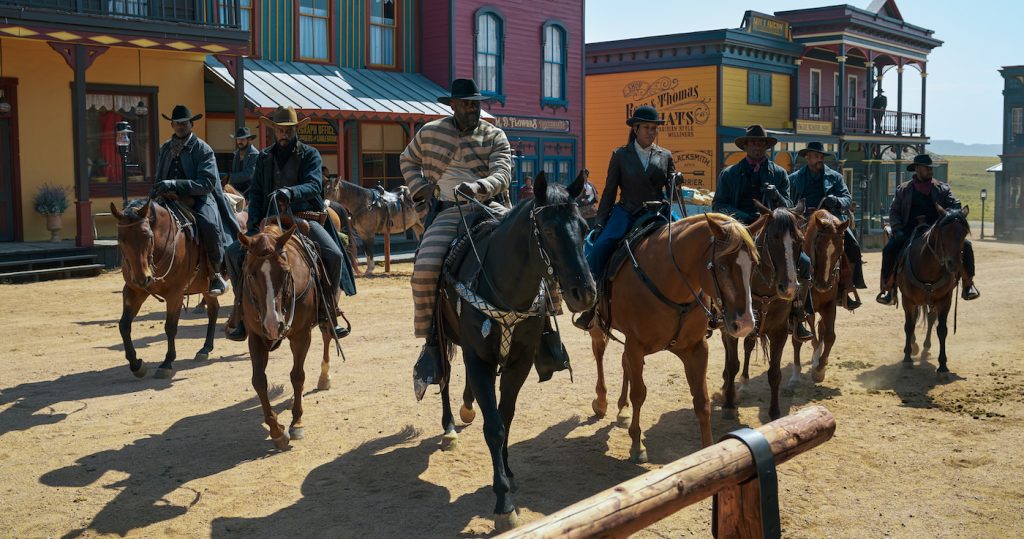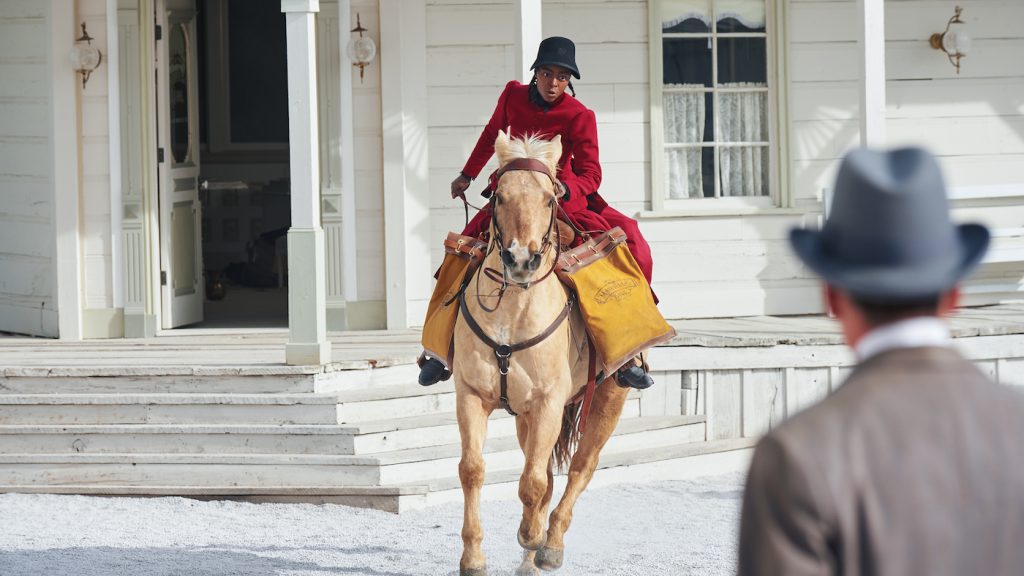 How did you come up with Cuffee's look?
Danielle Deadwyler as Cuffee — it was kind of a challenge because Danielle is so beautiful. She's such a beautiful spirit. Jeymes was like, we have to make her look harder, we don't want anyone to know right off the bat that she's a woman, we want them to guess. We went through so many different hairstyles and Jeymes was like, eh, still beautiful. No matter what I did to her, you still saw this natural beauty. She embodied Cuffee and I think that is what people took out of the theaters. It's not the outfit that Cuffee wore, it's the energy that Cuffee gave you. I said, we're just going to have to hide this hair, brush it up, and do it in a sense of, what would Cuffee have done back then? How would she hide her hair? You don't want to put edge tamer or all this extra waxy stuff on there, because Cuffee isn't that character. Cuffee is more so a protector and a supporter of Mary. Her story is more, I want to live this life and not be picked on because I'm a woman or because I'm smaller than most.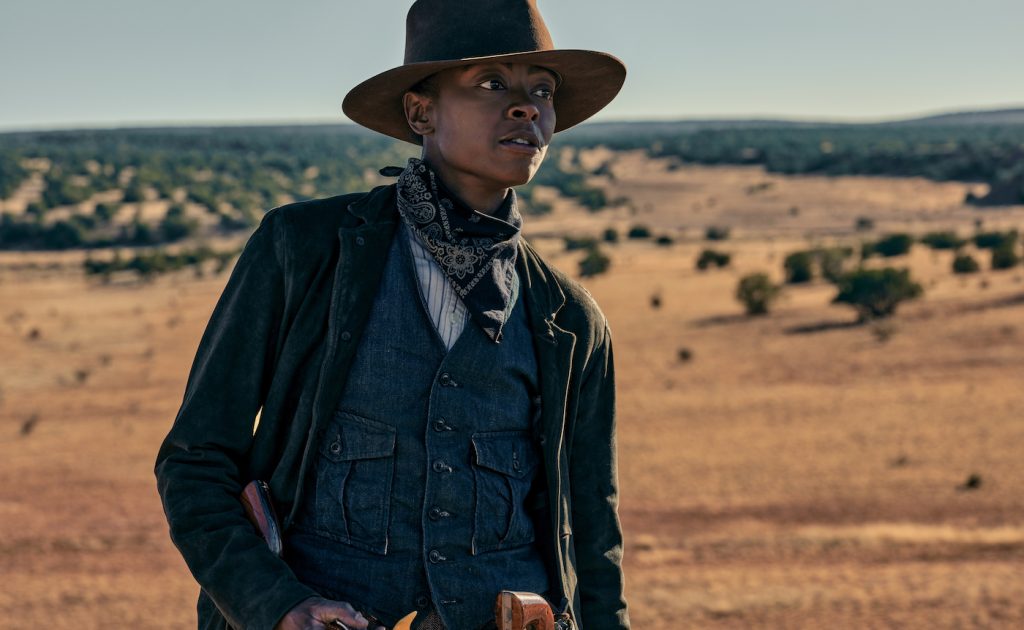 And throughout, you were working before and then after a pandemic delay, right?
I'm so thankful for my team. No one was thinking that this would have been something people would be whispering about for Oscar nominations. No one would think that the film would be as big as it is right now. And my team could have said no, I would much rather stay home with my family and my children, I have no idea what this virus is going to do to us, this is really weird that we're the first ones back for Netflix. I'm so happy that everyone said yes, including the actors. They could have said forget this, I'm out of here. Jeymes Samuel is a beast. This is his first and he's going to have so many more to come, and I'm so happy to be part of that as well.
For more on The Harder They Fall, check out these stories:
"The Harder They Fall" Cinematographer Mihai Malaimare Jr. on Reimagining the Wild West
Mixing History & Modernity in the Costumes of "The Harder They Fall"
For more on big titles on Netflix, check these out:
Cinematographer Alice Brooks Makes "tick, tick…BOOM!" Sing With Personal Memories
"Ozark" Season 4 Teaser Reveals the Beginning of the End
Featured image: THE HARDER THEY FALL (C: L-R): REGINA KING as TRUDY SMITH, ZAZIE BEETZ as MARY FIELDS. CR: DAVID LEE/NETFLIX © 2021