"Belfast" Writer/Director Kenneth Branagh's Riveting Return to his Childhood
Writer/director Kenneth Branagh has mined his childhood experiences in Belfast to create a riveting, sumptuous film. Belfast (opening November 12), which is shot in black and white, captures a time in the summer of 1969 directly following the first riots in the northern part of the city often cited as the beginning of the Troubles. Branagh and his family were in the thick of it, and the film is shot from his perspective through the 9-year-old character Buddy, played by newcomer Jude Hill. Caitríona Balfe and Jamie Dornan play his parents, glamorized versions that capture Branagh's memory of them, and Judi Dench and Ciarán Hinds play his grandparents. The film balances joy and sadness, and expresses the power of family and home in both the best and worst of times, making it perfect viewing as we navigate continued COVID challenges. The Credits spoke to Branagh about his very charming, very personal film.
The film is told from the perspective of the child, Buddy, and he takes part in some really great moments of family togetherness and community. Can you speak to some scenes that best example that, and about the feeling of nostalgic joy with which they are imbued? 
My experience as a kid was that these impromptu parties happened a lot. We visited a lot. For instance, the Star Trek scene is inspired by something that happened every Saturday at teatime. Around Five-ish, we would go down to my Granny's and watch Star Trek. They'd talk about serious things while we watched sci-fi. But in other instances, it would sometimes have to do with somebody getting a bottle of something. It seemed as though the parties happened immediately. My mother absolutely loved dancing. My father, not so much, but he knew she loved it, so he was a willing partner. He used to do jokes, and sometimes little monologues, and everybody seemed to have a turn. It happened very effortlessly. Everyone from our age and younger all the way through to grandparents would be there. So when I came to shoot the film, I knew that this sort of improvised ceilidh was something I wanted to get. In that one scene, the music for it is "Caledonia Swing," by Van Morrison. Music was incredibly important, and the purchase of a new single meant it would get played over and over again, or there'd be music on the radio. That sense of when things were working, and frankly even when things weren't working, the rush towards joy, the rush towards something restorative, the rush towards something family-cementing was very important. It was this barely understood but hugely enjoyed experience of knowing exactly where you were. In that world, I had an effortless sense of identity. That's what the story of the film is unraveling.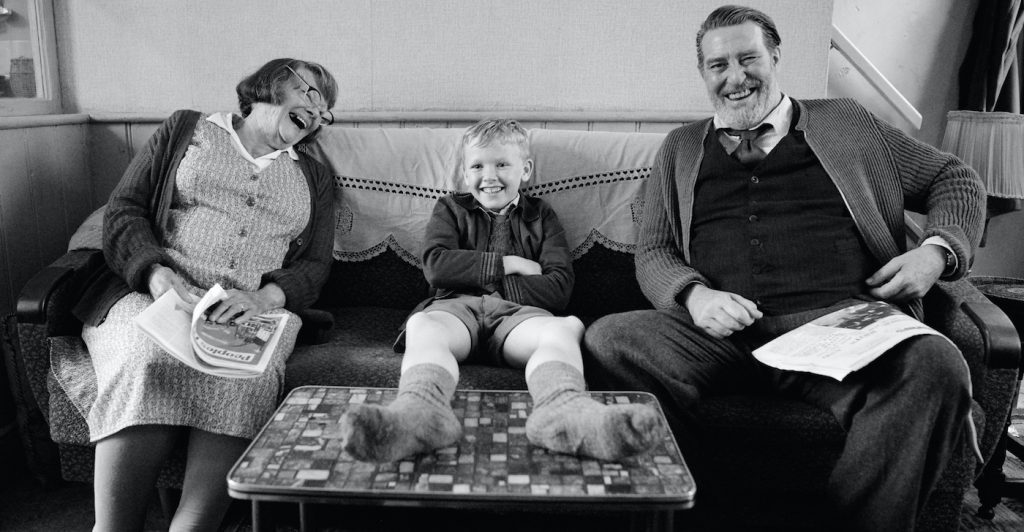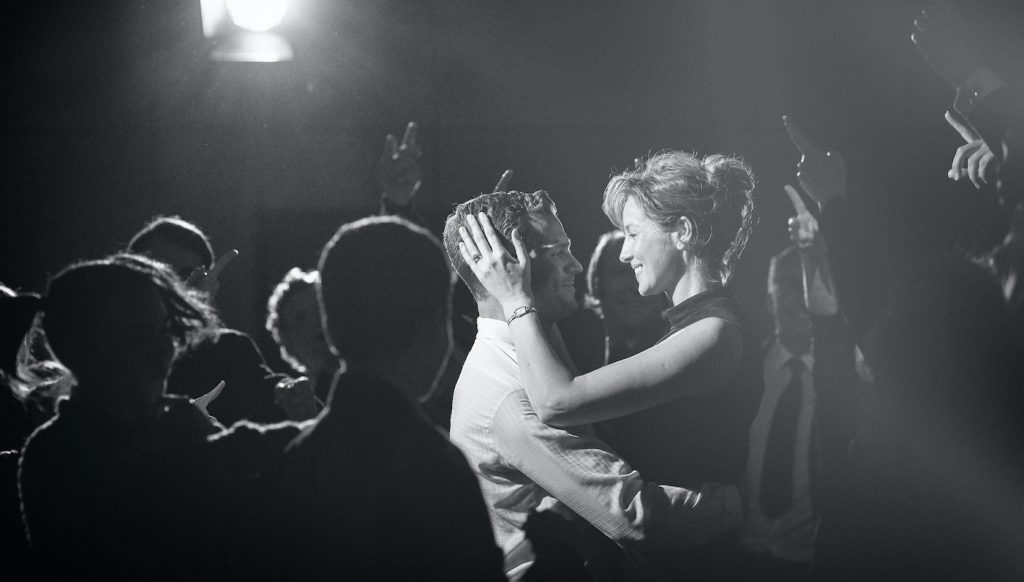 Continuing on the theme of Buddy's perspective, can you talk about your collaboration with Director of Photography Haris Zambarloukos?  He often shot from below looking up from Buddy's view. What are some subjective choices you made in collaboration with your DP to create the look and feel of the film? 
Sometimes it was about showing scenes from where Buddy sees it, but sometimes it was also, with certain shot choices, to just go for the feel of what buddy was seeing. An example would be when Dad goes to the back door to face Billy Clanton for the first time. We are very low. His back is huge, and above is a big, intense sky. From my point of view, I said to Harris, 'You know, this for me this is like a scene where the rancher goes out to the gates of the ranch because the baddies are there, and Ma is back there with the boy, and trying to be defiant and trying to stand as tall as possible. It was also inspired by the poster from Unforgiven, where Clint Eastwood has his hands behind his back. For me, that poster was always about a sense of burden, so I wanted the image to do two things. I wanted to show Buddy sees the big, nervous confrontation for what it is. Also, the difference in the shot size, and the drama of the shot, was part of the unnerving, unbalancing tonal shifts, like the color coming in at surprising moments, to basically have the audience have some experience of this unsettled quality that started as soon as that riot happened. We never really knew where we were after that. Life was lived on a high alert. Without annoying the audience, I wanted the sense of just shifts happening at not necessarily conventional cutting rhythms or necessarily observing what you might expect from a traditional three-act structure. Some of that comes from this memory piece from the nine-year-old's perspective.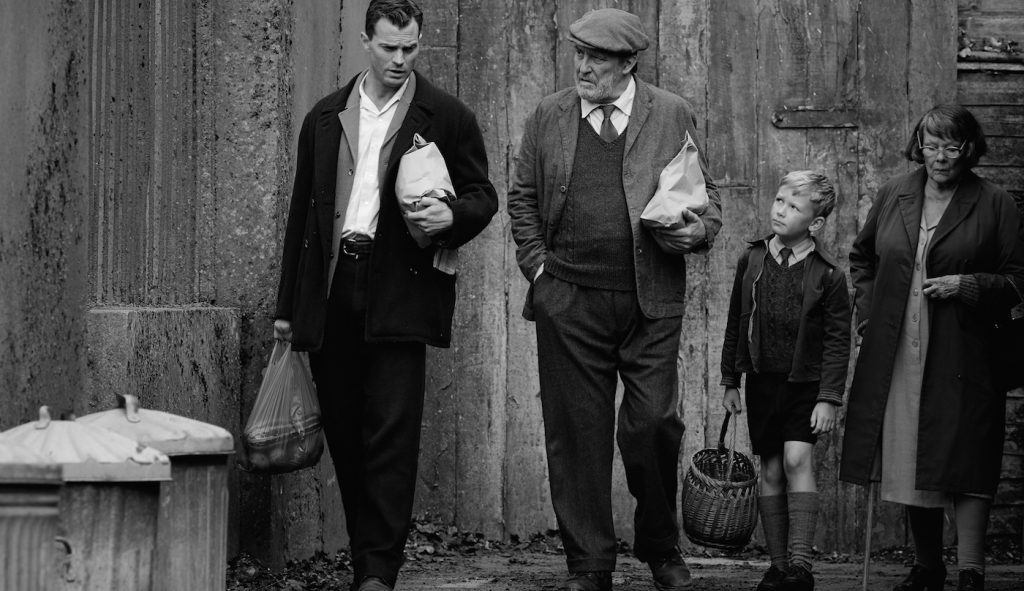 There is the influence of Cartier-Bresson's photographs in some beautifully composed shots.
The sort of photographic look was about embracing the idea of placing people in frames. An example is in that same scene where we look at Dad from behind, we also have Mum watching from a window. We have people watching through things. In the case of Caitríona, she's a beautiful woman in a broken-down window frame, with the black falling away, very dark. It's like a sort of Renaissance portrait coming to life. She's very still, as many people are when they're having to listen to these dangerous things. There's that sense of seeing through things, seeing through the heat haze, seeing through banisters. There's a great shot, and I say a great shot because it's Harris's shot, where we are looking at the brother, and in the mirror it shows Mum listening, but the voice talking is Pa. You just see this worrying presence over there, and the kid is slightly out of focus. She's sharp, the kid's out of focus, and Dad's voice is the one in the middle of the conversation. Those kinds of slightly unsettling elements to the photography were conscious. It was a lovely collaboration.
There are some great movies of the time as well as a stage play of A Christmas Carol that are the only images in color.  It seems to suggest that during this very hard time, stage and screen were an escape that might have been what led you to your career. 
Yes. Those experiences were incredibly immersive. That's what I love about film, and I go all the time still myself. That's no kind of busman's holiday. For me, I go for the sheer joy of it. In the 60s, the movies were usually widescreen and the color was so saturated that it was about as different from the often rain-filled Belfast as I could imagine, and certainly as colorful and inviting as an absolute opposite to the danger that basically everybody was having to negotiate. It was my one trip to the theater for many years to come to see that production of A Christmas Carol, and I think it was that sort of storytelling creativity that sparked my imagination. With the cinema, it was the size of the image and the depth of the color. With the theater, it was just the lightness of it.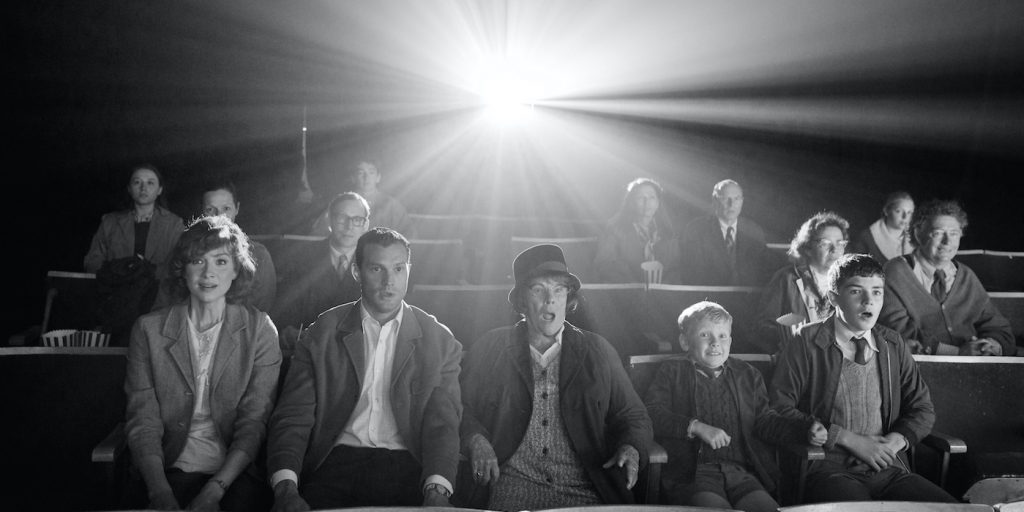 Coming through the pandemic, it really is for many an inspiration to seek kindness. What do you hope for or want for your film to do for people needing a balm after such a hard time and the losses we've all had?
Well, I hope for those, like me, lucky enough to have access to family or friends, that we reengage with what is positive and valuable in our lives in the minutiae, and every little moment that one can have to enjoy friendship, laughter, and compassion. I think it's key that we try to understand those we face every day and have compassion for the fact that he or she is doing their best, and so is everyone else. And maybe if you start to understand that, you release a little pressure and allow space for some laughter in your life, which is always good medicine.
For more on Universal Pictures and Focus Features projects, check out these stories:
"Wicked" Movie Will Star Cynthia Erivo & Ariana Grande
"Last Night in Soho" Screenwriter Krysty Wilson-Cairns on Writing a Terrifying Time-Travel Tale
"Halloween Kills" Makeup Effects Designer Christopher Nelson on Michael's Mask & More
Featured image: Director Kenneth Branagh (left) and actor Jude Hill (right) on the set of BELFAST, a Focus Features release. Credit: Rob Youngson / Focus Features