"Last Night in Soho" Screenwriter Krysty Wilson-Cairns on Writing a Terrifying Time-Travel Tale
It was producer-director-writer Sam Mendes who introduced writer Krysty Wilson-Cairns to director-writer-producer Edgar Wright. "He thought we'd be very good friends. We've got a quite similar sense of humor and a passion for filmmaking," says Wilson-Cairns, who knew Mendes from working on the Showtime series Penny Dreadful and went on to co-write with him the Oscar- and Writers Guild of America-nominated original screenplay for the WWI drama 1917.
Mendes was spot on. With their shared sensibilities, she and Wright became not just pals, but eventually co-writers themselves, penning the artsy, mind-bending psychological horror-thriller Last Night in Soho. The film follows fashion-school student Eloise (Thomasin McKenzie), as she adjusts to big-city life while studying in London. Quite fascinated by the 1960s, she is mysteriously transported each evening from her one-room apartment back to that decade, where she connects metaphysically with aspiring singer Sandie (Anya Taylor-Joy). What begins as a fun and exciting escapade, however, soon turns into a frightening and evil encounter. Rounding out the cast are Matt Smith, Terence Stamp, and, in her final role, the late Diana Rigg.
The Credits chatted with Wilson-Cairns — named a Variety "Screenwriter to Watch" in 2019 and a Forbes "30 Under 30" in Hollywood and Entertainment in 2017 — about collaborating with Wright, drawing on her personal experience with Soho, and being inspired by an iconic TV show. This interview has been edited.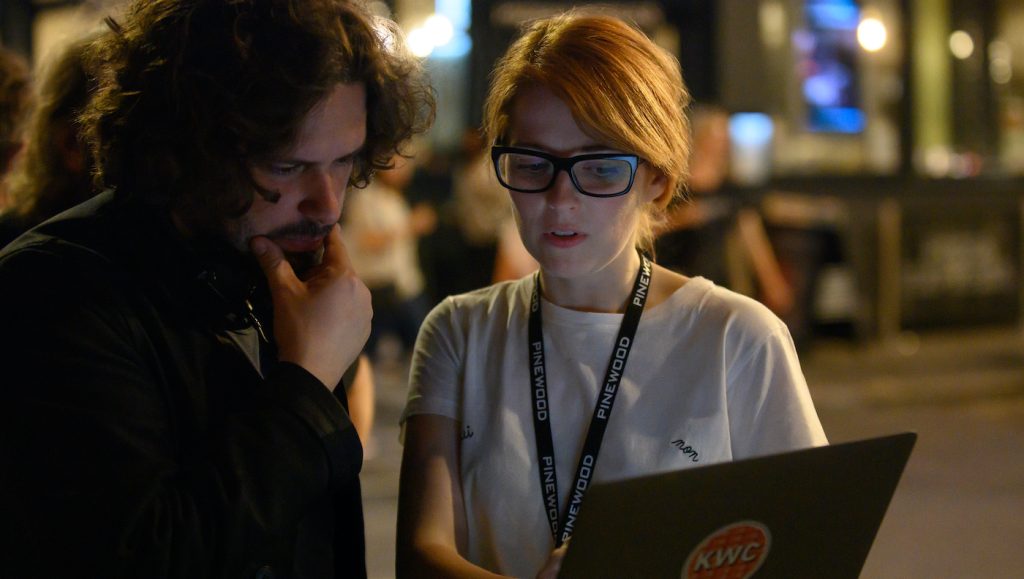 Edgar Wright had the idea for this film for a decade. When he approached you about collaborating on the script, how developed was the story, and what was your first impression of it?
Well, the first time I actually heard the idea was before he approached me. We went on a night out in Soho. I used to live over a strip club in Soho, worked in a bar in Soho, and Edgar had obviously this idea set in the city part of Soho, which was my home turf. And so we went on a bar crawl and ended up at the end of the night in this sort of dingy, basement pub where he told me the story for the first time. He was telling me as just writer to writer, not necessarily as a collaborator, and I loved it. It really stayed with me. And then when I came on board, I suppose the big change really was that originally the '60s scenes were silent with just music, and I had a sort of inkling, and Edgar agreed with it, that for the audience to fall in love with Sandie the way Ellie falls in love with Sandie, that you need to hear her speak, you need to see her charm and her charisma and how she walks across the room, her ambition. And so that was all added in the very early stages of building it.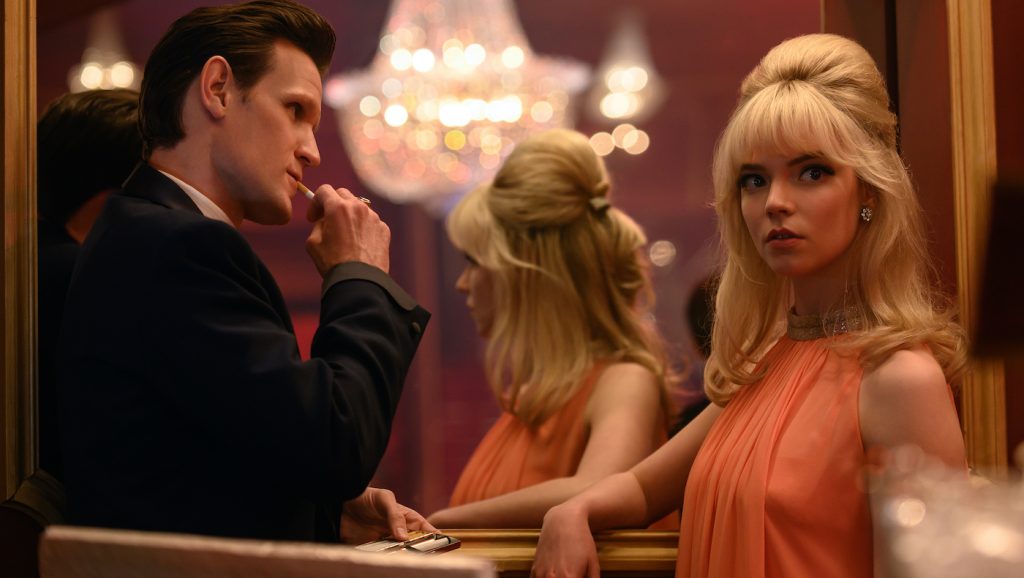 In addition to Sandie having lines, I read that you also pushed for her to do an audition.
Yeah, I think originally there were only maybe three '60s dream sequences and a much more traditional structure. Knowing how much fun it is to play with structure, I thought that the first act should feel longer and that the audience needed a bit more time to want to go back to the '60s, to want to live in that world. A dream that was very positive in the early stage, and Sandie's story was to have her career progress at the same time that Ellie's fashion college is getting better. So to run the two in tandem just a little bit longer, I pushed for an audition scene. Edgar loved it and I think before I'd even finished the thought, he was like it's going to be "Downtown," because he's got such an amazing talent for the way music can be used on screen. And it's great, because I don't (laughs).
How did all your personal experiences with the location help with the storytelling? And did you have to do much research on the 1960s?
There was so much research done before I actually came on board. This incredible researcher, Lucy Pardee, who actually won a BAFTA for casting, was absolutely extraordinary. She had created this document that was all about Soho in the '60s and not necessarily, oh, this was what the 60s were like, but actually speaking with people and getting their firsthand accounts of living through that decade in Soho and living in Soho today. So that was really a tremendous document to have. And I think also having lived in Soho for a huge part of my life and having worked in that bar, The Toucan — when you become a bartender people tell you all their deep, dark secrets and you can overhear the craziest conversations — I had done weirdly a lot of research for this project just by living there all those years. Even though Soho was dangerous and quite sinister sometimes, it was sort of a place of endless possibility to me and that got under my skin. So to get to then put it on film in a way that feels very personal and real to me, just like nostalgia of my own life, it was very joyful.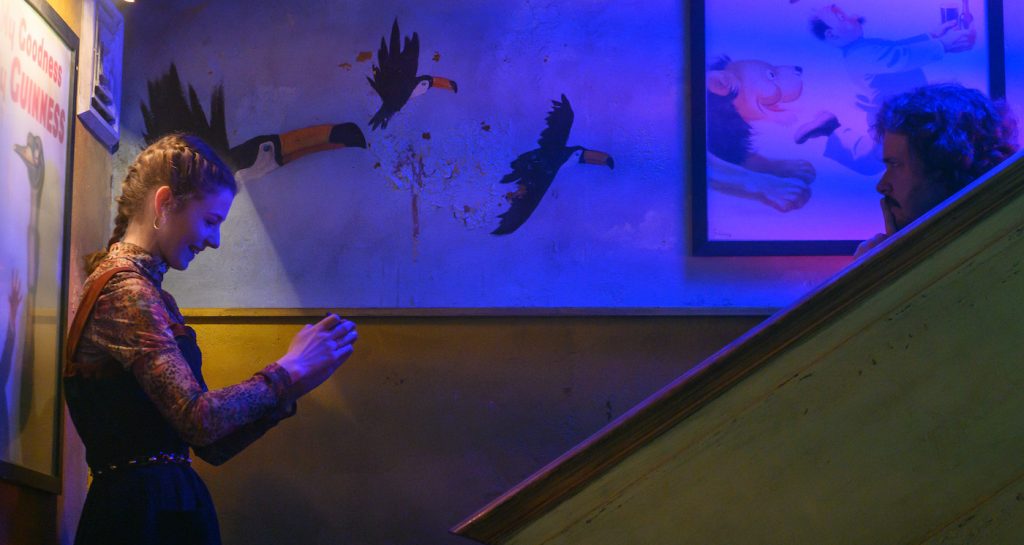 Which character was more challenging and/or fun to write, Eloise or Sandie?
Oooh, you ask me to pick between my favorite children. Eloise, a lot of her stuff was based on the younger version of me and the younger version of Edgar. You know, these young adults that came to London with a dream and went to film school or art school and were so outclassed and outgunned at every stage, and felt very lost and really alone and super uncool. So I think writing her, maybe that was a bit cathartic. And I suppose Sandie — weirdly for me, I grew up watching a lot of The Avengers. I used to watch the reruns on BBC4 with my mum, and Emma Peel was the first female superhero I had ever seen and the first woman in her own right who was just powerful, enigmatic, smart, and unapologetically brilliant. I remember when I was writing Sandie I was thinking about when I was young, who did I want to be and what qualities did I admire in a woman when I was trying to find myself, wanting to emulate. I suppose I drew in a lot of that. Sadly, I'm not an Avenger. I tried really hard.
Tell me about writing for what you've described as "camera trickery," since special effects are a big part of this film.
Well, the challenge in a script is to always make it about the characters and never get bogged down in technical babble. I really believe that the script should include all the visuals that are really crucial to the audience's understanding of the characters, or anything that unlocks the characters, 1917 case in point. But with this, knowing how much the mirrors and the switching back and forth and the dream-like quality play — I mean I would never put camera tricks in the script, I never will, but Edgar took great pains to explain to me that first Café de Paris sequence, he probably had to explain that to me 40 times before I was like, oh, I get it — that lets me understand the mechanism for that shot, how it should play. Because ultimately, when you're reading a script, I think the reader should play the film in their mind, and so I need to know where the film cuts, how it moves, where the camera's gonna be, as much as the director does.
So how would you describe this film and its underlying themes? Edgar has talked about the drawbacks of nostalgia and that the past should not always be romanticized. And I believe you've talked about the exploitation of women.
It's about both those things, and I think those things really go hand in hand. When you first think about the '60s, you think about the swinging '60s, you think about Princess Margaret with the Rolling Stones and Carnaby Street and the mini-skirt, and you think about it as a very progressive time for women. All these things are building and you think, wow, it would be pretty nice to go back there. But then when you actually do the research, when you see behind that rose-tinted glass, you suddenly find that there are all these issues. There's toxic masculinity, there's persecution of women, there's exploitation of women. And the thing that really struck me was that all the problems that those women faced in the '60s we still face today, some to a lesser extent. And that's why I think making these films, making genre films, making horror films, you should really write about something that scares you.
Last Night in Soho is in theaters now.