"Halloween Kills" Makeup Effects Designer Christopher Nelson on Michael's Mask & More
Christopher Nelson wants Michael Myers aficionados to know they're in store for a very happy Halloween. The Oscar-winning (Suicide Squad), Emmy-winning (American Horror Story) makeup effects designer has pulled out all the tricks to assure that Halloween Kills, which was released on October 15, is a bloody treat.
"I'm such a huge, huge fan of the original, Nelson says. "Halloween 1978 was such a pivotal movie for me as a cinema lover, a genre lover, and a John Carpenter lover. As a fan, it's appealing to try and recapture that feeling, that look of what the original Halloween means to everybody."
Nelson isn't the only one with this sentiment. Writers Scott Teems, Danny McBride, and David Gordon Green, who also directed, have packed Halloween Kills with a host of characters from the original. Of course, Jamie Lee Curtis is back as Laurie Strode, Michael Myers' perennial adversary. But audiences will also delight in seeing Kyle Richards return as Lindsey, the little girl Laurie was babysitting, Nancy Stephens as Marion, the nurse Myers escaped from in the original, and Charles Cyphers, who played Sheriff Leigh Brackett in Halloween and Halloween II.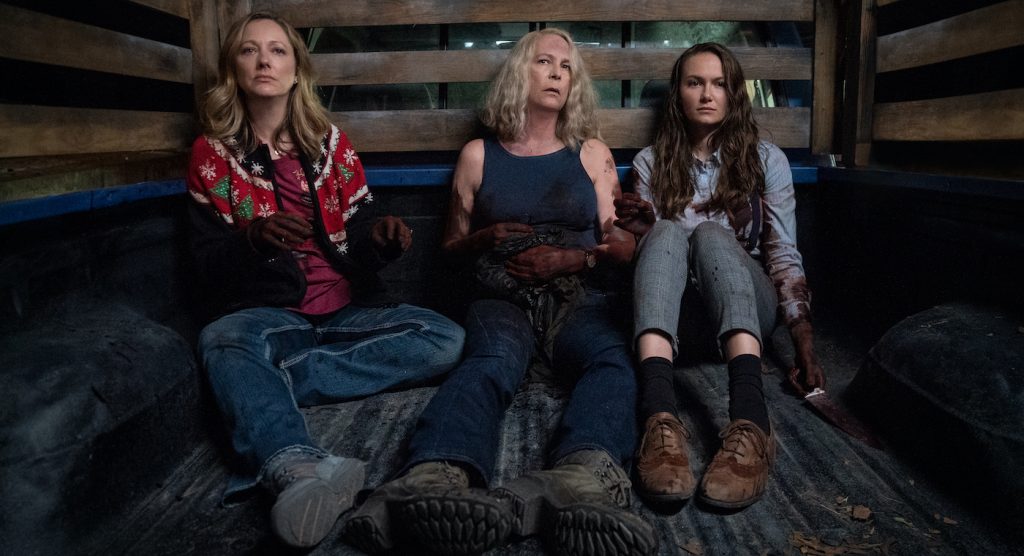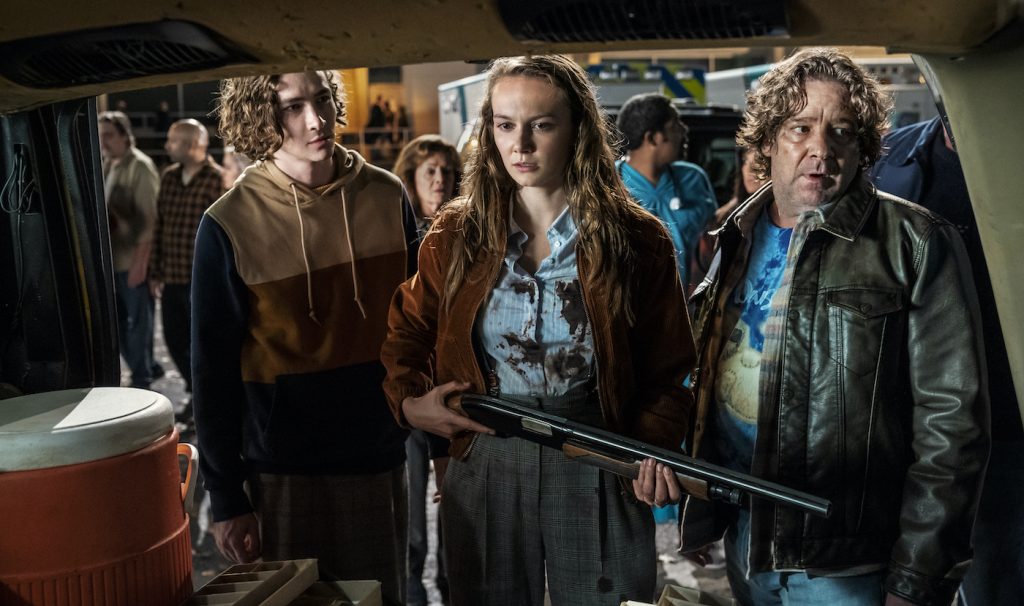 Halloween Kills also features Tommy Doyle and Lonnie Elam —  two children terrorized by Myers who are now grown and determined to stop his rampage. Anthony Michael Hall and Robert Longstreet portray the adult versions of the characters originally played by Brian Andrews and Brent Le Page.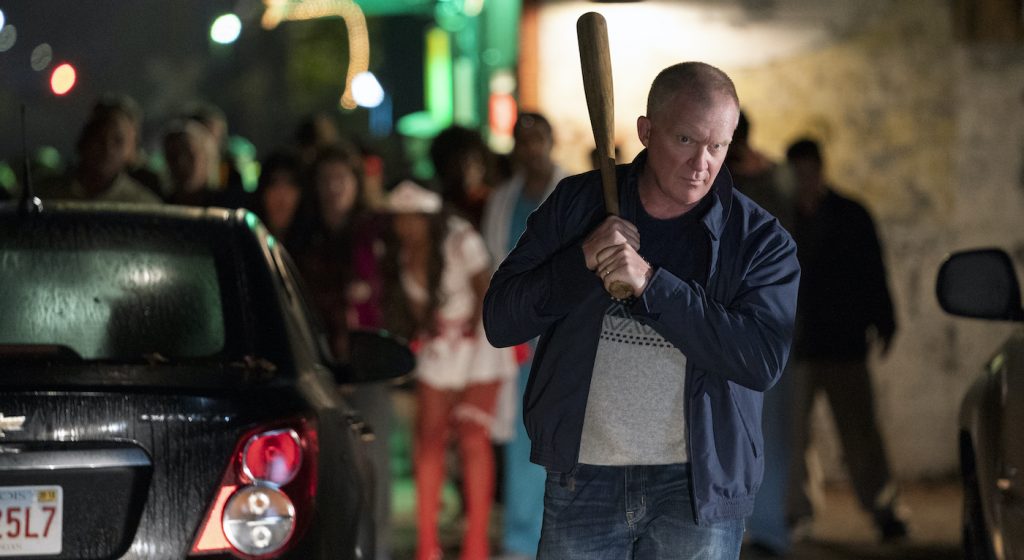 And as he did in Halloween and the 2018 reboot of the same name, Nick Castle appears as "The Shape," (aka Michael Myers).
But perhaps Halloween Kills' most surprising appearance is Dr. Loomis, the psychiatrist who treated Myers. Donald Pleasence portrayed the doctor in five Halloween films. He died in 1995. The character pops up in several flashback scenes, thanks to some makeup magic.
"It's actually about a 12-piece prosthetic makeup — that and a hairpiece," reveals Nelson. "That is a completely practical prosthetic look-alike makeup on a gentleman by the name of Tom Jones Jr., who was a construction coordinator. He looked close enough to Donald Pleasence, so we decided to take him the rest of the way."
Dr. Loomis is so spot-on, some believe he was resurrected via CGI. "I'm super thrilled with that makeup," adds Nelson. "Dare I say it's too good because people are saying it's CGI or it's found footage or this or that. It's not."
Nelson's years of experience really came in handy when it came time to create all the murders. "It's called Halloween Kills for a reason," he says. "So I think that's the first thing that stuck out to me is there are so many effects. So much stuff."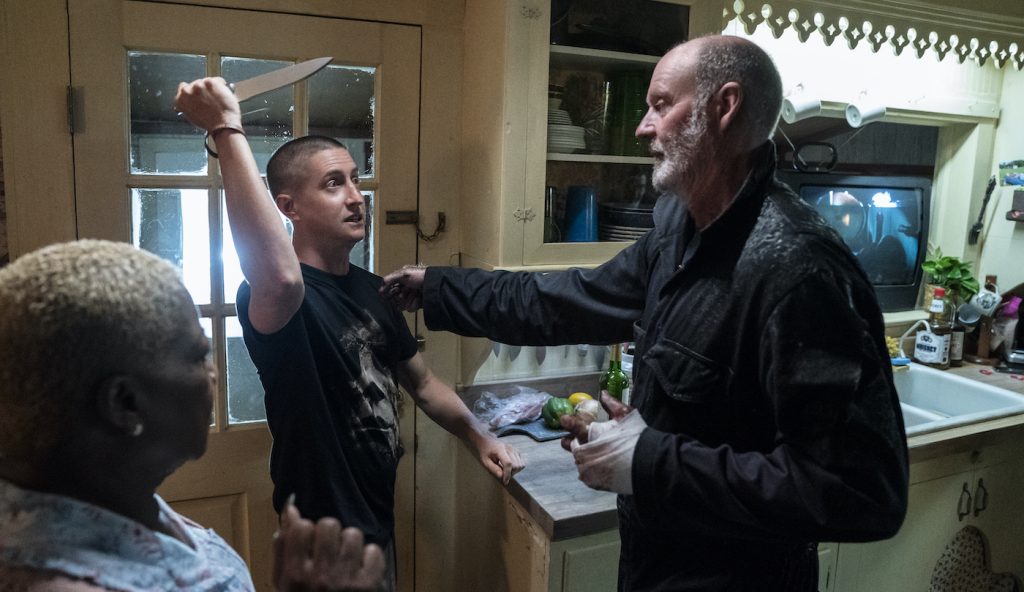 In addition to all the stabbings, the film sees Myers using his thumbs to gouge out one victim's eyes and thrusting a knife through a skull. In the show-stopping opener, he escapes from a burning building and takes out an entire firefighting squad — employing everything from a fireman's ax to a chainsaw.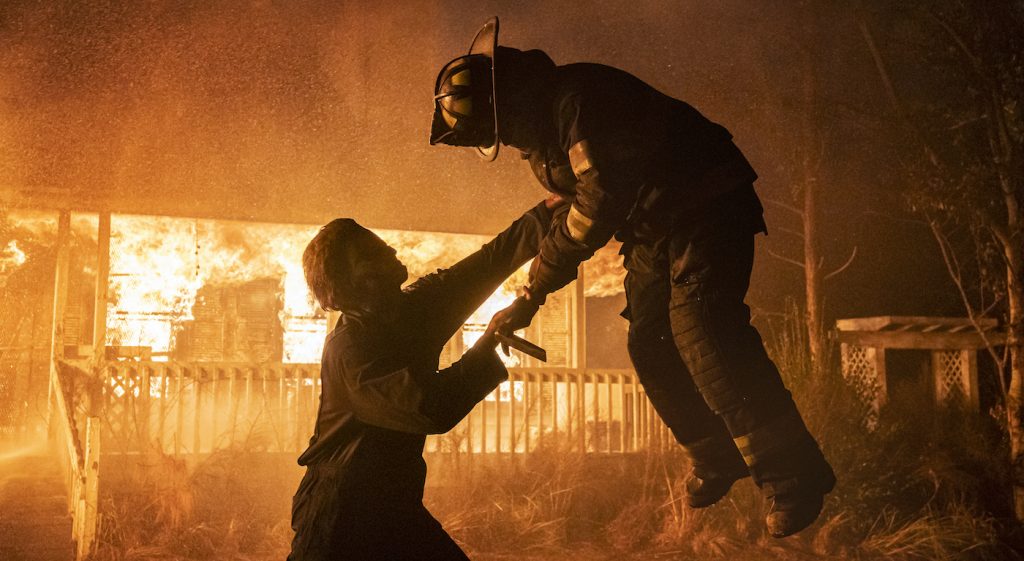 "We did a lot of different things and amped that up," explains Nelson. "Things were added at the last minute. We were like, 'Let's do this!'  There's a lot of moving parts — choreography between stunts and camera and effects and blood and Jim (James Jude Courtney — The Shape stuntman). I'm very proud of that."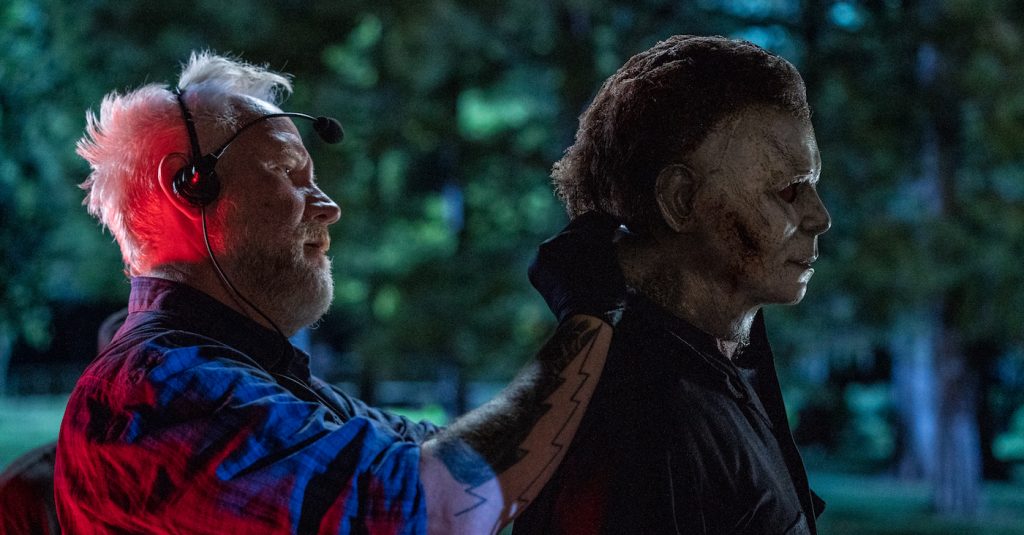 Past projects, particularly Kill Bill and American Horror Story, helped Nelson bring his A-game to this effort. "Kill Bill was a huge one. I mean, that was a master's degree in blood gags," he says. "Working for KNB EFX Group really honed my skills as far as thinking on my toes, simplifying things, being spontaneous, and building on the fly. I've taken all that knowledge and built upon it ever since."
Nelson isn't sure how many gallons of blood he used during filming. But no doubt, it was substantial. "At the end of the day, I would go back to my hotel covered in blood," he says. "And most of the time, it was like seven in the morning because we were shooting nights. So, seven in the morning, strolling into a lobby covered in blood — all in my hair – it kind of raised alarms."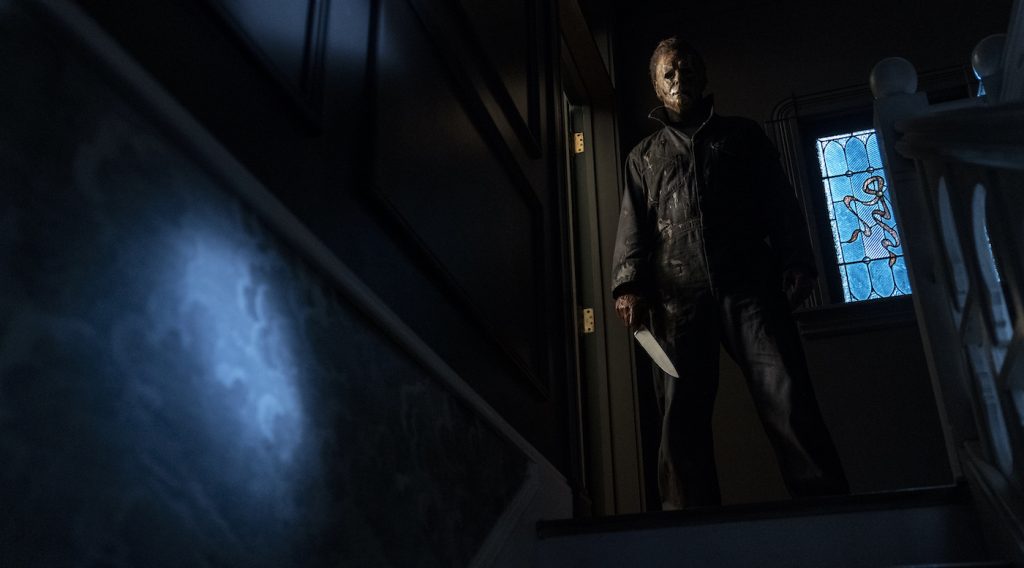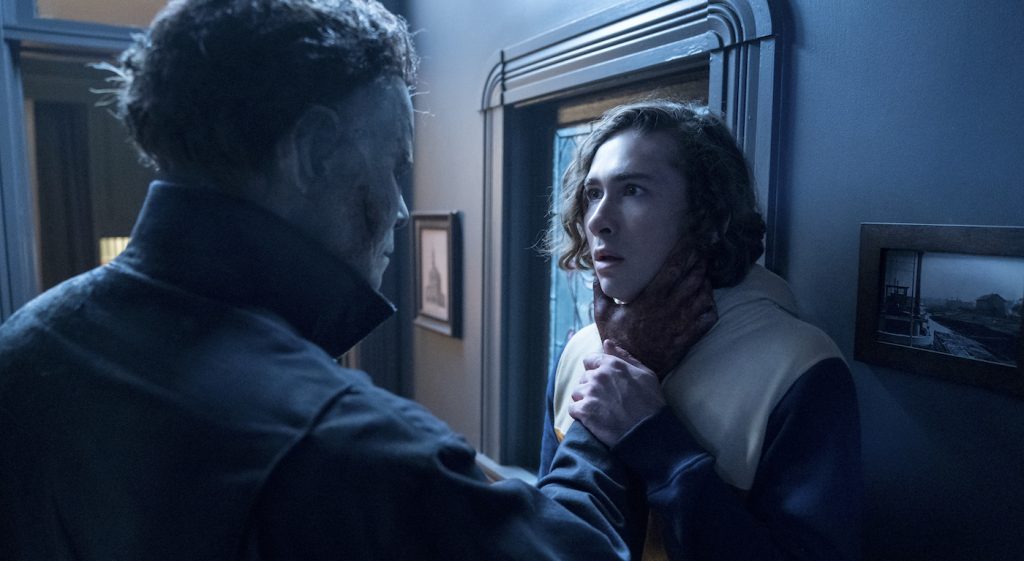 As he typically does, Nelson turned to longtime friend and colleague Vincent Van Dyke to build the gags. "He has a clean and very realistic aesthetic," says Nelson. "He brings realism to the table. It's very easy for these kinds of movies to go into another more comical, schlocky world. Vincent's good about not letting it do that."
One of the more challenging aspects of Halloween Kills was creating the iconic mask seen during flashbacks. Nelson was determined to capture the look and the feel of the original — something he believes has been missing from the numerous Halloween sequels. He admits it wasn't an easy task.
"1978 was a perfect storm of an accident, so to speak," explains Nelson. "It's the way it fit that guy. It was the way it was lit. It was the way it was shot. It changed all the time. That's why it looks different in every photo. That's why it's been so difficult to emulate and duplicate over all these years."
Nelson poured over every old mask photo he could find. He knew it should have a cold, blank look, but he also felt it needed to evoke a sense of tragedy. And he believed the best way to create it was through a team effort. Together with Van Dyke and Daniele Tirinnanzi, a sculptor at Van Dyke's Burbank-based shop, they fashioned a mask.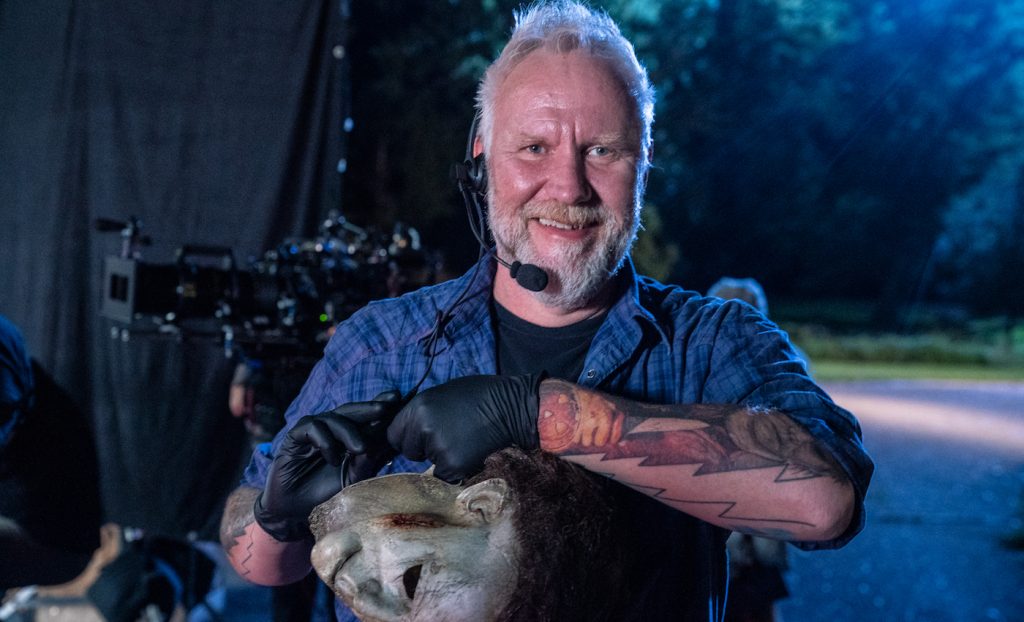 "I think that's the reason why it works," says Nelson. "I put my hands on it. Vincent put his hands on it. Daniele put his hands on it. We all took our egos out of it and went, 'Okay let's just do what's best for the project.' And so, multiple eyes on something from multiple angles will give you exactly what you need."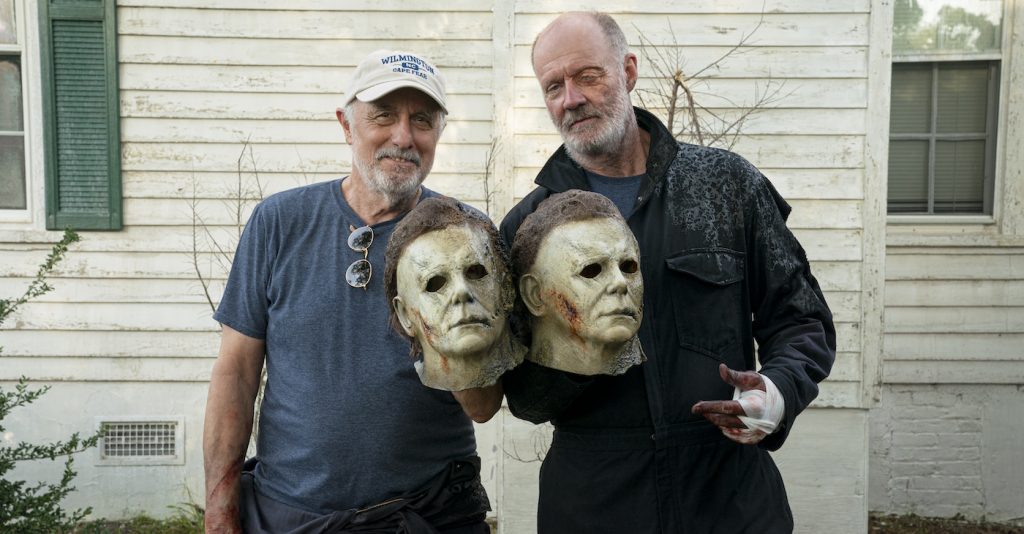 Nelson realizes Halloween devotees want to know as much as possible about the newest film. But he believes the less they know, the more fun they'll have — much like the days before social media when he saw the original in 1978.
"You didn't know who was under the mask. You didn't know who made the mask. You didn't know what it was made of or where it came from," says Nelson. "It lived on screen. It was a mystery and it added to the mystery of Michael Myers. I wish it could just live on screen and be mysterious again."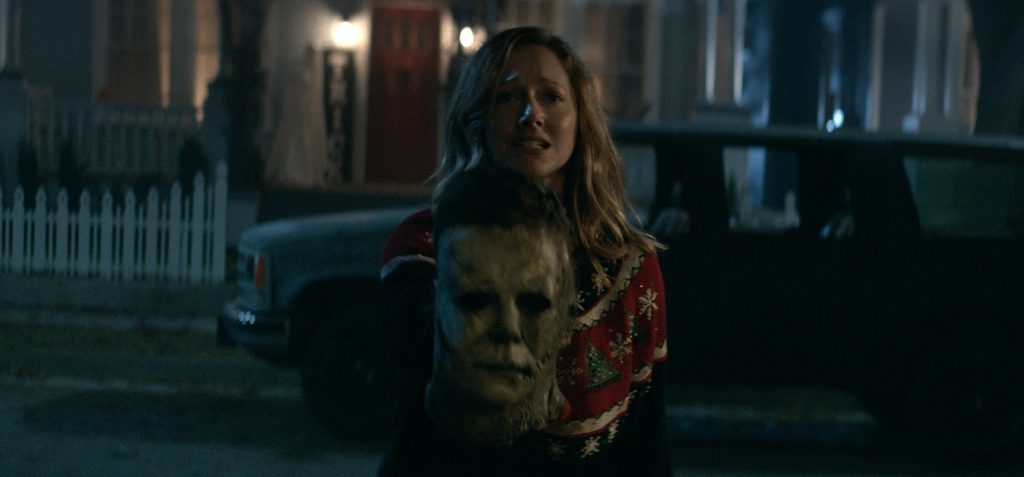 For more on Halloween Kills, check out these stories:
Jamie Lee Curtis Attends "Halloween Kills" Premiere Dressed as Her Mom's "Psycho" Character
New "Halloween Kills" Behind-the-Scenes Video Brings Michael Terrifyingly Close
The Final Trailer for "Halloween Kills" is a Grisly Thrill Ride
Featured image: Chris Nelson and Nick Castle on the set of Halloween Kills. Courtesy Universal Pictures.