How "The French Dispatch" Sound Team Immerses You in Wes Anderson's World
When it comes to a Wes Anderson film what unequivocally stands out is the whimsical aesthetics. A potpourri of artistic detail perfectly placed as if each shot was its own painting. The French Dispatch, which chronicles the final issue of an American magazine published in a fictional French city, is no different. But what immerses us in this uniquely French allegory is the soundscape, led by production sound mixer Jean-Paul Mugel and supervising sound editors/re-recording mixers Wayne Lemmer and Christopher Scarabosio.
Anderson invites us into the inner workings of The French Dispatch of the Liberty, Kansas Evening Sun, and those who contribute to its pages. The journey is split into four chapters each detailing a single story of the magazine: "The Concrete Masterpiece" follows an imprisoned artist whose work is sold for millions, "Revisions to a Manifesto" romanticizes a political uprising among the youth, "The Private Dining Room of the Police Commissioner" is an exposé of a legendary chef and writer Herbsaint Sazerac (Owen Wilson) takes us on a tour of the city, reminiscing about its peculiar past.
Each novella flourishes its own visual language, some scenes are shot in color while others are filmed in black and white. Grounding the layered imagery is a French-inspired sound treatment that serves as the subliminal glue.
Creating the tapestry of aural tracks started on set with Jean-Paul Mugel. "Wes's projects are so well-written," says the production sound mixer whose work includes Pablo Larraín's Jackie, starring Natalie Portman. "For this movie, he had animated storyboards, even with voices, that were laid out beforehand so when we came to set we knew exactly what we had to shoot. It makes things easier with very little surprises."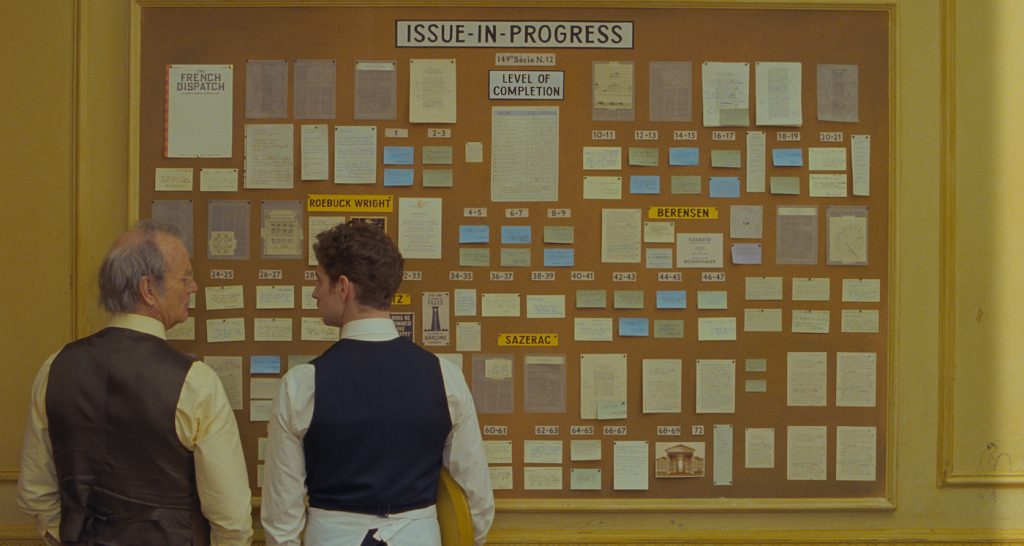 With this knowledge, Mugel was able to focus on the dialog recording each actor individually using a wireless mic and additional boom microphones to capture the authenticity of scenes. When it came to larger set pieces, like a sequence in "The Concrete Masterpiece" where the prisoners break free, the production mixer used an m/s stereo mic to record the unnerving vigor of the chaos.
Mugel also worked closely with costume designer Milena Canonero in order to find the right placement for the barrage of wireless microphones that would be placed on actors. "With Wes, he wants minimum crew on set, so it was important for us to use radio mics on the actors while we boomed overhead," says Mugel. "Milena had a big crew and we were able to work out any issues with noisy fabrics or anything else that was not good for the microphones."
His biggest challenges arose from unforeseen noise inside the studio which was a makeshift factory found in the southwestern region of France production converted for the film. After shooting, Mugel provided post a mix down of each scene along with the isolated tracks for them to further manipulate.
In post, the team has grown to understand Anderson's approach to sound having worked on a number of his films. "His style is a lot different than others," says Lemmer. "Wes likes to keep it very specific and what we try to focus on is the sonic intent for each event. Instead of looking for a lot of layers of sound, we look for the right sounds. It's about analyzing each moment and really deciding what's most important to hear."
Though subtle, the acoustic atmosphere is rich in the dynamics of French cinema. "Wes wanted us to watch Jacques Tati movies to understand more of French cinema and try to capture some of that sound quality for this film. It's a little different though because we're trying to capture being in France and the period of time rather than capturing a French style," notes Lemmer.
As each chapter plays out the audio landscape rhythmically dances between the dialog, sound effects, and music. The post sound team focused on each location to find the right timing and placement of sounds while connecting the overall arc of the story. "We didn't try to approach each chapter in a different way," explains Lemmer. "We went with what was appropriate for each scene, but with each story, the sounds naturally changed along with them."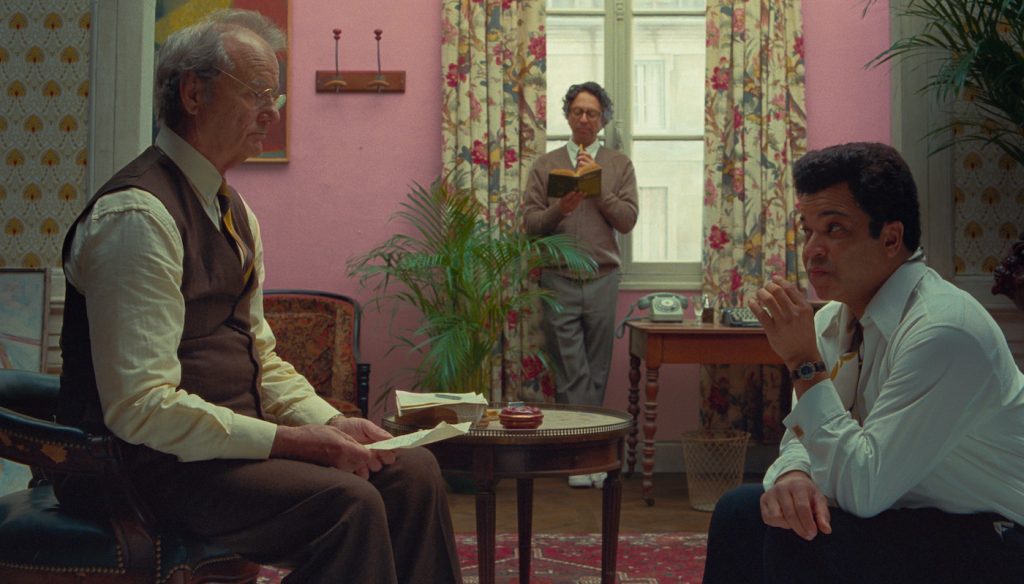 In a scene for "The Private Dining Room of the Police Commissioner," there's a shootout between a cast of characters led by The Chauffeur (Edward Norton) who's kidnapped the Commissioner's son Gigi (Winsen Ait Hellal) and threatens to kill him unless his accountant (Willem Dafoe) is released from jail. It's in this sequence where we hear the authenticity of the aural landscape. Instead of the gunshots having an echoing Hollywood bang, they accentuate the style of the film more reminiscent of the French New Wave era–quiet, yet piecing.
The small post team also considered the changing aspect ratios of the film which was shot by cinematographer Robert Yeoman with production design from Adam Stockhausen, both long-time collaborators of Anderson. When scenes switched from a wider screen to a squarer ratio, it informed sound how they might approach the moment–even on a subconscious level. "There's a tone to the movie that's somewhat light-hearted and fun and irreverent. I think part of it is finding those little moments that add to the joyousness of it all," shares Scarabosio.
That joyousness is now available for all to see. The French Dispatch is in theaters now.
Featured image: Timothée Chalamet and Lyna Khoudri in the film THE FRENCH DISPATCH. Photo Courtesy of Searchlight Pictures. © 2021 20th Century Studios All Rights Reserved