Wes Anderson's The French Dispatch Trailer is Here
Yesterday we got the poster, today, the trailer. Our first glimpse at Wes Anderson's upcoming film The French Dispatch is here, with newly minted Searchlight (formerly Fox Searchlight) releasing the first trailer for Anderson's latest. The last Anderson film was 2018's delightful animated caper Isle of Dogs, and it's been a whopping six years since we last got a live-action feature from the famously meticulous auteur—2014's excellent The Grand Budapest Hotel. Which is a long way of saying there's a lot of interest in The French Dispatch, which brings back a lot of Anderson's favorite faces, and a few new ones, too.
We're in the fictional French town of Ennui-sur-Blasé. The French Dispatch gives us the story of a New Yorker-like American magazine published in this fictional French city (it's the French arm of the Liberty, Kansas Evening Sun), with Bill Murray playing the magazine's editor, Arthur Howitzer Jr. (Anderson has a way with names.) The French Dispatch follows three stories being published in the film's fictional magazine, allowing Anderson to fill out his story with his usual A-list ensemble. This structure opens plenty of space for Anderson to deploy his now-infamous visual sensibilities, with his minutely detailed frames filled by not only visual splendor but a cast having the times of their lives. The French Dispatch doesn't look like The Grand Budapest Hotel (this film appears grittier, if no less obsessively designed), but it shares that film's sense of madcap adventure.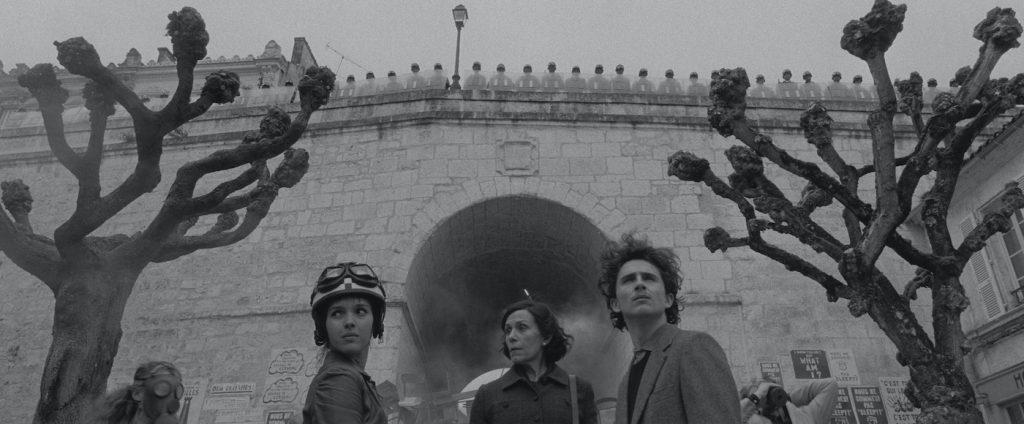 The trailer is pure Anderson. There is simply no other director who makes films quite like him, and while some scolds scoff at his mannered approach, every Anderson film is worth watching, and many of them are downright delightful. The French Dispatch looks like another must-see.
Watch the first The French Dispatch trailer below. Anderson's always exceptional ensemble cast includes many of his favorite collaborators;  Bill Murray, Owen Wilson, Adrien Brody, Wally Wolodarsky, Bob Balaban, Tilda Swinton, and Frances McDormand all return for another tour of duty. The newcomers include Timothée Chalamet, Jeffrey Wright, Léa Seydoux, Benicio del Toro, Henry Winkler, Elisabeth Moss, Griffin Dunne, and Lyna Khoudri.
The French Dispatch will be delivered to theaters on July 24th.
Check out the trailer here:
Featured image: Bill Murray in the film THE FRENCH DISPATCH. Photo Courtesy of Searchlight Pictures. © 2020 Twentieth Century Fox Film Corporation All Rights Reserved