See Kristen Stewart as Princess Diana in First "Spencer" Trailer
The moment we heard director Pablo Larraín was helming a film about Princess Diana starring Kristen Stewart, we were intrigued. Adding to the intrigue was the fact the script was from Peaky Blinds creator Steven Knight, and that the film would focus not on the entire, tragic saga of Princess Di's marriage, divorce, and death, but a snapshot in time when Diana's world was starting to unravel. Spencer focuses on just a few days in Princess Di's life, during Christmas festivities at Queen Elizabeth's Sandringham estate. Neon has just released the first teaser trailer for the film, confirming Spencer as one of this fall's most compelling releases.
Stewart joins a recent spate of great performers playing the iconic Diana—Emma Corrin played the young Diana in season 4 of The Crown and, taking over for her in the final two seasons is the great Elizabeth Debicki. Stewart, however, is the first American to take on the role, yet she brings some insight into it that perhaps no other performer has to quite the same degree. While obviously different in non-trivial ways, the crushing scrutiny Diana faced as a young woman is something Stewart herself was is no stranger to when you consider what she faced during her Twilight years. 
"Spencer is a dive inside an emotional imagining of who Diana was at a pivotal turning point in her life," Stewart said in a statement earlier this year. "It is a physical assertion of the sum of her parts, which starts with her given name: Spencer. It is a harrowing effort for her to return to herself, as Diana strives to hold onto what the name Spencer means to her."
Larraín is a top-notch director, and he's already tackled taking on a larger-than-life woman who dealt with unimaginable circumstances and the bitter klieg lights of fame, fortune, and obsession when he directed Jackie, starring Natalie Portman as Jackie Kennedy. The Spencer trailer packs a wallop without wasting many words, and Stewart looks, and crucially sounds, like she really was made for this role.
Joining Stewart are Jack Farthing as Prince Charles, Timothy Spall, Sean Harris, and Sally Hawkins. Spencer will premiere at the 78th Venice Film Festival, then hit theaters on November 5.
Check out the trailer below.
Here's the official synopsis for Spencer:
The marriage of Princess Diana and Prince Charles has long since grown cold. Though rumors of affairs and a divorce abound, peace is ordained for the Christmas festivities at the Queen's Sandringham Estate. There's eating and drinking, shooting and hunting. Diana knows the game. But this year, things will be profoundly different. SPENCER is an imagining of what might have happened during those few fateful days.
And here's the seriously arresting poster: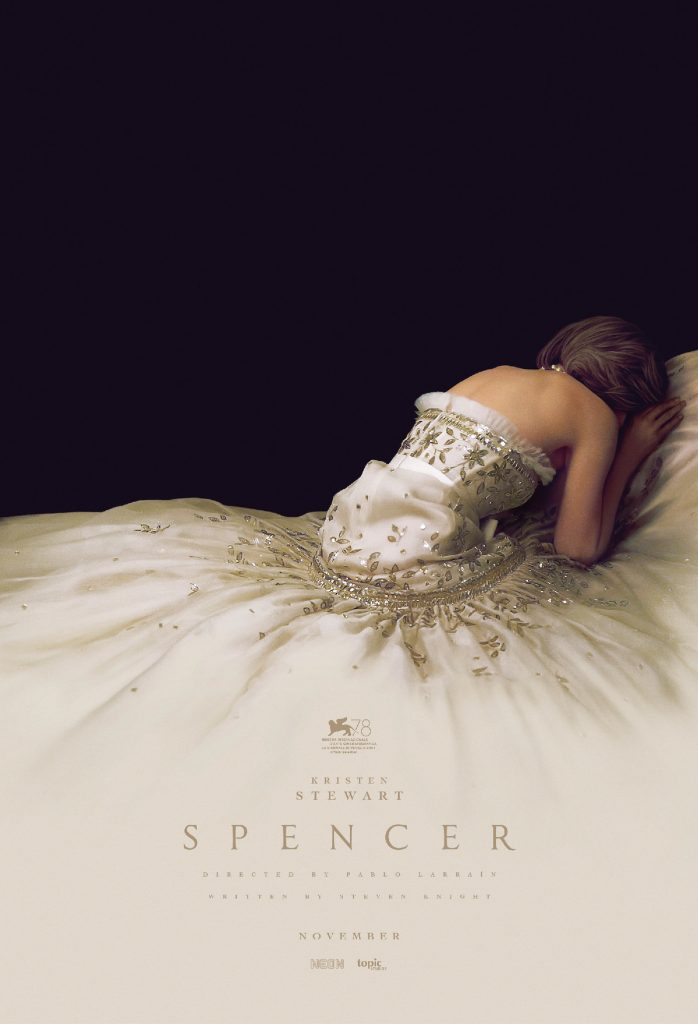 For more big titles coming to theaters this year, check out these stories:
"Candyman" Review Round-Up: Searing, Strikingly Beautiful, & Savage
The Matrix 4 Gets Official Title As Warner Bros. Teases Trailer at CinemaCon
"Spider-Man: No Way Home" Trailer Reveals Peter Parker's Strange Trip
Why The Action in "Shang-Chi and the Legend of the Ten Rings" is So Epic
Featured image: Kristen Stewart is Princess Diana in "Spencer." Courtesy Neon.