Early Highlights From Cannes 2021: Spike Lee, "Annette" & More
The 74th Annual Cannes Film Festival kicked off on July 6 after a two-year hiatus. Spike Lee became the first Black Cannes' jury president, leading a nine-person jury that includes five women—French actress Melanie Laurent, American actress Maggie Gyllenhaal, film directors Jessica Hausner and Mati Diop, and singer Mylene Farmer.
The opening ceremony saw the return of the most recent Palme d'Or winner, Bong Joon Ho (for Parasite) and Cannes veteran Jodie Foster, whose first appearance at the festival was when she was 13-years-old and was at the fest with Martin Scorsese's Taxi Driver. Foster received an honorary Palme.
The festival was officially opened by Lee, Bong, Foster, and director Pedro Almodovar in English, Korean, Spanish, and French, signaling what is hoped to be a return to some semblance of normalcy for both global cinema.
The festival opened with the premiere of Leos Carax's Annette, starring Marion Cotillard and Adam Driver in a musical scored and inspired by the Sparks. Once the end credits began to roll, the crowd stood and cheered for a full five minutes, Variety writes. While standing ovations are nothing new at Cannes (neither are boos), the adulation felt like both a celebration of Carax's film and of the festival itself, after Cannes took 2020 off due to COVID-19. The festival has added extra precautions due to the Delta variant, with attendees from outside the Europen Union required to submit a saliva COVID test every 48 hours to be allowed into non-theater indoor venues.
Lee is a central presence at this year's festival in more ways than one. His face—as Mars Blackmon—adorns the festival's poster, a callback to his 1986 film She's Gotta Have It which premiered at Cannes. In response to a question from Chaz Ebert, Roger Ebert's widow, Lee spoke about the state of the world since his 1989 masterpiece Do The Right Thing debuted at Cannes:
"When you see brother Eric Garner, when you see king George Floyd murdered, lynched, I think of Ray (Radio) Raheem," Lee said (via the AP's Jake Coyle), referencing the Do The Right Thing character. "After 30-plus years, you'd think and hope that Black people would have stopped being hunted down like animals."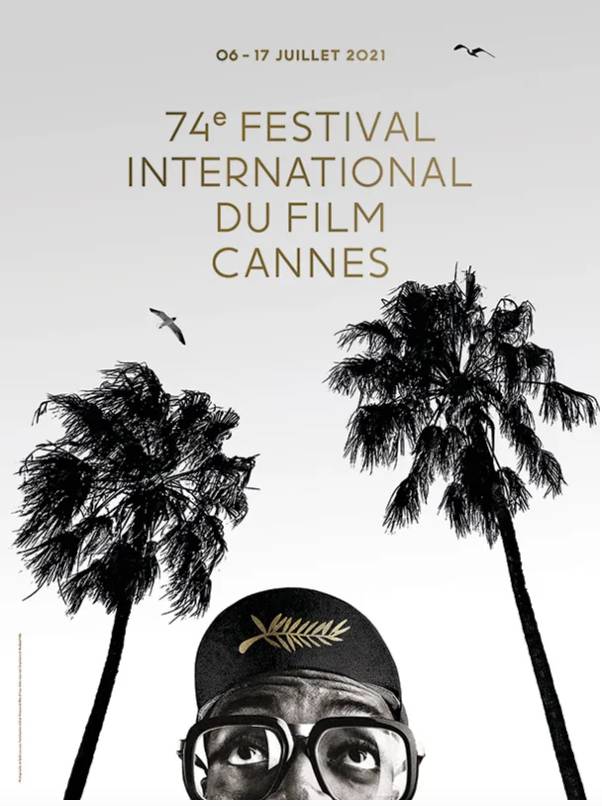 With racial and social justice, the pandemic, and a lean (if not outright embrace) of strongman tactics by global leaders across the world, the feel of this year's Cannes is understandably less glitzy. The need for greater representation both in the jury and in the festival's competition is also front and center. Cannes 2021 includes four female filmmakers vying for the Palme, the most in its history. Yet, they are competing against 20 men, so there's work still to be done.
"I think when women are listening to themselves and really expressing themselves, even inside, about a very, very male culture, we make movies differently. We tell stories differently," said Maggie Gyllenhaal (via the AP's Jake Coyle).
Cannes also presents a fresh opportunity to discuss the rise of streaming—the festival has yet to allow a film without French theatrical distribution into its competition lineup. The festival director, Thierry Fremaux, said that Cannes has a record of discovering filmmakers, but the same cannot be said of streaming platforms. Yet for Lee, whose Da 5 Bloods streamed on Netflix last year, there's no reason theaters and streaming platforms should be at odds.
"At one time, there was a thinking that TV was going to kill cinema. So, this stuff is not new," Lee said.
And streaming platforms are of course at Cannes—Netflix bought director Cédric Jimenez's French action thriller The Stronghold. 
This year's festival lineup includes Wes Anderson's long-awaited The French Dispatch, Julia Ducournau's Titane, and Justin Kurzel's Nitram. Cannes regular Jacques Audiard is also back with Les Olympiades.
And finally, if you're wondering who else besides Spike Lee is going to be a focus of this year's festival, one good candidate would be French actress Léa Seydoux—she has four films in the festival, including The French Dispatch and Arnaud Desplechin's Deception. Once the festival wraps, you'll be able to see Seydoux as Dr. Madeleine Swann (the ultimate French character name, by the way) in the upcoming James Bond film No Time To Die.
Featured image: CANNES, FRANCE – JULY 06: Jury members Melanie Laurent, Mati Diop, jury president Spike Lee, Jessica Hausner and Mylène Farmer attend the "Annette" screening and opening ceremony during the 74th annual Cannes Film Festival on July 06, 2021 in Cannes, France. (Photo by Kate Green/Getty Images)