Production Designer Amy Williams on the Ample Easter Eggs in "Master of None" Season 3
Director Aziz Ansari only appears briefly in the third season of Master of None, which turns its attention to the relationship between Denise (Lena Waithe) and Alicia (Naomi Ackie). At first blush, the pair's marriage appears to have blossomed away from Brooklyn, in their new rambling, historic upstate home. Life seems as full as their charmingly eclectic abode — Denise is working on her second book, Alicia is getting into the antiques business, and when friends like Dev (Ansari) and his girlfriend Reshmi (Aysha Kala) come up for dinner, they cheerily gather around the cozy dining table for wine and what we can only assume is ample and delicious home-cooked fare.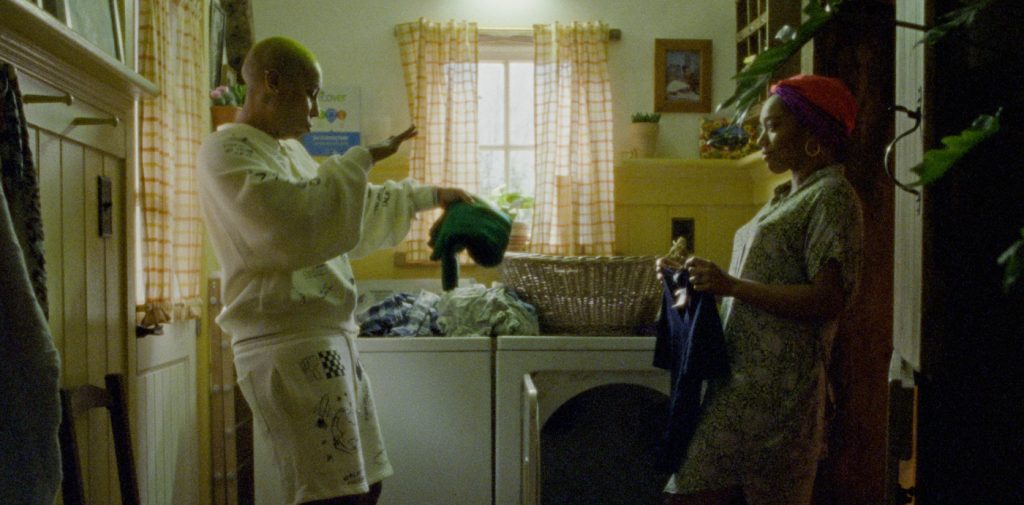 Sadly, this picture-perfect version of thirty-somethings living an idyllic rural life doesn't last. The dinner with Dev and Reshmi ends with that couple's bitter sniping. Between Alicia and Denise, the internal dynamics aren't doing much better, but they come undone more slowly, over the course of Denise's creative difficulties and Alicia's heart-wrenching miscarriage. As their marriage comes apart, so does the house's interior, with key pieces representing each of the women gradually disappearing from the show's long, static takes. "The challenge was like okay, let's throw away everything we did in the first two seasons and with this one, make it more still," said Amy Williams, the show's production designer since the beginning. Knowing this season would be shot on 16mm film with considerably slowed-down pacing "was really exciting, because it gave me a huge responsibility to design a space that would support these long takes, without the audience getting too bored," she said.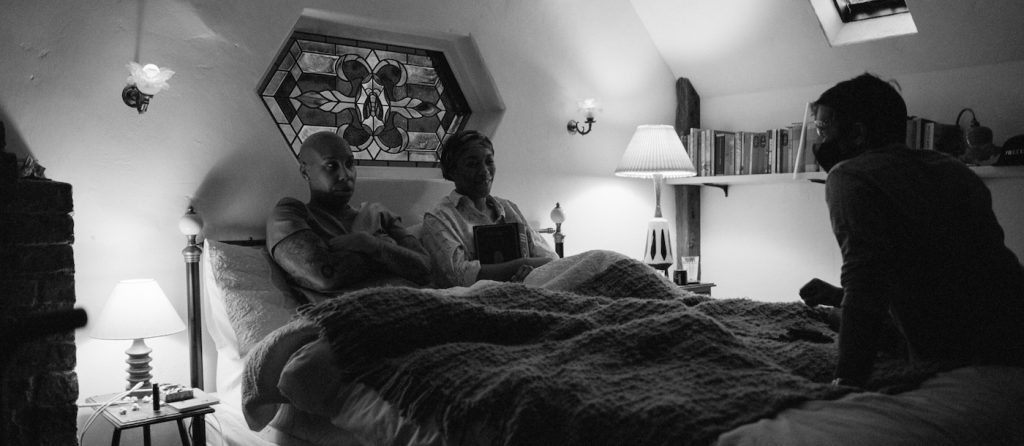 Putting together the couple's home, the PD used AirBnB and Zillow to research 19th century East Coast abodes. But you won't find Denise's and Alicia's two-story, beamed-ceiling marriage nest on a vacation home-sharing site — Williams and her team built the entire interior in two parts at a convention center an hour's drive from Heathrow Airport. (After being shut down in March 2020 and picking up again last fall, the studio had to decide where to shoot. "At the time, things seemed safer in the UK. By the time we left, they were not," Williams explained.)
Historic East Coast builds "have these great weird windows and low ceilings and strange additions that were made over the years," the PD said. "I thought that would be a really great place to anchor our characters and give them those beautiful anomalies and flaws." The result is a visually alluring mix of brick-mantled fireplaces, low beamed ceilings, and wallpapered bathrooms, with one of Williams's AirBnB finds serving as the house's exterior. A twenty-year-old house on the English AirBnB property was filmed as the home's front side, while the back and backyard, where Denise and Alicia hash out their issues in a foggy field next to a split-rail fence, was really an English cottage dating back to the 16th century.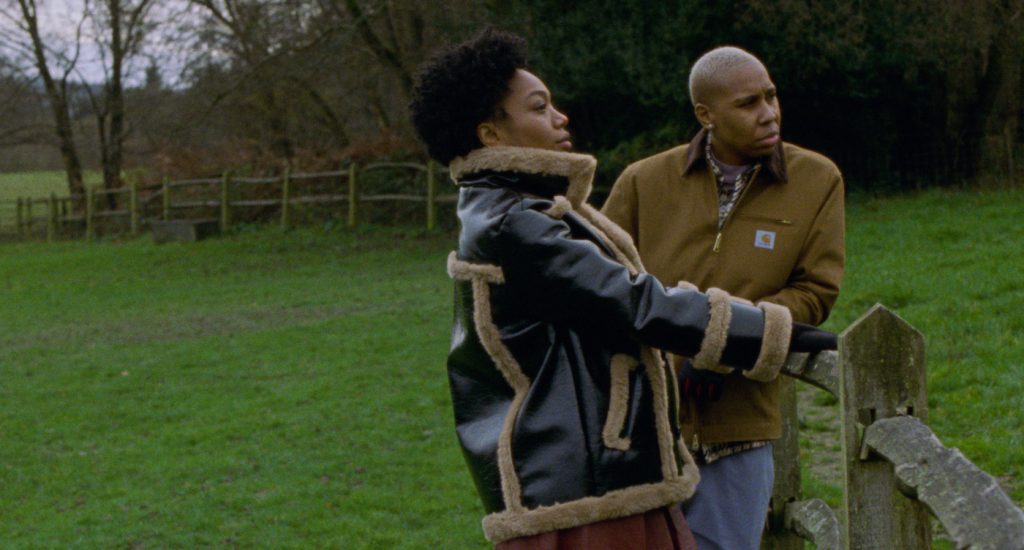 Indoors, the house is cozily overstuffed with furnishings signaling the couple's presence as well as their internal differences. "What Denise's character brought into the space was the bright orange sofa, the brand new things, the cool things, and the artwork," including large portraits by Robert Pruitt and Bria Murphy (the latter is a friend of Waithe's and the daughter of Eddie Murphy). "The things we assigned to Alicia were all the antiques and the found objects," Williams said. And the house's biggest-ticket item, that Lacanche range in the kitchen? "The stove is maybe a gift that Denise gave to Alicia, because Alicia's the cook in the house." But when Alicia leaves, so too does her furniture. You feel her absence in the long, downcast takes of Denise on her own in their emptying home, but you really know it's over with the disappearance of the tête-à-tête, an enormous French loveseat where, in better times, Alicia once joined her wife during an important book interview.
More than just a brightly anachronistic statement piece, the loveseat was also one of a number of Easter eggs Williams planted throughout the production design. "That was something that we used because it is in Scenes From a Marriage, the Bergman film," she said, in which the main character is joined for an interview by his wife, just as Alicia does for Denise. The bathroom wallpaper is another cinematic reference, an homage to Chantal Akerman's Jeanne Dielman, which Williams referred to as "the ultimate slow cinema feminist piece." Above the couple's bed, turned the stained glass window sideways, and "it's actually the shape of a uterus."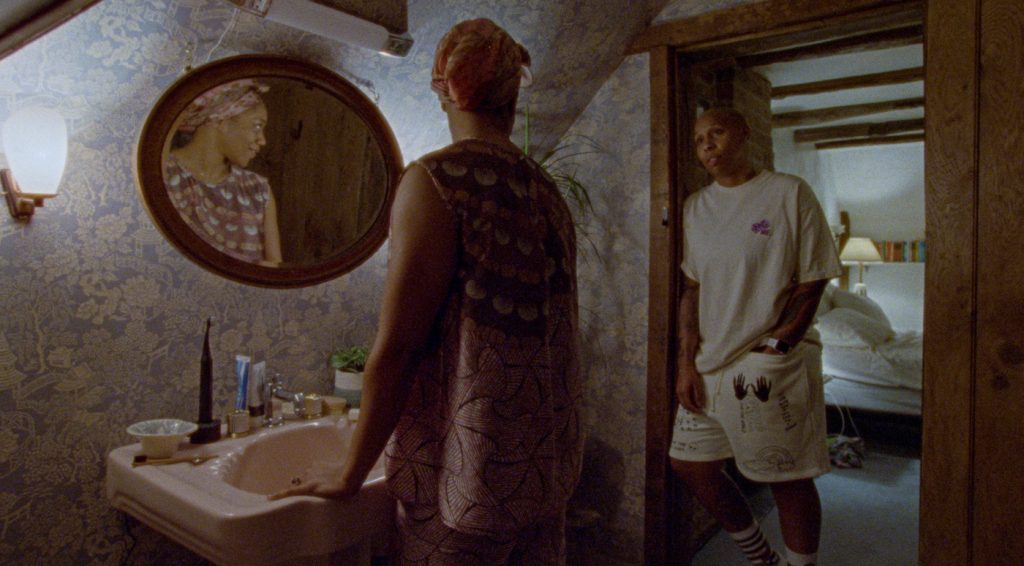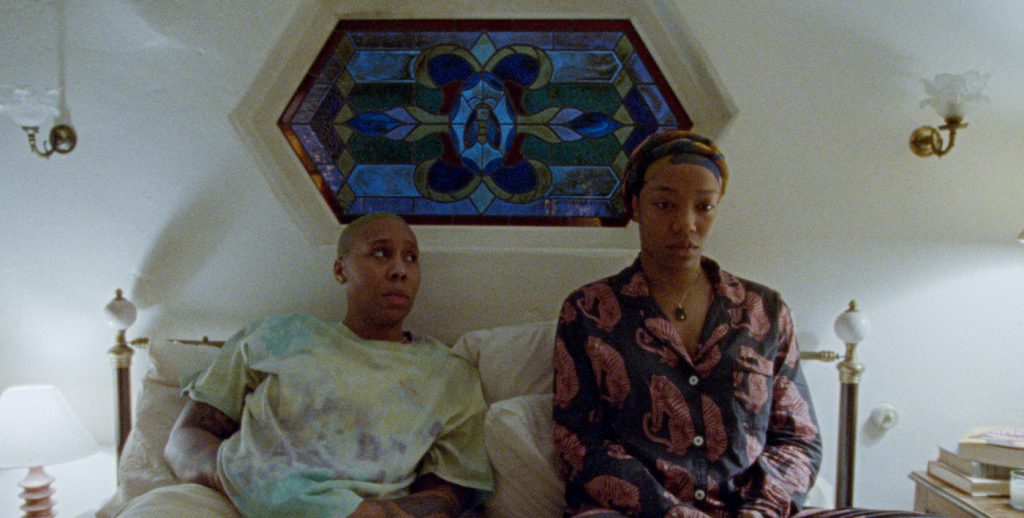 But what might be the biggest Easter egg of all wasn't even intentional. This season belongs to Alicia and her uphill battle to start a family on her own terms. At the end of the fourth episode, a monumental piece of news comes while she's at work, seated at her desk in front of an artfully arranged shelf of antique books. "Someone was like, did you add those x chromosomes in the back on purpose?" Williams recalled. "And it just sort of happened that we fed in all these Easter eggs of female symbolism, vaginal iconography, breasts, and things like that, but it just framed out perfectly that there were two x chromosomes — and it turns out she has a girl."
Master of None season three is now streaming on Netflix.
For more on big titles on Netflix, check these out:
"Army of the Dead" and "The Forever Purge" Star Ana de la Reguera's Big Summer
How the Creative Team Behind "Army of the Dead" Built An Apocalyptic World
Costume Designer Lizz Wolf on Outfitting The Motley Crew of Superheroes in "Jupiter's Legacy"
Dave Bautista Joins Rian Johnson's "Knives Out 2"
Featured image: MASTER OF NONE S3 (L to R) LENA WAITHE as DENISE and NAOMI ACKIE as ALICIA in episode 305 of MASTER OF NONE. Cr. COURTESY OF NETFLIX © 2021