"Army of the Dead" and "The Forever Purge" Star Ana de la Reguera's Big Summer
Actress, writer, and producer Ana de la Reguera is having quite the start to her summer. She has a meaty role in Zack Snyder's Army of the Dead, which bowed on Netflix on May 21, and in which she plays Maria Cruz, a ferociously competent mercenary and the right-hand woman to Dave Bautista's Scott Ward. The role finds De La Reguera, a warm and funny presence in comedies like HBO's Eastbound & Down and Jared Hess's Nacho Libre, credibly playing a zombie-killing badass. Not content to limit the action to the undead infested streets of a fallen Las Vegas, De La Reguera also stars in the fifth installment of The Purge franchise, The Forever Purge, as Adela, part of a couple escaping from a drug cartel and stranded at a Texas ranch in the midst of a fresh—wait for it—purge.
De La Reguera embarked on these back-t0-back productions after finishing the second and third seasons of her series Ana, a semi-autobiographical story about a woman with a foot in multiple worlds—she's a huge star in her home country (as De La Reguera is in her native Mexico), but not in the United States, and she's a woman who has gotten to live out the dreams her mother heaped on her, but who is ready to light out on her own path. In real life, De La Reguera is doing just that.
Before De La Reguera found herself in the intense position of having to fight off an army of surprisingly creative zombies in Snyder's ambitious return to the genre (his 2004 reboot of Dawn of the Dead put him on the map), she first had to contend with the initial surprise of the offer itself. "I couldn't believe I was getting an offer from Zack Snyder," De La Reguera says. "And then I thought, oh for sure it's going to be a small role and probably not that relevant, that's why it's an offer. But then I read the script and was surprised, page by page, that my character was so good."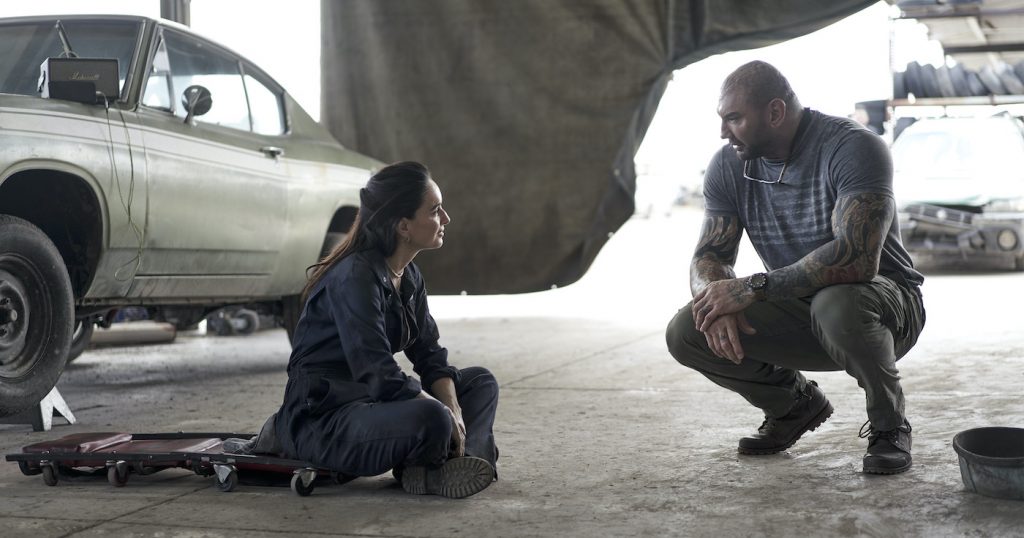 De La Reguera's Maria Cruz is the first person Bautista's Scott Ward enlists to help him with an insane plan—to steal $200 million from the vault of a Vegas casino that is surrounded, and infested, with the undead. But these aren't just the shambling, flesh-eating morons we're used to. Well, okay, there are shambling, flesh-eating morons about, but they're mere pawns. The kings and queens of the undead are called Alphas, led by the appropriately named Zeus (Richard Cetrone) and the Alpha Queen (Athena Perample). While the film is a hybrid heist/zombie story boasting a talented ensemble, De La Reguera is a major player in the action, arguably the second lead behind Bautista.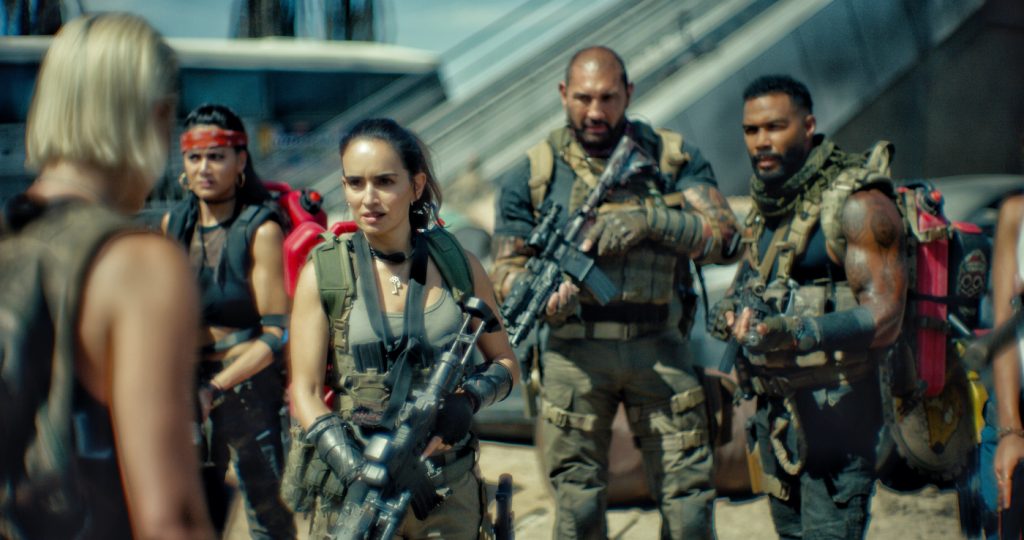 "I was surprised about the whole story, I had to read it many times," De La Reguera says. "The first time you read a script, you're just being super selfish and thinking about your role, how much are you in the movie, how you're going to play this character—at least, that's my experience—so then you have to read it again to really see the other characters and the relationships between them and what the movie is really about. You need many reads to understand a script."
One of the surprising things about De La Reguera's experience on Army of the Dead, she says, was how despite the sizable budget and scope, it felt like an intimate shoot. Part of that was due to Snyder acting as his own cinematographer, and part of it was the freedom he was given by Netflix, and that he, in turn, gave to his stars. "As the cinematographer, Zack used natural light, and we weren't stopping. It was, 'Let's do this! Let's do that!' It's a huge movie with a lot of budget, but it felt more like an independent movie."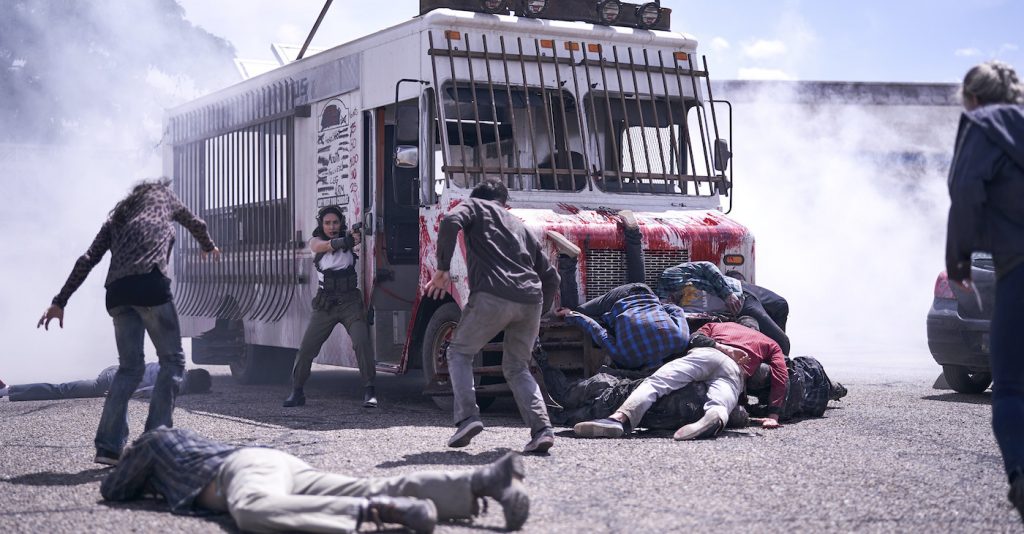 De La Reguera had a similar experience on director Everardo Gout's The Forever Purge, which, while short on living corpses hunting and eating humans, is still chock-a-block with action. "For most movies, action scenes are shot piece-by-piece, sometimes you just drop your head, and then the stunt person comes in, and then you go and wait for three hours," De La Reguera says. "But The Forever Purge felt like an independent film, too. There's a huge sequence, on the night of the purge, where it's just chaos, and there are no cuts in the scene. We shot it at Universal Studios, it was all real explosions, and I was terrified. When I was dubbing some of my stuff, I could hear myself screaming because I was screaming for real [laughs]. There was a lot going on. That night was long and scary."
De La Reguera arrived on the set of Army of the Dead after completing those back-to-back seasons of Ana and found the experience liberating. Gone was the intense, constant pressure attendant when you're the creator, producer, and star of your own series. Instead, she found herself on the set of a massive, if very macabre, playground.
"I had finished my show on a Saturday, and we started filming on Monday," she says. "For Ana, we had a small budget, obviously, so every day for me was like, what happens if it rains? What happens if we lose an actor? What about locations? It was a lot of stress every single day for the last three, four months. Then the next day I was just in heaven, working for Zack in a big-budget movie, and all I needed to do was do my job as an actress, learn my lines, and have fun. I didn't want it to end, it was like a vacation!"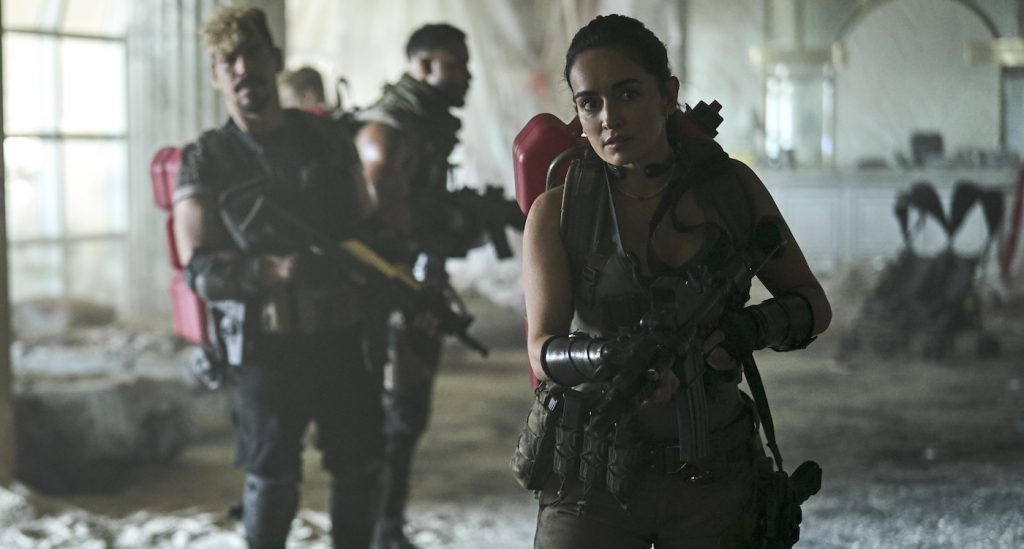 Production was spread across several locations, including New Mexico and Atlantic City. It was at the Showboat Hotel and Casino in A.C. where much of the interiors of the big action sequence set in Vegas take place. "Atlantic City was probably the hardest part of the movie for me," De La Reguera says. "We were living in this hotel-casino that had lost its license, so all the rooms were kind of abandoned. We had huge rooms looking at the ocean, but they were old and you could see there was no maintenance, and we were just sleeping there and going down to shoot. It was dark all the time, with zombies everywhere, so for days, we were just going up and down. It was perfect, but that's why I went to New York and Philadelphia during the weekends [laughs.]"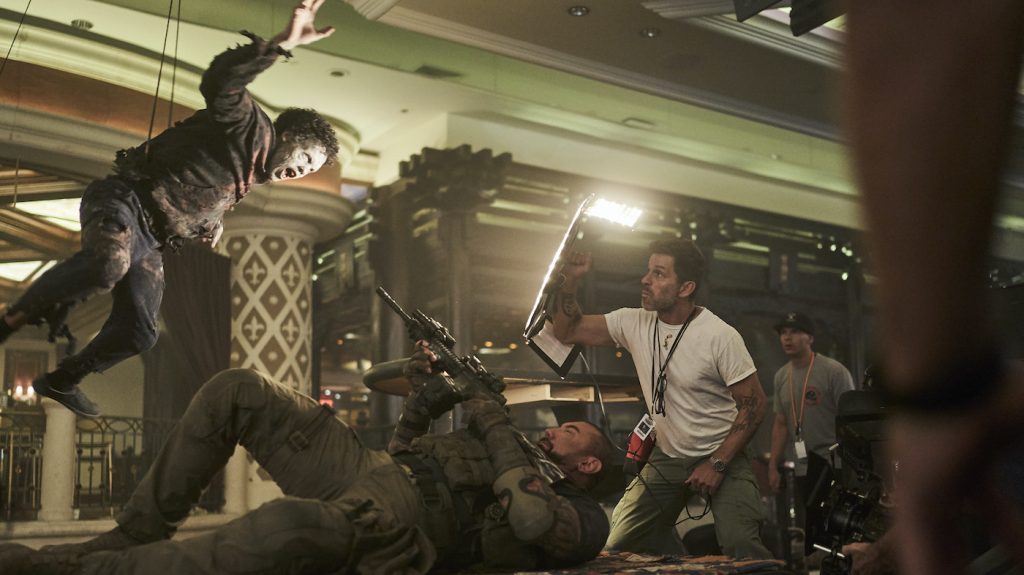 The rigors of starring in huge action movies are no joke. "No wonder Tom Cruise and all these action stars are in the gym and they're strong, you need that physicality," she says. "And I was a dancer, I'm very good with my body, but it's different." Despite this, De La Reguera says that the toughest genre is comedy. "Comedy is harder than anything. I think comedy is my favorite genre, and I think it's the hardest one to do, even more than drama."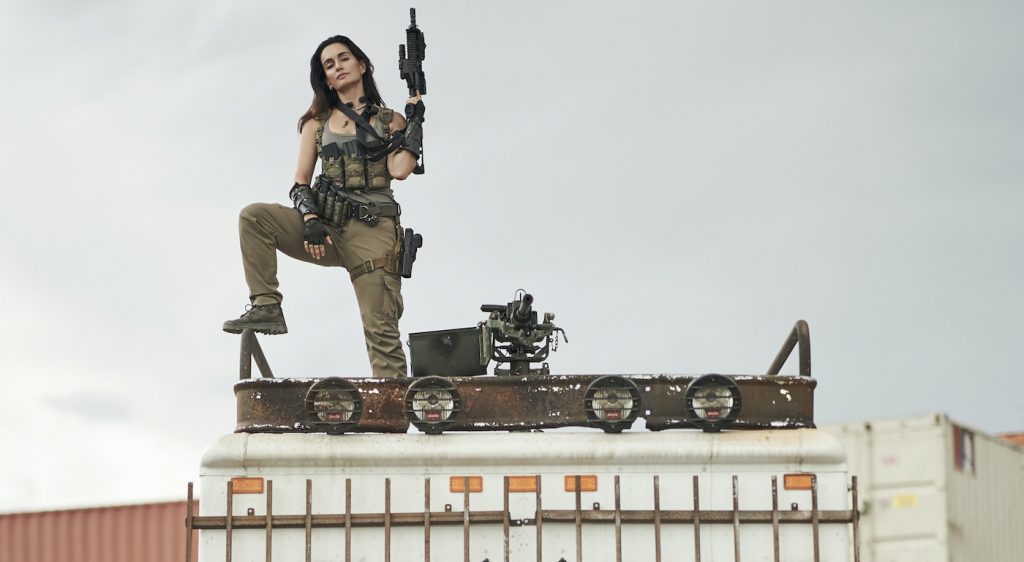 This is why De La Reguera has poured so much of herself into Ana, which she calls "a bilingual, bi-polar, bi-sexual, bi-coastal show about this woman who is divided between two worlds. It's a very biographical show, but mostly it's about my relationship with my mother. My mother had all these dreams she put on me. I wanted to be this perfect woman, this perfect daughter, and I kind of did it, and now I want to learn to be the opposite, to start living life in the wrong way because I'm tired of being the good girl."
As Maria Cruz in Army of the Dead, De La Reguera is playing a bad girl who's really good at heart. In real life, she's making things happen left and right. With one huge movie recently released and The Forever Purge on the way, she's well on her way to becoming a little less unknown in America. And with Ana, she's made an impact already. The series premiered on Lionsgate's streaming platform, Pantaya, and received nominations from GLAAD and the Imagen Awards. No doubt seasons two and three will show more people what this multitalented good girl is capable of.
Featured image: ARMY OF THE DEAD (Pictured) ANA DE LA REGUERA as CRUZ in ARMY OF THE DEAD. Cr. CLAY ENOS/NETFLIX © 2021