Costume Designer Lizz Wolf on Outfitting The Motley Crew of Superheroes in "Jupiter's Legacy"
Based on the graphic novels by Mark Millar and Frank Quitely, Netflix's new superhero epic Jupiter's Legacy is a century-spanning origin story and contemporary action tale in one. When we meet Sheldon, the Utopian (Josh Duhamel), and Grace, aka Lady Liberty (Leslie Bibb), they seem like any ordinary if well-off older rural couple, drinking wine, clad in plaid and fretting over disagreements with their grown kids.
Shel and Grace, however, are two of the six foundational members of a group endowed with extraordinary powers way back during the Great Depression and tasked since then with using their acquired supernatural abilities to keep the world safe. Unfortunately, with their son Brandon (Andrew Horton) questioning Shel's inflexible adherence to a moral code he deems out of date and their hard-partying daughter Chloe (Elena Kampouris) barely on speaking terms with her parents at all, upholding the Union of Justice status quo, training the next generation, and maintaining a functional family life are three tasks that Shel and Grace, along with Shel's brother, mind-reading superhero Walter (Ben Daniels), are having a hell of a time staying on top of. In addition to their personal and organizational woes, an enormous brute known as Blackstar seems to have escaped prison and is out for good-guy superhero blood.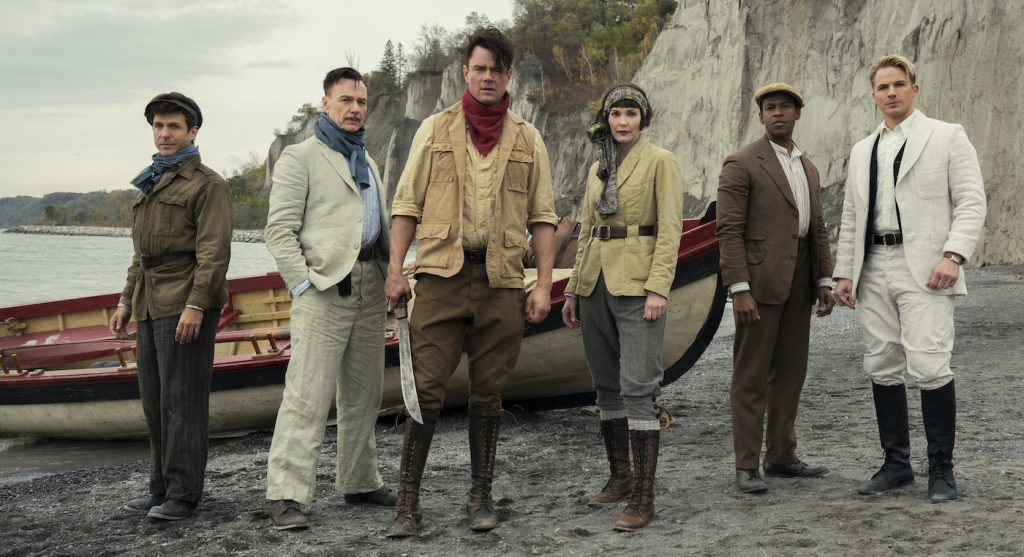 This complex season, developed by Steven S. DeKnight, takes a wide-ranging approach to the universe it introduces, toggling between the Union's origin story and its present-day challenges, from powerfully violent villains and wayward daughters to weighty infighting over the Union's own existential future. Lizz Wolf, the series' costume designer, was brought on early to help shape the characters' foundational aesthetic, from their supersuits to their 1920s period gear. We spoke with Wolf about working across superhero, vintage, and contemporary fashion, tying these looks together within each character and building a highly technical, character-driven superhero wardrobe from scratch.
How much did you look at superhero costume tropes and how much did you let these characters' personalities dictate their costuming?
There's really a huge over-saturation of the genre, and I think we have very sophisticated audiences who are looking for something fresh. Mark Millar and Frank Quitely created this vast universe—it's multigenerational, multicultural, with very complex characters. I wanted all those things to resonate in the design language. There was just so much to do to delineate each of these factions — we had superheroes, villains, robots, wizards, and different generations. The mythology of how the Union's supersuits come to be was really the leaping-off point. With that, I relied heavily on science and nature to guide that inspiration. The biggest detail we created was the phenomenon of particles dancing around to create mathematical shapes and patterns, basically driven by sound waves. That was the most incredible find, along with —this is going to sound crazy, but this is where the details come in — amateur photography of frozen ice crystals. Those two things fused together became our language, and we created that into an alphabet. We put that into each character, and it's expressed differently in each of the costumes, but it basically created each character's own sacred geometry, if you will. Minutiae, I know, but it's really vital, in telling an origin story like this, that we get those details right.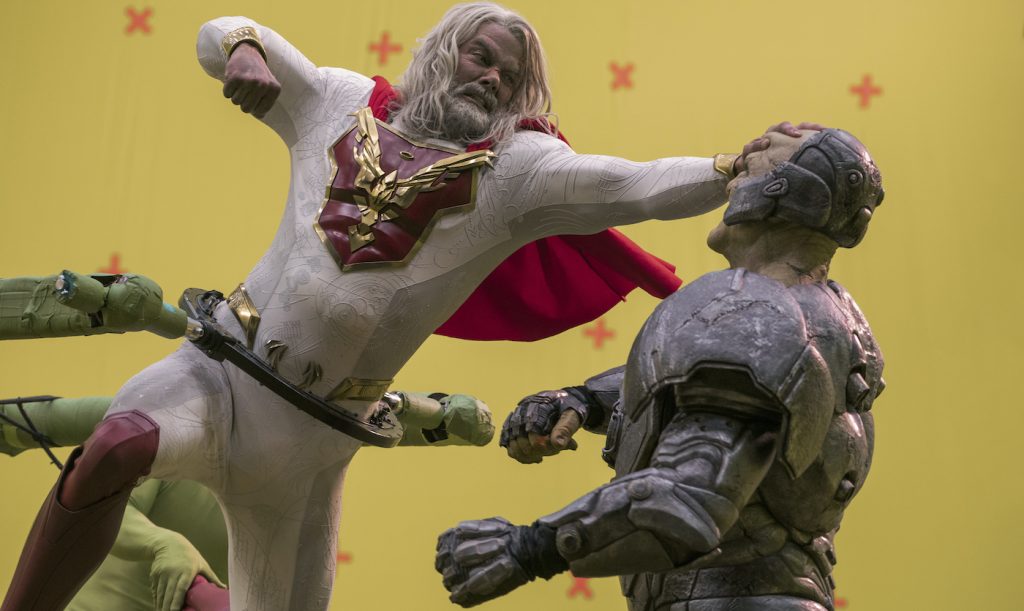 How did you bring out the differences between the older and younger generations of superheroes in the costume design?
We have a generational divide between the Union and the next generation, and they were completely built from inspiration from sneaker tech. That was another big aha moment. I'd found some industrial videos on flyknit technology that was developed for Nike. One of the things it had said was that it had infinite possibilities, was virtually seamless, breathable, and acts like a second skin. I just thought, well, when you're looking at a sneaker, they are 100% pieces of artwork—very vibrant, with a lot of depth. That really bolstered our designs and inspiration. Our next generation is all inspired by that.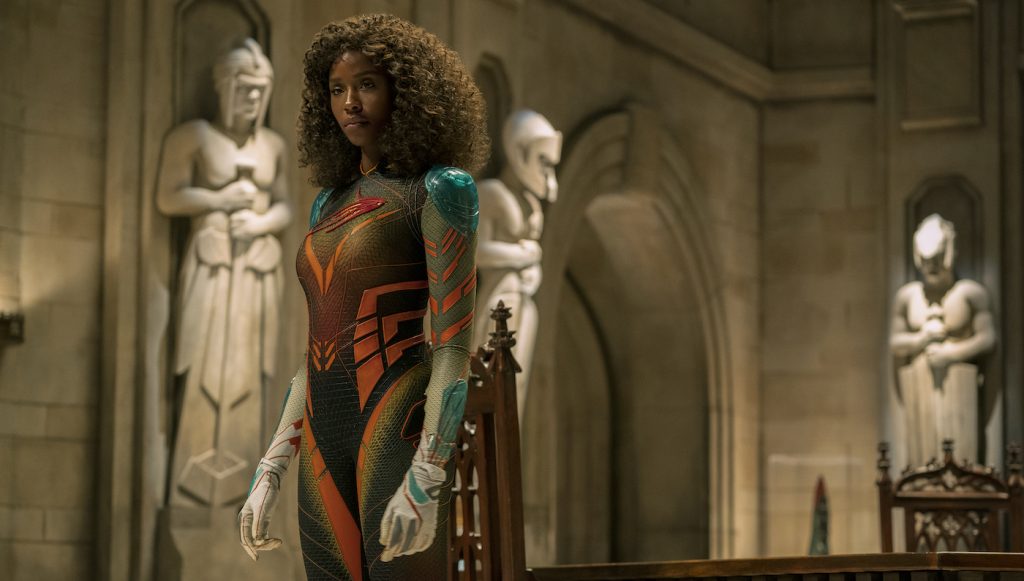 Using such technical materials seems like a ton of work.
It was a painstaking effort. The directive from me from the very beginning was that we really wanted to do things in a new way. We did not want to go down the road of 'let's just buy some spandex and print it and be satisfied with that.' Taking that flyknit technology further, we had incredible luck and were able to find the people who developed this technology and collaborate with them. There's a character named Phase Out and her costume is woven by those innovators. It's 100% that flyknit—multi-dimensional, seamless, and it was a total breakthrough moment. It's a first of its kind of suit. I'd like to see it become the future of superhero costumes. Beyond that, nothing was raw goods. Everything was printed on, embossed, turned over, painted, embellished. You would not recognize any of the raw fabrics we used on any of the costumes.
You also designed for a period piece. How was traveling back to the Roaring 20s and the Dust Bowl?
Hardly anybody asks about the good old period! It's a crazy time in history to amass research on because there's a complete wheel of different things going. The Dust Bowl, the effects of the stock market crash, the economic impact that had on people. And then we have that juxtaposed with people who are still thriving in the Jazz Age, the finery of men's suits, women's fashion completely changing in those years. One of the big things about that is that getting to know these characters as the people they were in 1929 is vital to understanding them as superheroes. We made almost everything for all of our principal characters. Trying to divide my time between the dominant superhero universe, the intricate period world, and the contemporary sphere was really a huge challenge. Those three concurrent worlds got fused together. I had 120 people, three countries, two shops, everything was divided.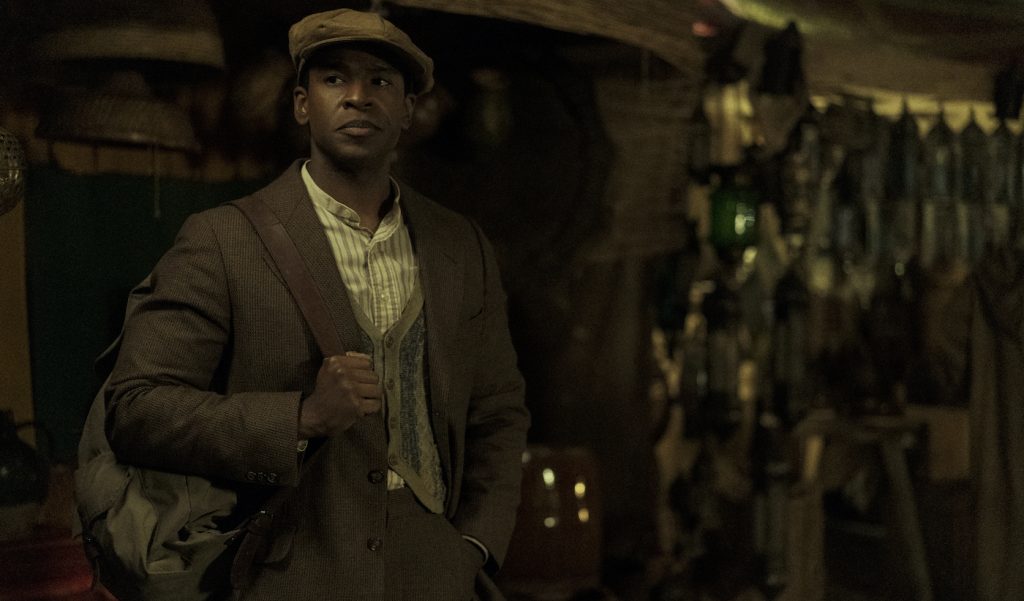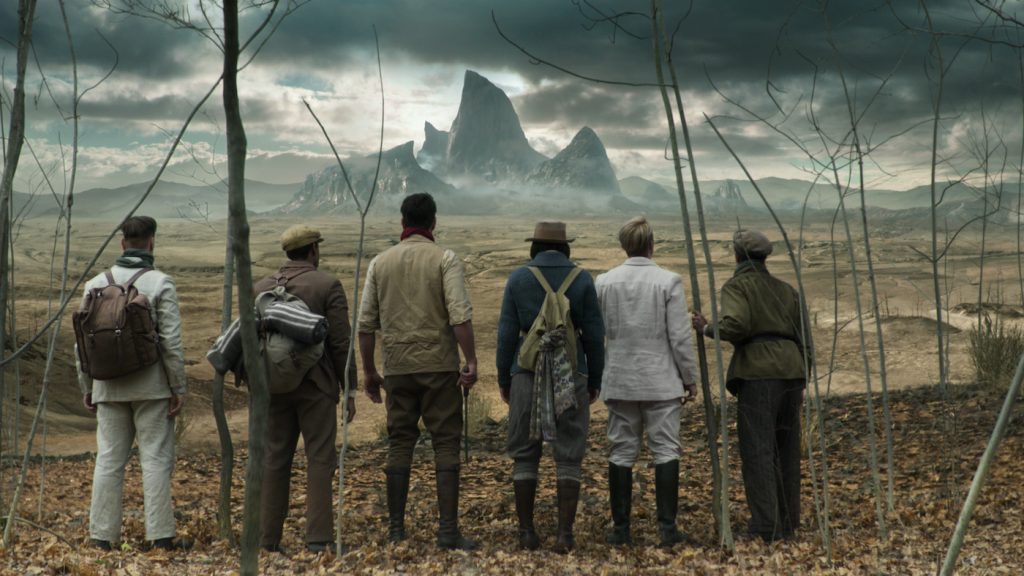 In the present day, Chloe is the most standout character in terms of costume. What was a leaping-off point for her?
She's a highly complex, very unpredictable, rebellious character who's very much a superhero in her own right despite rejecting everything her parents stand for. I think her clothing choices really speak loudly to her internal battles. She wears nothing that symbolizes the latent superhero powers that she holds. She has a total disdain for it, so it wasn't appropriate to bring it in at all. I think in one of the big moments in our trailer you see her in what feels like a superhero look, but that's a satirical thing going on inside our story. Her outrageous streetwear is her costume. It's a mashup between editorial fashion looks, street chic, and what we referred to as floor couture—what's recently been thrown on the floor from the night before and becomes a newly formed look the next day. We delineated all these different sub-groups inside the show because the world is absolutely littered with superheroes with varying degrees of powers. She's the reluctant figurehead of what we called the in-crowd, which is basically a band of partying, ambivalent, materialistic young adults who are socially at the top. And she's a supermodel. In the comics, she's basically depicted in not much more than a pair of boy-shorts and a crop top, and we took the residual makeup and spiky hair and came up with a different way to express that.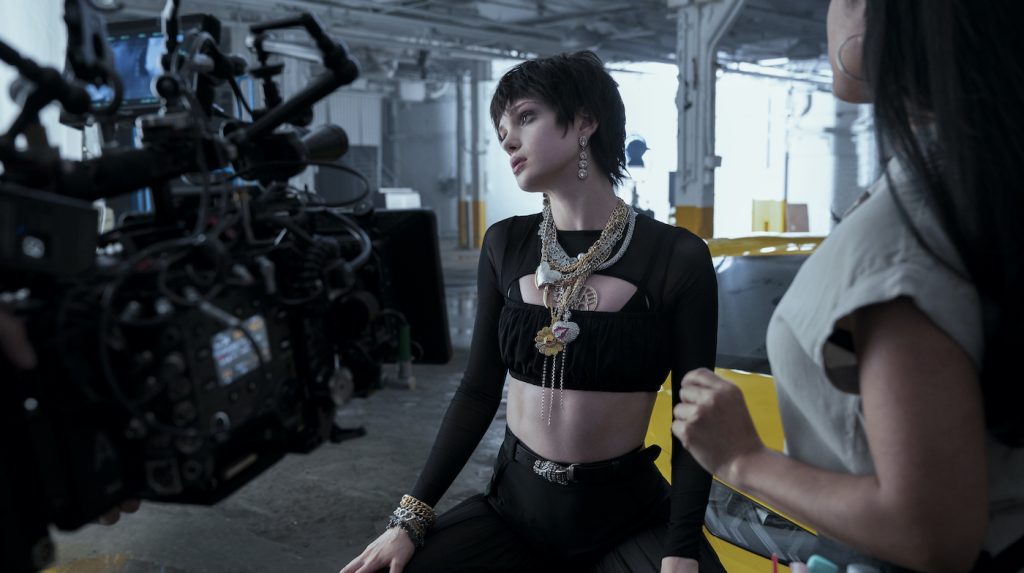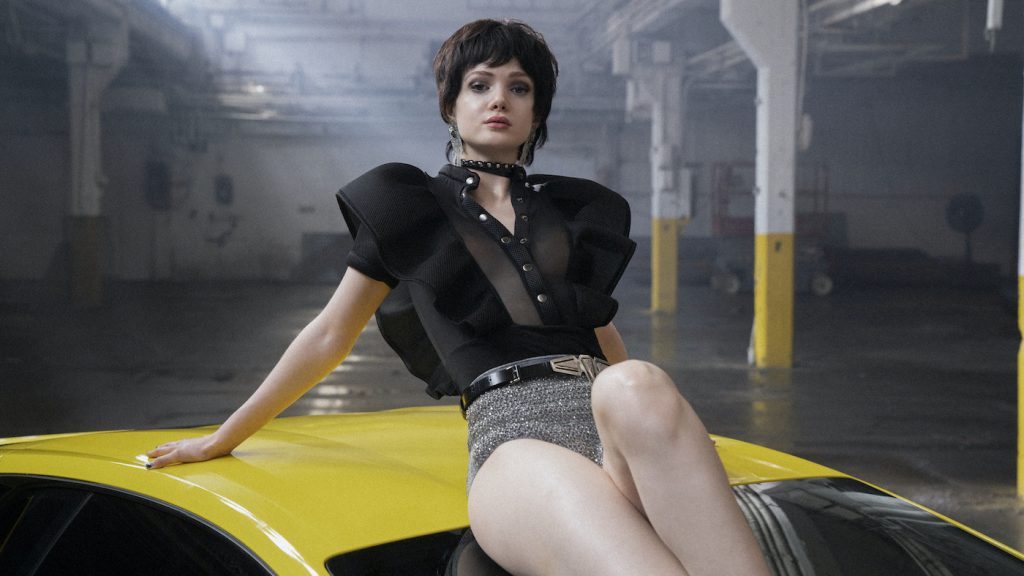 On the other side, we've got pared-down Hutch and his pals.
Part of the thing with Hutch is that he and Shockwave, Nutrino, and Jack Frost are in a gang, if you will. They were part of a group we call the antis. Originally I had a really moody color palette in mind inspired by lomography [a genre of photography, involving taking spontaneous photographs with minimal attention to technical details] and 1980s polaroids. For Hutch specifically, I wanted his clothes to be transient, used beyond their expiration, and repurposed. Without any intentional style or assembly, he just went for it. I had this idea that any of the things the group holds precious might have been lifted off other people in very nefarious circumstances. They're attached to shiny things and grabbing at them just to say they can take them from you. They're definitely the counter culture.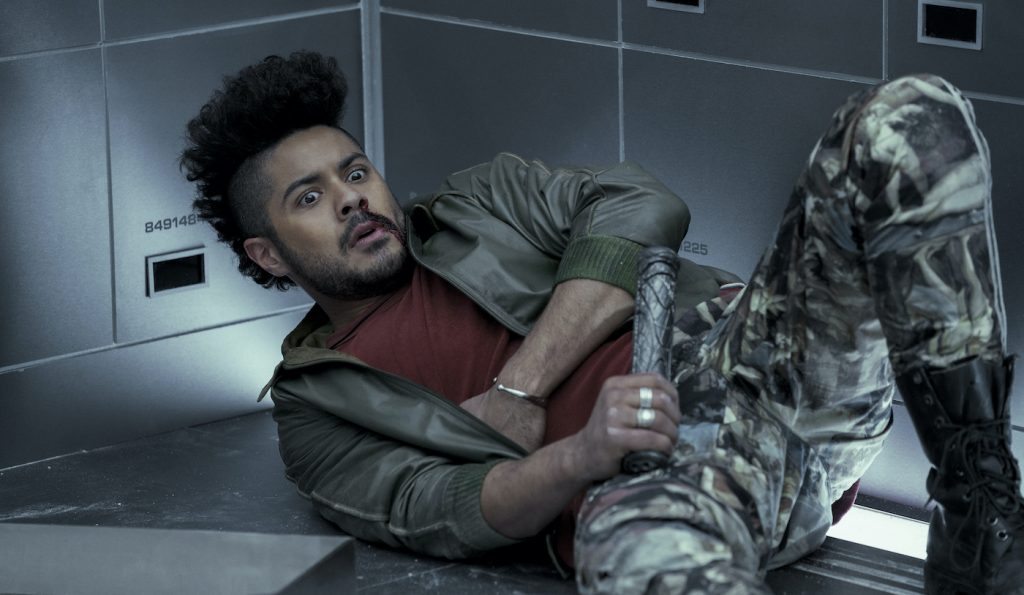 Did you use color to divide between the eras at all?
For the superheroes, we were trying to create an emotional color palette with their suits and in the period world, though we stuck to a more period-accurate look, we tend to see these things through the lens of old photos so our mind is predisposed to thinking it's that way. Color palettes are really created broadly for all three of these worlds. Sometimes they hook up. That's what costume designing is, it's telling stories, and we hope that people see these things. This show is so unbelievably epic and a full-bodied experience. There's a lot of investment people put in a show like this—we've gone full tilt in an origin story, and that's just a rare opportunity.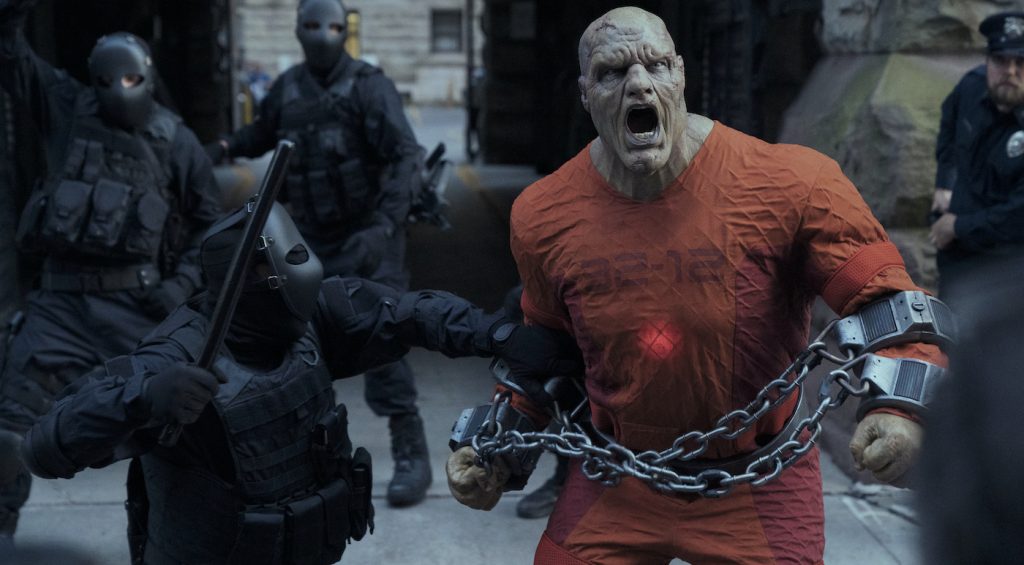 Featured image: JUPITER'S LEGACY (L to R) TYLER MANE as BLACKSTAR, ANDREW HORTON as BRANDON SAMPSON, and TENIKA DAVIS as PETRA SMALL in episode 101 of JUPITER'S LEGACY. Cr. COURTESY OF NETFLIX © 2021