"Jupiter's Legacy" Composer Stephanie Economou on Scoring Netflix's Epic New Superhero Series
Based on the 2013 graphic novel created by writer Mark Millar and artist Frank Quitely, the new Netflix original series Jupiter's Legacy tells the story of both the first generation of superheroes, that have worked to keep the world safe for nearly a century, and their children, who are expected to pick up the torch. Some may not quite ready to handle the burden, and some actively reject their legacies. Josh Duhamel stars as Sheldon Sampson, aka The Utopian, who, along with his wife Grace aka Lady Liberty (Leslie Bibb), led the superheroes of The Union. All members of The Union must follow The Code: don't kill, and don't get involved in human politics. The season's 8 episodes follow these characters, shifting back and forth in a non-linear timeline. In 1930s Depression-era America, the original 6 moves towards the moment they get their powers. In the present day, Sheldon's children Brandon (Andrew Horton), daughter Chloe (Elena Kampouris), as well as other characters with special powers but unclear intentions, deal with the legendary reputations of the older generation and struggle with growing superpowers, family dynamics, dangerous secrets, and their own demons. 
The Credits spoke to composer Stephanie Economou about creating the score for this hybrid of complex family drama, morality tale, and epic origin story. This interview has been edited for length and clarity. Jupiter's Legacy premieres today on Netflix.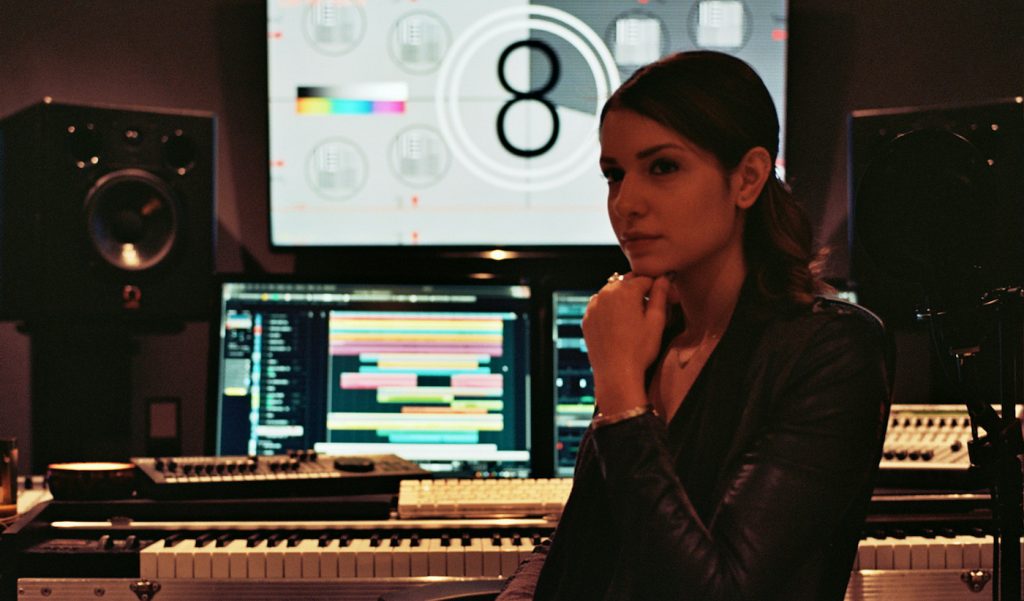 In what way did you connect to the themes in the storytelling of Jupiter's Legacy when you embarked on writing the score? What was your vision for it from the beginning? 
My goal, because the narrative is so vast in scope and scale, there are so many characters, and its non-linear storytelling, was to establish themes or musical signatures for a lot of our main characters. The biggest thing for me was sitting down and writing a theme for Sheldon, The Utopian, and that actually ended up being magnified and becoming the theme for The Union, and the show theme. The Utopian really embodies all of those traditional aspects and morals of The Code. There's that old trope-y sense of the superhero in him, and so that theme really presents itself quite traditionally sometimes on solo French horn, or a brass section, or orchestra. I did that quite intentionally because I wanted to subvert expectations. Yes, The Utopian is this mythic figure in a way, but the way we see him much of the time is not so much the guy who's saving the day, but the guy who, in his older age, is struggling with his relationships with his children, and his wife and brother, and with the world's perception of him. So there's a sense of this overly heroic nature of his theme in certain ways, but pivoting. On a more minimal level, we hear his theme on acoustic guitar. We really do experience these dark moments with him, so it was important for his theme to be able to expand and contract in that way, so we can have different interpretations or paintings of what this man is. That became the show's theme because I was able to fragment it in different ways, depending on where we are in the story.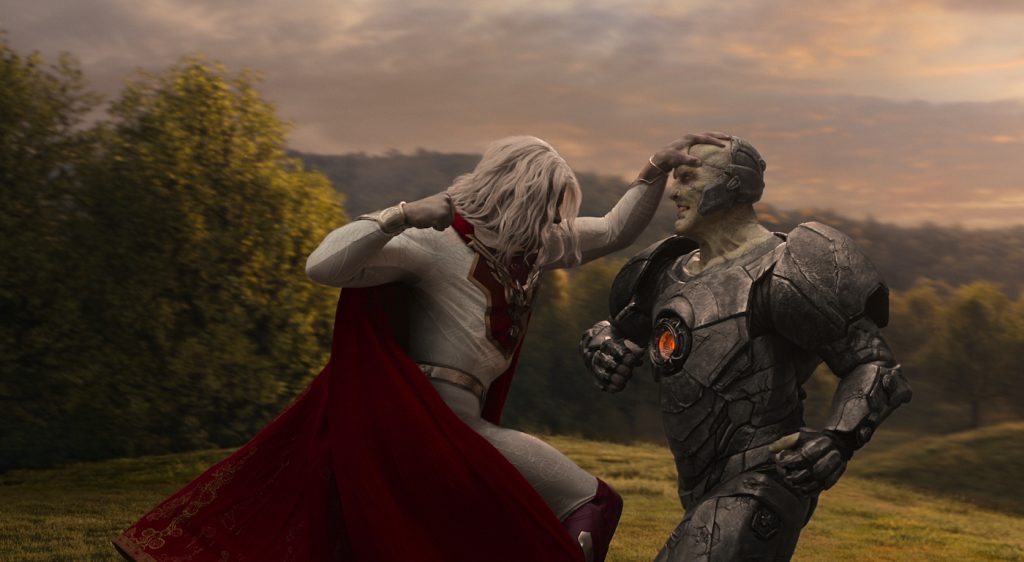 You represented the younger generation with less traditional instrumentation.  
Chloe, Sheldon's daughter, has an industrial rock theme. She really demanded that. She's a rebel. She's so incredibly powerful, but she doesn't use her powers. She doesn't believe in what The Union represents. It just demanded a different palate for her, but at the same time, we don't just see her fighting, we see her in some very dark moments where she struggles with drug addiction. It was important for her theme to be able to do the same thing that Sheldon's did, which was to be told on a more minimal, sensitive, intimate scale. So you'll hear her theme not only on blazing guitars and synths, but on gamelans, bells, and piano. It's still the same theme that's on the guitars, but it's told from a different perspective. That one was really fun to write.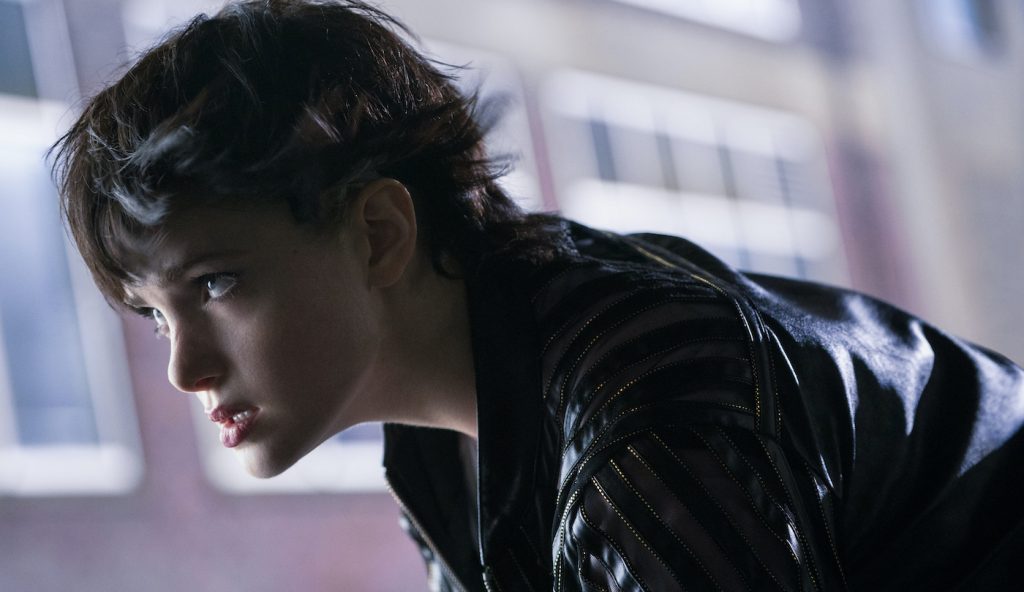 Tell us about some of the other characters' signature themes. 
Hutch has this growl stinger. We don't really know a lot about his character. We don't know if he's insidious or what he's up to so that just seemed to fit his movements and personality. Raikou is probably my favorite character in the series. There are so many wonderful, powerful female characters in this show. I loved being able to write music that had a different profile for them. Raikou has this great stylized action sequence in Episode 7, and I wanted to give her a signature that didn't sound like anything else in the score, so I called up a trumpet player friend of mine, Jake Baldwin, and I said, 'Hey, listen. Can you just make some really weird sounds into the mouthpiece of your trumpet, like make bendy, strange little sounds?' That became the signature for Raikou, and it just follows her around.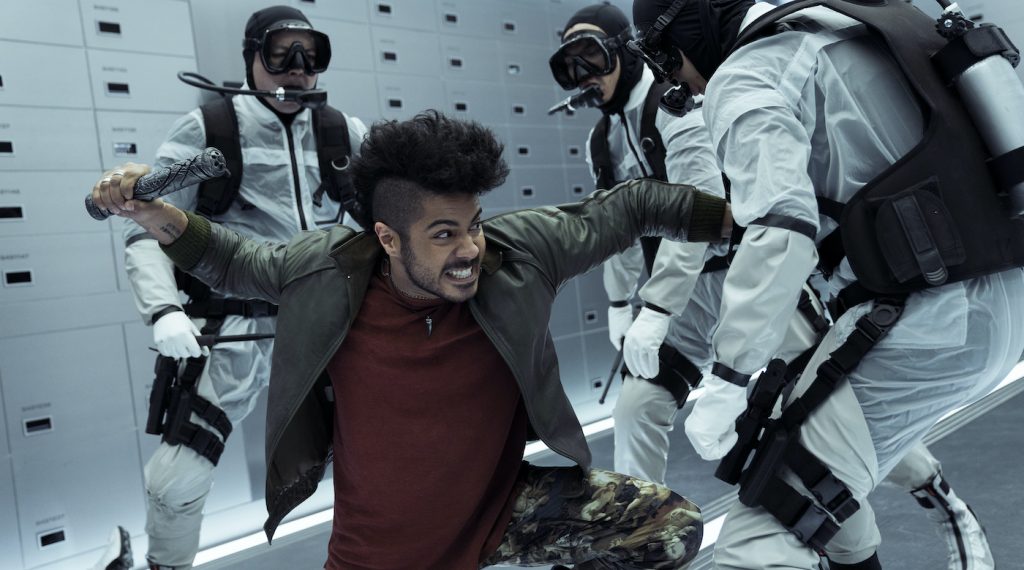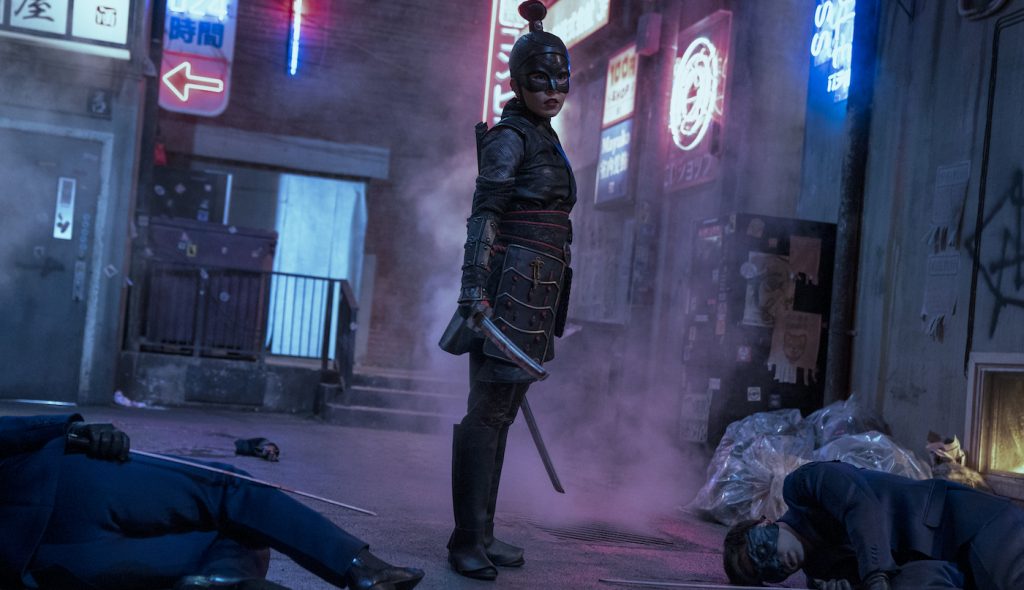 There's also definitely an aspect in the score that feels like we're on a grand adventure. 
The adventure theme I wrote is really important. It's pretty much everywhere throughout the score. It started as something that I wanted to use to pick up the energy as the origin story was going in the past timelines, but it's also in the present day because everything is still evolving and bubbling under the surface. Sometimes that's on a harp, and sometimes on a theremin, or the short strings in an action sequence. Having these thematic ideas in the fiber of the score really helped to shape the storytelling, because it's such an epic tale.
The score feels like it's telling one story, not differentiating between past and current events, which was a really great choice. 
There was specific attention paid to that idea. The showrunner didn't want the music in the past to sound like it was from the 20s and 30s. It was really important to feel cohesive as one thing. We are with the characters over the course of a hundred years, so it's important to feel like musically we are developing with them, and not completely pivoting stylistically.
You're a hybrid composer. How much of the score is live, and what is electronic or created with sampled sounds? 
A lot of it was programmed. I didn't record a big orchestra. The big live ensemble I recorded was actually a choir. In episode 7, there's a big chorale moment right before the original six characters are granted their powers. I planned that from the very beginning. That was something I had decided conceptually I wanted to be for that moment. Last year posed a big challenge for a lot of composers and performers because scoring sessions were touch and go for a long time. At the time where I had composed for the chorale specifically, it was back in August, and they still were not recording choirs in person. It wouldn't be safe. That posed an interesting challenge. So I asked our choir contractor if he had a list of killer vocalists that have great home studio setups that could record themselves. He gathered nine amazing vocalists and they all multi-tracked themselves six times each.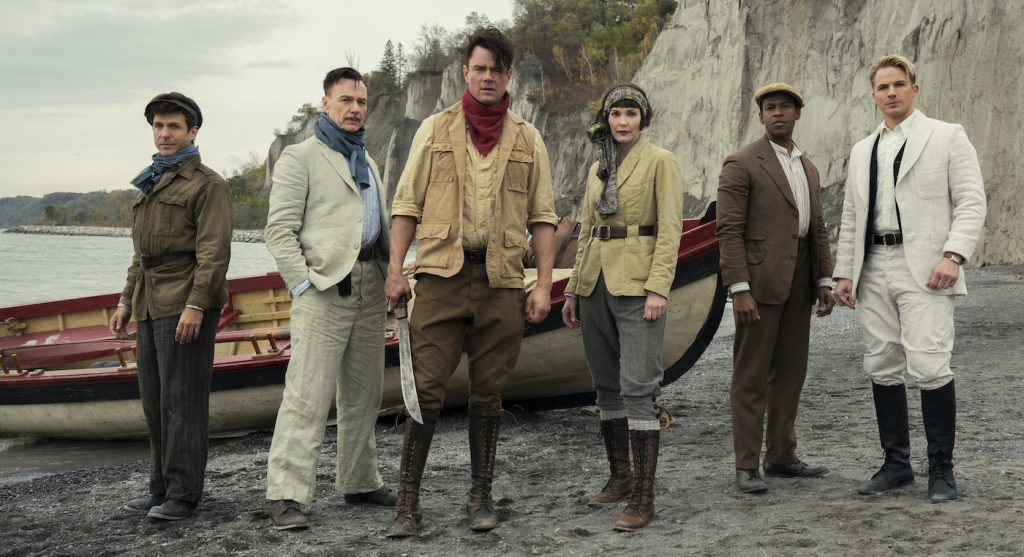 That had to feel risky, not being able to be in the room. 
You just never know how it's going to turn out. Everyone was in a different space. They were also singing in Latin. I took text from Mark Millar's original comic book series and translated it into Latin for the choir to sing. Not being in the same room with the people who are singing, it's very hard to line up the consonants and plosives and get all the language together, and not being able to bounce your color and sound off of other people, it's very challenging. They sent back the recordings, and I sent it over to a mixer, and 30 minutes later he sent back to me what's in the track. It just felt like this huge, lush choir. It was really amazing. It's unreal what they could accomplish in isolation in their own individual spaces at home.
Featured image: JUPITER'S LEGACY (L to R) JOSH DUHAMEL as SHELDON SAMPSON and LESLIE BIBB as GRACE SAMPSON in episode 101 of JUPITER'S LEGACY Cr. COURTESY OF NETFLIX © 2021