"The Nevers" Production Designer Gemma Jackson on HBO's Sci-Fi Victorian-Era Series
Bringing unique worlds to life is production designer Gemma Jackson's stock-in-trade. So, she didn't hesitate when offered the opportunity to create the look for The Nevers, the Victorian-era sci-fi series that debuted on HBO in April.
"I think what drew me was a remarkably interesting script and an extraordinary storyline that I'd never read the likes of before," says Jackson from her home in England during a Zoom interview. "It was predominantly women—women-led—which was a bit of a turn-on. I was an admirer of Joss from, you know, all sorts of things. It just got to me on some level. It was irresistible, actually."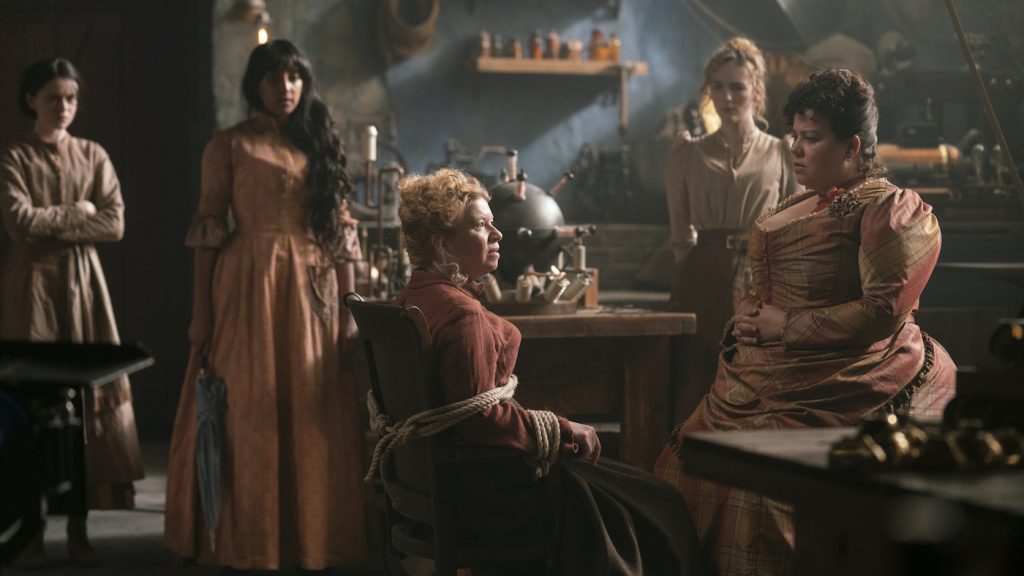 Set in London at the end of the 19th century, The Nevers injects a science fiction twist into the Victorian era with an action-packed adventure involving a group of women who discover they have extraordinary powers after a mysterious alien encounter. Referred to as "the Touched," each woman has a different ability. One can see the future. Another creates fireballs in the palm of her hand. A third sends heavy objects sailing through the air… and so on. As society rebels against them, "the Touched" come to realize their gifts are also a curse, threatening their very existence.
Unfolding in a 12-episode arc, the first six episodes of season one will finish airing in May. Filming begins for the remaining episodes in June. Philippa Goslett will take the reins as showrunner following Joss Whedon's departure.
One main challenge was creating a world where horse-drawn carriages, cobblestone streets, and corsets are colliding with motorized cars, the telephone, and electric lights.
"That in itself has an incredibly exciting feel about it," says Jackson. "One of the biggest times of change that ever happened. My grandmother saw it all."
Jackson wanted the design to be as historically accurate as possible while still taking advantage of the story's possibilities. "I usually do a lot of research, to begin with. Then you have to close those books and go on that journey and just create," Jackson adds. "The intention is always to be real. We're very careful about things. I think the minute you start doing a weird set or a fantasy set, you lose everyone. It doesn't work."
The Emmy-winning designer credits a strong team of concept artists for helping to fuel her vision. They'd sketch. Ideas would take shape. And based on feedback, Jackson would get a sense of what worked. "You go in that direction and something emerges," she continues. "Hopefully, it gradually takes on a form all its own."
A suggestion from Whedon led to a key design decision. He wanted the alleyways of London to be as tight as possible. The hems of the Victorian dresses should be brushing up against the sides of the buildings. Jackson took the concept a step further and scaled everything down. As an example, she describes a square needed for an upcoming episode. Her quest to go small took her north to the London area of Hampstead.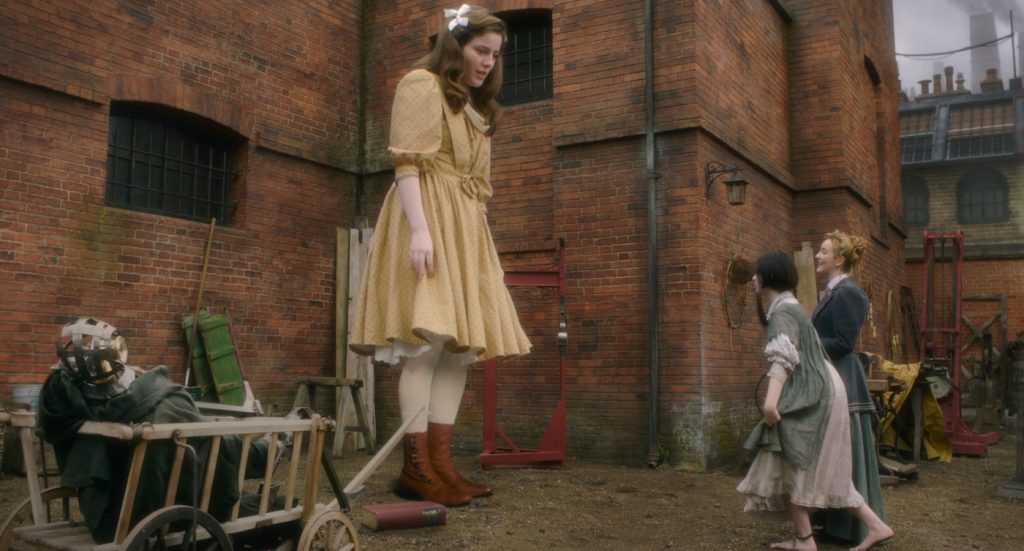 "It's got a lot of nooks and crannies and everything is slightly smaller," Jackson explains. "I live in Saint John's Wood and it's quite elegant, sort of Regency. In Hampstead, you go and there's like one little front door and then there's another just slightly next to it or a little alleyway down the back. It's an absolutely perfect reference for what we seemingly did unconsciously. We've created a London that's a slightly different scale from real London. It just feels a little bit off-key which I'm quite pleased with."
After the pandemic upended the production schedule and closed down some planned locations, Jackson realized more builds would be needed. A space in West London's Park Royal was secured. It housed such locales as the orphanage run by Amalia True (Laura Donnelly), a "Touched" woman who offers refuge to the orphaned "Touched;" the Bidlow Estate, home to Lavinia Bidlow (Olivia Williams), who funds the orphanage; and the Ferryman's Club, a sexual den of iniquity run by the debauched Hugo Swann (James Norton).
"This place is like elastic. It gives and gives," says Jackson. "And then it's got this huge backlot around it so you can just build lots more stuff to accommodate all the various demands."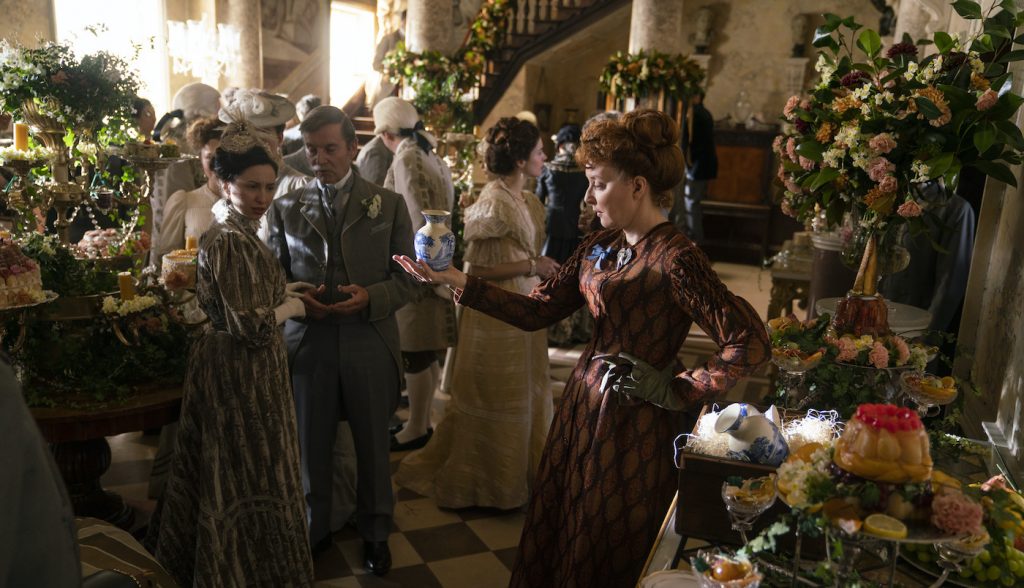 Limited options pushed Jackson to be even more inventive than usual. One of her favorite moves was transforming a police station, which served as the base of operations for gruff Inspector Frank Mundi (Ben Chaplin), into an asylum. "That was one of those incredibly satisfying things as a designer," she says. "You'll never recognize it was the same place. Well, now I've told you, so maybe you will. But it was one of those, 'Yes, we've done it!' You're thrown for a loop and you rise to the occasion."
One of The Nevers' most imaginative sets — the laboratory of Penance Adair (Ann Skelly) — was also built in Park Royal. Amalia's second-in-command, Penance has the special ability to understand and harness electricity. It helps her invent many of the futuristic devices she and Amalia use to protect "the Touched" from harm. Her laboratory is brimming with examples of her efforts.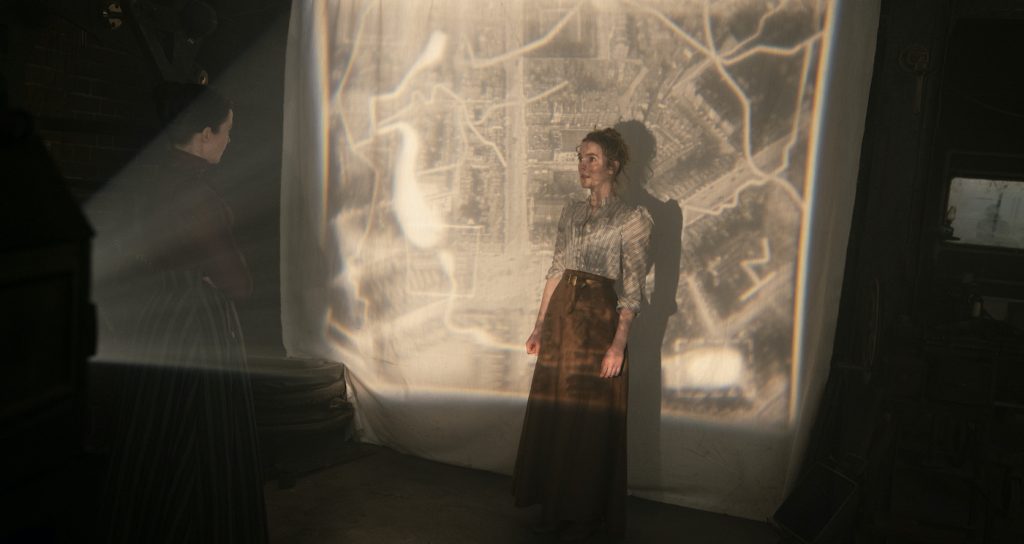 "I have to say that Tina Jones, my set decorator, did a huge amount of that," says Jackson. "And all her nerdy boys in the model department. They loved making all of it. The thing was to try and visualize as much as possible. So we had things like this beautiful blue cylinder to actually show the existence of electricity. We wanted to show Penance's sense of constant inquiry. It was just fun trying to think about all the things she could do and to make the building breathe in a way."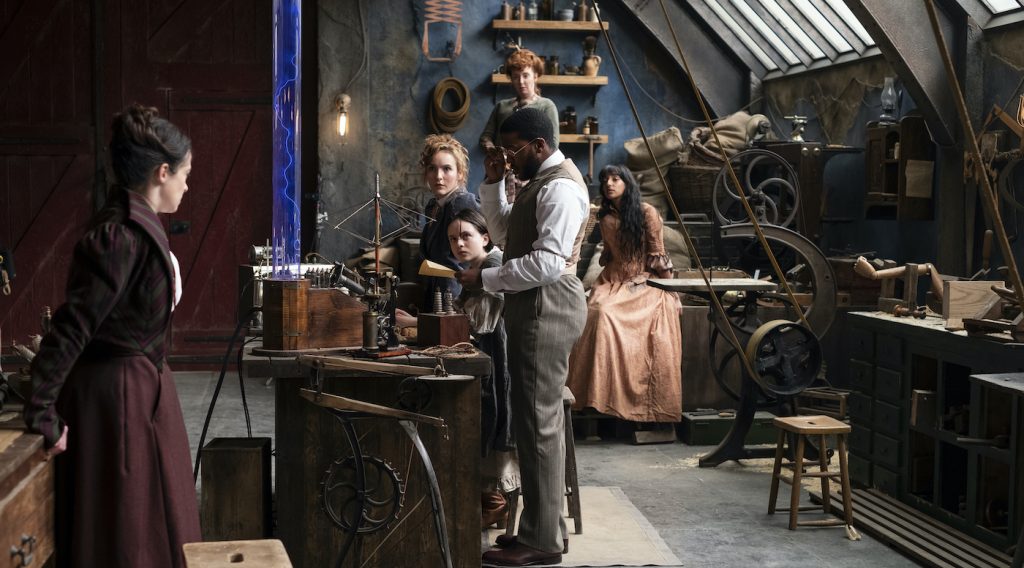 Chatham, a town two hours south of London, was used for many of The Nevers street scenes, including a spirited chase in episode one featuring Penance's newly invented motorized car. Storefronts were taken back in time by hooking 19th-century facades over them. When pressed for details about just what facade hooking entails, Jackson answers with a smile. "Oh, that's a professional secret. I couldn't possibly tell you."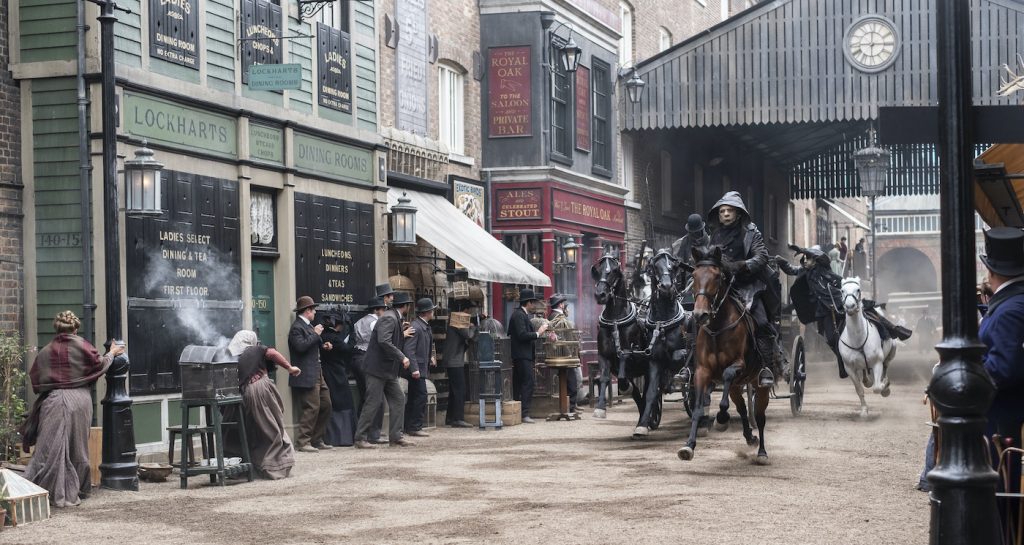 Jackson adds that visual effects supervisor John H. Han pitched in with a digital assist. "He could extend my streets and give my buildings more height. We got the landscape of old London."
After an extended break that saw her work on The Outfit, an upcoming film set in 1950s Chicago, Jackson is excited about returning to The Nevers and bringing the remaining story to life.
"I'm not always so pleased with things I do, but I'm really happy with this," says Jackson. "It was just a pleasant experience. And the fact that it has come out so well and that people are loving it so much is fabulous. I mean that is all you really want, isn't it?"
For more on Warner Bros., HBO, and HBO Max, check out these stories:
HBO Reveals First Images From "House of The Dragon"
Director Simon McQuoid on the Elemental and Supernatural of "Mortal Kombat"
New "In The Heights" Trailer Teases a Summer Must-See
Featured image: Rochelle Neil in "The Nevers." Courtesy HBO Max.