New Images Tease Dev Patel in the Long-Awaited "The Green Knight"
You'd be forgiven if you've forgotten that one of this summer's most hotly anticipated films is director David Lowery's The Green Knight. Like so many other films, The Green Knight's release, intended for May 29, 2020, was delayed due to the pandemic, but we are now a scant few months away from its new premiere date. It was way, way back in February of 2020—truly another lifetime ago—that A24 shared the first trailer. It was riveting. We've already seen how Lowery can do a lot with a little (as he did with his excellent, melancholy mini-masterpiece A Ghost Story), but with The Green Knight, he gets to do a lot with much more. The Green Knight is centered on the story of King Arthur's suicidally headstrong nephew Sir Gawain (Dev Patel), and a quest—as all Arthurian legends demand—that will make or break him. A24 has released a few new images, teasing a film we've been waiting for forever.
About that quest—The Green Knight is centered on Sir Gawain's decision to face the titular Green Knight, a gigantic "emerald-skinned stranger and tester of men," as A24's synopsis explains. "Gawain contends with ghosts, giants, thieves, and schemers in what becomes a deeper journey to define his character and prove his worth in the eyes of his family and kingdom by facing the ultimate challenger." Considering Lowery was able to turn Casey Affleck wearing a bedsheet into an elegiac, surprisingly moving meditation on time, love, and loss in A Ghost Story, we're fairly confident he can do quite a bit with a giant green knight and the foolish but brave Sir Gawain. Let's have a look at Patel as Sir Gawain in one of the new images.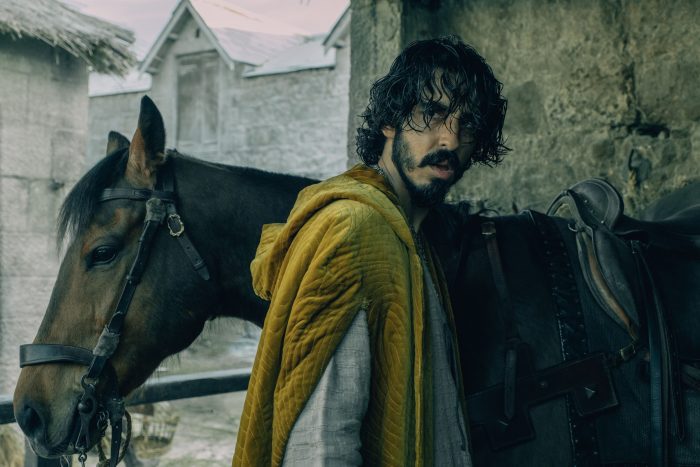 The legend of Sir Gawain finds him accepting a challenge from the giant Green Knight, mainly for reasons having to do with the fact he lived in a time when "honor was everything" (as the trailer tells us) and Sir Gawain was sorely lacking any courageous tales to tell, hence, lacking in honor. The Green Knight offers this peculiar two-part challenge to any would-be contender: he will allow anyone to deliver a blow to him with his ax, but, he gets to return the favor a year and a day later. 
Gawain sees this challenge as his path to honor. All he'll need to do is chop off the big dude's head and he'll be set, there won't be a second part of the challenge. Seems not entirely unreasonable!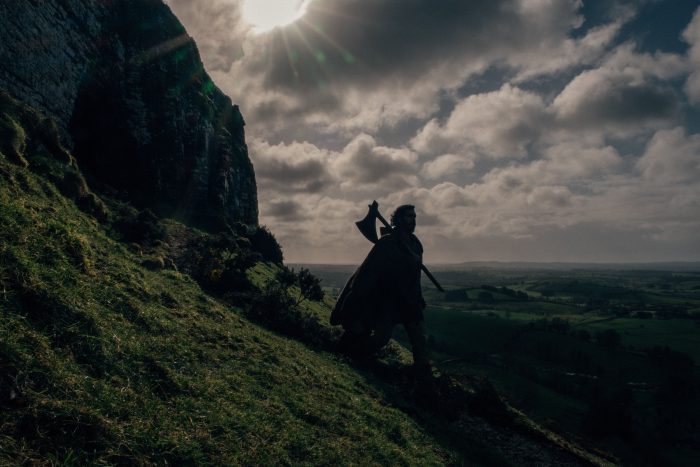 Of course, if it was that simple, there'd be no story, and certainly no movie. Sir Gawain's quest will not be simple, but in Lowery's hands, it will likely be ravishing. Lowery worked with the special effects wizards at WETA digital, so The Green Knight will look lush. And finally, having Dev Patel in the lead is always a good thing for your movie.
Patel's not the only great actor in The Green Knight. He's joined by Joel Edgerton, Barry Keoghan, Ralph Ineson, Alicia Vikander, and Sean Harris. The Green Knight swings into theaters on July 30, 2021.
Why don't you take a moment to see what all the fuss is about:
Featured image: Dev Patel in "The Green Knight." Photo by Eric Zachanowich. Courtesy of A24