"Godzilla vs. Kong" Smashes Pandemic-Era Box Office Record
You can credit good timing, the enduring appeal of watching cinema's biggest monsters on the big screen, and a solid job by director Adam Wingard and his cast and crew for the box office success of Godzilla vs. Kong. The two ferocious titans smashed their way to a pandemic-era box office record, and have ignited hope in the process that the film's success might signal a return to audiences flocking back to theaters.
Godzilla vs. Kong roared its way to $48.5 million over its first five days of a release, exceeding expectations and besting Wonder Woman 1984's three-day $16.7 million haul. The movie played in 3,064 theaters across North America, the widest release since the pandemic began. Godzilla vs. Kong managed this robust turnout while also being available to subscribers on HBO Max.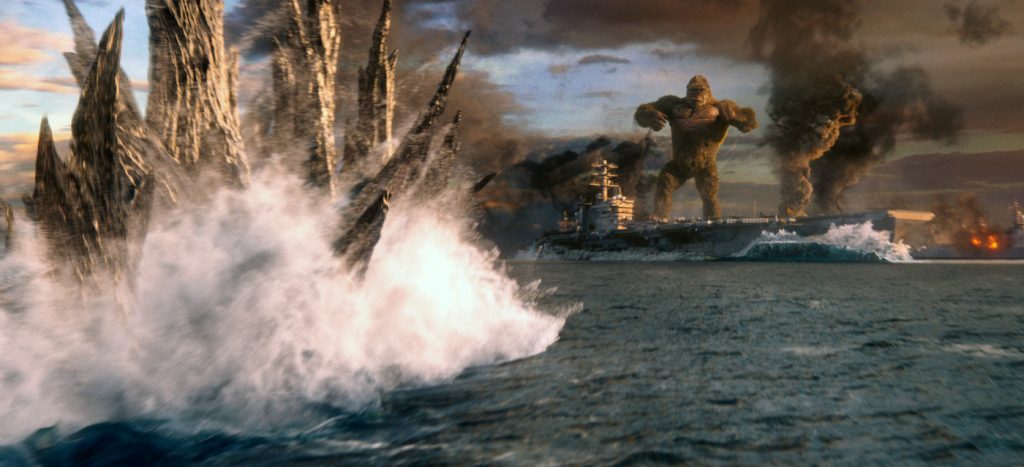 Here's what David A. Gross of the consulting firm Franchise Entertainment Research told Variety about Godzilla vs. Kong's opening: "While it's half of what it would be under normal circumstances, the weekend is a clear and positive indication that moviegoing has inherent strengths that aren't going away." Internationally, Godzilla vs. Kong has made more than $236 million.
More than 55% of theaters in the U.S. have reopened, although many of them are still operating at reduced capacity. As vaccinations continue apace and a slew of big movies are slated to appear, there's reason to hope the theaters could be ready for a rebound. This summer's release schedule includes a slew of potential blockbusters, including A Quiet Place Part II (May 28), Cruella (May 28), In The Heights (June 11), F9 (June 25), Top Gun Maverick (July 2), and Black Widow (July 9).
It feels fitting that two of cinema's most legendary creations were the first to break through the pandemic-era gloom for theaters. With more potential blockbusters waiting in the wings, Godzilla vs. Kong is hopefully only the first of many movies to help draw us back to the big screen.
For more on Warner Bros., HBO, and HBO Max, check out these stories:
Watch The Entire Joker Scene in "Zack Snyder's Justice League"
Find The Crazy One in New "The Suicide Squad" Trailer
Composer Keefus Ciancia Releases Two-Volume Soundtrack for HBO Max's "Made For Love"
New "The Suicide Squad" TV Spots Reveal Thinker & Ratcatcher 2
Cinematographer Fabian Wagner on "Zack Snyder's Justice League"
Director Shaka King Breaks Down the Magic Trick Behind "Judas and the Black Messiah
Featured image: Caption: (L-r) GODZILLA battles KONG in Warner Bros. Pictures' and Legendary Pictures' action adventure "GODZILLA VS. KONG," a Warner Bros. Pictures and Legendary Pictures release. Photo Credit: Courtesy of Warner Bros. Pictures and Legendary Pictures