Cinematographer Oliver Bokelberg on Transforming Vancouver Into Montana in "Big Sky"
This article contains light spoilers for previously aired episodes.
Big Sky, David E. Kelley's new ratings hit for ABC, which was just picked up for another six episodes, juxtaposes Montana's sweeping vistas with the bleak interior of a locked away trailer, where an unlikely criminal duo is holding three teenaged girls. Based on C.J. Box's novel "The Highway," the crime drama sets viewers up with stunning aerial shots of rural Montana before zooming in on run-down bars, woodsy back roads, and private detective Cassie's (Kylie Bunbury) downtown office.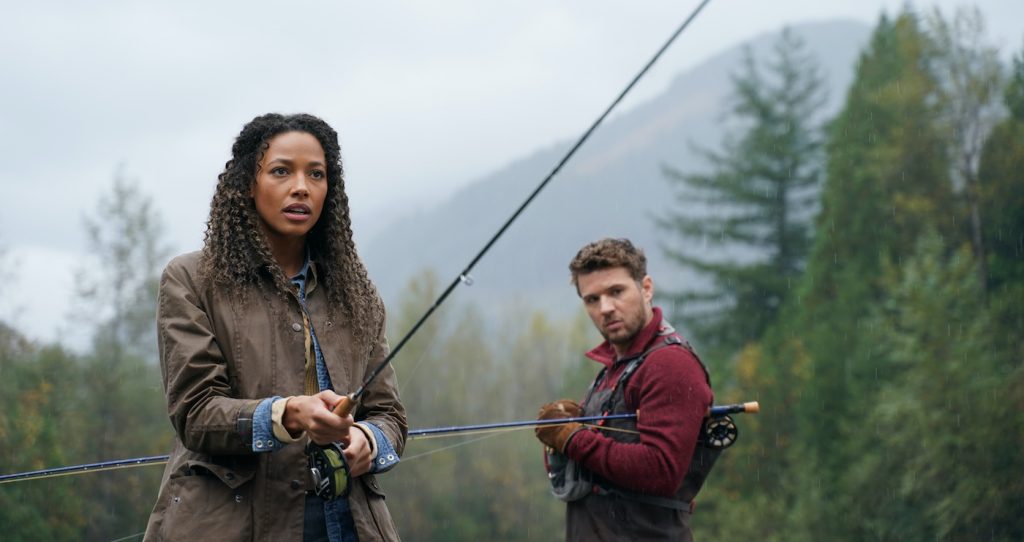 Cassie gets involved in the case alongside Jenny (Katheryn Winnick), mother to one of the girls' boyfriends and estranged wife to Cassie's paramour, ex-cop Cody (Ryan Philippe), after Danielle (Natalie Alyn Lind) and her younger sister Grace (Jade Pettyjohn) fail to end a road trip at the boyfriend's. The work brings Cassie into contact with state trooper Rick (John Carroll Lynch), interactions that sour quickly and lead her to suspect the creepy cop. Episode 5 aired this past Tuesday, and viewers are well aware that Rick and his dysfunctional truck driver henchman, Ronald (Brian Geraghty) are on a misogyny-driven quest to rid the world of girls they don't "approve" of, with Danielle and Grace their latest victims, even if these two don't fit the bill.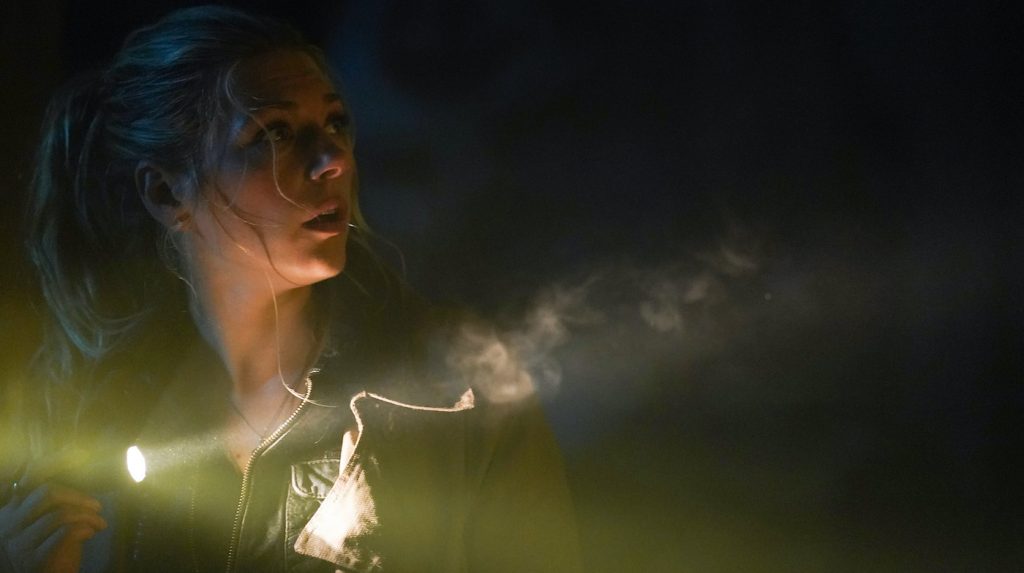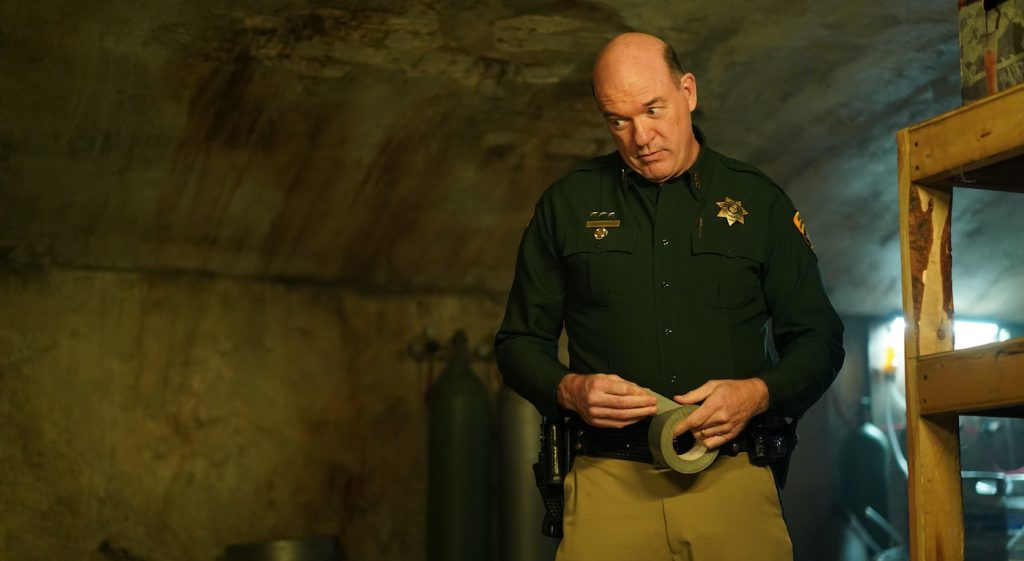 Between the hunt for missing teenagers, the establishing shots of Montana's wilds and hallmarks of small-town life, and even down to the name, Big Sky comes across as reminiscent of Twin Peaks, but any similarity is coincidental. "That was some of the first really exciting television I remember," says cinematographer Oliver Bokelberg (Scandal, Station 19), "but I didn't draw a comparison when this started, no. I guess I could, but it didn't come up."
The cinematographer was focused on transforming Vancouver and its surroundings into a believable facsimile of Montana, after having shot the pilot and established a certain color palette in Albuquerque. "Whatever you commit to, you fall in love with, and we saw all these orange skies. That was our big sky. When we came up here [to Vancouver], we were trying to chase that, and it didn't work — we couldn't find it," says Bokelberg. "So you adjust, find something new, and you fall in love again." Luckily, Vancouver was an overall better fit for Montana, and the camera team leaned into the region's rain and fog, enhancing the show's overall sense of doom. (For a bit of the real thing, a second unit was sent to the state for establishing footage. "When you see the eagle flying across the mountain ranges and all of that, that's Montana," Bokelberg laughs.)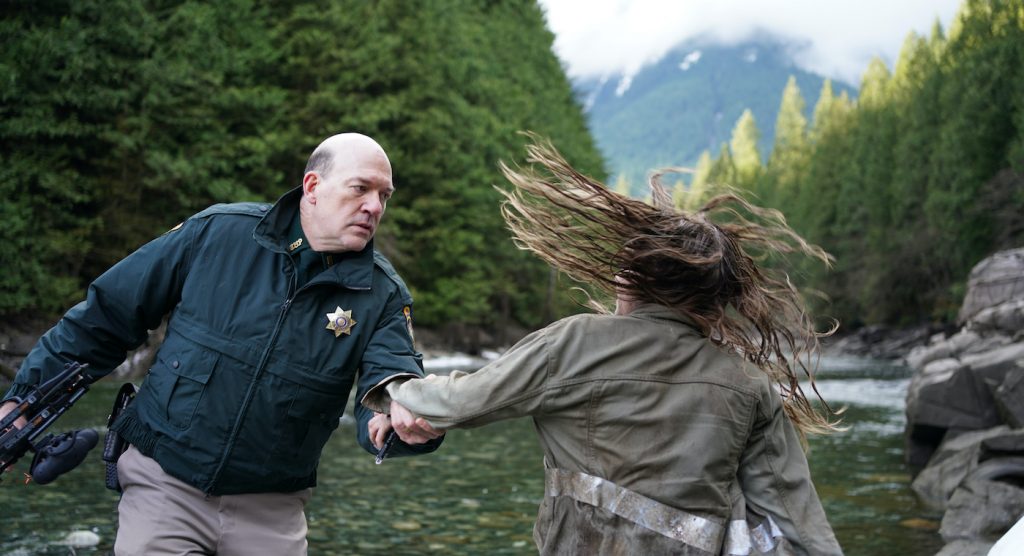 It also took some maneuvering to light the trailer where Danielle, Grace, and Jerrie (Jesse James Keitel) are trapped. "When you get a script and it says they're sitting in the pitch black, that's always when you start trying to figure out how you can change this," says the cinematographer, who wound up using yellow bulbs called bug lights to achieve the trailer's dingy grittiness, after establishing the eery lighting scheme in tone meetings with director Paul McGuigan and Kelley. "We get to interpret pitch black, because we want to see the people, too. It's a fine mix. How dark can you go?"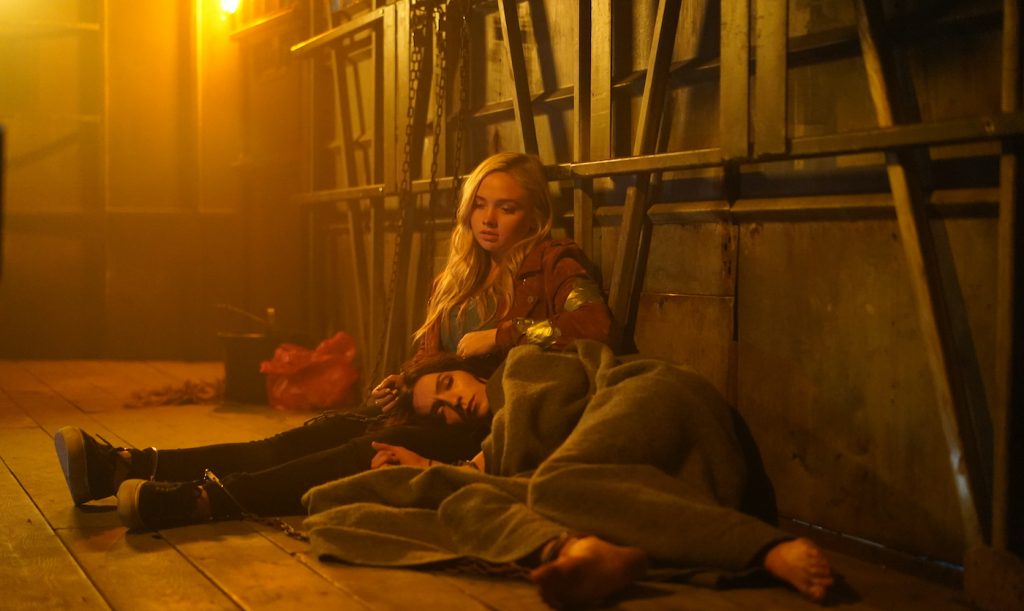 Speaking of seeing people's faces, the show is nominally set in our present day, with passing reference made to Covid-19. Big Sky's lonesome rural residents don't typically don masks, but the same can't be said of the production, which was shot (safely) over the course of the pandemic, making it perhaps the only show with a storyline both set and filmed during our new era. Overseen by a coronavirus team, the crew worked in double PPE, in masks and face shields, alternating blocking for distance's sake, and working fewer hours in a day to avoid getting run down. Temperature checks and testing were regular features of the set. "Even six months into it, I don't know what half my crew looks like," says Bokelberg. While some of the adjustments, like more efficient shooting days, would be helpful to keep after this pandemic is brought under control, at this point, he adds, everyone's just glad to be able to keep working.
Whether the show is paying mere lip service to Covid-19 or not, there are no other patrons at Rick and Ronald's chief meeting point, anyway. The rundown bar-slash-convenience store looks like it could have been scouted anywhere in America, and it was in — in New Mexico. "The interior we just rebuilt up here on stage in Vancouver, literally one-to-one to what we'd fallen in love with in Albuquerque," Bokelberg says, with the exterior facade built onto a storage shed in Squamish. The exterior set is an inconvenient 90-minute drive into the forest, but "it works well here, with the low-lying fog and the rain. It's spooky," the cinematographer says. "I think that's much of what the show is. All these beautiful vast landscapes — that's sort of the art of David E. Kelley, that somewhere in that vast beauty, there's something a little off somewhere."
Big Sky airs on ABC on Tuesday at 10 pm ET.
Featured image: JADE PETTYJOHN in "Big Sky." (ABC/Darko Sikman)