The Costume Designer Who Made Olivia Pope and Annalise Keating The Best Dressed Women on TV
The dreamiest clothing on TV lives on ABC's Thursday night lineup. Olivia Pope's (Kerry Washington) gorgeous suits and capes started a frenzy on Scandal and Annalise Keating (Viola Davis) is the most suave dressed lawyer in any room on How to Get Away With Murder. Legendary costume designer Lyn Paolo created Olivia Pope's iconic look and has taken over Annalise's wardrobe. Paolo has a knack for signing onto long running shows with huge fan bases. Her first big break was turning George Clooney into Dr. Ross and designing for an extensive main cast and hundreds of extras on ER. She struck gold again on Aaron Sorkin's utopian portrayal of The West Wing. Now, in addition to pulling double duty on the two Shonda Rhimes hits, she rushes over to the Shameless set to dress the wild Gallagher clan.
Ahead of the March Scandal and How to Get Away with Murder crossover event, we talked with Paolo about her most memorable designs.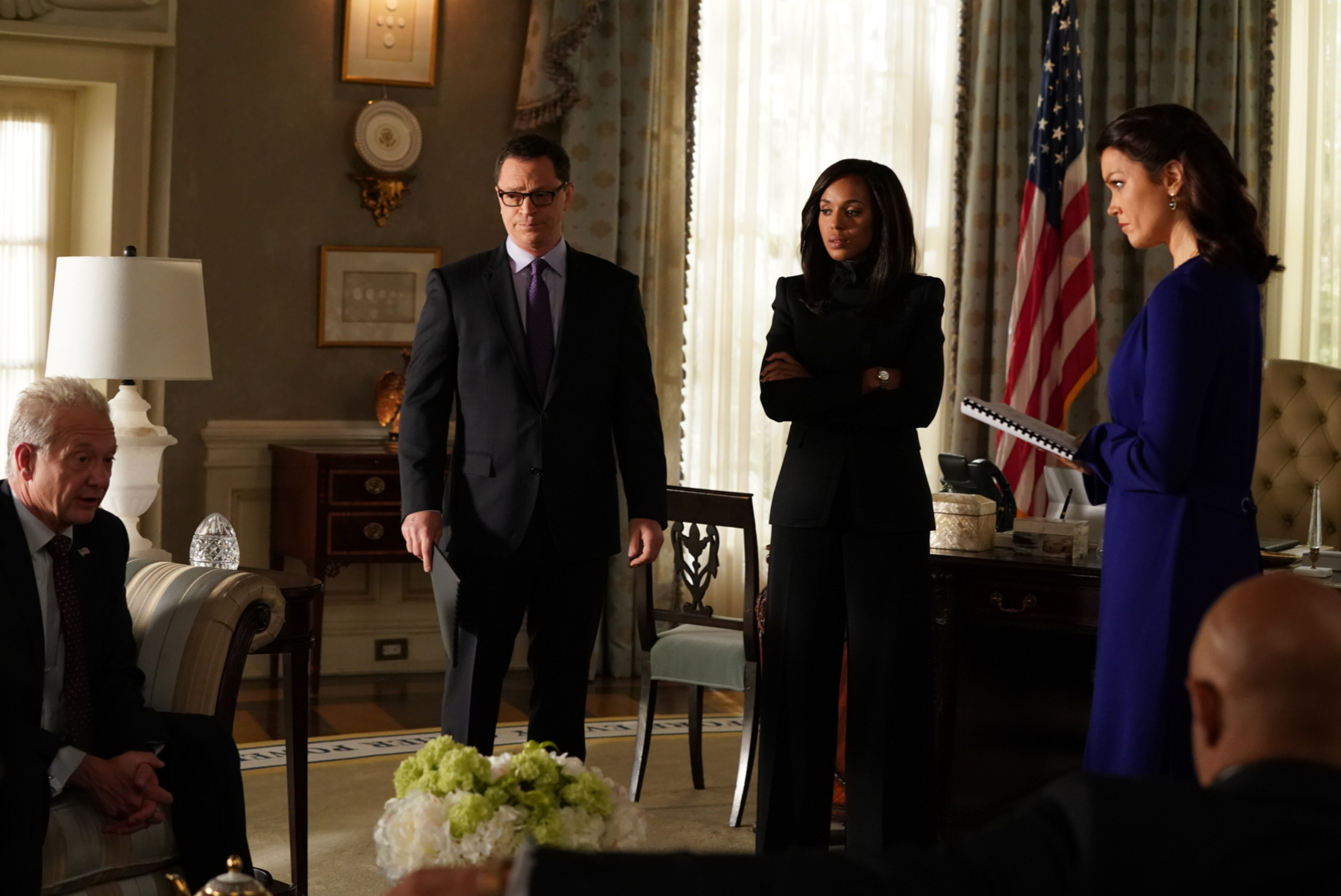 Kerry Washington as Olivia Pope in those bright whites is iconic. How did you make that decision?
I had just watched Kerry in The Last King of Scotland and how beautiful she is and how talented. I just looked at her and thought I really want to dress her in white. I was worried, because I had just come off a show where the director of photography wouldn't let me use white. Thank goodness Oliver Bokelberg, our director of photography on the show, said, "No, do what you want. Let's camera test it. Let's look at it." It started from there. For me it was important to have any woman in that environment, whatever color she might be or whatever socio-economic group she's from or whoever she is as a human, to be able to stand there in a room with all those men.
What has it been like working on this hugely popular show with such a big fan base?
It was really a joy, all of it's been a joy. I'm very sad and very emotional that it's ending. Yes, it has been impactful. I had no clue it would be. Honestly, I was just doing my job, but I'm glad people liked it. I'm really grateful. I truly always give the share of that to Shonda [Rhimes] and Betsy [Beers], because it's a team effort. That's the thing that I love about making movies and television. The directors and actors get a lot of the glory and people always assume that an actor just shows up to work looking like that, but there's a whole team. There's the prop department, the hair and make-up department, and the costume department. But, without the words on the page, none of us would even be there.
How would you compare your experience working on Scandal to The West Wing?
The West Wing was literally inside the West Wing, in the Oval. It was a little conservative. With Allison Janney, I tried to push the boundaries a little bit. Aaron [Sorkin] was very concerned about everything being as true as it could be, given that we were doing a television show and there's always a little bit more glamour. There was more nuance to that show, but Shonda literally just gave me the freedom to have fun on this one. Olivia ended up in the West Wing, but she was not part of that world when we started the show, she had the opportunity to be a little bit more fashion forward. The truth is that Kerry's clothes are still very conservative. She was open to trying things like the capes and the gloves and there was always one bag, Prada. We just decided early on she's a Prada girl. For some reason the audience just loved that. In reality, if you saw her walking down the street, she's dressed very conservatively.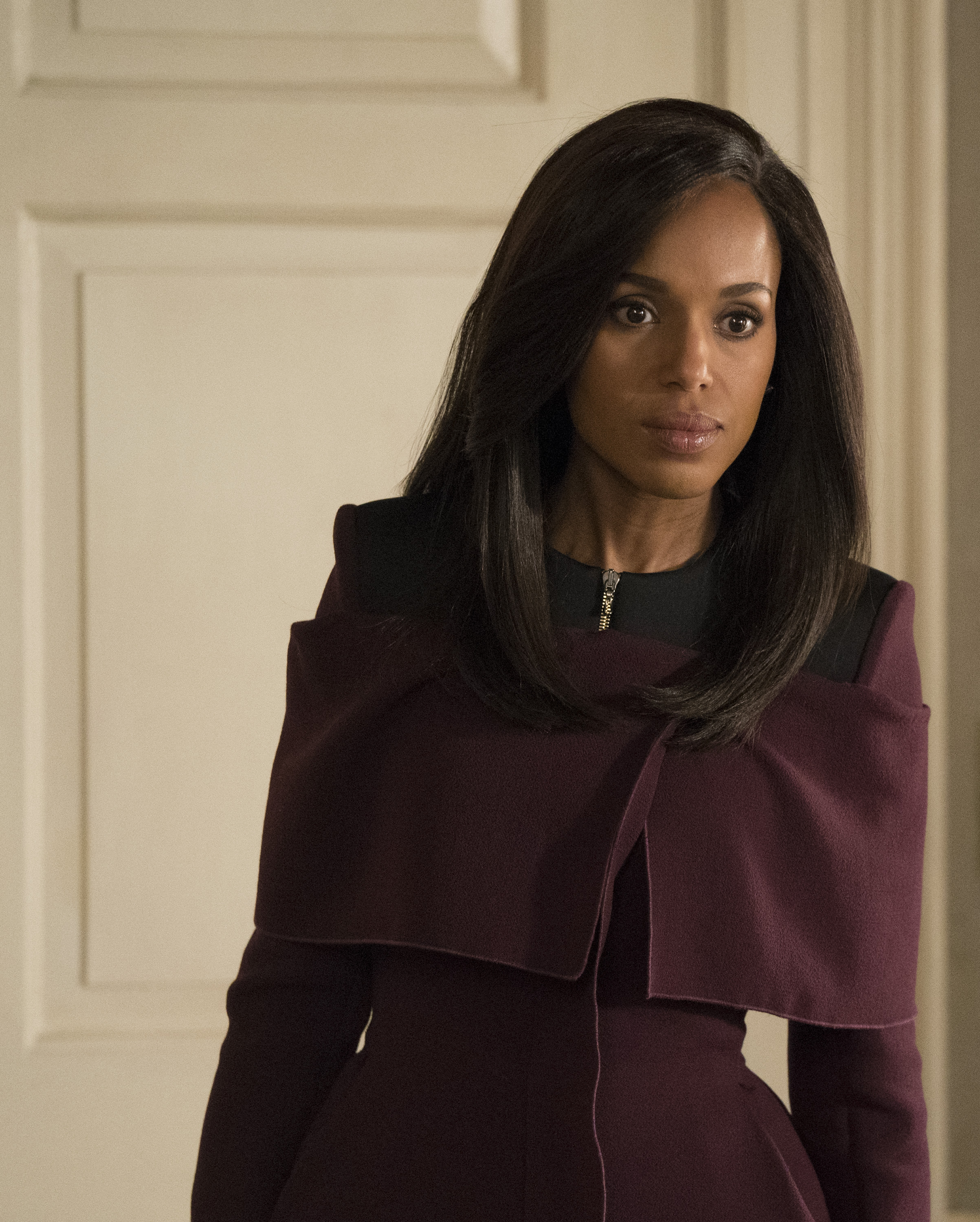 Would you say her clothing is rooted in realism?
We always wanted everything to feel like something you could wear in D.C.  When Mrs. Obama wore the Narciso Rodriguez dress to the State of the Union and Kerry was wearing it, we were so excited. I see Senators now wearing the lighter colors. I see a lot of people changing the silhouettes they're wearing. I feel like it's a little nod to us.
How does your work differ on Shonda's show How to Get Away with Murder and dressing Viola Davis?
I came in last year and there were a few things that I wanted to change. I was never really fond of the leather on Viola's character, Annalise. I know why that choice was made, certainly in the pilot process. On the pilot, they're a microcosm of the world and you're introducing these characters and you have a limited amount of time to introduce all these people. Each of them has to have a distinct look and the choice of using that amazing burgundy leather jacket on her was a brilliant choice. She's strong and she's different and that she's not a normal lawyer. I love the choice they made, however going forward with the character, her life became more convoluted and more difficult. I tried to soften the edges a little. I feel like Viola brings that strength. She's stunning as an actor. I've softened those edges and put her in softer colors and the shift dresses. She wears a lot of Tom Ford. I do a lot of structural jackets on her.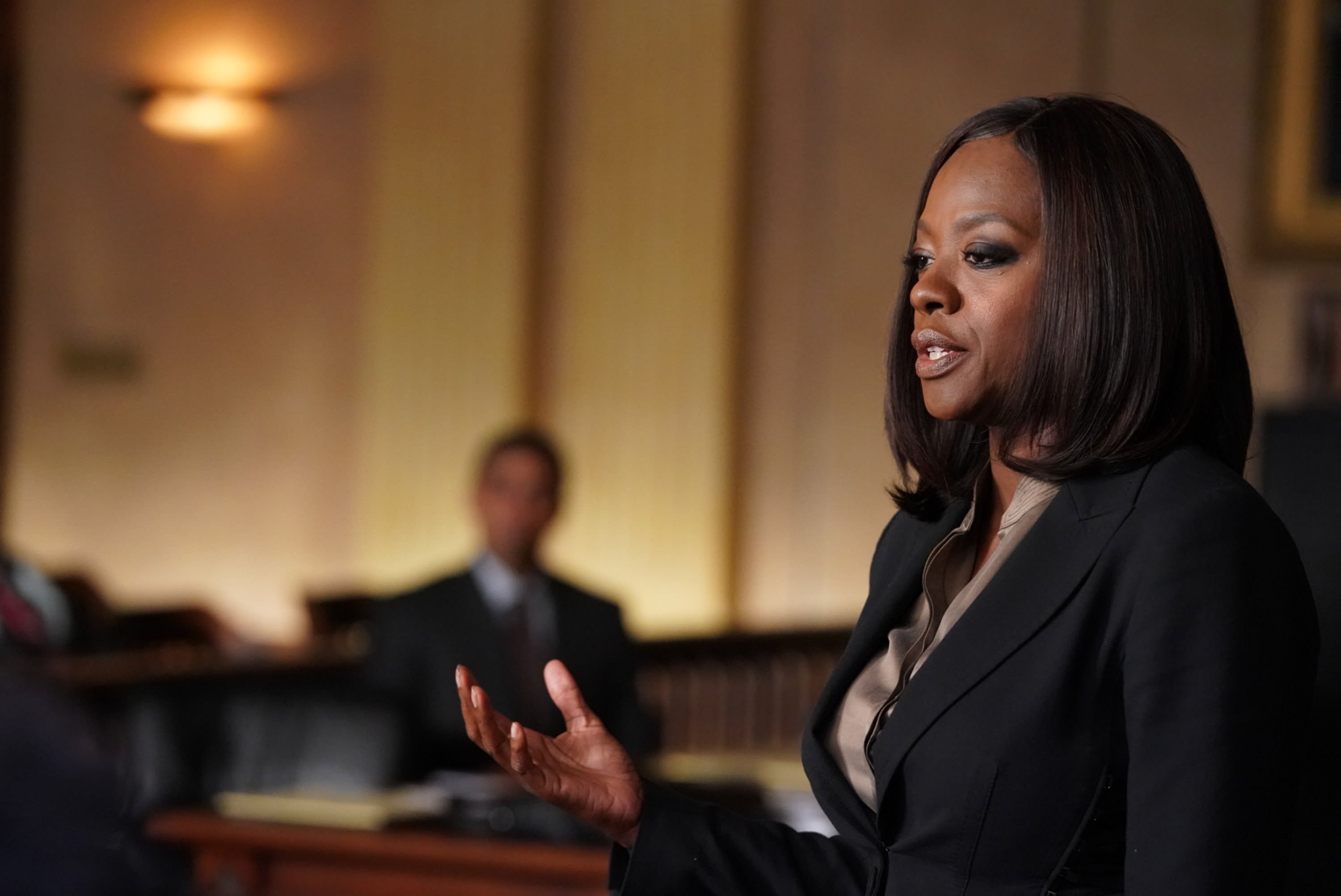 Do you find characters often evolve in that way?
The fun thing about my job is that people are always changing. I always laugh that people want to talk about Olivia, but in truth, Quinn Perkins (Katie Lowes) has changed so much and Abby (Darby Stanchfield) has changed so much, and even Mellie (Bellamy Young). Mellie started off being Miss First Lady and then she was "smelly Mellie", which was my favorite Mellie, and alcoholic Mellie. Now as President, she's a different Mellie. Every week I get a new script and in that script people change like they do in life. All of a sudden, you have to reflect that change in what they're wearing, which is what I love about my job.
How would you describe the way that costumes really define a character?
I always say to people, do a screen grab of a show you like and what do you see? If you look at a still from an Indiana Jones movie, what do you remember? You remember the leather jacket and the hat. Why that is I don't know, but I really think people don't realize how important costumes are. When I was working on E.R. I used to get really sad because people would say things to me like, "Well what do you do all day? They're just in scrubs." We created a hospital, all the different floors, all the different levels. The leads had lives outside of the hospital and they walked in every day. We're creating Chicago on the back lot of Warner Brothers. Every three minutes a victim was coming on the gurney and we had to allow the audience to understand who this person was in 30-40 seconds by what they were wearing and what was being cut-off their bodies. [John Wells] said to me, "Lynn, that just means you've done an amazing job. They think this is real." That's the thing about costuming. You can either make everything look real, you make everything look futuristic, but it resonates with the audience.
What do your designs mean to the actor?
Kerry doesn't dress the way Olivia does. Bill Macy doesn't dress the way Frank Gallagher does. When they step into those clothes, they feel different. In the fitting rooms with the actor, you help them find the character. That is also one of my favorite moments when an actor turns to me in the fitting room and says, "Ok now I feel like this character. This is right." It means you helped them because it's not an easy thing to create and become another human. Anything you can do to help that process, I truly enjoy.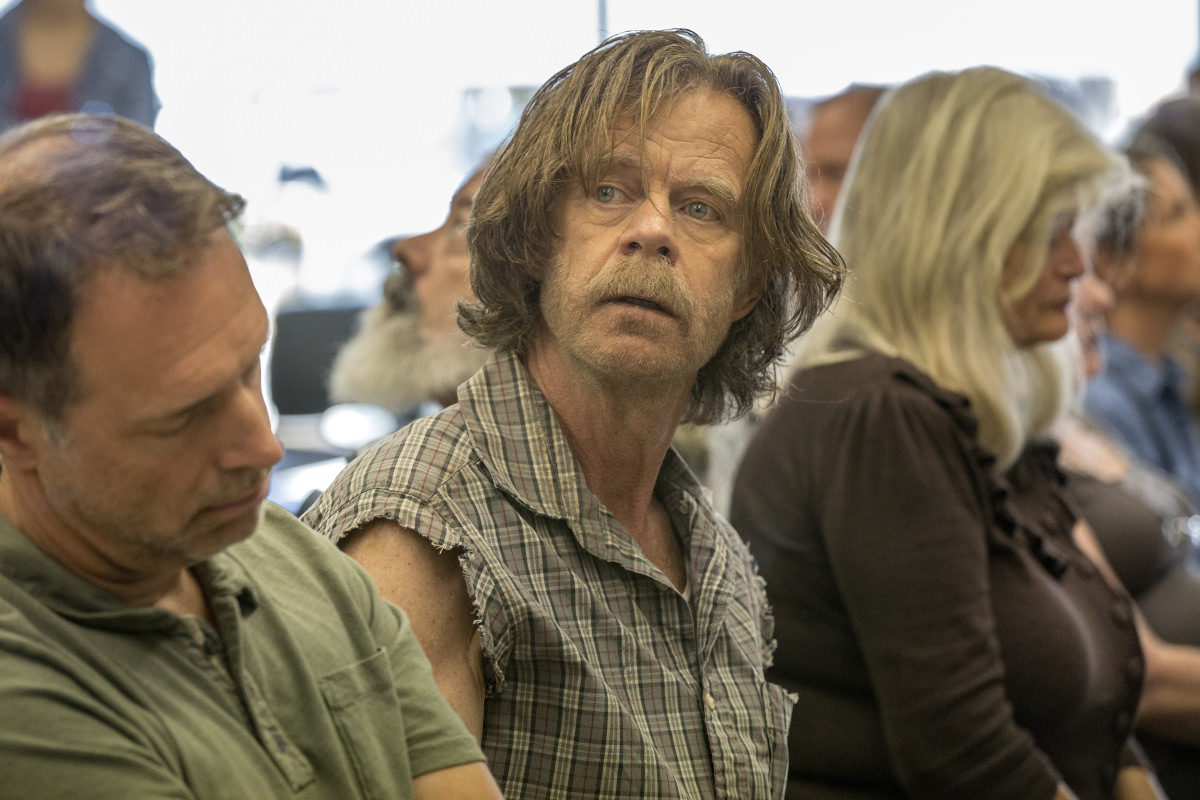 Shameless is such a different world than Scandal or Murder. What's the work like on that show?
That show is in it's in own way, quite tricky. You have to have multiples. If you saw the amazing amounts of clothing each character on that show has you would be shocked. I think Bill had 30 linear feet of clothing and everyone always thinks he wears exactly the same thing every week. It's the process of aging and over dyeing and making sure everything looks a little dank and a little dark and a little overused and musty. There's always someone jumping out of a window, there's always some kind of pratfall gag where you have stunt doubles on and off.
Did you always want to be a costume designer?
You know what's really funny is that I didn't know this job existed. I grew up in a small town in the North East of England. I am literally a coal miner's daughter. I did not know this job existed. One of the things I like to do is go to universities back home in England or small schools here in the states and explain to kids that this is a real thing and you can be an artist and make a decent living and find something you love.