Best of 2020: A Conversation With Laverne Cox
We put together our annual "Best Of" list with an eye towards the conversations that weren't just about our particular area of interest—how films and TV shows are made and the people who make them—but delved into broader discussions that were unavoidable in this historic, often heartbreaking year. These conversations include our chat with Laverne Cox about her role in Netflix's Disclosure: Trans Lives on Screen,  Lovecraft Country cinematographer Michael Watson on filming during a pandemic, and our four-part series on the briefly seen and largely unknown background actors, in this case in HBO's Perry Mason, that are such a big part of the entertainment industry.
We hope you've had as happy a Holiday Season as is possible right now, and here's to a much happier, much healthier year to come.
This interview was originally published on July 7, 2020.
Laverne Cox serves as the guide of director Sam Feder's crucial new documentary Disclosure: Trans Lives on Screen. The film offers a vivid, frankly startling history of the portrayal of transgender lives on screen, and Cox (also an executive producer) captains a compelling cast of influential trans creators, cultural critics, and thinkers. They include The Matrix creator Lilly Wachowski, Pose star Mj Rodriguez, Transparent stars Trace Lysette and Alexandra Billings, Chaz Bono, and more. Using footage spanning more than 100 years of media, Disclosure reveals how American culture has dehumanized the transgender community in show after show, film after film. In one of the film's gasp-out-loud moments, we watch Billings die of testicular cancer on an episode of ER and breast cancer in an episode of Grey's Anatomy. Both aired in 2005. Her experience of being cast to die on screen is hardly rare; we learn that actress Alexandra Grey died twice on screen in 2016—on the medical dramas Chicago Med and Code Black—roles she booked on the same day.
We were then lucky enough to have Cox take part in our recent Film School Friday virtual panel, in which she joined Feder, Amy Scholder (Disclosure producer), and Nick Adams (GLAAD's director of transgender representation and a Disclosure consultant) to discuss the documentary and talk more broadly about the experience of trans people all over the country. Like the film itself, our conversation was as joyous as it was serious, and we were left wanting more.
To that end, Cox joined us for a follow-up conversation to discuss the film, her career, and to hone in on a point she made during our discussion about the intersection between attraction and violence that costs trans people their lives. Our conversation has been edited for length and clarity.
One of the things Disclosure does so well is crystallize how often trans characters are victimized on screen. Was the extent of this reality a surprise at all to you?
I was personally aware of how we often were cast to play the victim—I've auditioned for these parts. I've also consumed a lot of television, so I filled in a lot of Sam's TV gap in some of our early research. I've seen these stories over and over again, as a trans person I look for them. I was familiar with GLAAD's work on how trans folks have been represented, but I do think seeing these tropes back to back—seeing Alexandra Grey auditioning for the same part in two different shows on the same day, or to look at Alexandra Billings' reel and see three or four different parts where she's a patient whose hormones are killing her—is startling.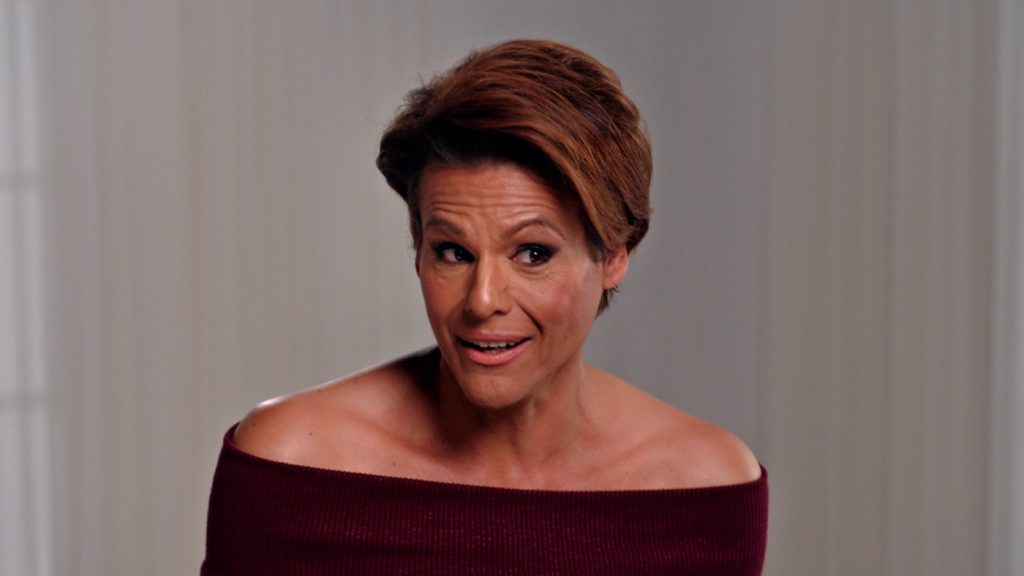 The film gets at these grim realities, but it's also funny and hopeful, too. Do you feel optimistic at all about where we're headed as a society?
What I'm heartened and encouraged by is my industry. Over the past few years, I've noticed that there is a willingness from a lot of my colleagues to tell trans stories, to hire trans writers. There's a willingness and openness to get this right, and a willingness to learn. Television is coming along faster because it's more collaborative. You've got a writers' room, for one thing, and there's a different kind of accountability that happens with television that doesn't maybe happen for a lone filmmaker working on a story and then releasing it to the world. I'm excited that my colleagues are willing to grow.
Disclosure is not only novel in its subject matter, but it's novel in the way it was produced with a primarily trans crew. How would you like to see the industry evolve?
What Disclosure feels like is the next level of the awakening. We want to do better, but we didn't even realize how bad it was. Over the years, Nick [Adams] talks about it all the time, I've gotten scripts with the best of intentions, but they've got all the same trans tropes. So you explain that to them, and then they do a rewrite and they still don't get it right. Disclosure feels like a major disruption to how people see trans lives on screen. There's finally a clarity about our humanity, and we can begin to see and understand our humanity and how to not participate in the dehumanizing process. I'm excited and hopeful about that, I really am. We have a long way to go, of course. For the majority of Black and brown trans folks experiencing violence and homelessness and unemployment, just getting from point A to point B is fraught. I get that, and I hope that with what we can produce in our industry, we can begin to make inroads into hearts and minds, to get people to stop killing us and stop seeing us as a threat as to their existence.
You mentioned during our virtual panel that one thing straight men need to figure out is their attraction to trans women and their violent reaction to that. I was hoping you could speak more to that.
Their attraction to trans women is my lived experience. So often, particularly in New York where I lived for 23 years, I was being catcalled ferociously. It was a daily occurrence. And sometimes one of these men would realize I was trans, and the catcalling would turn into transphobic harassment. Suddenly there were jokes and laughter and derision. These are the moments that can turn violent, that have turned violent. You were just attracted to me, you were just catcalling me, I'm still the woman you were catcalling. It's that tension between the attraction and the realization of my trans-ness, that intersection of attraction and misogyny, where trans women are losing their lives.
And we see this in the news all the time, with killing after killing of trans people.
That tension between attraction and fear is killing us. Take, for example, the trans woman from Mississippi [Mercedes Williamson] who was murdered by a man she was dating, a Latin King, allegedly. They were dating, her friends knew, but then he was afraid his friends would find out so he murdered her. He denies that's the reason. When I've posted about a trans woman getting murdered, I'll get comments that claim we're fooling people and we deserve to be murdered, as if there aren't tons of men seeking us out. A lot of them are on dating apps. I've had thousands of straight men come onto me on those apps. Straight men are seeking out trans women. I think that tension between attraction and whatever these men are thinking about themselves, this internalized homophobia, it comes down to their relationship to themselves. Two boyfriends ago, the guy I dated didn't care if people thought he was gay because he was comfortable with himself. I'm a woman and he's a man, and he was so comfortable with himself he thought it was funny that people thought he was gay. He was just secure. If a man is secure with himself, it shouldn't matter if someone thinks he's gay. What's the issue? But there is an issue because people are dying. This is the work that men need to do on themselves.
It brings to mind the end of I Am Not Your Negro, where James Baldwin says one of the saddest things about America was how few people seemed to know themselves. 
That's the reckoning around race, gender, misogyny, homophobia, transphobia—they're all linked. As a trans woman of color, I need to get from point A to point B and I don't want you to kill me.
Disclosure: Trans Lives on Screen is streaming now on Netflix. Cox can be next seen in Justin Simien's horror-comedy Bad Hair, which premieres on Hulu this October.
Featured image: Disclosure. Laverne Cox in Disclosure. Cr. Ava Benjamin Shorr/Netflix.