VFX Supervisor Laurent Spillemaecker on "The Umbrella Academy" Season 2
How were the superpowered siblings over at The Umbrella Academy going to top season 1's armageddon-causing shenanigans? How about by dropping the whole family in Dallas, in the early 1960s, and setting their family squabbles in the context of the JFK assassination? The second season of Steve Blackman and Jeremy Slater's Netflix's show, based on the comic book series by Gerard Way, managed to deliver on the promise of season one by forcing the super sibs to face not only their own demons but take stock of some of America's demons to boot. It also gave them not one but two apocalypses to try and avert, a trio of Swedish assassins to deal with, and their many personal failings to try and work out.
Recreating early 1960s Dallas, restaging the JFK assassination, and rewarding viewers with all those superpowers they've come to love and expect from the Hargreeves family fell on the shoulders of folks like VFX supervisor Laurent Spillemaecker, who works for Folks VFX. While season one focused on the seven siblings that Sir Reginald Hargreeves (Colm Feore) raised to become a crime-fighting super-team and the apocalypse their family squabbling brought about, season two forces the family to come together to try and stop armageddon—again—this time with JFK's 1963 motorcade through Dallas's Dealey Plaza as the fulcrum around which their actions spin.
We spoke to Spillemaecker about turning a small town in Ontario, Canada into mid-20th-century Dallas, recreating one of the most infamous days in American history, and more.
Is this the most effects-heavy show you've ever worked on?
I have a feature film background, but to my knowledge, it's heavy for visual effects for a TV show that's not about science fiction. Sure, it's not as heavy as a Game of Thrones or a story set in space where every single shot is a VFX shot, but this definitely a show where you have a lot of effects.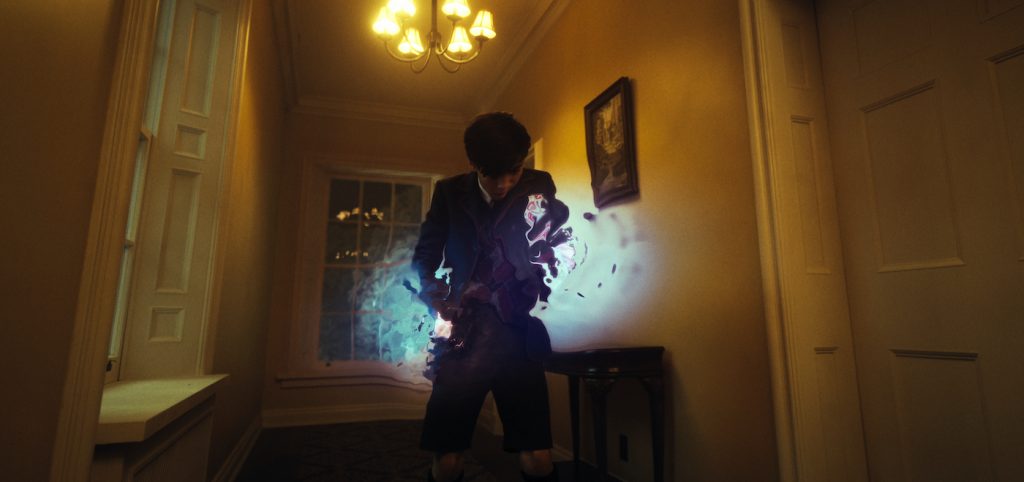 Let's talk about one character in particular, the time-traveling Five, played by Aidan Gallagher. 
Five's abilities became what we call internally the "blink" effect. We took the recipe that was initially started in season one, and we refined it for season two. We're always trying to get better. Almost every shot he's in he blinks to another place or another position in the shot. We established a recipe to get exactly the beat and motion that the showrunner liked. Then after that, that recipe was used over and over again. There are minor tweaks per shot, but for that effect, it's mostly that same recipe.
The opening four minutes of the show—the Soviets are invading America, Vanya is stopping a Soviet tank shell—contains a ton of effects. How much heavy lifting was just that opening sequence?
That opening sequence was shared between a few vendors. We were responsible for the initial few shots that come right after the last shot of season one. When you see a tunnel traveling through time, and then each character appears in Dallas in the 1960s, each roughly one year apart—that's us. We also did the surrounding Dallas environment, which was actually shot in Ontario, Canada. We actually made it look like Dallas in the 60s, it's more like an invisible effect.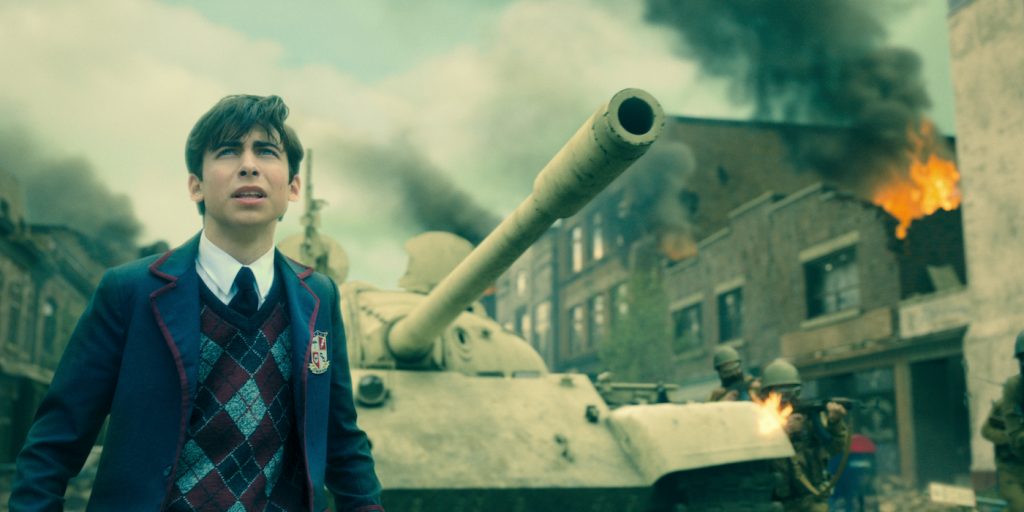 Doubling Hamilton, Ontario for Dallas in the 1960s was a feat. How'd you pull that off?
It's always about finding a nice balance between what's practical on camera, and what's visual effects. That small town, Hamilton, in Ontario, managed to block a few streets, and they also managed to set dress some of the buildings to look like 1960s shops. It's only a few blocks, but in the show, we see many streets and the entire skyline of Dallas—that's all us. We're changing buildings, cars, removing people, adding people, adding the Dallas City Center, changing the time of day, we're literally rebuilding sections of Dallas.
How did you make sure you were historically accurate with the buildings and environment of Dallas?
That's a collaboration between the art department of the show and our visual effects art department. They provide references and pictures they like from the 1960s, including examples of the buildings they want to see. We get the designs of the buildings and cars approved by the art department and showrunner on the Netflix side, and then we create the stores, the facades, the cars. We populate this world. It's all in dialogue with their art department.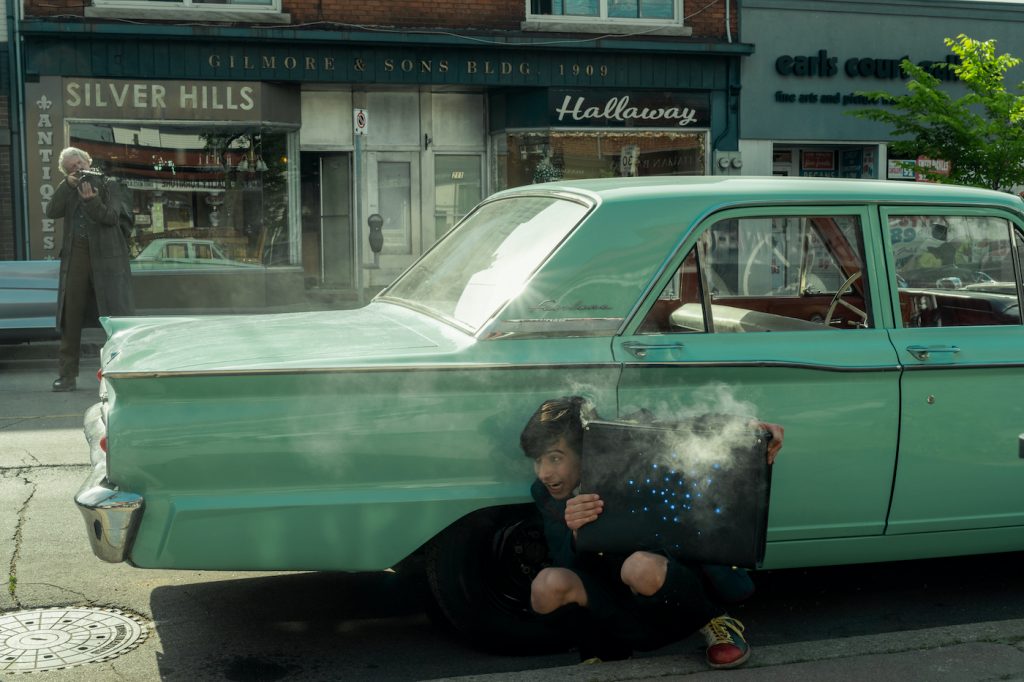 This season all builds towards the assassination of JFK. How did you handle having to recreate such a historic, dark moment in U.S. history?
That's like a dream come true for many artists. It's such a huge part of American history. There's tons of documentation, and, of course, all the conspiracy theories, so there are just millions of bits of information you have to sort through. We watched documentaries about that day, then we literally recreated the entire Dealy Plaza as it looked like in 1963. It's changed quite a lot; there are new buildings, the roads have changed, etcetera. We added the crowd and the people in the street, all based on archives. We recreated how they were dressed, how they were reacting to the motorcade, all based on the historical footage and photos.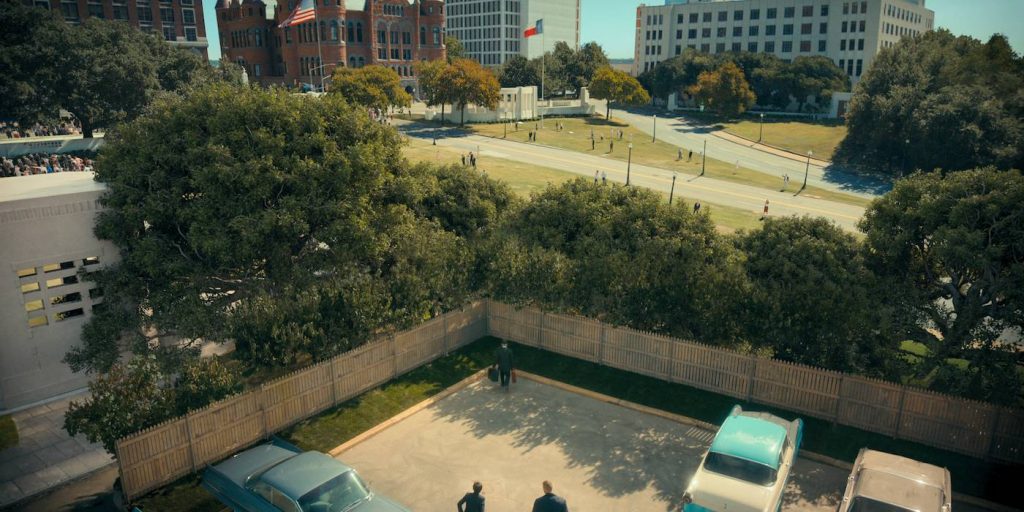 The director of that sequence only had one day to shoot that scene. That's all he got. So he took as many angles as possible, and from there we have to rebuild the story. Even though it wasn't the right time of day—JFK was shot at 12:30, but the only moment we got to shoot there was late afternoon—so the angle of the sun was different. We recreated every single car of the motorcade and all the people in there, including JFK, his wife, Governor Connally and his wife, the driver, the secret service, the vice president in his car, it was all matched through archives.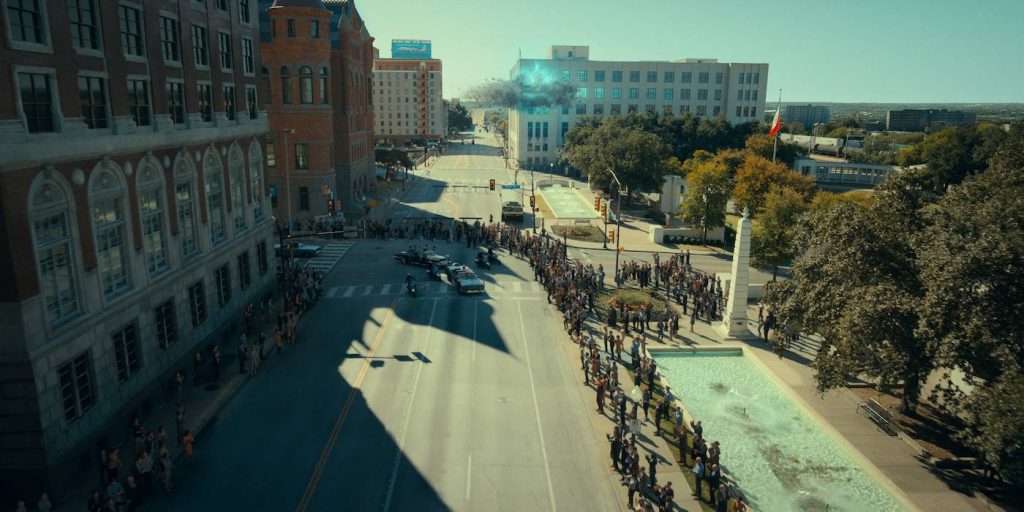 Do you have a favorite member of the Umbrella Academy?
I think it's probably Five. The fact that he travels to different places all the time, that's a really tricky thing. The battle between Five and an older version of himself fighting in the famous parking lot on the corner of Dealy Plaza, where a potential shooter was, was fun. They're fighting and blinking hundreds of times, it's such a funny and interesting sequence, happening all around the official JFK motorcade. And the whole JFK scene is definitely my favorite contribution to the season. It was such a blend of historical context, an invisible environment for us to create, plus on top of that, all the magic, funny aspects of the Umbrella academy. It's never too serious, it's always fun, like when Luther gets kicked in the unmentionables, and Vanya makes a building explode one block away from the motorcade and the whole corner of the building collapses and she floats in the middle of the debris, like a superhero—that was fun.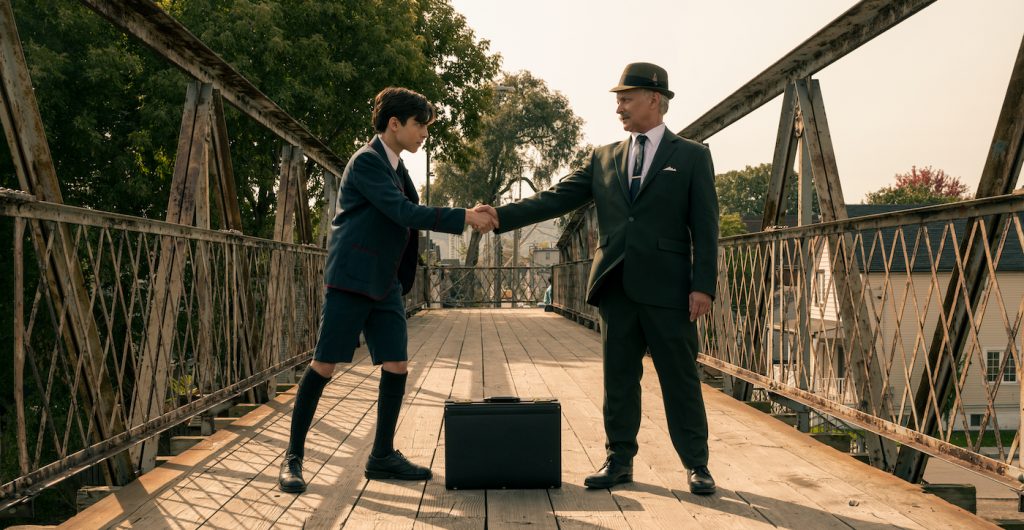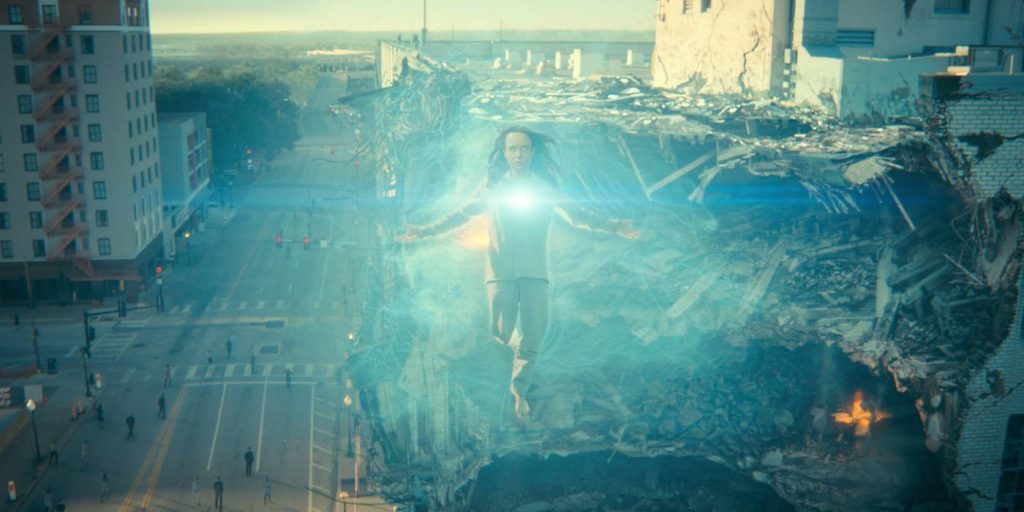 Featured image: Vanya (Ellen Page) goes off. Courtesy Netflix.