Dressing Misfits, Robots & Superheroes With The Umbrella Academy's Costume Designer
Understandably, there's been a lot of fan interest in the gargantuan prosthetic that Tom Harper wears for his portrayal of Luther Hargreeves, a.k.a. No. 1, in the well-received Netflix superhero series The Umbrella Academy. However, no one is emailing the show's costume designer Christopher Hargadon about actually purchasing one. Hargadon is getting inquiries from fans asking where they can buy Luther's mom's outfits. The first time we meet the show's matriarch, Grace, who happens to be a robot, she wears a chic, high-waisted, belted, pleated, pink polka-dot skirt that, thanks to a foam underlayer, swings with an odd, gravity-defying stiffness.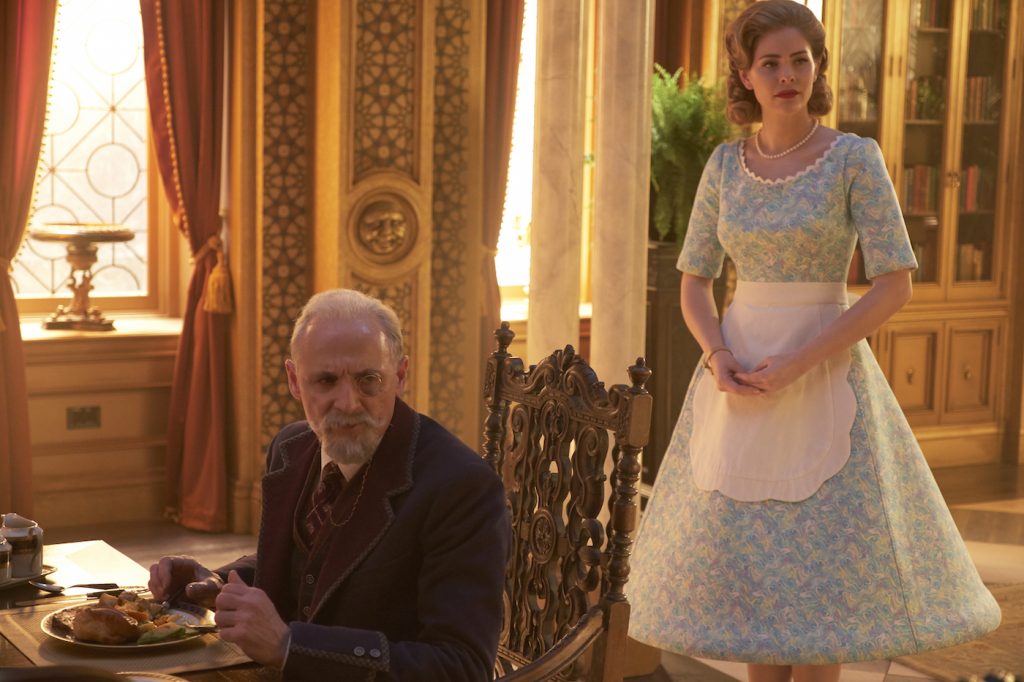 "We went with a feeling of a 1950s June Cleaver, Leave It To Beaver mom who wears dresses, skirts, blouses always very put together, but wanted it to have a certain kind of kinkiness," Hargadon says. In the fourth episode, Grace (Jordan Claire Robbins) turns up in a memorable sexy nurse outfit. Mortally wounded Luther is wheeled into the Academy's hospital bay on a gurney, and, always there to help, Grace sports a body-hugging pinkish neoprene dress with fins running down the sides, and over the dress, a clear plastic sleeveless smock with a cross irreverently stitched on the bodice. (The cross couldn't actually be red because, according to Hagardon, the Red Cross won't give clearance for use of the iconic symbol). For good measure, the outlandish bow on the back of the dress sits coquettishly on top of the plastic smock. No one in an operating room, or superhero story, has ever looked more fabulous.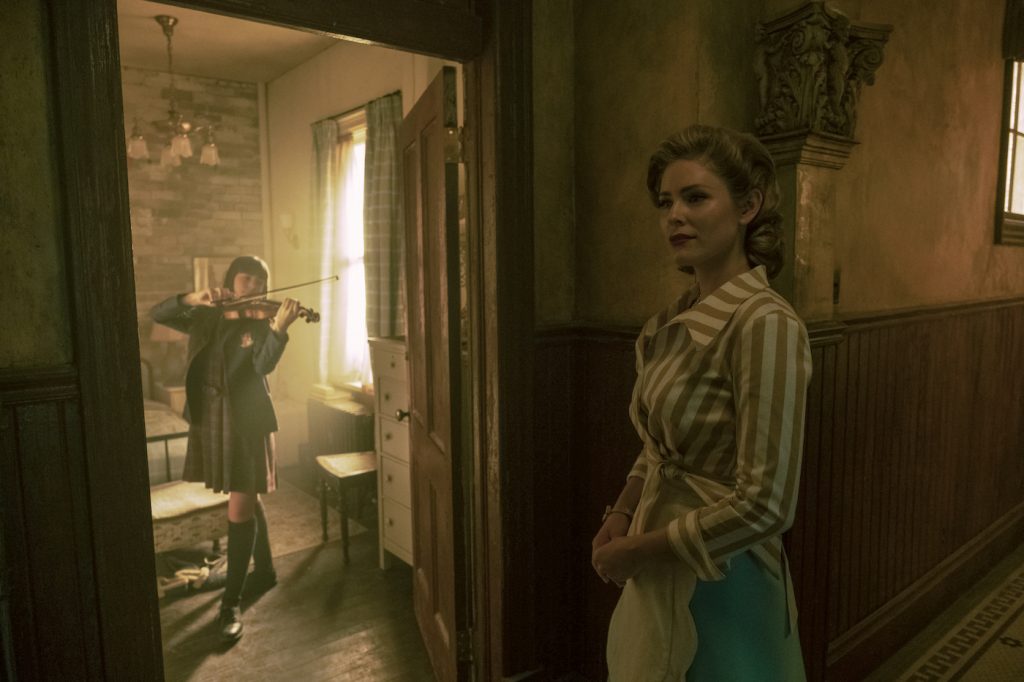 Mom's tailored plastic protection resembles a similarly memorable piece that Hagardon designed and built for the television series Hannibal, on which he served as costume designer. In that show, the impeccably dressed serial-killer cannibal dons a dynamite see-through zippered plastic coat to protect his beautiful suits and to quickly unzip and resume looking gorgeous without missing a beat. Hagardon laughs when reminded of the connection between the two costumes. "Do I have a hang-up about plastic? Probably!" he says, adding, "I once saw a clear plastic coat on sale at Saks that I was drawn to like a magnet."
Mom's slightly perverse looks gesture at the idea of sexuality beneath her enamel-hard 50s veneer. The Umbrella Academy is based on a comic book series of the same name (co-written by My Chemical Romance's Gerard Way). In many cases, Hagardon's costumes help add a humanizing, grown-up layer of sexual and gender expression to the show's characters and refresh the trope of the lonely, tortured, outsider superhero. Klaus (Robert Sheehan), a.k.a. No. 4, wears items of women's clothing with a stylishness that precludes critique, moral or otherwise. At his father's funeral, Klaus swans in a black suede fur-trimmed woman's jacket and clear plastic umbrella itself rimmed with a line of neon pink. No one ever looked more fabulous at his father's funeral. No wonder even fashion sites are paying attention.
Hagardon credits Sheehan's embrace of his magpie-vagabond character for the freedom to push the limits of Klaus' unconventional wardrobe. In the second half of the series, Klaus, unfortunately, abandons his women's wear—in part because Hagardon did his job too well. During a stint of time travel in the 1960s, Klaus picks up a pair of sexy leather pants with open lacing all the way up the sides. Sheehan was loath to peel them off. "We never intended for him to wear them as much as he did, but he loved them," Hagardon says.
Diego, a.k.a. No. 2, struts around 24/7 in multiple harnesses (that holster his dozen or so knives) that show off his body, always clad in snug Ninja black. Hagardon, who says "a harness is always an interesting crossover from fetish," was preoccupied with making Diego's accessories look handmade—not by a master leatherman but by a passionate amateur. "Diego has no money and lives in a boxing gym. He drives an old beater. He can't buy something fancy. I wanted a combination of cotton webbing, leather, and metal that could be rigged together if he had the patience and the time. And then we beat the crap out of them to look like they'd been around for a long time," he says.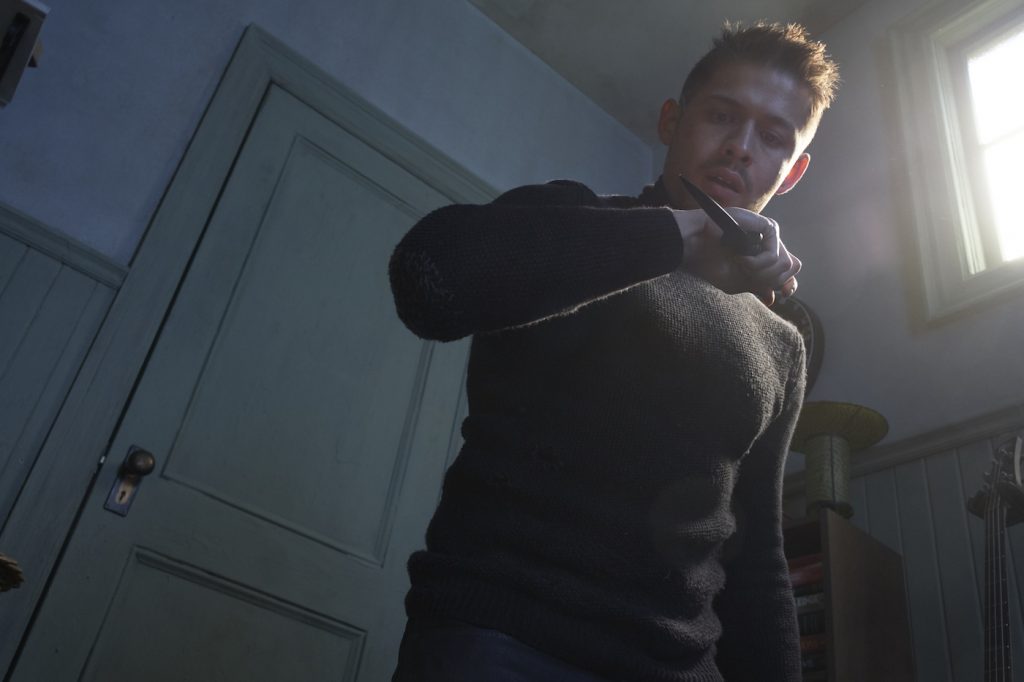 The look for Cha-Cha (Mary J. Blige), a time-traveling hitman who Diego targets for revenge after the assassination of an ex-girlfriend, also got a naughty detail. One of the ongoing challenges for Hagardon in adapting the comic book source material was the frequency with which its characters dress in black. Cha-Cha and her assassin partner Hazel stay in the dark suits that the comic book calls for, but Cha-Cha isn't just Cha-Cha – she's also Mary J. Blige. Hagardon says that making actors comfortable is as much part of the job as helping them inhabit the characters they play. To that end, he studied images of Blige's many legendary looks and noticed her penchant for bustiers. In some scenes, her suit is outfitted with a bustier-style vest. "She was really happy in it. It gives a feeling of support and in a certain way is almost like wearing a corset. It helped her in her very bad-ass physical carriage," Hagardon says.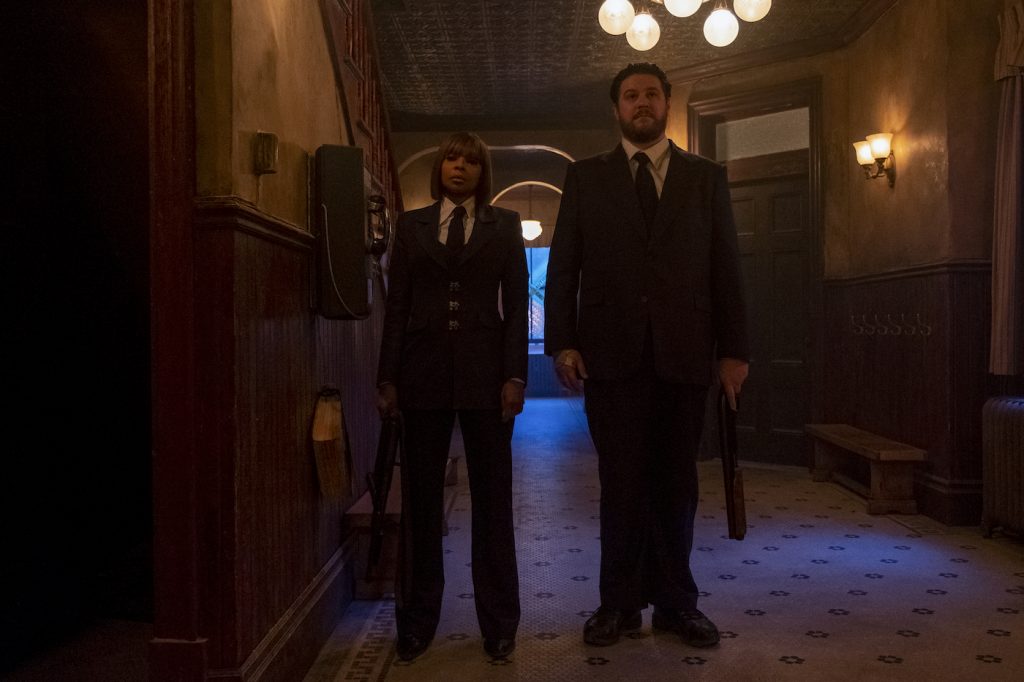 Hagardon, a former resort-wear designer, didn't set out to create all of these sexy touches. Nor do they reflect his personal style. For one thing, he doesn't wear plastic. "I'm attracted, no doubt about it, but you've seen me," he says, referring to his own conventional dress. Rather, the costumes organically allude to the characters' sexuality in a way that's unusually acute. Like many designers, Hagardon's priorities were building the characters, honoring the source material when possible, and deadlines. "You have to keep in mind the snapping alligators because these things go so fast. There's a constant flow of demand [on a show]. You have to be decisive."
Featured image: L-r: Robert Sheehan, Tom Hopper and David Castañeda in THE UMBRELLA ACADEMY. Courtesy Netflix.