The Righteous Gemstones Composer Joseph Stephens on Creating Earworm Tune "Misbehavin"
Joseph Stephens is the composer behind Danny McBride's HBO series The Righteous Gemstones, and he helped craft one of the show's funniest moments—the song "Misbehavin"—which he co-wrote with McBride and co-star Edi Patterson. In the show, "Misbehavin" is performed by the sibling musical duo of Baby Billy (Walton Goggins) and Aimee-Leigh (Jennifer Nettles). Watching it now feels like a musical blast from an alternate dimension when laughs were easy to come by and the sight of seeing musicians perform shoulder-to-shoulder was commonplace.
In a sense, the contours of Stephens' working life  haven't changed that dramatically since the COVID-19 pandemic froze life in place for all non-essential workers, and mothballed film and TV productions all over the globe. Because his work is done during post-production and is performed largely in the studio in his home, pandemic work looks a little like pre-pandemic work, if superficially.
"I've got my ups and downs, it's not truly that different from my normal day-to-day," he says. "I work out of a studio from my home. There are times where I don't leave my house for days on end. Yet everything is so odd, shopping, people walking around outside of my house nonstop. The weather's nice and that helps, there's some pros and cons, but mostly cons."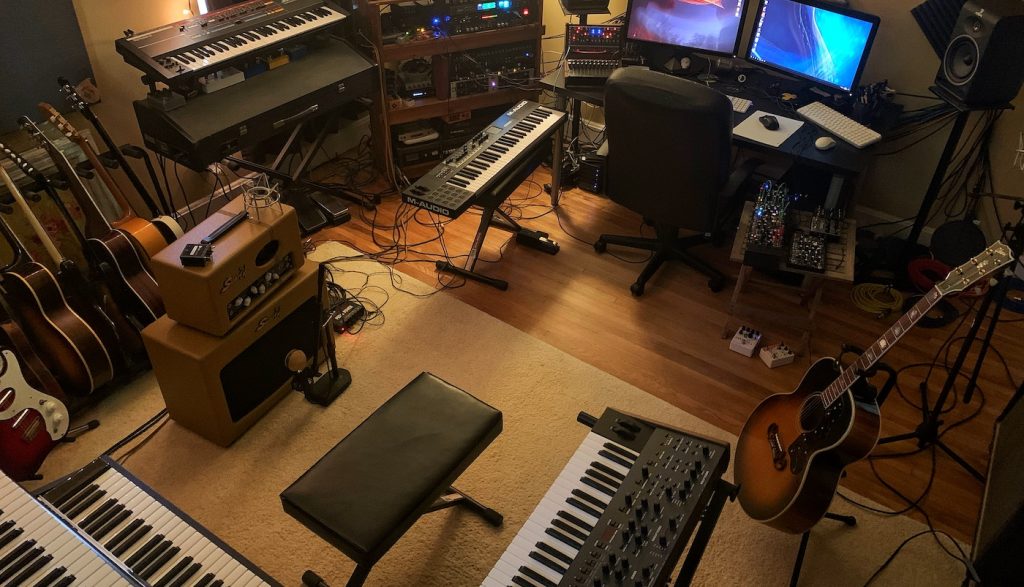 Thinking back on brighter times, Stephens recalls the creation of "Misbehavin," which happened in a dervish of collaborative creative energy.
"In the script, there's this backstory involving Baby Billy Freeman (Goggins) and Aimee-Leight (Nettles) where 'Misbehavin' is this song they made famous when they were kids in the 1960s," he says. "You see an album cover in the background that hints at it. As Gemstones progressed, they decided to make this song a reality within the show, and that's when Danny tasked me with writing it. The only real direction he gave me was that the song would be called 'Misbehavin,' that it was originally performed by kids, and that it should sound like it's from the 60s. Danny and Edi [Patterson] had been spitballing ideas in the writer's room, so Danny sent me a voice memo of Edi singing part of the song. That was what I ran with. I sat down for about three hours, put everything into a chord progression, wrote a bunch of lyrics, and created a whole narrative. Then I sent them this demo with me playing guitar and singing to Danny, and it never really changed after that. It was so much fun, getting into this 60s vibe, kind of like a Johnny Cash song, but sung by kids."
Stephens and McBride have been working together for a long time, including on Vice Principals and Eastbound & Down,  so their shorthand is well-tuned, and their mutual trust is total.
"I've had ideas I've pitched for projects that get completely rejected," Stephens says. "I think obviously Danny and I know each other very well, our sensibilities are the same in a lot of ways. I understand what he wants, but he also gives me a lot of latitude to experiment. So when after I sent 'Misbehavin' to him, we met for a lunch meeting and I asked what I should change about it, and he said don't change anything. We'd both fallen in love with it. The rapport he and I have does have a lot to do with it."
Stephens recently scored Mindy Kaling's new Netflix series Never Have I Ever, and he says the key to the composer/creator relationship is understanding precisely what people are looking for. "If I know what they're looking for, I can find my way through it and have fun with it. The more notes you get, the more it gets picked apart, that's where a lot of pieces of art or creative things kind of lose some of their punch. I'm hesitant to say that totally, because you look at the Disney movies or musicals which have a ton of credited musicians, and they obviously work on so many levels, so it's not true for all films, but for me, for whatever reason, I haven't gotten a lot of pushback. We have stuff that we're working on for season two of Gemstones that's very different, song-wise, that have all been pretty well received."
Our conversation turned to the music he was inspired by growing up. Stephens grew up playing guitar and loving the legends—Bob Dylan, Leonard Cohen, Tom Waits, Neil Young. "I was into singer-songwriter types, people that have stories to tell, like Nick Cave. That's very firmly in my background and informed my musical foundation in high school and college. Then after college, I got into weirder territory, experimental stuff, scores, nonvocal. For something like The Righteous Gemstones, there's a certain kind of aesthetic that needs to happen, as it's supposed to be from a certain era and cover certain ground, and it needed to represent a specific piece of the backstory for these characters. That was more involved then I'd done in the past. I've written songs for end credits where I was asked for a certain vibe to get across, something mysterious, poetic."
We turned to a legendary singer-songwriter who recently died due to complications from COVID-19, John Prine. He didn't have the same name recognition of a Dylan or a Neil Young for the masses, but his loss rippled all through the music community and revealed not only his phenomenal legacy but legions of Prine fans online.
"There's a lot of guys out there who missed Prine," Stephens says, speaking about himself and his interviewer, who only started listening to Prine after he passed. "He was one of those guys I discovered later in life. When I listen to Prine now, the lyrics, the structures, they're all just really stunning. I feel lucky in a way I'm discovering him now. It's just beautiful. I'm jumping around different albums and you can tell the change in his voice after his surgery [Prine had surgery on his neck following a diagnosis of squamous cell cancer], you can also identify what era in his career these songs are coming from. The later stuff, he never really let up with his ability to craft super great lyrics and put them in progressions that are still interesting."
As for The Righteous Gemstones, they were a week into filming season two when everything got shut down. In his downtime, Stephens has been doing some maintenance on his studio, which he says he neglected for too long, and he's been writing, too.
"I've read seven of the nine episodes for season two, and there's a good deal of onscreen song material that'll need to be written," he says. "Who knows when it'll come back,  but I'll keep my ducks in a row. It doesn't ever really feel like work, and now there's not really deadlines, which is kind of a bad thing for me. I don't mind a deadline."
Featured image: Adam Devine, Danny McBride, John Goodman and Edi Patterson. Courtesy HBO