Never Have I Ever Director Kabir Akhtar on Filming Mindy Kaling's New Netflix Series
When director Kabir Akhtar heard the news that producer/writer/star Mindy Kaling was, along with co-creator Lang Fisher, putting together a new series at Netflix that would focus on a first-generation Indian American teenage girl, he thought, I need to be a part of this.
"Just the idea that a show could be made about a first-generation South Asian American," Akhtar says, a first-generation South Asian American himself, who grew up in suburban Philadelphia, "I was sitting at home, by myself, and I instinctively raised my hand as if to say, 'Oh, me!' Growing up in the 80s and 90s, there were no stories like that being told anywhere. Nobody on TV looked like me. I was really, really excited to get connected to this project."
So that's precisely what Akhtar set out to do, get connected to Kaling's project. He reached out to his agent and manager to see if they could get him on her radar.
"I was jumping up and down, saying we have to find a way to get connected to this," he says. "I like my agent and manager very much, and truly do not understand their jobs at all (laughs), so they waved their magic wand and next thing I knew I was filming two episodes."
Akhtar has been a steadily working director, and helming episodes five and six of a story focused on Devi (newcomer Maitreyi Ramakrishnan), an overachieving high school sophomore with a short fuse, felt like a really perfect fit. And it was. He began his career as an editor—a very good editor—winning an Emmy for cutting the pilot for Crazy Ex-Girlfriend and nominated for two more, one of which came from his time cutting one of the most brilliant comedies of the modern era, Arrested Development. The switch to director has gone smoothly, with Akhtar helming episodes of Crazy Ex-Girlfriend, Grown-ish, the Beverly Hills reboot, the High School Musical series, and The Unicorn. Then everything changed.
"Watching Never Have I Ever now, it's crazy to think just a few months ago was a different time," Akhtar says. He was set to begin work on the reboot of Saved by the Bell when the spread of COVID-19 meant production had to be stopped. Looking back on his work on Kaling's new series, he marvels at how odd it now seems to see characters hugging or high fiving. "It suddenly feels surreal. We're all in this crazy place together."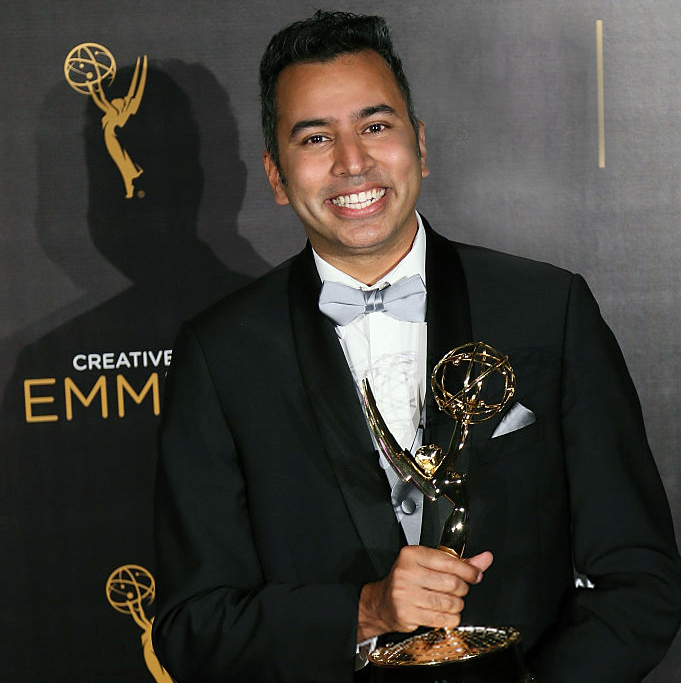 "I was mid-way through filming an episode of Saved by the Bell a few weeks ago when we got shut down," Akhtar says. "Everybody got shut down. It's really wild to think that less than two months ago I was shooting an episode of a show with scenes with 200 people! And it's really, really eye-opening to consider not only how recently everything was so different, but also to consider when the world might be like that again. When and if."
Never Have I Ever is slated to begin streaming on Netflix on April 27. Akhtar noted how promoting things right now seems, well, odd, and how the usual process of rolling out a new series has been altered significantly, at least for now.
"Normally, when I've worked on a show and it comes out, the one thing you always see is billboards and bus ads, but nobody's driving around," he says. "Will there be billboards, and if so, will anyone see them? Even new shows that I've been watching since being at home, I've just found them all online."
Not only is promoting your work during a global pandemic odd but so, too, are the other aspects of his career, like taking meetings for potential new jobs.
"Talk about the new normal, I had a Zoom meeting about a job a couple of days ago. Just the whole thing is a little strange, it's not just that you're meeting someone for the first time on a video call, but also people on these calls are hanging out in their bedrooms to get a little peace and quiet," Akhtar says. "This meeting was about a show I was excited to talk about it, and they were talking about planning on filming in June in Vancouver. Part of me is like, Great, that sounds awesome! And part of me is like, is that really going to happen? Can that happen?"
Another weird aspect of the new normal is how every conversation begins and ends with talk of the coronavirus. Even the most mundane ritual of the working world, the email, has been transformed by the stampeding virus. Vulture even wrote a piece about our new pandemic etiquette.
"It seems unthinkable a month ago, but now every single conversation you have with someone starts with, 'How are you holding up? Are you guys okay? This thing is crazy,' Akhtar says.
For streaming shows, you'd think the pandemic might actually be a boon, and if you're the folks behind Tiger King, you probably agree. "A very big part of why all of us watched Tiger King wasn't that we were all really into tiger cubs, it was we're all trying to stay connected to each other," Akhtar says. "Since we can't go out with friends now, at least we all felt like we were doing something together. There's definitely a bunch of shows that are airing now that have been in the can for a while, and a bunch that coming through the pipeline, and I think all of us are going to need that."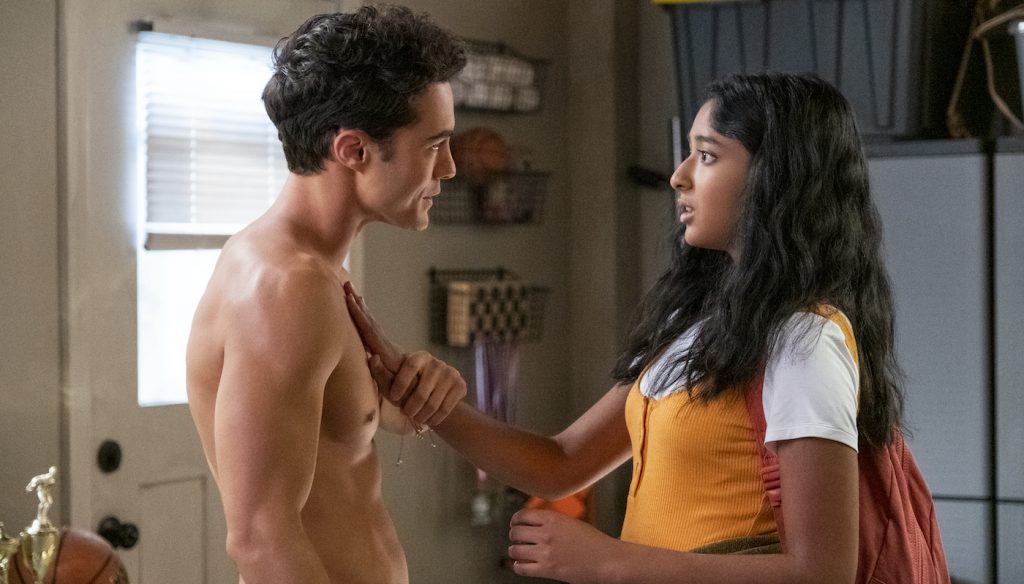 "We've all lost our cultural touchstones temporarily, there are no sports to watch, we don't have movies to go see together…the only thing we're all really able to do together is watch TV, and try to feel connected," Akhtar says. "Never Have I Ever is a very smart comedy, the writers did a fantastic job. I was really, really proud of the work and, I guess, on the one hand, seeing a South Asian lead character just be a quote 'normal' American kid, to me that's unusual, you never see that on television. But the good news is that it's totally normal now. I'm excited for people to check it out."
While we've all been social distancing, washing our hands (over and over and over), absorbing an endless amount of truly terrifying news, and marveling at the folks on the frontline of this pandemic, from nurses and doctors to the people delivering our food and working in our grocery stores, Ahktar hopes that Never Have I Ever can play a small but important role in peoples' daily lives; making you laugh.
"I think it's hard to remember, I know it's very hard for me to remember, that it's okay to laugh, even now," he says. "I know that we're surrounded by terrible news, and I don't find myself watching comedies that much, but when the mood strikes, I have to remind myself to not feel bad about it. It's important for all of us because we're all collectively going through something very traumatic, and it's not healthy for me to read the news all day long, even though it's what I'm doing. So I hope that people are okay, and when they need an outlet they have a place to turn."
Featured image: L-r: Maitreyi Ramakrishnan, Richa Moorjani, and Poorna Jagannathan in NEVER HAVE I EVER. Photo by ARA SOLANKI/NETFLIX.