How Snowpiercer's Costume Designer Hopped On the Post-Apocalyptic Ride
Unlike Snowpiercer the train, which hurtles non-stop around the globe during a post-apocalyptic Ice Age, Snowpiercer the series has encountered numerous stops and starts en route to its May 17 premiere on TNT. Based on Parasite's Oscar-winning co-writer/director Bong Joon Ho's 2013 film adaptation of a 1982 French graphic novel called Le Transperceneige, the TV version of Snowpiercer was initially developed by writer-producer Josh Friedman (Terminator: The Sarah Connors Chronicles, War of the Worlds), who spent two years fleshing out the storyline. Sets were built and actors cast for the pilot episode shot by director Scott Derrickson (Doctor Strange).
But in early 2018, Snowpiercer screeched to a halt when Friedman and TNT parted ways over "creative differences." Orphan Black creator Graeme Manson came on board to re-boot the entire show with Hamilton star Daveed Diggs and Oscar winner Jennifer Connelly remaining in place. The series premieres this Sunday, May 17 at 9 p.m. ET/PT.
Then, three episodes into the new iteration of Snowpiercer, costume designer Cynthia Ann Summers departed, and Vancouver-based Caroline Cranstoun joined the production. She now oversees the wardrobe that helps define the class divide between rich people swathed in luxury at the front of the train and the drably attired poor folks who inhabit "the tail."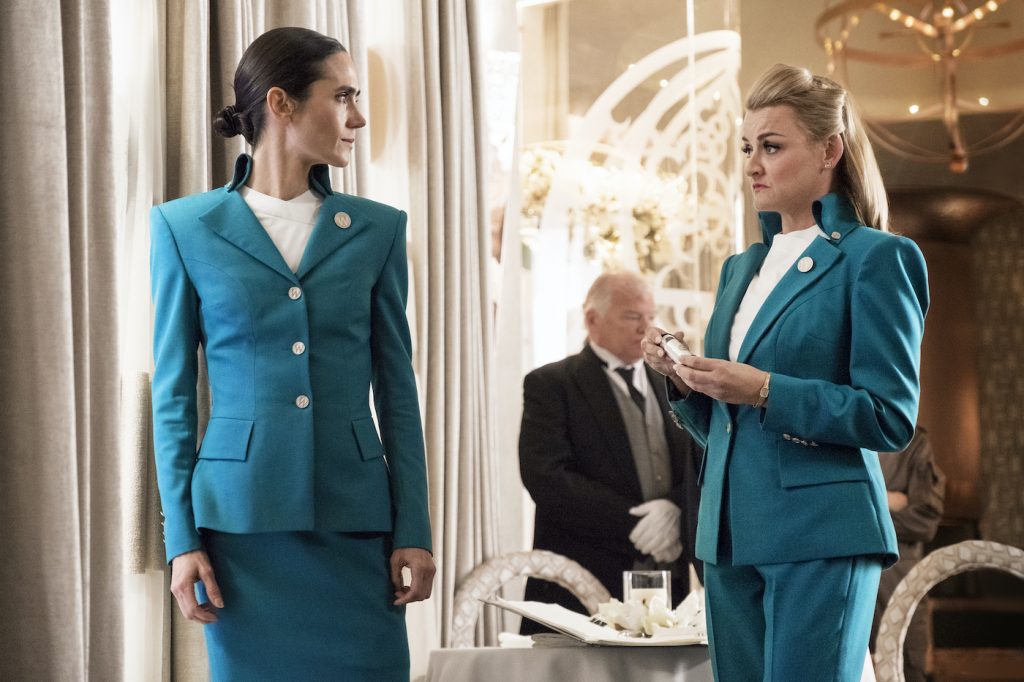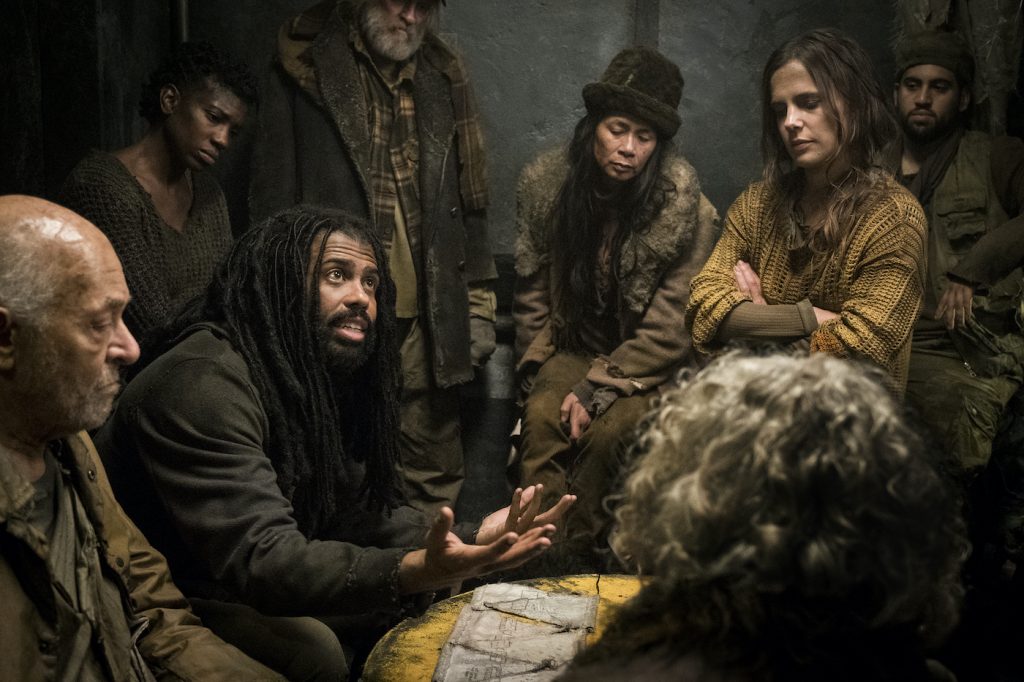 Stepping into the production mid-stream proved to be something of a challenge, Cranstoun recalls. "I had to put together a very big crew and at first it was kind of like, 'What am I doing? This show is huge!' There was a lot to get a handle on in a short period of time but I had total support from the Snowpiercer team and after a few months, I realized I had made the right decision and was thrilled to be a part of such a creative team."
Among Cranstoun's chief tasks: making sure that impoverished passengers in the back of the train, like Diggs' Andrey Layton, dress in a suitably downtrodden fashion. "That has a lot to do with our breakdown department," she says. "They're a lovely and talented group of artists who add texture to the costumes with paints. They add highlights and low lights to give the clothes a very worn look. It takes a great deal of time and manipulation because when we do the fittings, we often use new pieces. Then, the aging is done afterward."
"Tail" dwellers wear earth-toned cotton and wool because, Cranstoun explains, "Textiles made of natural fibers age much more nicely than synthetic fabrics." In terms of palette, she says, "We don't have black in the tail and we don't use anything very light either. We use a grey-brown palette with a very small amount of muted color to bring the clothes to life. The environment designed by production designer Barry Robison also gives us this very dark, scavenged feel."
At the front of the train, "first-class" passengers flaunt their wealth. "We want it to be very obvious that these are the rich people so we use jewel-toned clothes that look clean and crisp," Cranstoun says. "They're at the top of the pecking order so they embellish themselves in furs and jewelry so everyone can see they have the best, the most, the finest."
"Hospitality" staffer Melanie Cavill, played by Connelly, wears a blue quasi-military uniform when she announces rules and regulations through the train's public address PA system. Cranstoun singles out the actress as being an especially thoughtful performer. "Jennifer Connolly thinks things through very carefully. She inspired me with her work ethic and was very collaborative in [figuring out] ways the costume could be worn and used."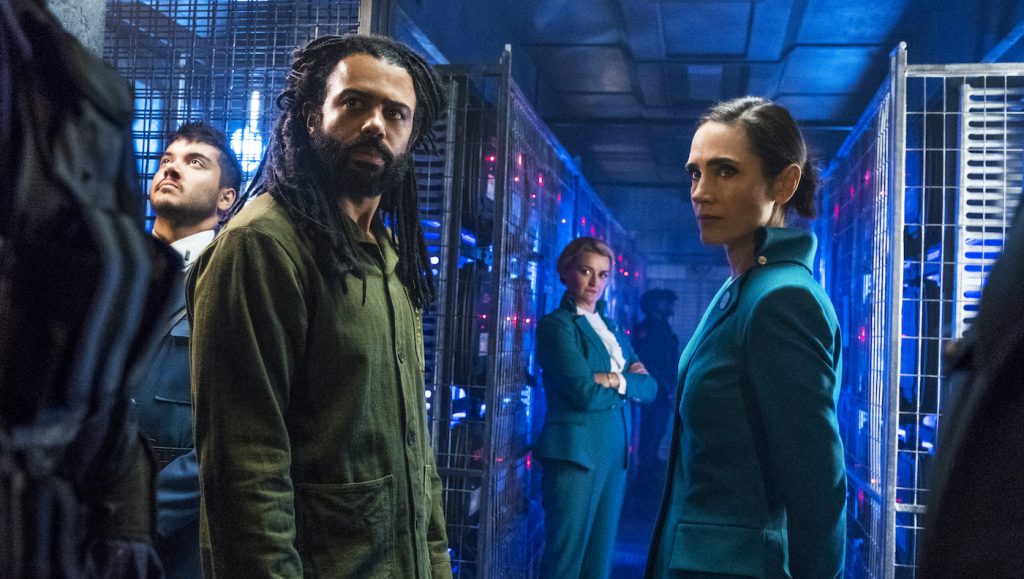 Snowpiercer marks an intriguing mid-career milestone for Cranstoun, who started sewing at age nine not long after being exposed to the outrageous costumes worn by Cher on her TV variety series. "One of my earliest memories as a kid is watching the Sonny and Cher Show, seeing Cher's costumes and going, 'Oh my god!' They were so over the top and fantastic."
Later, Cranstoun took fashion courses at Kwantlen University College n British Colombia, then worked her way through the wardrobe department ranks to become costume designer on long-running Superman show Smallville and other series filmed in and around Vancouver. Until recently, costuming gigs have flowed steadily but in March, production on Snowpiercer's second season shut down due to COVID-19 concerns. Cranstoun describes a sense of déjà vu as she observes real-world catastrophes mimicking the worst-case sci-fi scenario dramatized in Snowpiercer. "It kind of makes you go: 'Wow, I feel like I've seen this before," she says. "There have been so many [post-apocalyptic] shows and films we've seen over the years that were interesting to watch and now all of sudden you're going 'Wait a minute, this is weird.' It's a strange time, that's for sure."
Featured image: L-r: Daveed Diggs and Sheila Vand in 'Snowpiercer.' Photo by Justina Mintz/TNT