Best of 2019: How Ford v Ferrari's Production Designer Rebuilt the World's Greatest Race Track Piece-by-Piece
*We're reposting some of our favorite interviews of 2019. Happy Holidays!
James Mangold's Ford v Ferrari revisits one of the greatest car races in history. It began back in 1959 when Carroll Shelby (Matt Damon) wins the most difficult race in the world, the 24 Hours of Le Mans, in France. The problem for Shelby is his crowning achievement is also his last race—doctors tell him a heart condition makes it impossible for him to race again. The ever-resource Shelby decides to become a car designer (he can't bear to leave the sport he loves) and sets up shop in Venice Beach, California. His team of top-flight engineers and mechanics also includes one very irascible, very good test driver named Ken Miles (Christian Bale).
The two men might not be remotely close temperamentally, but they'll become allies in an outrageous plan cooked up by the Ford Motor Company; they're going to build a car for Ford that will beat Italy's legendary Enzo Ferrari at Le Mans. It's a race car movie that also plays a little like a heist film; can this unconventional team come together at great odds and build a race car that won't only compete with Ferrari, but win? Filmmakers have been wanting to tell this story for years. The source material is journalist A.J. Baime's "Go Like Hell," which was published in 2009 and became of interest to some very big names.  At one point, Tom Cruise and Brad Pitt were attached, and a script was written by British playwright Jez Butterworth. Yet here we are, in 2019, with an excellent Ford v Ferrari from equally big names—so why did it work this time around?
Mangold's longtime production designer François Audouy was crucial in helping the director get Ford v Ferrari across the finish line. Here's how he did it.
Let's start with the cars. Even for non-car people like myself, these are beautiful vehicles. Were you knowledgable about any of this going into the film?
I didn't know anything about cars, racecars in particular, when I started the movie. I had to do a bunch of research, as each of these cars is so specific to the race, and they're so famous for their performances and what they did in each of these races. We built, I think, 30-plus cars, and all the hero cars had to perform as actual racecars. They're some of the most beautiful cars ever built.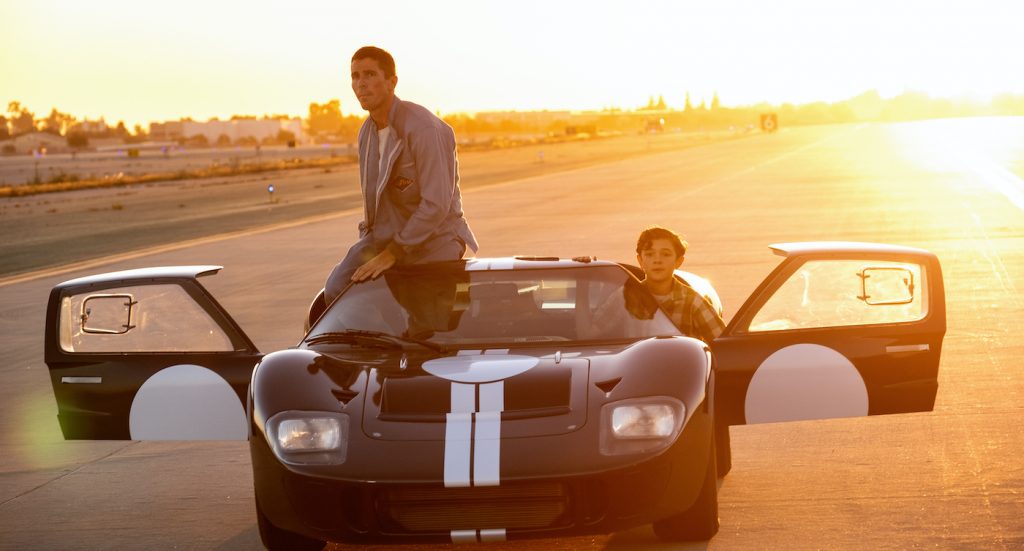 How in the world did you build all these racecars?
What makes a movie like this incredibly challenging is that it's like making Ben-Hur, but every chariot costs $5 million each. The actual cars are priceless, they're all in museums and literally some of the most desirable cars ever made. The movie opens at the 1959 Le Mans race, with an Aston Martin DBR1, which is I think the most expensive car ever sold at an auction, and we had to build two of those. We knew we'd have to build them, but we didn't know who would do it or how. So that was a whole process of trying to familiarize ourselves with the vendors who are out there who make these things.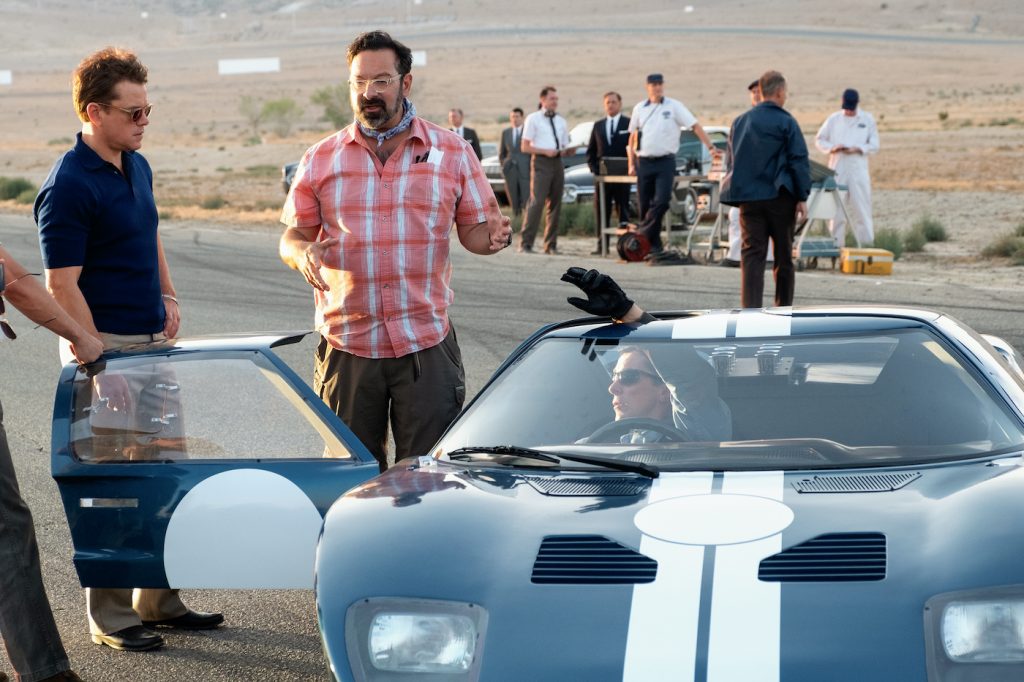 Who did you find to help?
We couldn't spend a million dollars each on a car, so we used a whole bunch of different companies. We used a company in Michigan that specialized in GT40s and Ferraris, we used another company called Superformance down in Orange County and are one of the leading builders of GT40s. And we used some of the picture car shops in L.A., so there was a whole bunch of stuff going on all over the country.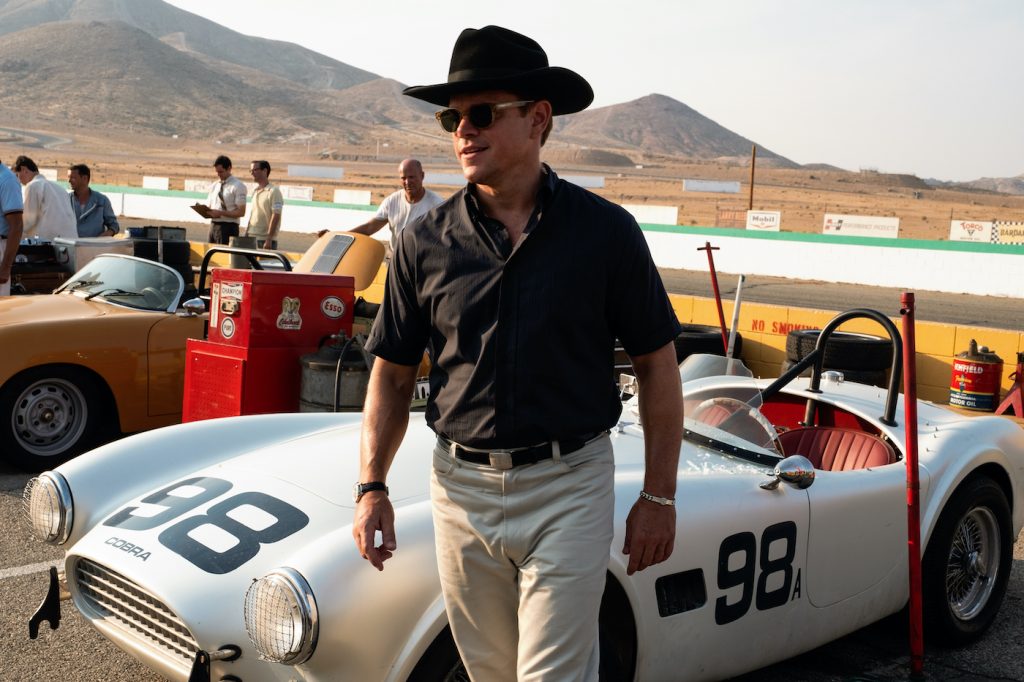 And these are the cars we see racing in the movie? 
Yeah, they're driving at high speeds. In a normal film, when you see a chase in a movie, the cars are going at about 40-50 mph. Through cutting and wide-angle lenses and coverage, you can make them seem like they're going fast. We found out early on that for the extensive sequences in the movie, the cars had to be capable of going over 100 mph. We had real performance drivers in these cars and they had to have the tools that would let them perform in this high-speed ballet.
Why couldn't you use the wide-angle lenses and the rest of the techniques to give the illusion of speed?
Some of the coverage could be going slower, but Jim [Mangold] had a very clear vision of how he wanted to cover these races; he wanted to be low and wide. The wider the lenses, the more real it feels, but also you can't cheat. You're using these wide lenses and it's going to look like a snail's going by if you're going 40 mph. Everybody kept pushing the speed to get it as real as possible.
How did you dig into the huge challenge of re-creating Le Mans?
We looked at everything we could put our hands on. Archival footage, tons of photos. I didn't really know what I was getting myself into [laughs], but I started to understand that Le Mans racecourse is so famous among car aficionados that people know every single turn and chicane of this course. It's one of the most famous racecourses in the world. So we weren't going to be able to just wing it. Every chicane and every turn has a name that goes back a hundred years. We ended up getting to know the course as a character in the movie. You have to get to know each part of the course and why it's famous and why it's specific and why it's particular and why it's recognizable.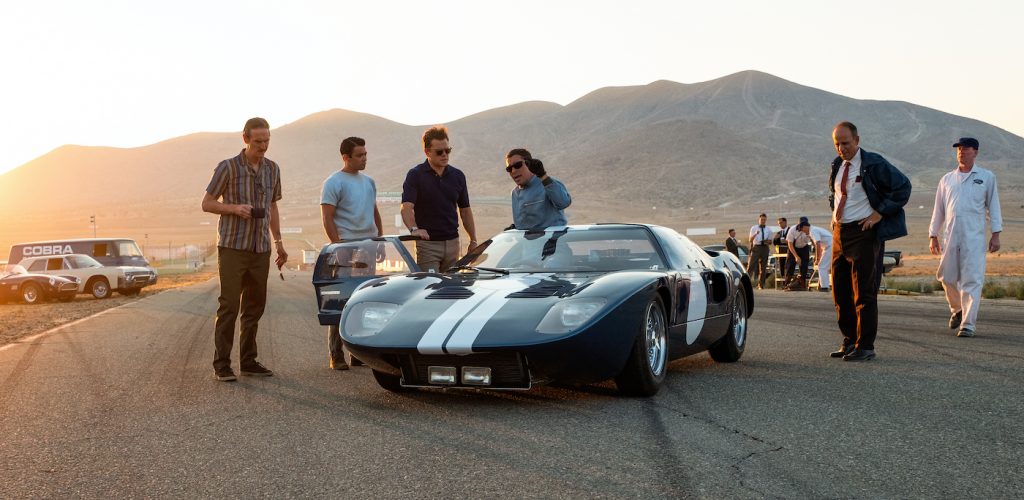 Considering you couldn't film on the actual course, how did you piece Le Mans together?
One of the first things we did, we had a pre-shoot week of a couple of days of filming in France. We shot in Le Mans, and we drove the course in a van—Jim, Phedon [Papamichael, the cinematographer], the producer and I—and we found that it's completely unrecognizable now. It's all built up, there are these huge barriers on each side to make it safer. Everything's been completely engineered for high-speed safety. Back then, there were no barriers, it was just roads going through cow pastures, basically.
Then we looked at every single racetrack in California. There was a version where we were going to make most of the movie in Georgia. We were also looking at Louisiana. Through some sort of voodoo magic, a budget was made where we could be in LA in Southern California and still be able to do our second unit in Georgia.
Fairly late in the process, we came across a track in Savannah, Georgia, that was basically in downtown Savannah and was about a mile and a half long track. It had been overgrown in a beautiful way. That was a huge find. So that was the main track we used, and then we basically had to cut up, like puzzle pieces, all of the different turns at that track to find out which turn or which S best matched what was in Le Mans.
When you say you cut it up, you're literally choosing bits of different tracks and matching them to the different bits of Le Mans?
Exactly. There are four different locations that make up the Le Mans track in our movie. When you see the movie, it's really incredible how you can't tell where things are because it cuts together really effectively. The pits and the finish line were in Los Angeles, those were the scenes that really involved the first unit and Christian and Matt, so we closed down a runway and built this massive set. We built this three-story building that doesn't exist anymore at Le Mans, but at the time was like a bunker where you had all the different garages and pits divided into countries and teams. The second floor was hospitality suites and a big area for the press, and the third floor was all the bleachers.
When you take off and turn you're in Atlanta, at the Road Atlanta Track, where we doubled the very iconic Dunlop Bridge. Then turn into the stretch and you're in Savannah, and then we cut to the outside of Savannah for the iconic Mulsanne straight, where we also built the hairpin Mulsanne corner, too. Then we're back to the track in Savannah, and finally, we're at the finish line in Los Angeles.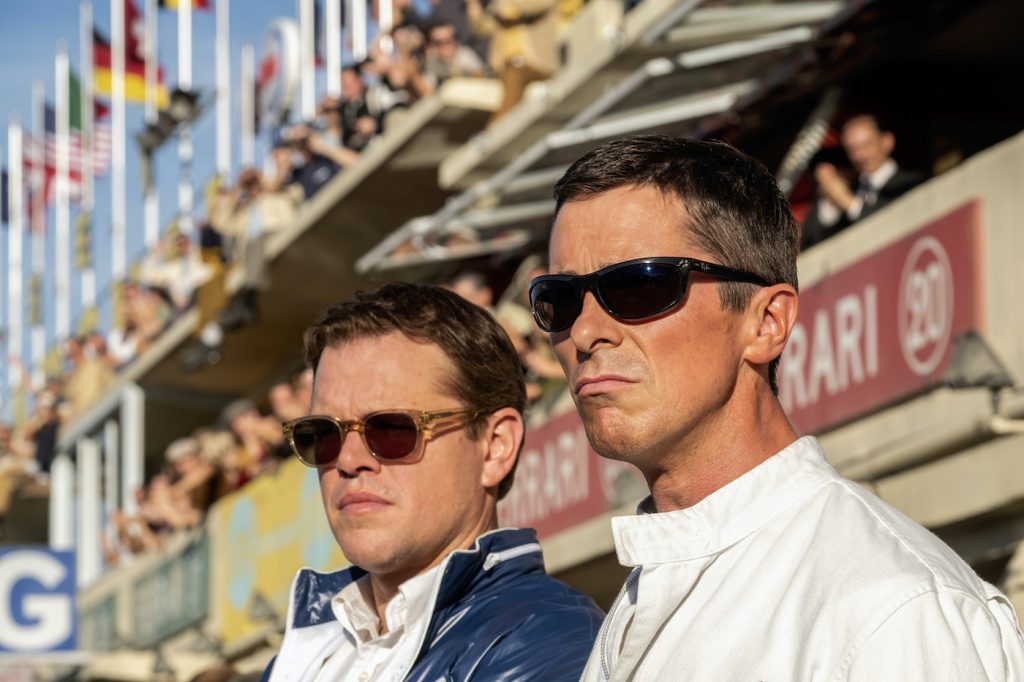 What a colossal challenge this sounds like.
Oh, it was a terrifying challenge [laughs]. It was definitely gut-wrenching because we didn't know how we were going to pull it off in the beginning. Fear is the best motivator. When you're a production designer and you're reading the script for the first time, you're wondering how is this even going to work. That's how you know it's a good project, that it's going to be something you're going to learn from in the end.
Ford v Ferrari hits theaters on November 15, 2019.
Featured image: L to R: Ray McKinnon, Jack McCullen, Matt Damon and Christian Bale in Twentieth Century Fox's FORD V FERRARI. Photo Credit: Merrick Morton. Courtesy 20th Century Fox/Walt Disney Studios