How Cinematographer Roger Deakins & Team Pulled off the One-Shot Masterpiece 1917
For Sam Mendes, the multi-hyphenate who produced, directed and co-wrote the script with Krysty Wilson-Cairns, 1917 was a personal story. It follows two British soldiers – Schofield (George MacKay) and Blake (Dean-Charles Chapman) – tasked with delivering a message across enemy lines in order to stop a battle that could save hundreds of soldiers' lives. The idea came to Mendes after his grandfather shared with him World War I stories where he himself had been a runner. Inspired, the American Beauty director curated an assembly of true stories from the period and put them together in a captivating script. The film opens in theaters on December 25.
Visually, Mendes saw the narrative unfolding in a "one-shot" epic where viewers are immersed quite literally in the trenches of war. To pull off the feat, familiar behind-the-scenes artisans were tapped including cinematographer Roger Deakins, production designer Dennis Gassner and production sound mixer Stuart Wilson, all of which worked on Skyfall (2012) with Mendes.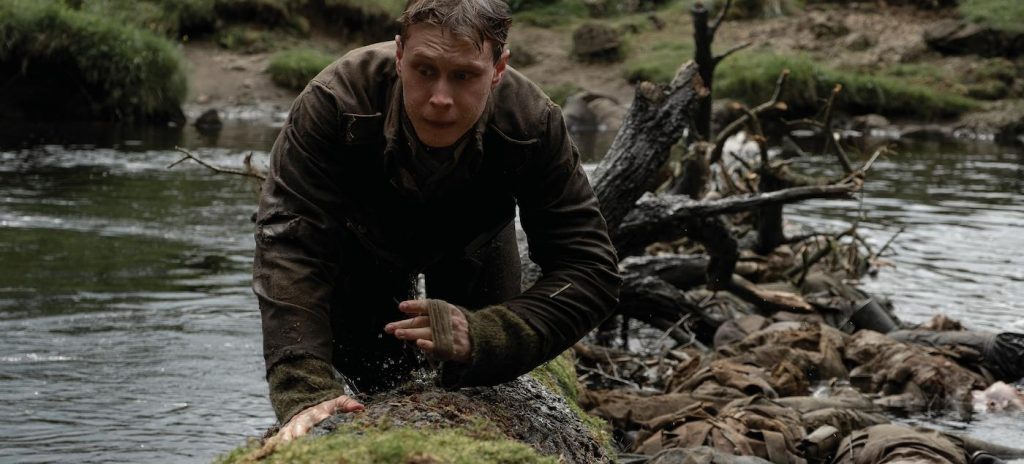 The challenge for the production team was figuring out how to connect all the shots into one seamless picture. To do so required a four-month rehearsal process where they discussed the layout of the sets and shots in detail – marking each moment on a soundstage floor at Shepperton Studios. Mendes and Deakins first blocked sequences noting how actors would move within them. From there, they mapped out how the camera would capture it all. Once the journey was established inside the studio, production moved to the locations to progress scenes further.
Deakins used a Sony mirrorless alpha camera to mimic the frame of the main camera they would be using to shoot, an ARRI Alexa Mini LF paired with ARRI Signature Prime lenses shooting 2.39:1 (there's also an IMAX version). The cinematographer took still frames of the blocking and then additional schematics and storyboards were drawn that allowed the cinematographer to collaborate with the camera grips and additional operators in how pull it off technically. "We actually shot with the actors and developed the scenes with a camera so by the time we actually had a full crew on set we knew exactly where the camera and the actors were going to do," says Deakins, whose list of work includes Blade Runner 2049, No Country for Old Men and The Shawshank Redemption.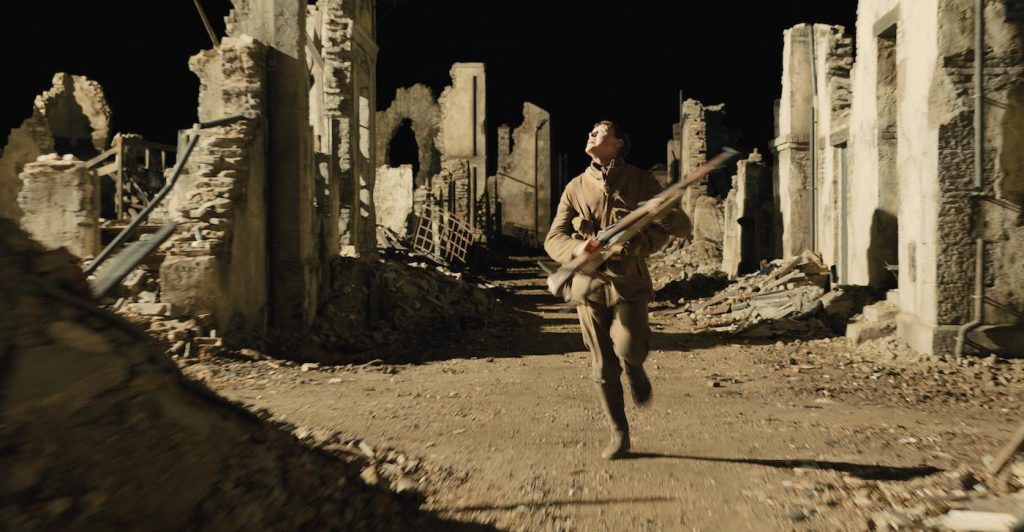 In visually joining each scene Deakins and the team considered camera movements that didn't feel like they were arbitrarily moving from one shot to the next but timed them precisely with the actors' movements. "We always wanted the camera to be connected to the characters. With that said, we realized early on that it was going to be a discovery process. We didn't want the camera to suddenly be a character or observing the action. We wanted it to stay with the characters because this is a very particular story that lends itself to that real-time single-shot idea," he says.
Some shots last up to 9 minutes long and have very complicated camera moves so not only was it an aesthetic challenge but a technical challenge too – one where the cinematographer didn't want a rough handheld feeling like seen in Saving Private Ryan. They instead elected for a more solid approach to the frame and allowed the movement within scenes to drive the action. "We had to figure out the timing of each scene and each shot because we couldn't adjust it later," says Deakins. "Once we found the shot we liked you lived with it in a way. That's why it was crucial we walked through each scene and shot to get a sense of space before filming. To realize how long a trench had to be to create a certain amount of action. All the shots had to be worked out before the sets were built."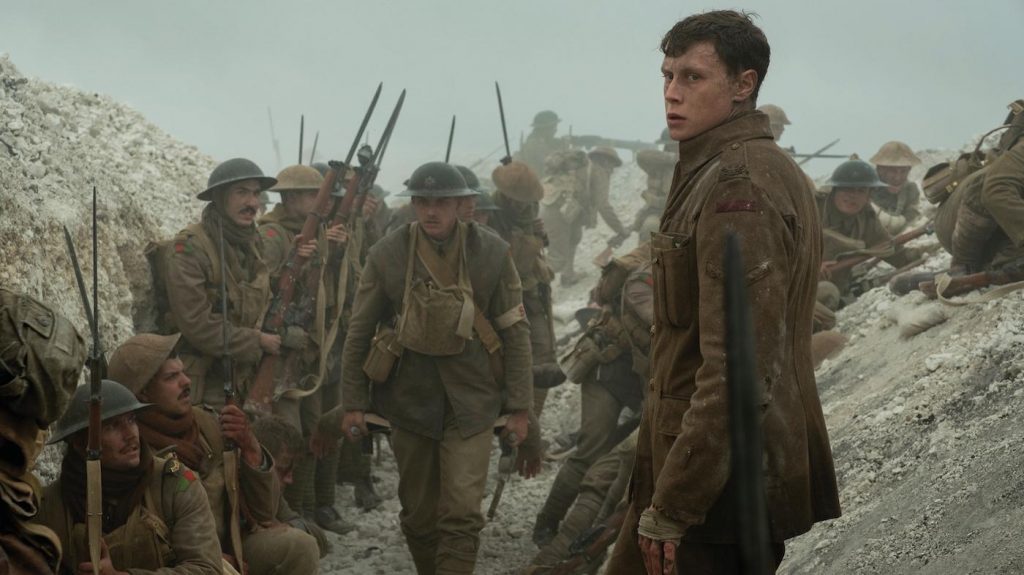 After finding the frame in prep, production designer Dennis Gassner and the art department got to work crafting the sets that were inspired by the actual battlefields of France. Gassner referenced upwards of 50,000 images to recreate the period detailing Allied trenches down to each individual soldier and the "habitats" they lived in between battles. Shooting locations spanned across England including Bovingdon to create the Allied trenches, no man's land, and German trenches. Ambrose Quarry, Oxfordshire stood in for the backside of the German trenches where Schofield and Blake find loads of abandoned artillery shells. The production also stopped in Salisbury Plain in Wiltshire for a plane chase sequence and River Clyde, Glasgow for a canal shootout, among many others to tie the vast enigma together.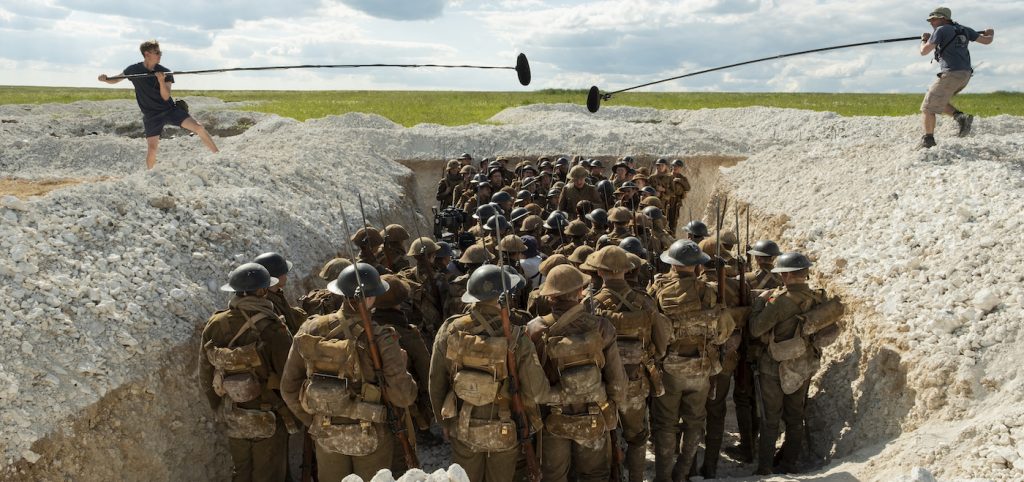 While Gassner conjured the sets, production sound mixer Stuart Wilson designed an intricate wireless network to record the audio. "The camera was going to see in every direction and Sam didn't want to sync anything in post, so we had to create site-specific installations that didn't interfere with the camera movements," says Wilson. To do so, sound installed hundreds of meters of fiber optic cable hidden within the trenches. They also asked the drapes department, who made the sandbags protecting the soldiers from incoming fire, to make bags using the same material so they could hide antennas inside them to be moved from spot to spot.
Wilson also collaborated with costume designer Jacqueline Durran to find places in the wardrobe to directly sew in the wireless lavaliers. For one sequence where Schofield is being pulled underwater and dragged downstream, actor George MacKay was equipped with four different lavs. "George trusted us and we did it so he didn't have to rerecord anything," adds Wilson. "With the planning, it ended up being usable."
The choreography between picture and sound was critical, as the dialog was a part of the timing and cued camera movements as well. Besides recording the isolated tracks and mix, Wilson had to send out the dialog to key players on set including Mendes, Deakins, script supervisor Nicoletta Mani, the camera department and others without latency. "They needed to hear the dialog and mix clearly so each department could do their thing at the right time. If they couldn't hear what was going on it could ruin a shot," notes Wilson.
Even when there was no dialog it was important for sound to record the breathing of each actor as it conveyed their emotional state. To immerse viewers even further, production sound extended the audio past the frame by recording two stereo wireless booms on each side of the camera. "The whole process was very collaborative and satisfying to do," says Wilson. "We were able to refine things after each take and when it all came together it was the best feeling."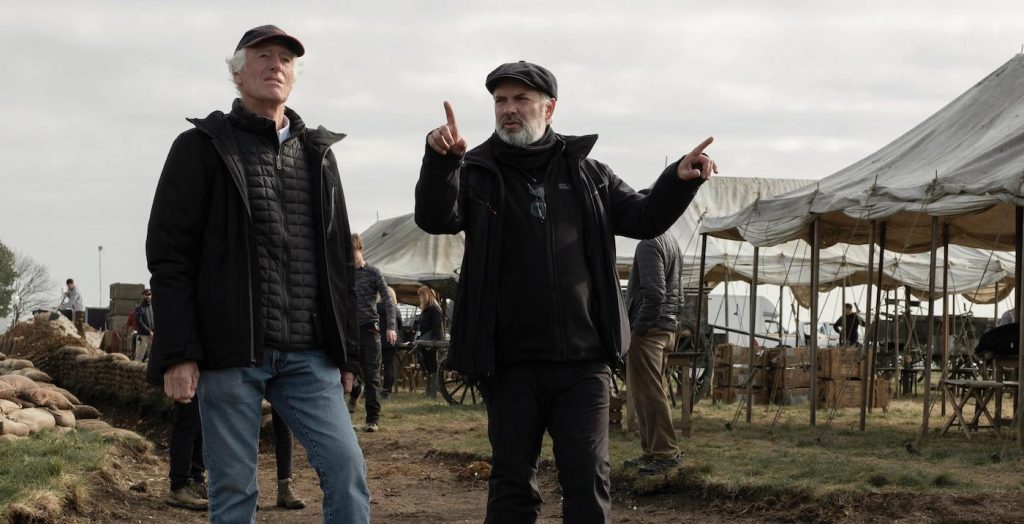 Featured image: George MacKay as Schofield in "1917," the new epic from Oscar®-winning filmmaker Sam Mendes. Photo Credit: Universal Pictures and DreamWorks Pictures