From Sunset Boulevard to Gemini Man With Paramount Archivist Andrea Kalas
Say you're in charge of Paramount Pictures archives, and someone on your team unearths some unsigned sheet music from the era of silent films (yes, silent films included sheet music, more on that in a minute), what would you do? If you're Andrea Kalas, Senior Vice President of Paramount's Archives, you simply hand it over to your music archivist and ask her to play it.
"My music archivist has a piano in her office because she sometimes has to pick up a piece of sheet music to identify something," Kalas says. "We have music going back to the silent era, which sounds oxymoronic, but there were cue sheets that were sent out to every theater so that people would play similar music along with silent movies. We have tons of music, tons of scores, and while some of them are signed by composers, occasionally you get unsigned sheet music, so she has to sit down at the piano and play a few bars."
This deeply appealing image—a music archivist piecing together a score's history by playing it on her piano—came to Kalas when I asked her if she had a favorite asset in Paramount's archives. I figured she might mention, an original baseball jersey from Bad News Bears, or a necklace worn by Audrey Hepburn in Breakfast at Tiffany's, or how about the fedora from The Untouchables? Instead, she told me her favorite asset was her staff.
"I know it's really corny," Kalas says, before rushing off to list the reasons why the statement is accurate. "Take our costume archivist Randall Thropp, he's an absolute expert on Edith Head [the legendary, 8-time Oscar-winning costume designer], not only does he know everything about her, but he has deep knowledge about Hollywood costumes in general and exactly how they were made. The depth of my staff's knowledge is amazing."
Kalas said that she's often awed by the amount of love her staff has for Paramount productions.
"These are folks who just know all our films, backward and forwards, and can quote from all of them," she says. "It's almost like these films are their family. Just the wealth of skill and knowledge people here have humbles me."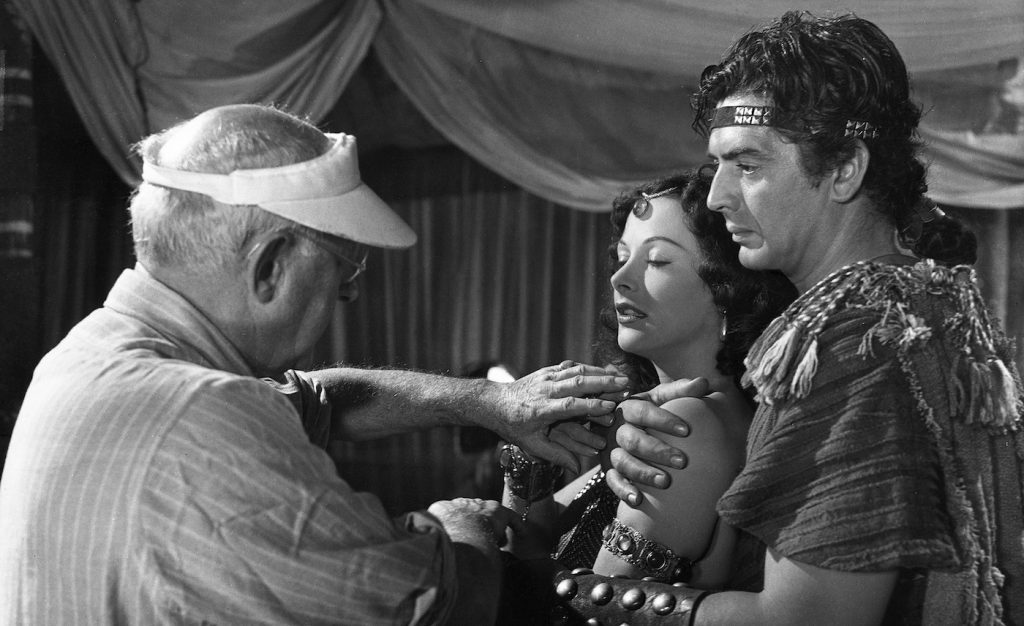 And that knowledge is often tested considering the amount of assets Paramount houses. Kalas's film preservation experts know just about everything about film technology, from the silent era through classics like Sunset Boulevard to Paramount's latest release, Ang Lee's technological marvel Gemini Man. 
"Our film preservation team can tell you about tinting on silent films to how Gemini Man was shot at 120 frames a second, and everything in between," she says.
Paramount's archives are housed in a massive warehouse on the Paramount lot. Props, costumes, sets, and more are here, all available should a director working on a new film in a franchise need something. Or, say, she is referencing an old film in her work and needs something from the archives. Paramount also loans assets to museums, takes their props on the road, and, loaned the Motion Picture Association a few incredible items from their archives when we reopened our refurbished headquarters in Washington D.C. These include costumes from J.J. Abrams Star Trek Into Darkness, and the dress Viola Davis wore in Denzel Washington's Fences. 
"We save this stuff so we can continue to distribute them to people who want to see them or need to use them," Kalas says. "That's physically what we do. Let's say someone is working on a film and they're interested in referencing another film from the past; I love it when a director asks to screen Paper Moon, say."
Yet this is hardly all that Kalas and her staff have as their mandate. They are also converting Paramount's vast back catalog for the digital age.
"We've scanned nearly two-thirds of our library at the highest possible resolution," she says. "And we're seeing that these films that people have never heard of are now being shown. Martin Scorsese curated a series about obscure movies from Republic Films, which was a B movie studio under Paramount. Yet Republic Films had great directors and actors and some wonderful films. And having somebody like Scorsese shine a light on them really helped get them attention. So we preserved it and then had help getting it out there."
Another reason a digital archive is so important is that it's a huge part of Paramount's distribution efforts.
"We work very closely with our post-production partners as films are finishing so that we can make sure we get all the right elements into the archives," she says. "If it's a television series, we may be putting it out on one platform and then another one immediately. If its a film going from theatrical to home, we need to move those digital assets around quickly. It's great to talk about the legacy, but we're also an important part of the business of distributing content as well."
In addition to transforming classics and obscure films digitally, Paramount, like any worthy studio, also goes to great lengths to keep a copy of every film safe for posterity. Here is where Kalas clues me into the location of Paramount's copies—which sounds like the set up to a heist film.
"We have a location in Pennsylvania in a former limestone mine, which is the perfect place for an underground vault," she says. "You go in and it's like an underground city, and pretty much every branch of the US government has a facility in there. The security level is high enough that it requires armed guards."
This underground city is part of the Iron Mountain Company, based in Boyers, Pennsylvania. Kalas and her team keep a copy of every Paramount film there in case of disaster and the originals are lost. As for the original negatives from their films, those are stored at another off lot facility.
"This is a very specialized film vault for our actual original negatives, stored at 25 degrees and 35 percent RH (relative humidity) because that's what film negatives like," she says. "There's been a lot of science done in film conservation and we know that at that temperature and humidity, everything stops. You can't go back and fix problems, but you can stop deterioration. I was so happy when I went into that film vault and it was so cold because I felt like the films were happy."
Yet going back to a Paramount asset—staff not included—that Kalas loves. She copped to a few that are near and dear to her heart.
"The original negative of The Godfather is pretty great," she says. "That's one of my favorite things, I have a camera trained on it so I can call it up and look at it anytime. The second is from the 1923 Ten Commandments, DeMille's silent film, it's really amazing. It looks like a piece of wood, but it was used as a decoration for that set. It's the earliest object we have."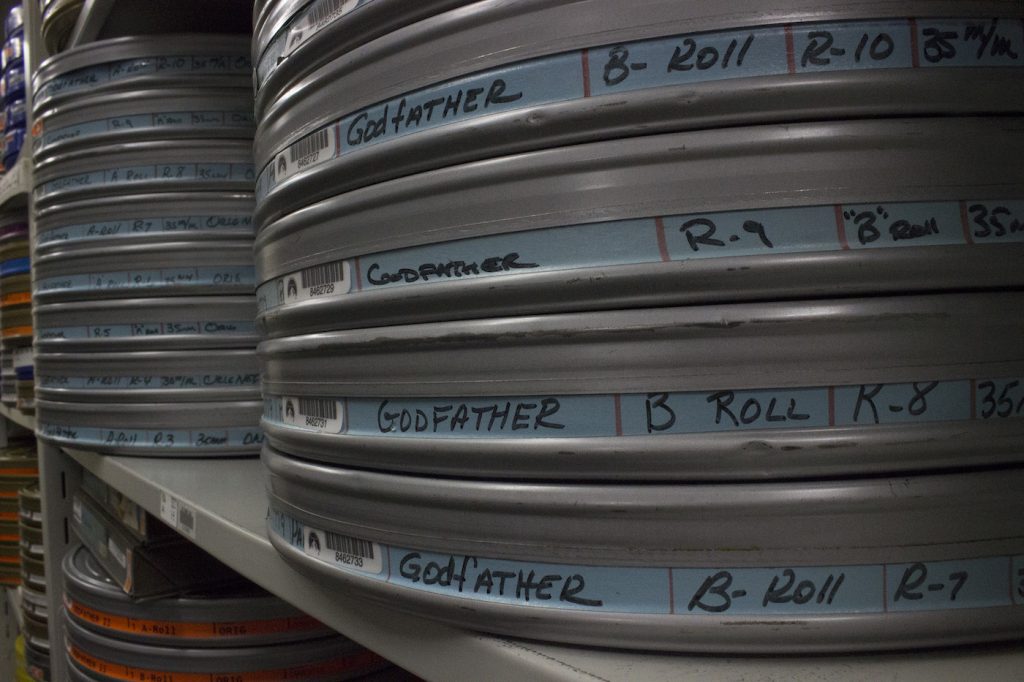 Another asset Kalas loves takes us all the way back to Paramount's founding.
"1912 is our year zero, that's the year Adolf Zukor, our founder, put a movie into a theater in New York city called Queen Elizabeth, with the great actress Sarah Bernhardt," she says. "He had a quirky idea that if he put someone famous in the movie, it would get people to come to the movies. It worked. It all started from there. And we have the contract he signed to buy Queen Elizabeth."
For more on our interviews with archivists, check out our conversation with Universal archivist Jeff Pirtle, and Warner Bros. archivist Lisa Janney.
Featured image: Erich von Stroheim as Max Von Mayerling; and Gloria Swanson as Norma Desmond. Courtesy Paramount Pictures.