Warner Bros. Archivist Lisa Janney on the Batmobile & More
What's it like to be in charge of Warner Bros. Pictures' vast archive collection? We're talking Batmobiles (lots of them), superhero costumes (Batman, Superman, Aquaman, Wonder Woman, etc.), props, sets, and literal tons more. This is the question we put to Lisa Janney, Warner Bros. Pictures vice president of corporate archives. One of the most iconic assets in all of Warner Bros. archives is currently parked outside of the Motion Picture Association's newly refurbished headquarters in Washington D.C.—the Batmobile. The beauty parked on 16th street outside of MPA headquarters is the Batmobile Val Kilmer drove from Batman Forever (1995), directed by Joel Schumacher. Nearly 1,000 people stopped by to see it yesterday, as any chance to catch the Batmobile is one worth taking. Yet Janney admits to having her own personal favorite.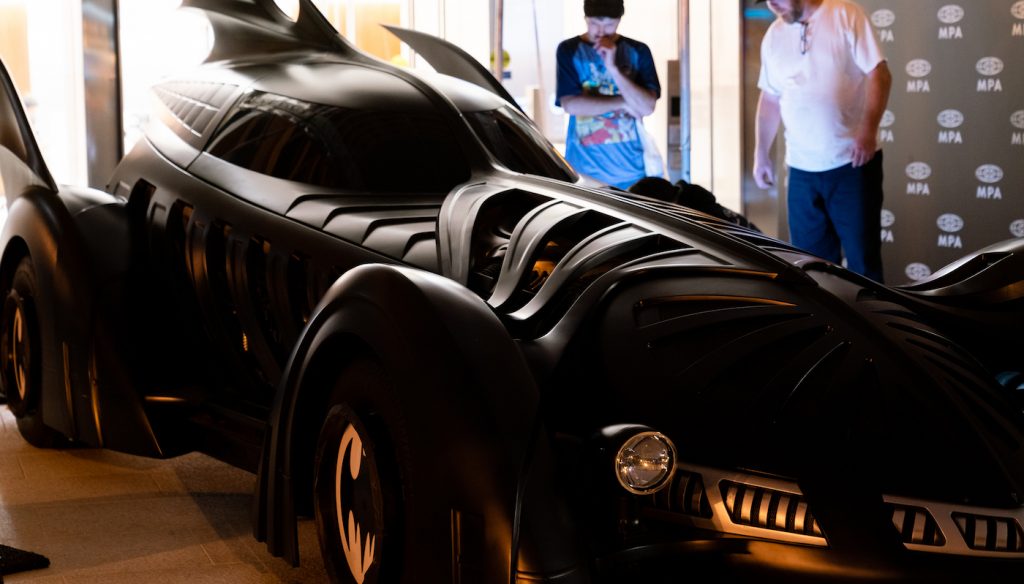 "My all-time favorite is the Tumbler," Janney says, preferring the tank-like colossus Christian Bale's Batman drove in Christopher Nolan's Dark Knight trilogy. Here's a fun fact that Janney reveals: all the Batmobiles that Warner Bros. keeps are fully functional automobiles. They're maintained, oiled, driven every month or so. The Tumbler itself can go 100 mph.
"We have nine or ten Batmobiles," Janney says, many of which are kept in Warner Bros.' massive archive building which is a mere 15- minutes from the Warner Bros. studio lot. "For a lot of the intimate knowledge we go straight to the filmmakers, we look to them for the expertise; what kind of engine does this Batmobile has, how fast does it go, what's the design like, and we'll put that detailed information on the database."
Janney isn't just running a vast warehouse of assets like super suits and Batmobiles, her team is also part of the production process.
"We're not a traditional archive, we're a production archive," she says. "Whether it's a TV show, feature film, or a video game, we're supporting them from pre-production all the way through the filmmaking process. Sometimes we transfer assets from one film or show to another, especially if it's a crossover universe like the Arrowverse on TV. Or for an upcoming film like Space Jam, they might need assets from an older film. So we save the production money because we've saved these assets."
Back to the Batmobile, however. We all know that there's a Batman reboot coming from director Matt Reeves called The Batman, with Robert Pattinson in the role of the Caped Crusader. Yes, Janney's been in touch with the production, and no, she's not going to tell us much about it.
"For The Batman, we've talked to them," Janney says. "We know what's on the horizon. We need to start early on to know what might be an important hand prop, costume, etcetera, so when they wrap we know what we're looking to keep."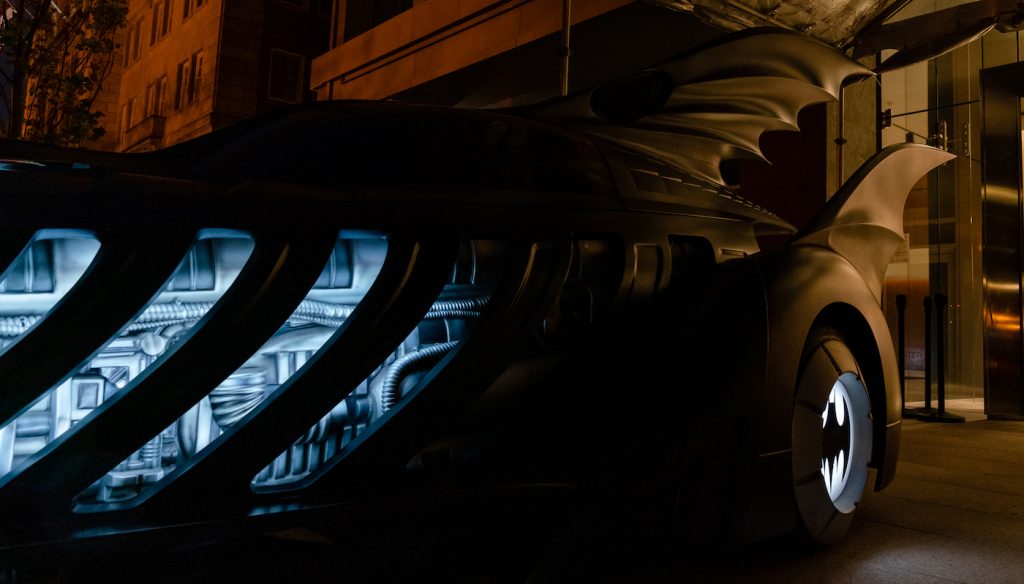 The Batmobile is widely considered one of those most iconic film assets in pop culture. Even in all its various iterations, from the films to the TV shows (both animated and live-action) to the comics, the Batmobile is a piece of American pop culture history. So much so that the Smithsonian wanted one. Another Batmobile, from the 1966 TV series, sold at auction for $4.3 million.
"They're iconic," Janney says.  "When we took a Batmobile to Dallas, we had police escorts on all sides, and people were still speeding up just to film it! When we drove it down sidestreets, people were dropping their phones they were so freaked out. We just had a Batmobile go to Kuwait for the USO, the Tumbler. It's amazing to watch people get their first look at the Batmobile."
There have not only been various iterations of the Batmobile that Janney and her team keep, but also iterations within iterations. Think of the moment in Batman Returns when Michael Keaton's Batman is evading the police in his Batmobile but there's a tight squeeze ahead. What does he do? He turns the Batmobile into the Batmissile, pressing a button and voila! The Batmobile sheds its bulk so that it can fit between some iron gates. Janney has the Batmissile in her archives, too. Ditto Batbikes from various films, one of which, ridden by Alicia Silverstone's Batgirl in Batman & Robin, is also on display at the MPA.
The Warner Bros. archives are, of course, much more than a garage for Gotham's greatest vehicle. Many of the feature films and TV shows the studio produces ends up supplying Janney and her team with fresh items to maintain. She estimates they've probably got more than 300,000 assets in their database, with much more that they're working on.
"We keep sets, too, so right now we have pretty much everything from The Big Bang Theory, we've got a time machine from the 2002 film The Time Machine. If it's integral and important and we know it can go out there and travel, we figure out a way to keep it," she says."We have the original incorporation papers, too, when we officially became Warner Bros. Studios."
The Warehouse itself has temperature-controlled areas for items like super suits. "Because of the rubber in the suits, and all the details in the suits, so it doesn't disintegrate," Janney says. Some of the super suits are in cases, while others are stored in muslin bags so they can breathe. And it's not like there's just one suit per superhero; Batman himself has had many versions of his suit; all of which are at the Warner Bros. archives when they're not traveling.
Yet there are few assets as instantly recognizable as the Batmobile, but Janney maintains a fleet of vehicles from other films, too.
"The Scooby Van, The Great Gatsby car, the Rolls Royce from Arthur, the Shaguars from Austin Powers," Janney says. "We've got so much. It's truly a treasure trove."
If you're in the DC area and want to see one of those treasures, head over to 1600 Eye Street today.