Jojo Rabbit's Production Designer Ra Vincent on Building Taika Waititi's Anti-Hate Satire
One of the most buzzed about films at the 2019 Toronto International Film Festival was Taika Waititi's Jojo Rabbit. The film earned an enthusiastic ovation from the large audience at its premiere and is currently sitting at an 80% fresh rating on RottenTomatoes. Some compared Waititi's "anti-hate satire" to Roberto Benigni's Holocaust drama Life is Beautiful as a high wire act of humor and pathos set during one of the darkest periods in history.
"Some of the critical reviews…are a little hasty. Jojo Rabbit takes a while to digest," said the film's production designer, Ra Vincent. "On its surface, it seems pretty simple. But give it a few days and moments come back to you…I like the fact that the film has polarized audiences and critics. It's supposed to engage conversation."
Jojo Rabbit, which opens in theaters Oct. 18, is about a German boy and aspiring Nazi named Jojo (Roman Griffin Davis) whose views start to change when he discovers that his beloved mother (Scarlett Johansson) is hiding a young Jewish girl (Thomasin McKenzie) in their home. New Zealander Waititi himself plays the boy's imaginary friend, a blundering, cartoonish Adolf Hitler, a farcical take that invites comparisons with Mel Brooks and Charlie Chaplin.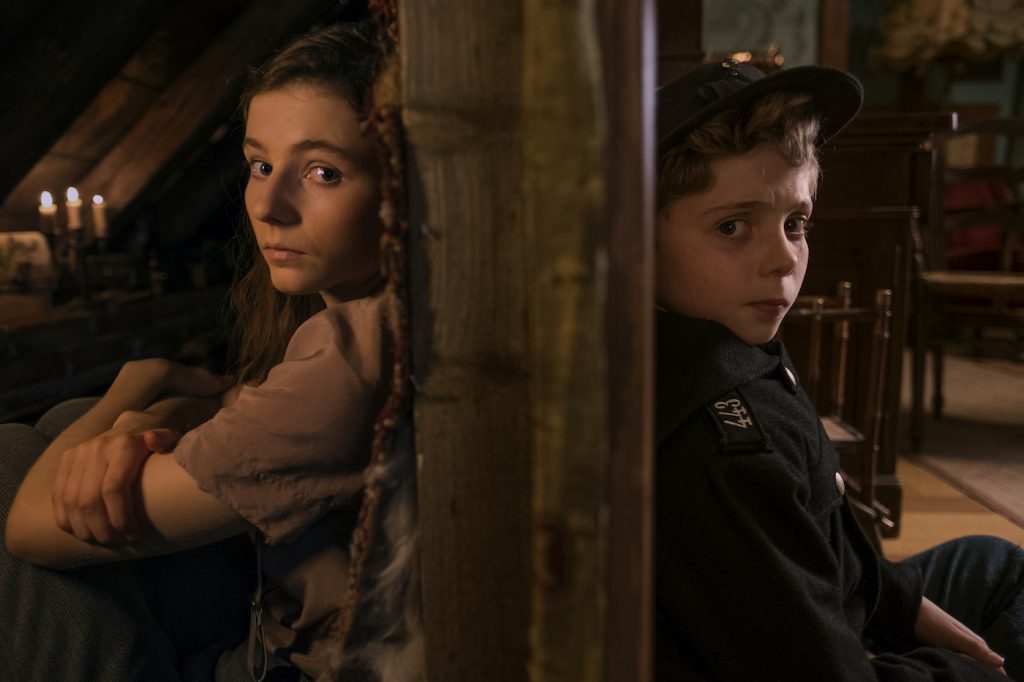 Fellow New Zealander Vincent is a frequent collaborator of Waititi's. He worked on the director's first major Hollywood film, Marvel Studios' Thor: Ragnarok (2017) as well as Waititi's indie horror-comedy What We Do in the Shadows (2014). As soon as TIFF ended, Vincent was off to Hawaii to begin work on Waititi's new film for Fox Searchlight Next Goal Wins.
"We've had a pretty good run so far," he said.
Vincent first read a Jojo Rabbit draft in 2012. "Taika was keen to make it in New Zealand but it got shelved for a little while because it was too hard with that budget to make it in New Zealand," he said. That all changed, he said, "once Fox Searchlight got on board and we decided to shoot it in the Czech Republic," where tax incentives and "world-class technicians" made production feasible for an ambitious film with a "micro-budget" and just seven weeks of preparation for an eight-week shoot.
"Usually an American art department brings [a crew] then adds people from the location so you have twice as many people and they all manage to work it out and do something beautiful and creative. I went to the Czech Republic and took nobody. I went there alone and interviewed a whole bunch of people; some could speak English and some could not, but if I sensed the right attitude for the project, they got the job," Vincent said.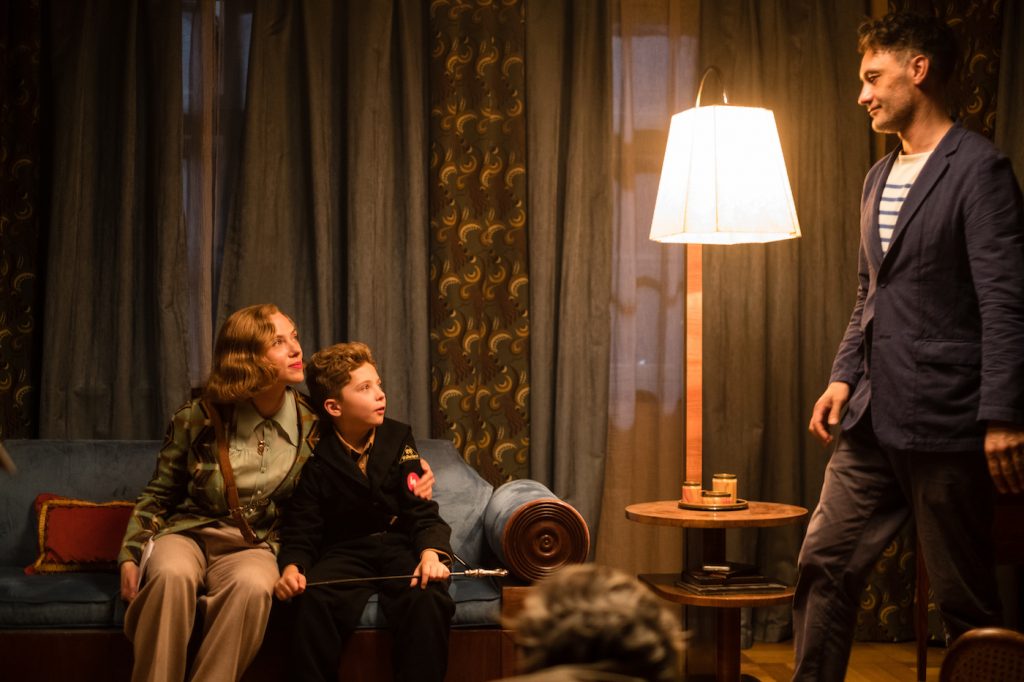 The whimsical village house belonging to Johansson's Rosie Betzler was built on a stage with parquet floors, old-fashioned wallpaper, doors, and windows that opened and closed, and a hiding place behind a kitchen wall. "That kind of style, even though fantastical, is very much a German-inspired version of Art Deco. There's no way to find the perfect interior/exterior match so we built the house on a stage and knitted it together with the exterior."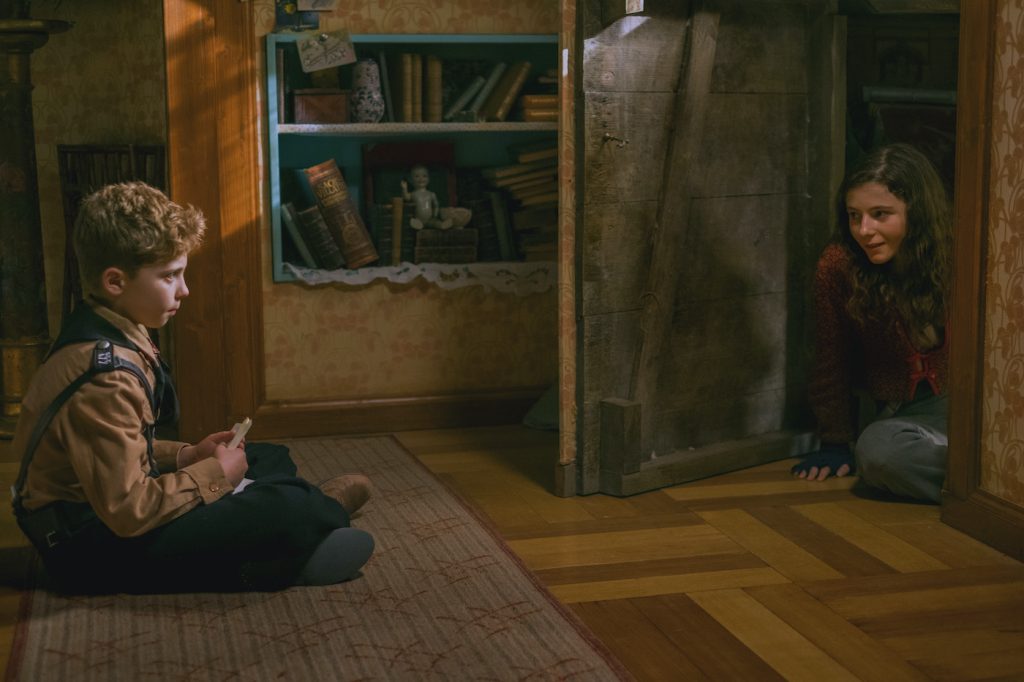 "To be able to furnish their home with accurate, beautiful antiquities was a treat," said Vincent. "I was lucky to have [Czech set decorator] Nora Sopková decorate for me. She has exquisite takes on color; she's very tasteful herself and she brought it to life 100 percent. The language barrier was not a problem. There are so many ways around that; maybe sometimes words get in the way. I used illustrations, reference boards, to communicate ideas. The tech crews in Prague were amazing. As a production designer, it's not always the case that you feel 100 percent confident. I could see a set design and draw a picture and that became the gospel for [the crew] to come back with a spectacular product."
Jojo Rabbit evolved over the course of pre-production and even during the location shooting. Vincent said the film's darkly comic but heartfelt tone was built into the script which Waititi adapted from the Christine Leunens book Caging Skies.
"Taiki has a way of writing that stuff. The script doesn't necessarily dictate what's happening visually but it conjures imagery and that's what I appreciate. [Waititi] has a clear vision but also the space to allow input. Mayes C. Rubeo's amazing vintage costumes gave the [actors] their characters and from there, we could design and build an environment for them to inhabit. So the color palette spread from the description in the script to the characters. And the characters didn't fully form until the actors were [on set]."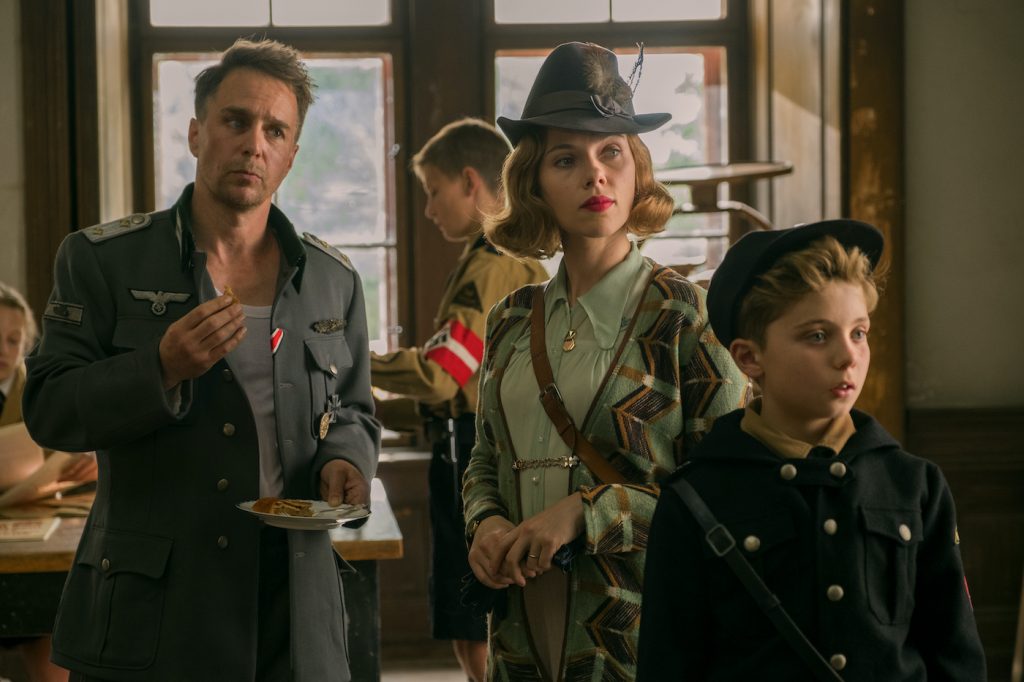 Vincent said he's grateful that working with Waititi has provided the opportunity to "go from a World War II film to a contemporary film about soccer." Next Goal Wins is based on a 2014 documentary of the same title about American Samoa playing for World Cup after a crushing defeat in 2001 to Australia. Waititi has already been announced as the director of Thor: Love and Thunder which begins production in early 2020 for a 2021 release.
Featured image: First still from the set of WW2 satire, JOJO RABIT. (From L-R): Jojo (Roman Griffin Davis) has dinner with his imaginary friend Adolf (Writer/Director Taika Waititi), and his mother, Rosie (Scarlet Johansson). Photo by Kimberley French. © 2018 Twentieth Century Fox Film Corporation All Rights Reserved