The Creators of Netflix's Unbelievable on Their Urgent New Series
Buzz for the new true-crime drama Unbelievable, which is now streaming on Netflix, is getting pretty intense, and for good reason. Inspired by real events covered in a Pulitzer Prize-winning article from The Marshall Project and ProPublica called, "An Unbelievable Story of Rape" and a This American Life episode called "Anatomy of Doubt," it tells the story of a teen named Marie (Kaitlyn Dever) who reports a sexual assault, and is subsequently doubted, while miles away two detectives (Toni Collette and Merritt Wever) team up to investigate similar cases they believe might be a serial rapist. The show not only stars women, but is also co-executive produced and co-written by women, and the majority of the episodes are directed by female filmmakers. The Credits spoke to executive producer/writer/director Susannah Grant, executive producer/showrunner Sarah Timberman, and executive producer/director Lisa Cholodenko about working with Netflix, the impressive cast, and this groundbreaking show that, sadly, is statistically likely to be deeply personal to a large percentage of the audience.
You built this series from a real-life Pulitzer Prize-winning article. How difficult was it to get made? How did you all come to the project? 
Timberman: Both Susannah and I had read it. On the question of whether it was difficult or not, there was immediate support from both CBS Studios and Netflix. They had all read the article and were moved by it.
Grant: So really, it wasn't hard to convince people to invest in it. It was about a year before the #MeToo movement hit, but it was only about 6 weeks after the March on Washington, so I think a lot of people working in the business were aware that this was a conversation that was happening, in an informal way, all over the country. We had the opportunity to tell the story in another format with a wider reach.
Cholodenko: They had banded together, and I was sent the article, which I had not read, nor had I heard it on This American Life. I was completely taken with the story, which I felt really was unbelievable. Susannah had written one or two scripts that I read, and I thought they were great. I could tell it was going to be a really good adaptation. We had several conversations, and I had to weigh it out, whether I was going to come in and direct these first three episodes. I was totally compelled but had to make sure I had the grit to get through it. I had to think about what I could bring to it.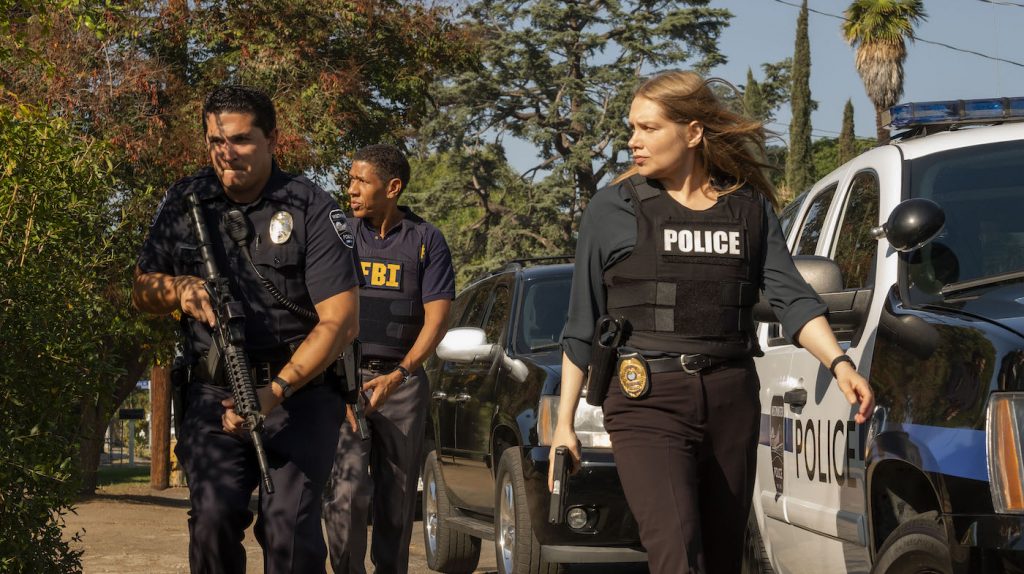 The first episode is a tough watch.
Cholodenko: Yes, it's a tough watch. It's a true story, but it's a tough one. I think you know that since it's an 8-hour piece, and it's based on a true story, that it's going to be compelling. If you know the story, in part it's about this woman getting vindicated. While that first episode is incredibly traumatic, if you know beforehand that you're going to go on a ride that's going to pay off, I think there's a very good reason to stay hooked.
The cast is exceptional. How did it come together?
Timberman: We had such a luxury of talent on that show. We had a great casting director, a woman named Laura Rosenthal, who was someone that I had worked with on three projects, and she was somebody who has impeccable taste. She's in New York. Two other casting directors were in LA because it was a big cast. We just focused in on the three principals. I had a total affection for Merritt Wever. I felt she would be a compelling lead. I had a long history with Kaitlyn Dever. She was incredible on Justified and had to show a huge range of emotion on that show. It was pre-Booksmart, all the way back to when she was 13.
Grant: It was an easy bet to make. We auditioned a few people, just to make sure, and we were all uniformly thinking she's an exceptional actor, and it takes one to pull that off. I hadn't seen Toni in a couple of years, but she had heard about the project, and she sought it out. I think when an actor of her stature comes after you, that's exciting. She had just done Hereditary, and she was getting a lot of buzz, but she was interested. As to Merritt Wever, her worst day on our set was the day after she won the Emmy for Godless because she's not entirely comfortable with attention, but she's extraordinary.
There's so much non-verbal communication in the show. Was that discussed, or was it something that happened organically? 
Cholodenko: I think I adjusted them early on when I felt like it was tipping too far in a gender divide and a good guy bad guy divide, because I think our agenda was to really keep it even-handed, and tell this incredible story as it really was. As a director, my instinct was to give them space, and to not be afraid of the stillness, or letting the camera settle. It was important to just be with these amazing actors going through something very traumatic and suspenseful. Instead of cutting and keeping it busy, I felt we want to be with them.
Timberman: There's so much trust in this story, and Lisa's approach to it, and also the emotional intelligence. I think we both felt like there wasn't a false moment in any of Lisa's direction on this piece because it's so grounded in emotional truth.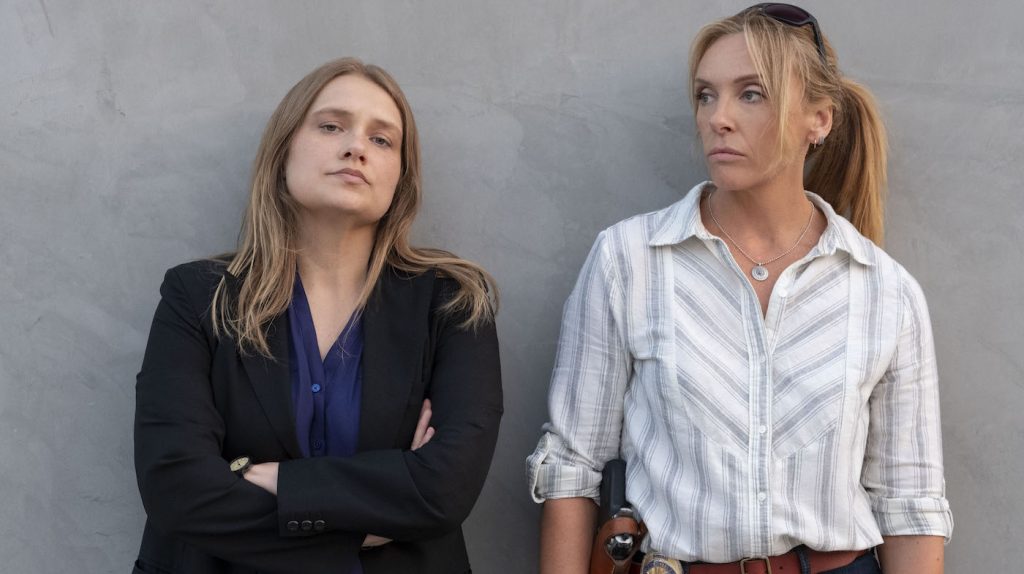 There's a lot of talk about the female gaze and how it influences or is absent from both television and film. How is it expressed in Unbelievable? 
Cholodenko: I felt very strongly that, obviously, the rapes were very sensitive. My agenda, which was in the script and in the story, without even saying it, was to stay objective with the female experience in this, and not have any kind of politically motivated over-determined point of view. It was really intrinsic to the story to stay with these women, and not objectify them, and not vilify the men. It was important to stay subjective with the women that were going through these traumas, and the detectives that were doing the work, and how they were experiencing the people they were working with to crack this case. It came out organically. It was in the story and in Susannah's script, and then I did my best to find a way to communicate that visually and indirectly.
Timberman: It's really interesting to me and I haven't done a deep film theory dive on this, but I feel like I haven't seen a scene of sexual assault ever portrayed in quite this way, uniquely from the perspective of the victim before. So often the perspective is from the gaze of the rapist, where you have that classic shot of the victim, looking up, and automatically you are seeing through the rapist's eyes.
Both in terms of collaboration and individually what was the most rewarding aspect of working on Unbelievable? 
Timberman: There's just nothing like getting up and going to work every day with 150 people who are really good at what they do, because they know it matters, and they know it's important, and feeling like you're working on something that has real social value. I would say that every day going to work on this project was a privilege.
Grant: There were also a number of people that came up to us in the process of making it, and disclosed the fact that they'd been assaulted. It's strange to look at a set and a crew of over a hundred people, and know that this story is very personal to many of them, given the numbers and statistics. This show was very personal to a lot of people involved in making it. It feels different when you tell a story that has so much personal meaning to so many people working together creating it.
Cholodenko: I think I appreciate just being given the prerogative to work on material that mostly we've seen sensationalized and it's all about the entertainment value and the filmmaker's flash and panache. While my own work tends to be kind of understated anyway, because I'm interested in something different, I felt very fortunate to be able to be the author of those first three episodes.  I could establish the story in a way that I felt I could elevate it, with what I could bring to it, so that it wasn't in company with those that I felt were the wrong approach to material like this. It is so sensitive and so compelling for entirely different reasons than those other shows find themselves compelling.
Timberman: Netflix completely trusted our storytelling instincts. There was a scene where it's seven minutes of people sitting in a car. I love the scene. It's one of my favorite scenes in the show, although I have a lot of favorite scenes. I've never worked for a company, that would have looked at what was probably nine pages of dialogue, and not said, "are you sure about this?" They didn't even blink. They totally trusted us to carry it and knew that it was going to be good.
Featured image: Kaitlyn Dever. Photo courtesy Beth Dubber/Netflix