Orange Is the New Black's Production Designer Malchus Janocko's Favorite Sets
Production designer Malchus Janocko set out to be a painter and glassblower before he discovered show business as a livelihood. Janocko art-directed the glossy Gossip Girl, then channeled small-town Americana for the first season of The Leftovers before taking a deep dive into the muted world of incarceration dramatized in Orange Is the New Black. When he started designing the Netflix production's fourth season, the fictional Litchfield prison was mainly filmed at a former children's psychiatric facility in Rockland County New York. In season six, Janocko changed the color palette from beige to gray. For the seventh and final season now streaming on Netflix, he's devised new sets to backdrop the journey of Honduran-born inmate Blanca (Laura Gómez) as she's released from prison straight into the custody of ICE officials.
"We changed the feeling of the show from previous seasons, where the prison interiors were concrete and concrete block," says Janocko, who built the ICE set on a soundstage at Kaufman Astoria Studios in Queens. "We made it from corrugated metal and reinforced fiberglass board, the same kind of impervious plastic you see in fast-food restaurants. Instead of being built from bricks or concrete blocks, these places are constructed in the cheapest, fastest way."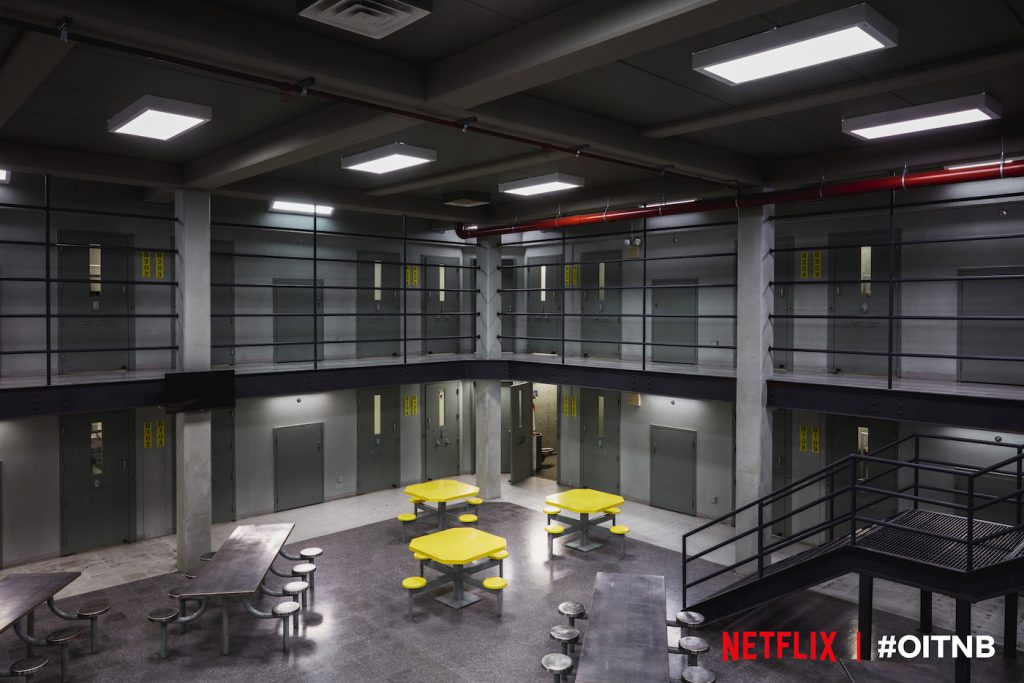 Janocko based his design on notes taken by Orange Is the New Black staffers after they visited detention centers in California and New Jersey. "Before things got really harsh, our writers took a tour of the Adelanto Detention Facility in California. And when our set decorator and art director visited an ICE facility in New Jersey, they came back really shaken. The bathrooms and showers aren't even separated from the housing, so the floors are wet all of the time because there are so many people packed into that space with so few facilities."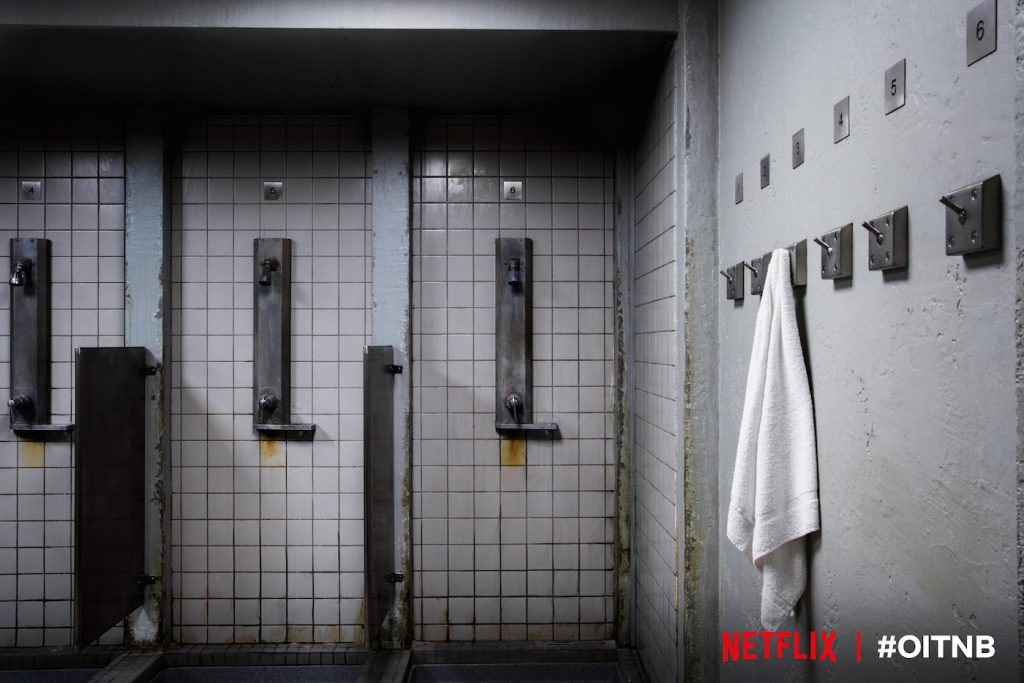 On a break from his latest project, CBS series FBI, Janocko walked the Credits through some of his favorite Orange Is the New Black set pieces.
The Triple Bunks of ICE (Season 7)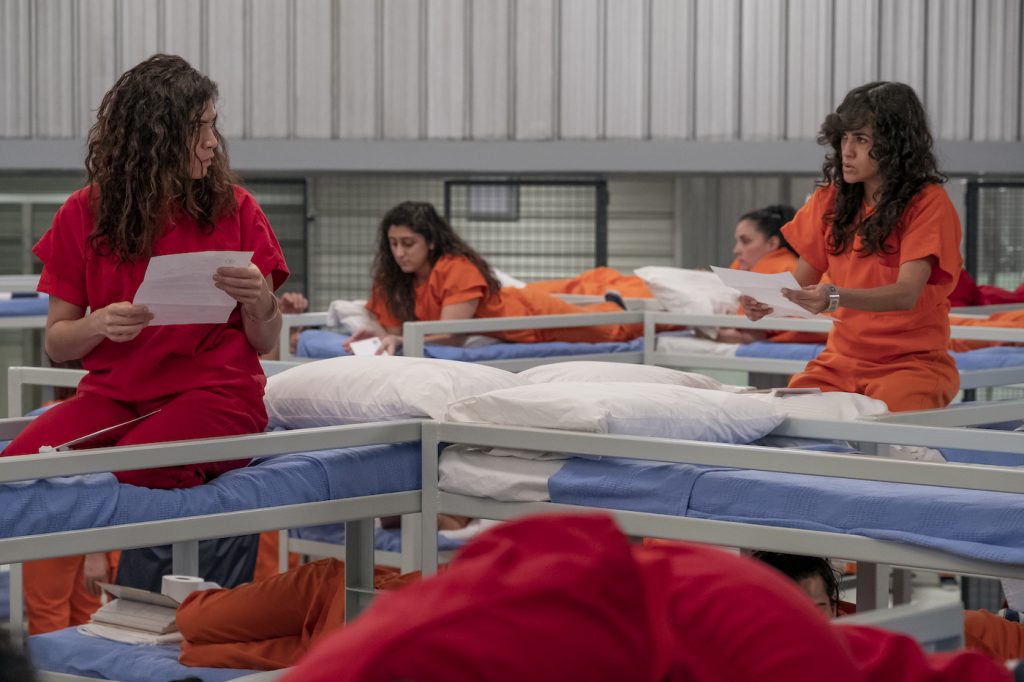 "To set our ICE facility off from the other prison interiors in the show, we found a vendor that sold us triple bunks," Janocko says. "Just by going from double stack to triple stack makes a huge difference in the number of people you can pack in there."
The Greenhouse (Season 4)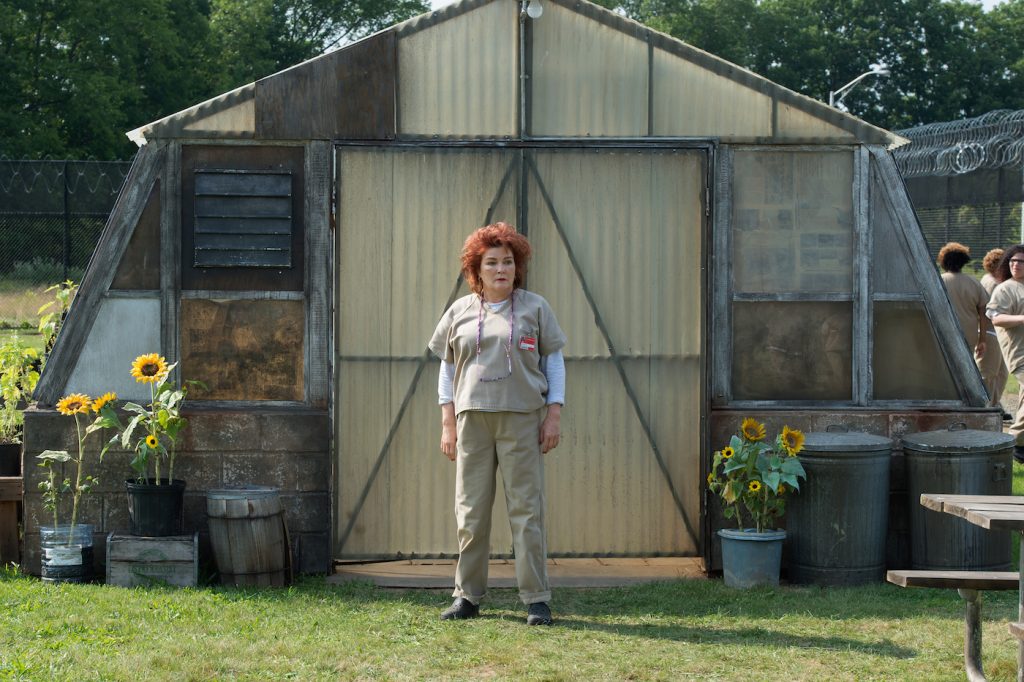 "I inherited the greenhouse from earlier seasons," Janocko says. "We built up the garden there and at that location we also had ladies smoking crack out in the corn. We built extra rows of corn on removable palettes. That allowed us to move the camera around and shoot scenes quickly. For weeks afterward, we were all joking about removable corn. With things like greens and corn and foliage, you have to get creative."
Red's Russian Flashback (Season 5)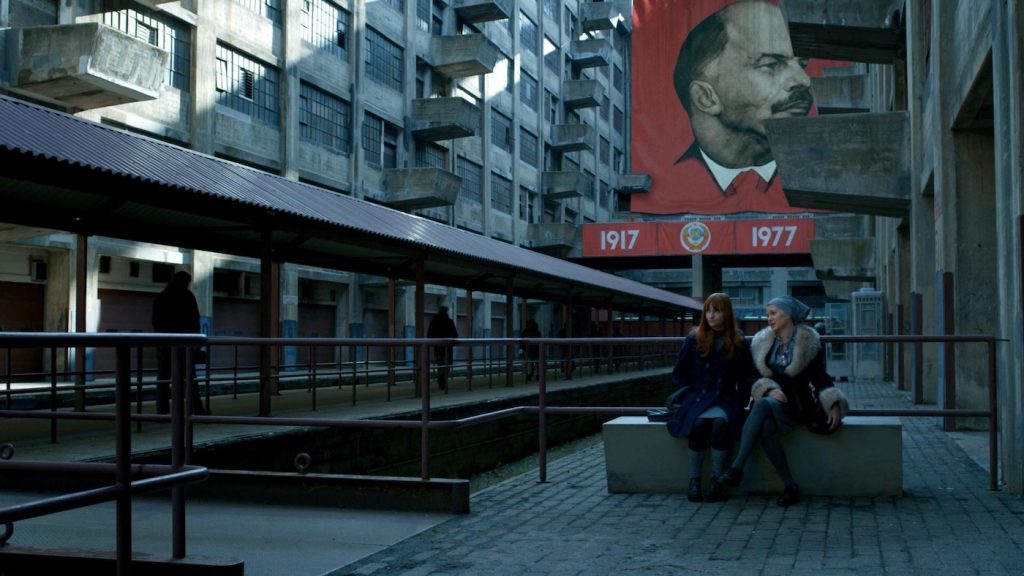 Janocko says "As soon as we read the script, location manager Stuart Nicolai and I knew we could do this flashback at the Brooklyn Army Terminal Building. It has chunky, weirdly shaped concrete balconies on every floor that evoke Soviet-era brutalist architecture, which made this location exactly right for the scene." Visual effects artists created the computer-generated portrait of Lenin while Janocko's team printed the lower "1917 to 1977" banner. "Along with the foreground elements, the phone booths, the benches, the actors, we got this transitional depth from the printed piece, which helped make the visual effects banner feel real," Janocko says.
Frieda's Bunker (Season 5)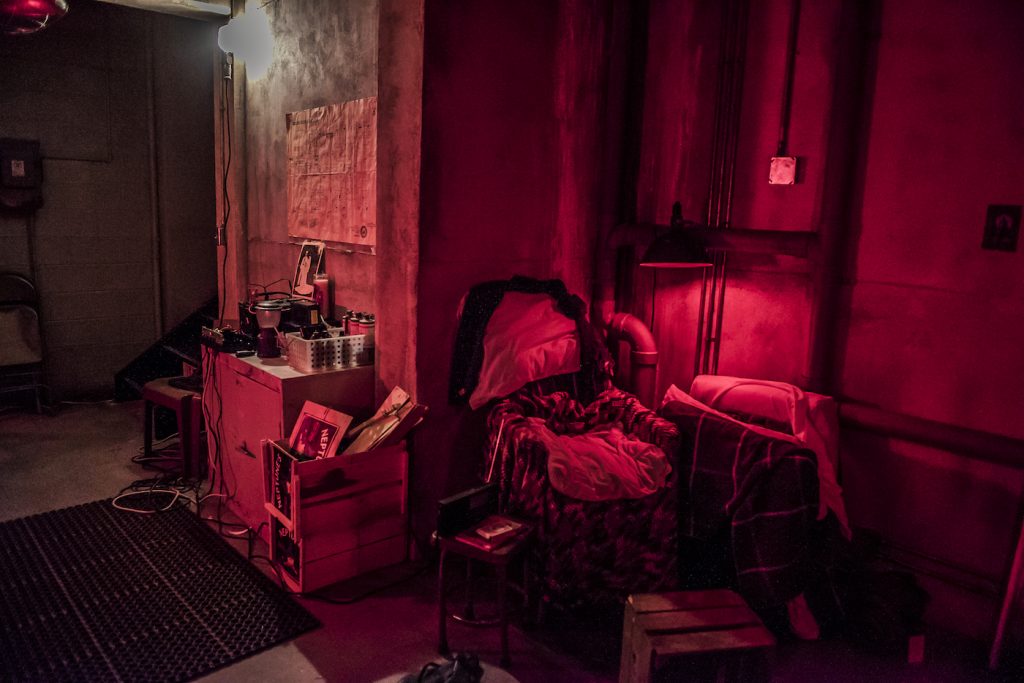 "Our creative brief from [showrunner] Jenji Kohan and [co-producer] Tara Herrmann was that Frieda brings other inmates here to hide from the prison riot," Janocko says. "We'd been wanting to use the swimming pool up at Rockland somehow but decided that Frieda's bunker would be this intermediate locker room space where Frieda's been squirreling away stuff for years. The lovely thing about the bunker is that it was set up with a flashback where Frieda's father had a Cold War bunker when she was a child. And then, in prison, she builds her own bunker."
Ad Seg (Season 6)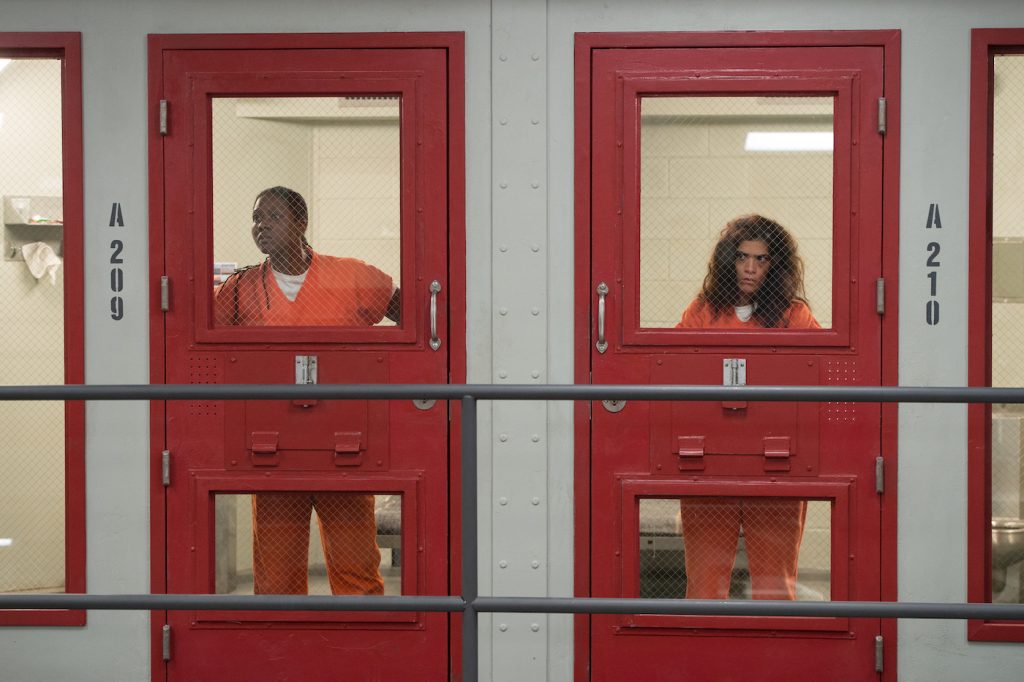 "Ad Seg stands for Administrative Segregation Unit, which has a punitive and a psychiatric aspect," Janocko explains. "The correction officers want to see into everyone's cells 100 percent of the time through these big glass windows. We used red for the administrative spaces because that was such a strong color and we wanted it to feel completely different from the grey we used for the general population. The custom-set windows and the food pass-through is all real. But we faked the locks because of safety concerns for the actors. We used real parts at a much-reduced price because real locks cost about $500 each and we had 30 doors."
The Radio Room (Season 6)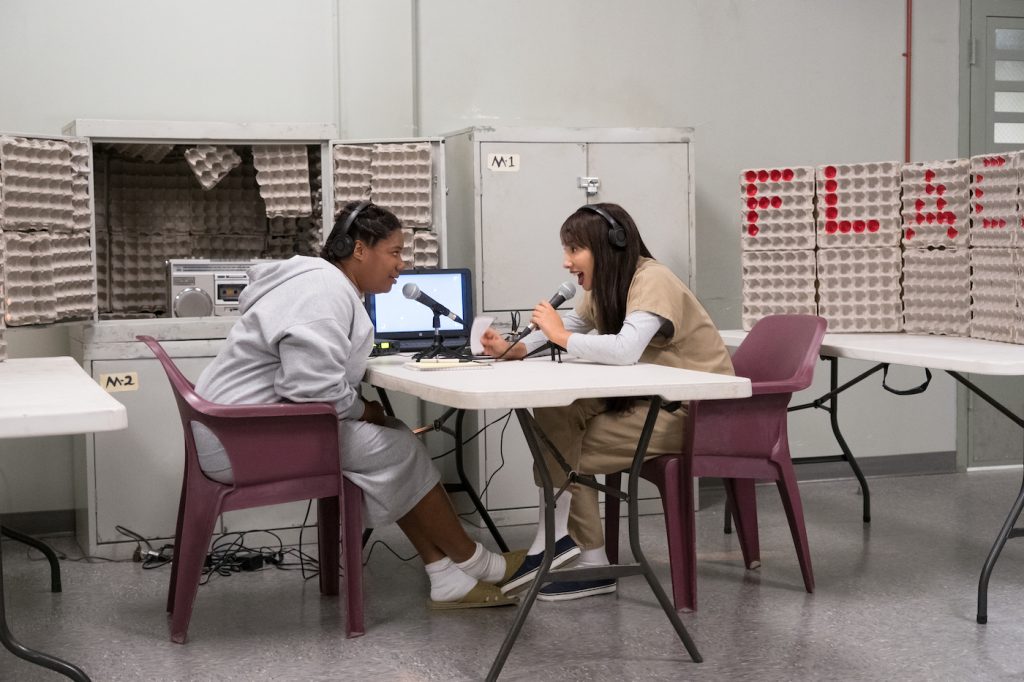 "We built the radio station in our multi-purpose room. It's based on what we found in a bunch of different prisons, where inmates do radio shows with a limited signal," Janocko says. "The idea is that they'd bring in these egg crates to muffle the sound and make the acoustics better for themselves, and of course those ladies would have decorated the egg crates."
Featured image: Courtesy Netflix.