The Irishman Teaser Reveals Long-Awaited Look at Martin Scorsese's new Film
At long last, Netflix has revealed the first official teaser for Martin Scorsese's epic new film The Irishman. Starring Robert De Niro, Al Pacino, and Joe Pesci, The Irishman tells the (allegedly true) story of World War II veteran Frank Sheeran (De Niro), better known as "The Irishman," who looks back on his long life of crime. The film spans decades and utilizes cutting-edge technology to render the cast many years younger then they are now. From the opening seconds of the new trailer, we see a glimpse of a younger Sheeran—called "a kid" by Pesci's Russell Bufalino—taking the phone from Bufalino so he can talk to a potential new employer. That employer's name is Jimmy Hoffa (Pacino), one of the notorious 20th-century figures that Sheeran will work alongside in his long criminal career. Hoffa says to Sheeran "I heard you paint houses," a statement that would become the real Sheeran's book title many years later, in which he describe his long, dangerous career as a hitman for the mob. Sheeran also claimed to know the whereabouts of Hoffa himself.
"Sooner or later, everybody put here has a date when he's gonna go," De Niro's Sheeran says in voice-over, as we watch the business he has chosen—intimidation, murder, and much more—unfold on the screen.
Check out the trailer below:
Jimmy Hoffa's fate is one of the 20th-century's most notorious mysteries. The big shot Teamsters leader disappeared in July of 1975, never to be seen or heard from again. The general consensus is he was killed by one of the many enemies he made in his plucky, potent career.
Scorsese is reuniting with De Niro for the first time since they collaborated on Casino in 1995. This is also, believe it or not, the first time Scorsese and Pacino have worked together. The Irishman also sees Joe Pesci return from retirement to work in his longtime friend's film.
The Irishman has plenty of incredible supporting players. Harvey Keitel, Ray Romano, Bobby Cannavale, Anna Paquin, Stephen Graham, Stephanie Kurtzuba, Jack Huston, Kathrine Narducci, and Jesse Plemons.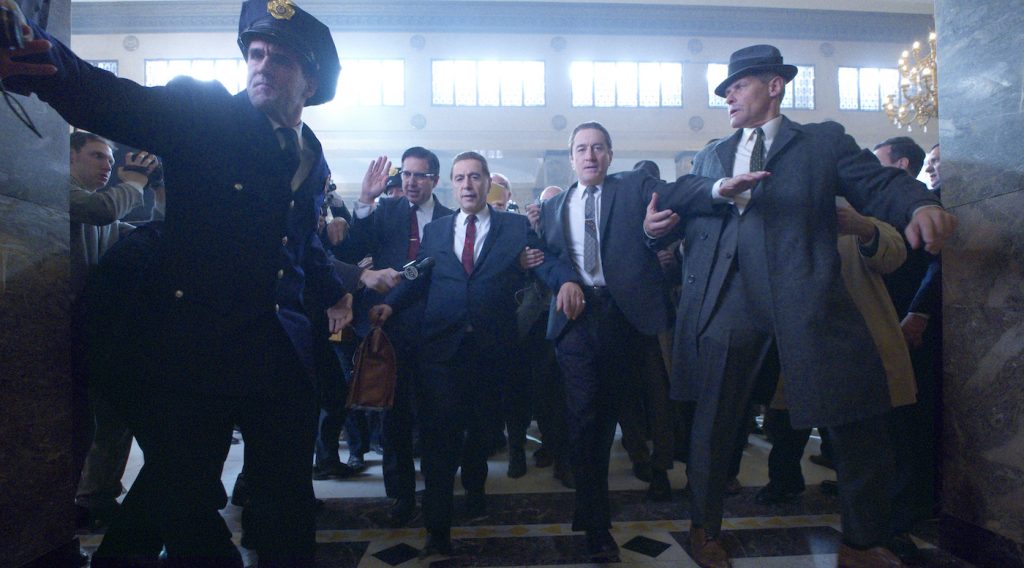 Here's the official synopsis from Netflix:
Robert De Niro, Al Pacino and Joe Pesci star in Martin Scorsese's THE IRISHMAN, an epic saga of organized crime in post-war America told through the eyes of World War II veteran Frank Sheeran, a hustler and hitman who worked alongside some of the most notorious figures of the 20th century. Spanning decades, the film chronicles one of the greatest unsolved mysteries in American history, the disappearance of legendary union boss Jimmy Hoffa, and offers a monumental journey through the hidden corridors of organized crime: its inner workings, rivalries and connections to mainstream politics.
Still no word on the official release date, but expect The Irishman in select theaters and on Netflix this fall.
Featured image: THE IRISHMAN (2019). Joe Pesci (Russell Bufalino), Robert De Niro (Frank Sheeran). Courtesy Netflix.