Jaws Created the Summer Blockbuster 44 Years Ago Today
It was on this day, 44-years ago, that Steven Spielberg created the summer movie season. Before Jaws, summer was a time for sunbathing, not heading out to the multiplex. Then on June 20, 1975, a 28-year old Spielberg delivered a film that changed the calculus of how films are distributed. His game-changing thriller about a rogue Great White with a taste for human flesh marks the moment the film industry changed. Once Jaws dominated the box office and the imaginations of moviegoers, Hollywood started to see the summer months as a time to release big, fun blockbusters.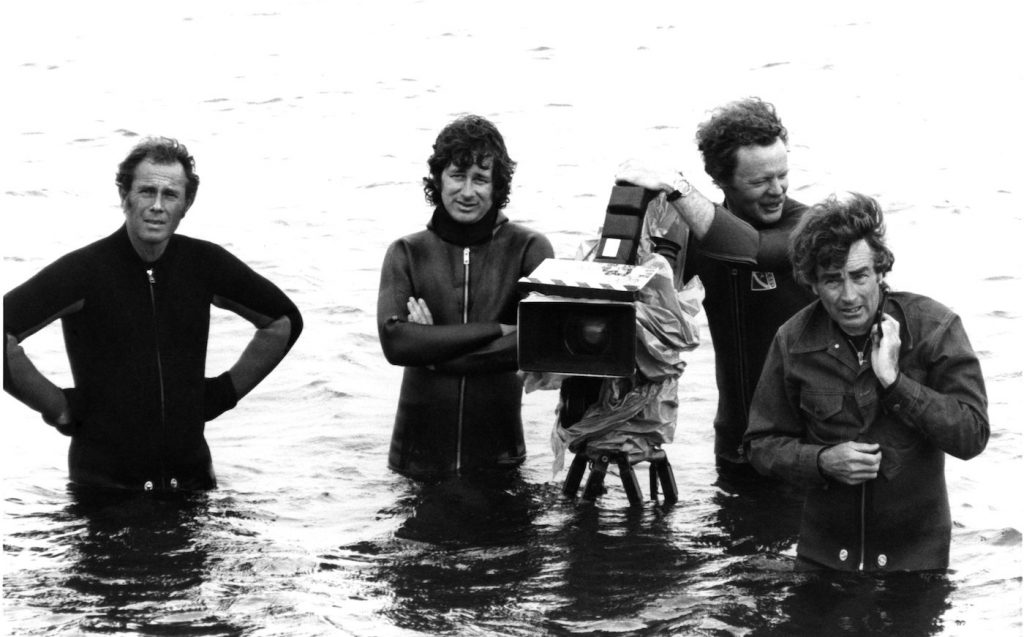 It didn't happen overnight, of course, but it's easy enough to find its origin point in Jaws. Before Spielberg split an entire generation between amateur marine biologists and people afraid to get into the water, summer was a season for dumping lower prestige films for a largely teenage audience. (It was perceived, at the time, that only teenagers used their summer break to go to the theater). Then Jaws happened. Two years after Jaws a little film called Star Wars was released on May 25, 1977. (Summer movie season was considered any film released on Memorial Day weekend through August—yet the calendar has been changed, again, which we'll get to later). With the monster success of Jaws and Star Wars, the studios had firmly settled on the appeal of releasing big, splashy films during the summer months.
A brief glance at the summer blockbusters that followed Spielberg and George Lucas's mega-hits reads like a list of films that set or rejiggered the template for their genres, the way Jaws and Star Wars did for thrillers and sci-fi/fantasy. On June 22, 1979, 20th Century Fox released Ridley Scott's Alien, which gave us a gritty, dark, deliciously terrifying vision of sci-fi. It was essentially a bunch of blue-collar workers, in space, fighting an alien. (James Cameron's Aliens, released by Fox on July 18, 1986, stands as one of the best sequels of the past 40-years.) In 1981, 1984, and 1989, Paramount released the three Spielberg directed Indiana Jones films during the summer, which redefined what an action/adventure could be. On June 11, 1982, Universal released Spielberg's E.T., cementing the young auteur's status as one the great spectacle filmmakers alive (he'd go on to become one of the great filmmakers, ever, period) and once again delivering a summer blockbuster that captured the world's attention.
In fact, the entire decade of the 1980s looks like, in retrospect, one long summer of blockbusters. Ghostbusters, Beverly Hills Cop, the Back to the Future trilogy, Top Gun, Die Hard, and Batman all came out during the summer. They were all huge hits. They were all game-changers in their genres.
It all started 44-years ago today, and now, as Emily Todd VanDerWerff wrote in a 2018 article for Vox, we're living in a world where summer movie season never ends. Huge mega-hits like Deadpool, Black Panther, Avengers: Infinity War and Avengers: Endgame have been released before summer movie season began, yet they are, for all intents and purposes, summer blockbuster films. VanDerWerff argues that the "vast majority of movies made now would have been 'summer movies' at one time or another," and it's hard to argue this point. Deadpool and Black Panther were both released in February. Spielberg's own Ready Player One was released in April of last year. In 2020, Marvel has a mysterious film slated to come out in November.
Perhaps this was all inevitable, but way back in the mid-70s it sure didn't seem that way. Spielberg's Jaws had a notoriously rocky production. There was a malfunctioning shark (named "Bruce," after Spielberg's lawyer) and a literal sinking ship (the Orca, the boat Robert Shaw, Roy Scheider, and Richard Dreyfuss hunt Jaws on, began actually sinking during production) to name just two issues. Yet once the film was finally released, all those problems were swallowed up and forgotten. Jaws was a sensation, and an entire industry was changed in its wake.
Featured image: American actor Richard Dreyfuss (left) (as marine biologist Hooper) and British author and actor Robert Shaw (as shark fisherman Quint) look off the stern of Quint's fishing boat the 'Orca' at the terrifying approach of the mechanical giant shark dubbed 'Bruce' in a scene from the film 'Jaws' directed by Steven Spielberg, 1975. The movie, also starring Roy Scheider and Lorraine Gary, was one of the first 'Summer Blockbuster' films. (Photo by Universal Pictures courtesy of Getty Images)