How the The Simpsons new Composers Took on Springfield
The Simpsons boasts not only the longest run of any scripted primetime series, along with catch-phrases and characters that have been part of popular culture for almost two generations, but theme music recognizable within its first few notes—on a short list with Star Trek, Hawaii Five-O, Batman, Sesame Street, and a handful of others.
And now that series has new composers. Oh, the theme music—with Bart skidding into his family's living room as they gather to watch TV themselves—remains the same Danny Elfman composition the show has had since arriving in its own evening time slot after leaving its "experimental-animation-this-will-never-last-long" roots as an interstitial cartoon on the Tracey Ullman Show, back when Fox was a new network.
But of course part of that legacy includes not just the theme, but various songs, faux historical melodies, themes-within-the-show, all created for The Simpsons over the decades by its prior longstanding composer, Alf Clausen. Clausen would often rework Elfman's iconic theme to fit a specific reworked opening or in collaboration with a guest band playing its notes.
"Such a deep history of great music," says the show's new co-score producer, Russell Emanuel.  "We felt that very deeply and take it very seriously." This was after the giddiness of landing the gig a couple of seasons back, after Clausen's departure. Once the initial elation wore off, "the responsibility came crashing down. It really is like being handed the crown jewels."
Emanuel is the co-founder of Bleeding Fingers and its chief executive and creative officer. "Fingers" is a "composer collective," as they describe it, also co-founded by Hans Zimmer, the Academy Award-winning composer who is not unfamiliar with Simpsonology himself, having written the score for the show's big screen movie version. Bleeding Fingers works with outlets like Netflix, the BBC, Sony Pictures and more.
Particularly for Andrew Christie, who is the show's lead composer. "A lot of the vocabulary is ingrained already," he says of the music, "And I'm a big fan of Alf's, (but) it took a while to find my footing."
As for the footing, it can be akin to trying to fill a pair of  Sideshow Bob's shoes. But the legacy helps. Of the shows recurring or even "classic" motifs, Christie says "I've definitely incorporated them," though the show, he adds, is "always fresh."
So fresh, that he usually only has a week to compose for it.  "The writers are always riffing on some kind of theme for that week," Emanuel says. "What's always interesting is that process. We spot the show on a Friday, by the following Friday, we have to be recording."
"Andrew," Emanuel emphasizes, "does most of the heavy lifting," but the tight deadlines do "bring a kind of culture of collaboration…if there's anything tricky, we can kind of pull together and come up with a creative solution." And of those collaborators,  "one of those sets of ears is Hans, so that doesn't hurt. He's a score co-producer like myself, though not with every show we do."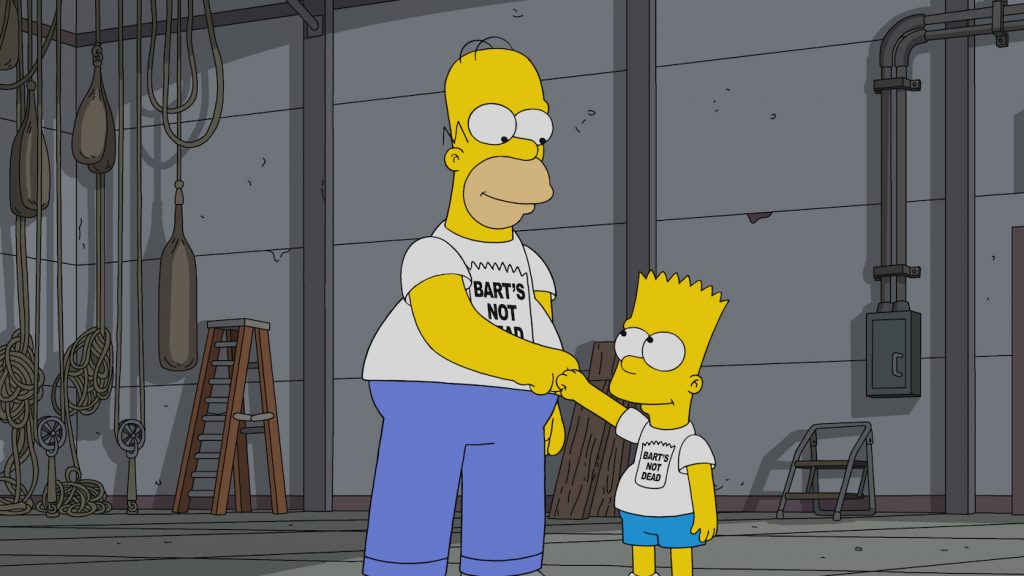 Making things even trickier than a Krusty the Clown sight gag, is that the hurly-burly of a given week doesn't always end with the same type of musicians playing the same types of music: "It's so musically wide," Emanuel continues, "We've done everything from a 70's style cop show to French Jazz." During those periods, he adds, "there are a lot of people here that don't sleep."
"That's for 22 straight weeks!" Christie adds. "But we've inherited a long sort of process…it's very clearly laid out for us what we need to do."
"There's nothing like it," Emanuel says. "There's a whole gamut of different production timelines that we deal with. Some luxurious." In the latter category, he cites Planet Earth II for the BBC. "For that, we have almost a year. That's not to say it's less challenging. I think, for any production, for any group of creatives, the great push comes at the very end. Whether you have a week, you have two weeks…or have you a year."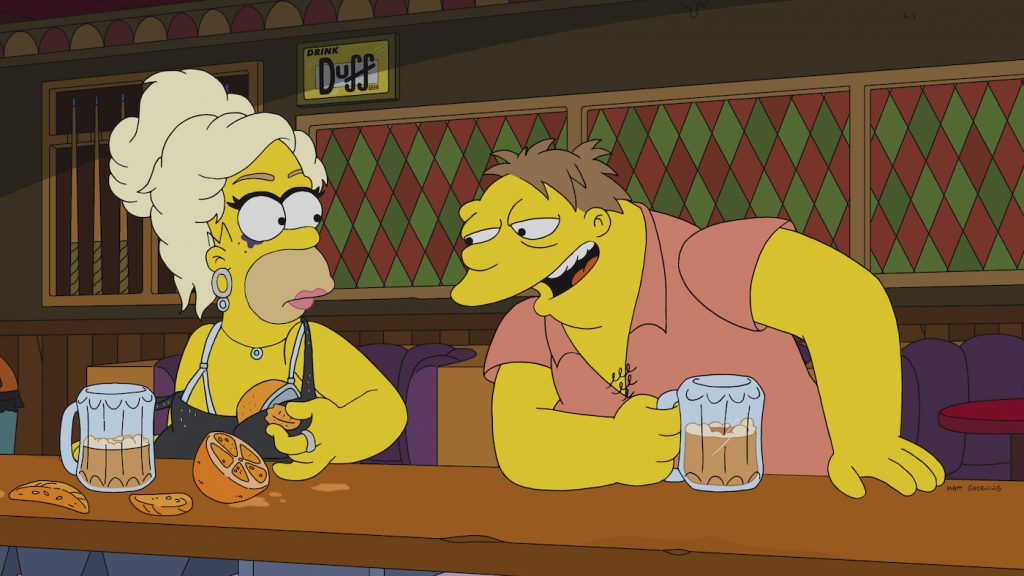 Though Christie grants that with just a week, "there's not a lot of margin for error," at which they both laugh.
Helping those tight margins along, when the show features an original song, most of the lyrics are penned by the writers. "They're sent over to us, Emanuel explains, "and we're creating the music from there. We actually just did one." And after Christie composes the music, "they come here and record the vocal."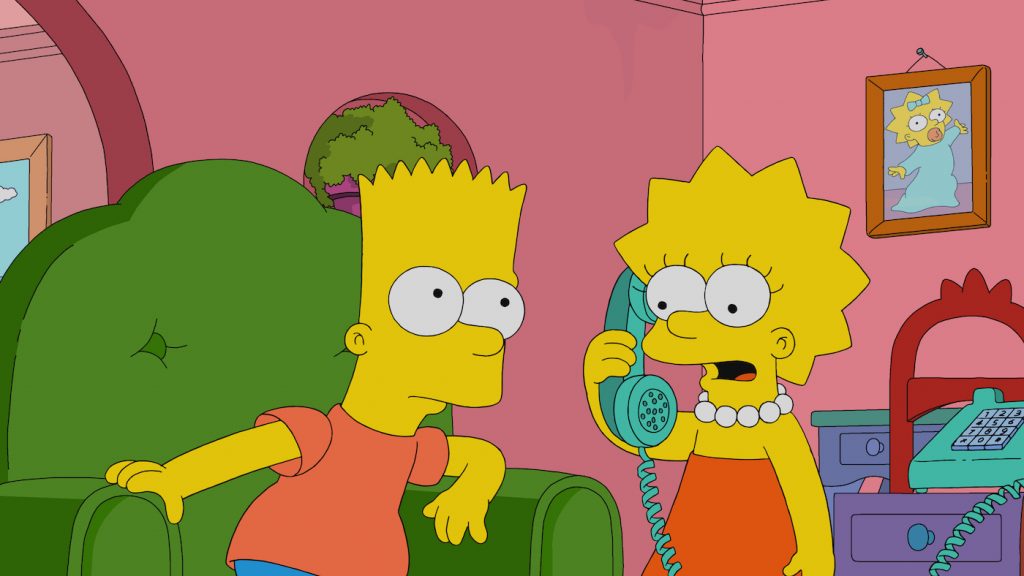 And even though they finished their second full season scoring Springfield's cartoony dysfunction, and "technically there's a break," Emanuel says " we have to get ready to record songs for next season. They need roughs for the songs for the table reads."
"There's always something going on," Christie agrees, even during "downtime." But "It's fun being brought earlier in the process."
That process is now heading into its third season with Bleeding Fingers in the composer's chair. And Emanuel says the Simpsons team "are really great and helpful; they were pretty generous with us (but) they've known each other for a very long time." So being still "new" to such a venerable franchise is "a bit like being the new guitarist in the Rolling Stones."
On which note—so to speak—the Simpsons episode that featured Mick Jagger and Keith Richards is practically two decades back in the rearview mirror itself.
Bleeding Fingers remains hopeful of similar longevity with the ageless Simpsons clan. And in the meantime, Emanuel  says, they're "keeping everything crossed."
Along with keeping Lisa's saxophone, Homer's bass guitar, and everything else humming along.
Featured image: THE SIMPSONS: When Marge and Homer leave Grampa to babysit the kids, some little green army men trigger a PTSD episode, sending the family on a journey to Grampaís past to when he was a post-war toy model in the all-new "Mad About the Toyî episode of THE SIMPSONS airing Sunday, Jan. 6 (8:00-8:30 PM ET/PT) on FOX. THE SIMPSONS ô and © 2018 TCFFC ALL RIGHTS RESERVED.