Watching The Orville's Composer Conduct a Live Orchestra to Scenes From the Show
They look laid back in their shorts, tee shirts, and running shoes, but the Los Angeles musicians gathered in the cavernous Newman Scoring Stage on the Fox Lot snap to attention with astonishing precision once snowy-haired composer John Debney arrives. Debney's on hand to conduct his music for Seth MacFarlane's sci-fi series The Orville. The Fox show, which concludes its second season today, Thursday, April 25, draws inspiration from vintage space dramas like Star Trek Voyager and counts on Debney to enhance the old-school vibe with his brawny brass and string music cues.
From the podium, Debney guides the 81-piece orchestra, keeping one eye on the massive wall-mounted screen behind the musicians. First, trumpets blare a stirring fanfare as the space ship hurtles through space. Next, an oboe player lingers on a note while on screen, Isaac the robot offers a cryptic look at one of his crewmates. Each take sounds perfect the first time, but Debney asks for slight changes after hearing via headset from MacFarlane, who's monitoring the session from his home a few miles away.
"Seth knows the show backward and forwards, so his notes always make sense dramatically," Debney says later. "We're very spoiled by our musician pool here in L.A. because most of the time the very first read is quite amazing. Then it just becomes about tweaking the dynamics. Make this note a little longer or maybe pull back if the music's supposed to play under dialogue, or if we're in outer space, you can let the band soar."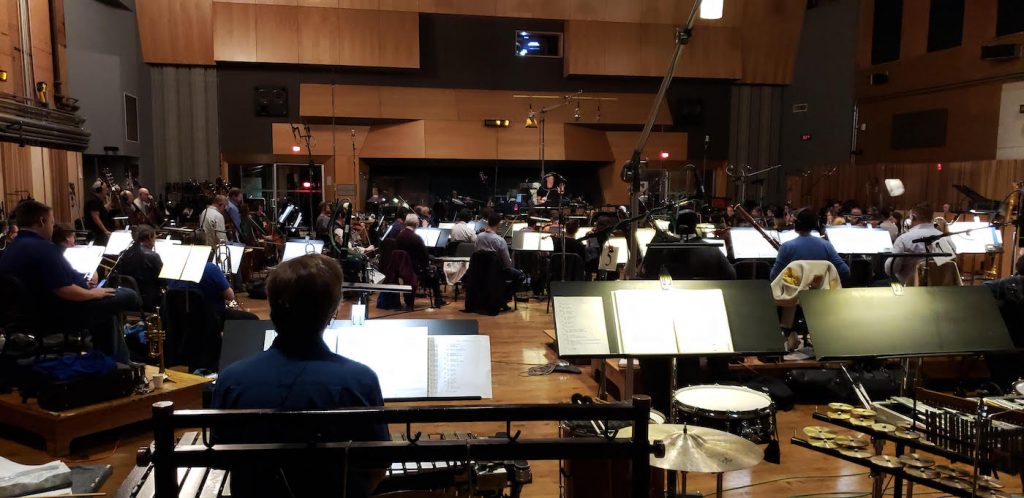 Debney says he and MacFarland can afford to micro-manage dynamic nuances during the recording session because they've already agreed on tempo, melody, and arrangements. "I demo everything on my keyboard—flutes, strings, French horns, etcetera. Seth hears the fully realized mock-up and once he approves, our orchestrators write [sheet music] for musicians. When I get to the stage I'm hearing it for the first time with a live orchestra and making adjustments."
Why not just use the synth music and spare the expense of a big band?
"If you heard my mock-ups you'd say 'Oh that sounds pretty close.' But nothing takes the place of a human being playing trumpet or a French horn, or emoting with the strings. Orchestras are more expensive than one person in a room with a synthesizer but Seth grew up with a great love of orchestral and loves acoustic music. He believes, and I agree: live players make a big difference."
An appreciation for old school Hollywood traditions come naturally to Debney. His studio executive father got into movies in 1938 working as a 16-year old "clapper boy" on Snow White. Growing up near Burbank, California, Debney spent many weekends on the Disney lot. He once spent the day in the room with Mary Poppins songwriters Richard and Robert Sherman as they banged out tunes on an upright piano. "I also met Walt Disney himself a few times," Debney recalls. "I had red hair as a kid and he liked to tousle it when we'd run into him on the lot."
Debney studied composition at CalArts, then honed his skills in television working on Deep Space Nine and SeaQuest. The big movie breaks came when he scored Jim Carrey comedy Liar Liar followed by his Oscar-nominated Passion of the Christ music and most recently, Disney blockbuster The Jungle Book. "You have to do film composing for quite a while before you develop your bag of tricks, your language," Debney says. "Each instrument has its own unique thing and I draw on my own experience to know what to try. The oboe can be very sad. Flute gives you a lighter, more childlike sound. Clarinet can be somber in one scene but full of mirth in another. You get to the point where it's like painting. You draw a pencil sketch of something and then it becomes about the colors you use to fill it in. That becomes your innate style."
Debney's personal style as a composer dovetails deftly with The Orville's old school sci-fi aesthetic. Asked about formative influences, Debney cites Jerry Goldsmith. Goldsmith is the Oscar-winning master of musical suspense who scored Star Trek: The Motion Picture. "I write a lot of rhythmic orchestral music along the lines of what Jerry Goldsmith did so brilliantly," Debney says. "Goldsmith and [Star Wars composer] John Williams are my gods and Seth is a big fan of those guys too. He often uses them for Orville temp music so we have a ball re-interpolating the cues, making the music our own and at the same time, giving a little nod to our heroes."
Featured image: Key art for The Orville: Courtesy Fox.