Here's the Interestingly Weird Title for Marvel's Scarlet Witch & Vision Series
Disney has now fully revealed their new streaming service Disney + yesterday. Disney + will offer a huge trove of titles. Disney's historic acquisition of 20th Century Fox included a majority stake in Hulu, which will be bundled in the new Disney + service alongside ESPN+. Then, of course, there's the Mouse House's massive catalog of old Disney, Pixar, and National Geographic films. And, in case you'd forgotten—Disney also owns Lucasfilm—home of Star Wars—and Marvel Studios.
One of the new series that will be premiering on Disney + follows Elizbeth Olsen's Scarlet Witch and Paul Bettany's Vision. These two Thanos-crossed lovers represented one of the most emotional arcs in Avengers: Infinity War. In his psychopathic quest for all the Infinity Stones, Thanos had to literally the Mind Stone from Vision's head. Scarlet Witch—also known as Wanda Maximoff—did everything in her power to save him. She failed. And then she died, too, a victim of the Thanos Snap.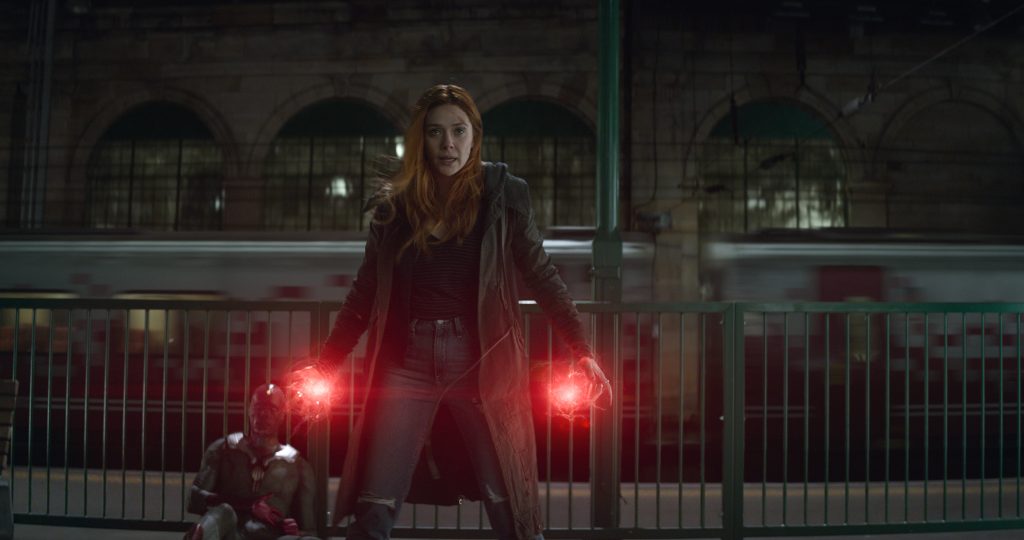 Will the series be set after Avengers: Endgame? If so, that would be mean Wanda is resurrected from dust along with her fellow superheroes. It would be tricky to get Vision back, however. Thanos didn't turn Vision to dust; he outright killed him. Yet whether it's set after Endgame or in the past, we know one thing—the series is going to be called WandaVision.
Let that sink in for a minute.
It's definitely bold. Maybe it speaks to a new kind of joint superpower the two have thanks to their connection? Regardless, the relationship between Wanda and Vis, as we know like to think of them, has been growing since they first appeared together in Captain America: Civil War. The chemistry between Olsen and Bettany is fantastic.
WandaVision is but one upcoming series based on Marvel's huge trove of characters. There's a series in the works based on Jeremy Renner's Hawkeye and his eventual passing of the torch to the young superhero Kate Bishop. A series following Anthony Mackie's Falcon and Sebastian Stan's Winter Soldier is also in the works, as is one focused on Tom Hiddleston's lovable sometime-villain/sometime-hero Loki.
Disney+ will launch on November 12, 2019. WandaVision will be one of the many intriguing titles that will eventually be on offer.
Featured image: Marvel Studios' AVENGERS: INFINITY WAR .L to R: Vision (Paul Bettany) and Scarlet Witch/Wanda Maximoff (Elizabeth Olsen).