Director Karyn Kusama Goes her Own Way
Director Karyn Kusama is one of Hollywood's boldest voices. Her films are visually arresting, emotionally taxing and riveting to the last frame. Whether it's a pugilist drama like Girlfight or a horror film like The Invitation, Kusama's gifts bend genres to her will.
Her most recent film, Destroyer, was the year's most unsettling crime thriller—by a mile. Starring Nicole Kidman in another impressive, career-high portrayal, Destroyer is unflinching. The story follows Kidman's hardened LAPD detective Erin Bell, who is haunted, even after many years, by an undercover assignment gone terribly wrong. Seeking redemption, or revenge, or both, Bell works to track down an old adversary, who has resurfaced after years in hiding. The film is a character study of the damaged and complicated Bell. Along with the problems plaguing her from the past, she is also at odds with her estranged 16-year-old daughter. The film's location, LA, is filmed as oppressively sunny.
Destroyer made waves upon its release. Kidman's nuanced, fearless performance, and the film's gritty, sun-drenched aesthetic were mesmerizing. Kusama calls this style "sunlit noir." The Credits spoke to Kusama about working with Nicole Kidman in bringing this complex character to life, her inspiration for movie's look, and the value of her collaboration with cinematographer Julie Kirkwood.
On some level, everyone can relate to Erin Bell's struggle between revenge and righting wrongs. It feels like she is about to implode or explode at any moment. Are the reactions to the character all over the place, or is there a big difference in how men and women are reacting to the film?
I'm not quite sure. I find as many men seem to appreciate the film as women, in a passionate and connected way, which of course gives me a lot of hope. Conversely, there are a lot of men and women who don't respond to the character. I get the sense that the character is somewhat challenging for people. Her fury really dictates a lot of her actions, in both satisfying and somewhat horrifying ways. Some people find that cathartic, and then there are people who are just turned off by it. But for me, I think these ideas of imploding or exploding, they are things that I'm thinking about a lot right now.
The relationship Erin has with her daughter is incredibly potent. 
I think there are a lot more women who seem attuned to the relationship that Erin has with her daughter. Watching a woman attempt to navigate emotional terrain she's not particularly equipped to navigate. She's not emotionally articulate. She often doesn't even know when she herself is feeling something really powerful. It's like she's living to some degree in a state of denial and regret and shame. All of these things contribute to her being so shut down. What I like about a certain kind of female response, is this idea of women seeing themselves in her, and then to broaden it out. It helps me to navigate that conversation about men and women and our expectation of their behaviors. The idea that we assign qualities to men and women is part of the problem. We create expectations that can never be satisfactorily met by either of us.
Erin carries the weight of her shame. Did you and Nicole discuss how she would carry her younger as opposed to her older, more jaded and damaged self? 
That's interesting, that observation. I think she's meant to have this kind of coiled potency. We are meant to watch and feel a sense of anxiety about what she might do or say next, but primarily what she might do.  She is moving at her own rhythm. She's not rushing anywhere, and she's living by her own drumbeat.  I think that stillness was part of Nicole's idea of her power, that she took her own time to be in the world.
There are lots of contrasts, both emotional and visual, in Destroyer. What moments in movies do you remember having an impact on you as a filmmaker in general, or helped inspire your choices for this film specifically? 
What I felt as I read this script is a sense of watching a character transition from object status to subject status. We are observing this character behave, and we are asking ourselves what is up, and what's the mystery with this character. What immediately came to mind was a moment in The Hustler, that Robert Rossen directed with Paul Newman. He's this pool hustler complaining to Piper Laurie, his new lover, that in his words, "Everybody wants a piece of me." He's drinking at the same time he's saying it, and then he hands her a glass, and says "Aren't you going to have one?" as in, "Aren't you going to drink with me?" but really he's asking if she's going to take a piece of him, too. There was just something about that moment. It felt like the writing had this surface music and real depth to it because it could actually live on a couple of different layers and planes.
How did you knit together this bright light you see in Destroyer and bring it a real LA authenticity? You name "sunlit noir" as your visual approach. Can you talk about collaborating with Director of Photography Julie Kirkwood, and how you achieved this?
Part of how I like to work is to find alignment right away creatively. I showed my Look Book to Julie right away, so that she could have a sense of what I was going for, and the direction I was trying to explore. Then she brought her ideas that were kind of, in some respects, looking at the practical realities of the movie. Julie was much more openly exploring hard sunlight, the qualities of daylight, and how we could use that as a stylistic tool, by contracting that with moments of visual relief, like how we would treat our nighttime scenes. In some respects, I would say Julie was the master of reminding me that hard sunlight was always going to figure into this movie. That's to some degree because that's the environment, but it can also be a metaphorical tool.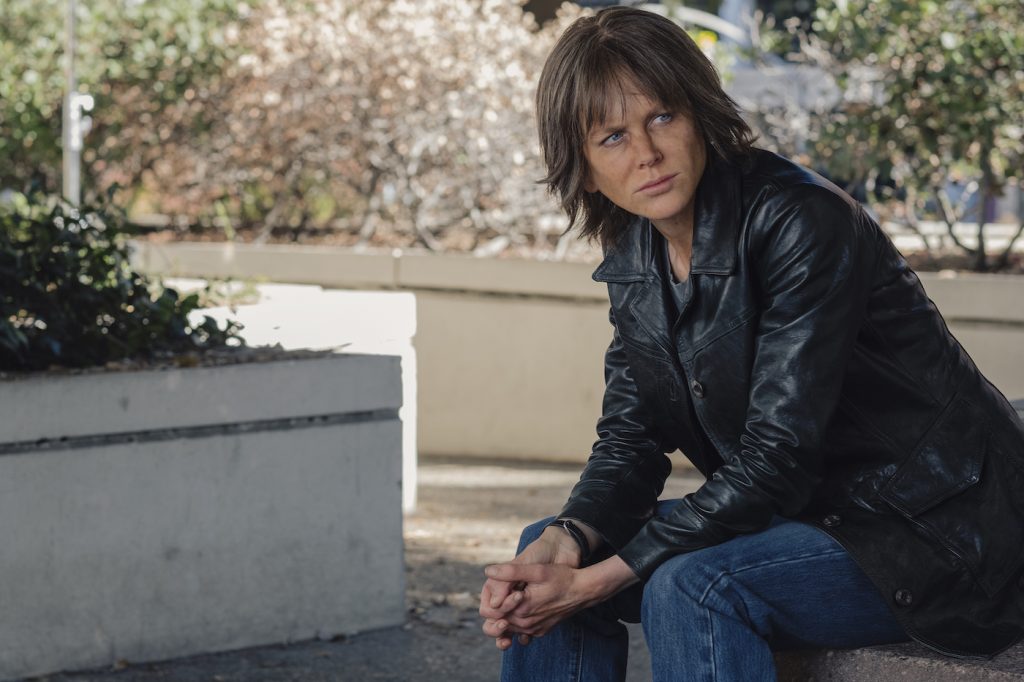 You are known to be extremely prepared as a director. Were there some happy accidents on the shoot? 
There were so many happy accidents. One was this moment where we had finalized the design of the tattoo on Silas's neck. It was these three circles. As we were shooting, I kept noticing that with the lenses we were shooting with, we would get these opportunities to create these three orbs in proximity to Erin Bell, sometimes. It's as if this talismanic tattoo is haunting her. Then I learned that those three circles were actually in Morse code what stands for the letter S, as in Silas. I thought that was so odd. A creative alignment of a bunch of different factors that land in such a way that it feels like it was meant to be.
Nicole and Sebastian's chemistry is palpable in the film. Did they have rehearsal time, or was it just two great actors at work listening to each other? 
I do believe in chemistry. I believe there are actors who are sort of more right together than others. That being said, we did not have time to rehearse, and I had to have faith that their discipline as actors was going to, at the very least, mimic chemistry. Then when we got to set and we started working together, I actually felt something very genuine between them, and a sense of surprise that came from both of them. There was a quality of watching them together that mirrored, to some degree, what was meant to be happening in the story. They are supposed to be more and more impressed by each other and compelled by each other. Watching that happen in them working together gave me a sense that we could make it work onscreen.
Featured image: Director Karyn Kusama and actor Nicole Kidman on the set of DESTROYER, an Annapurna Pictures release. Picture credit: Sabrina Lantos / Annapurna Pictures