Serenity Writer/Director Steven Knight on Creating a Twist no one Will See Coming
Writer-director Steven Knight is no stranger to making unconventional films. In the 2013 thriller Locke starring Tom Hardy, the entire plot takes place inside a car. For Serenity, underneath the allegory about a fisherman obsessed over catching an elusive bluefin tuna, lie deeper existential themes.
Knight admits directing can be daunting in a phone call having wrapped Peaky Blinders Season 5. "Every time I do, I promise myself I'll never do it again. But when you have a project that's a risk in terms of narrative and experimental in terms of a plot like Serenity, it's a challenge I like to give myself."
On its surface Baker Dill (Matthew McConaughey) lives in Plymouth, a seaside village on a tropical island where he and first-mate Duke (Djimon Hounsou) take tourists out on Serenity, a boat ready to tackle big-game fish. When his ex-wife Karen (Anne Hathaway) and current husband Frank (Jason Clarke) show up, his entire life starts to unravel.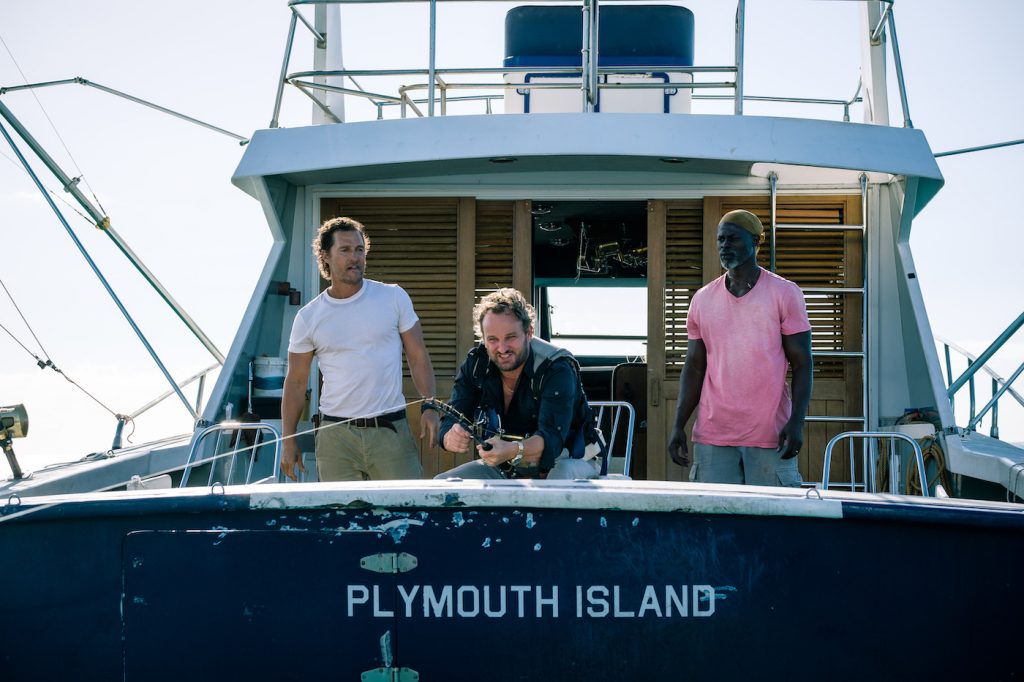 The idea for the narrative came to Knight while on a fishing boat. "The captain was great and hospitable to all the tourists until a fish bit; then he became obsessed with it immediately. He lived in paradise, but all that mattered to him was the fish." But Serenity is more than just a man and his boat. "I tried to construct a character that lived with such an obsession, but at the same time, I was interested in constructing something and then taking everything away at the most inconvenient moment to see if you can keep it going," he says.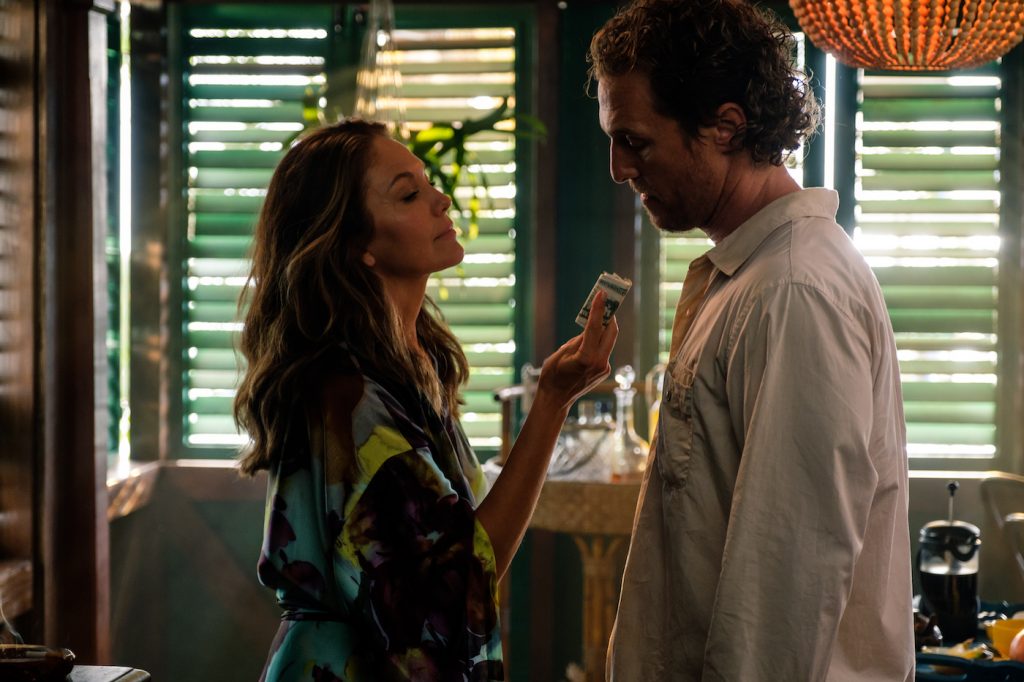 Knight wanted to do all those things but not in a very fashionable way. Part of the reason why he directed was to make sure all the visual subtleties landed as certain characters and plot points are never explained; admitting it was done on purpose. "It was more about wanting people to work it out for themselves. Baker is confronted with a very unusual dilemma. How that person feels about it was the story I was interested in telling."
While its dialogue and mood nod towards Ernest Hemingway and Graham Greene and other classic movies of the '40s and '50s, symbolism was key to shaping its layered narrative. Heightened dialogue deliberately written in noir fashion combined with visual clues paint a bigger picture – the way a character enters the room, stylized camera movements, the sounds we hear; all added to its subtext. The most significant being Plymouth itself.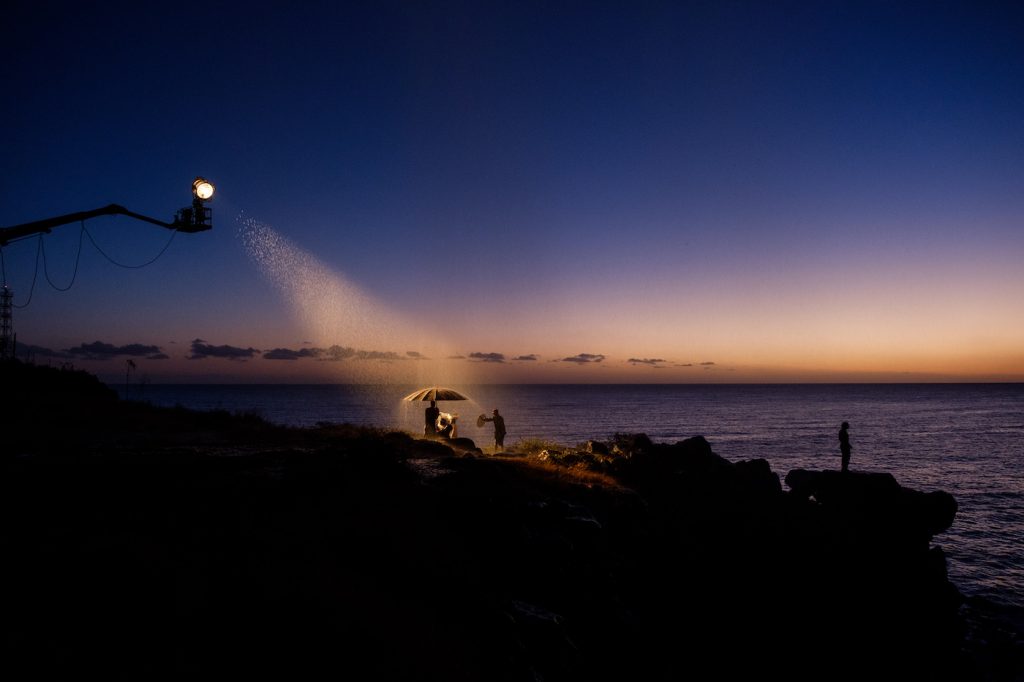 Standing in for the remote location was Mauritius, an island edged with powder white sand off the eastern coast of Africa. "The place is unreal. It's been colonized and occupied by so many different cultures you can point a camera anywhere and it will look like India, south of France or colonial England. It doesn't feel real and that's exactly what we wanted," says Knight.
Production designer Andrew McAlpine and cinematographer Jess Hall took advantage of the exotic setting to create a lush visual grammar. Vivid, bold colors pressed its appearance without being garish. It was important for the director to give the team creative exploration to make things beautiful without giving too much away. Costume designer Danny Glicker added to the ethos with a contemporary aesthetic; layering a level of truth and grit to McConaughey's character and presenting Hathaway as elegant and meticulous.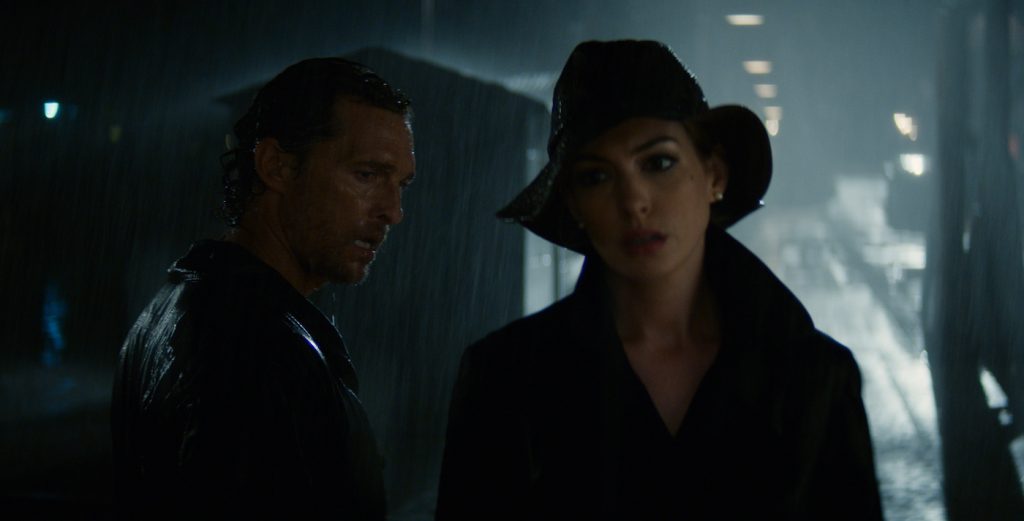 Knight notes balancing the buildup to the story with editor Laura Jennings was a delicate task. "We're all for giving an audience a genuine surprise, but as filmmakers, we sometimes believe that it hasn't been set up enough for it to pay off. In life, a real surprise isn't set up. It comes out of nowhere. I was keen to do that in this film," says Knight. "The audience is so savvy about the literal language of film nowadays it's very difficult to take them by surprise. I thought with Serenity, it could be a genuine case of they did not see that coming."
The director hopes when the audience looks back they will understand what the narrative could symbolize. "I wanted to experiment and have fun with it but with a purpose, so audiences leaving the theater will have a conversation. If there are five people watching then there will be five different opinions about it."
Featured image: The film stars Matthew McConaughey as a fishing boat captain whose quiet life is shattered when his ex-wife, played by Anne Hathaway, tracks him down with a desperate plea for help. Courtesy Aviron Pictures. Photo credit: Graham Bartholomew / Aviron Pictures