Building the Bizarre, Beautiful World of The Nutcracker and the Four Realms
In The Nutcracker and the Four Realms, Disney's live-action re-creation of the E.T.A. Hoffmann story and subsequent classical children's ballet, Morgan Freeman plays Drosselmeyer, giver of enchanted gifts and leader of a star-studded cast that kicks off in picture-perfect Victorian London, giving way to the magical realms where Clara (Mackenzie Foy) hunts for a key to open a final bequest from her late mother: a filigree silver egg that obviously possesses significance beyond knickknackery and sentiment.
Passing from Drosselmeyer's palatial digs and into the Christmas Tree Forest (a snowy land that's just what it sounds like), Clara locates her key and then immediately loses it to a charmingly adept CGI mouse. In pursuit, she links up with Phillip the Nutcracker (Jayden Fowora-Knight), a faithful bridge guard who tips Clara off to her princess status in this part of the world. Together the two enter the scorched earth of one of the four realms, overtaken by rodents and Mother Ginger, whom the ballet's devotees will recognize as a more menacing if an otherwise faithful replica of the dance prop that traditionally hides a cache of children.
In The Four Realms, Mother Ginger the structure is home to Mother Ginger the banished person (Helen Mirren) and some nightmarish clown decoys who act as her guards. Over at the castle, we meet Sugar Plum (a seemingly daffy, falsetto-voiced Keira Knightley) and the rulers of the luscious flower, sweets, and snow realms. The film nods to its source material when Clara is given a history lesson of the world she's inherited from her mother, delivered en pointe by Misty Copeland, a principal ballerina of American Ballet Theatre. Both the realms and London are a lavish mix of locations, sets, and CGI, while Copeland's performance setting is a bit of a meta-take—a ballet delivered on a formal stage setting, within a fantasy successor story to another traditional ballet.
Throughout Clara's hunt for her key and, effectively, herself (a testament to the new style of Disney princess: Clara is ready to go to war for what she believes in and is also very good at science), both her real life in London and her princess life in the four realms are set against unsparing backdrops; Drosselmeyer's castle ball manifests all things Christmas, while the non-scorched magical realms are an arresting, lovely pastiche that hints at Oz, Wonka's workshop, and Belle's hometown in the last big Disney princess live-action take, Beauty and the Beast. We spoke with production designer Guy Hendrix Dyas about putting it all together.
Can you tell me a bit about the breakdown between locations, sets, and visual effects used in the film?
From Disney and from [director] Lasse's standpoint, there was a strong directive to try and keep as much as we could practical. This was not a preference of his, it was sort of a necessity. Because we had a lot of young performers, it felt very necessary to surround them in color and texture, so they could immerse themselves in this world. Then, visual effects, and the great work by Max [Wood, visual effects supervisor], was used largely as a support to the environment. If we had extremely wide shots of the palace, that was absolutely visual effects' responsibility. If we had wide shots of the lands of snowflakes, sweets, and flowers, that was visual effects with foreground set pieces, because of the expanse of the world. But obviously, things like the large establishing shots of Drosselmeyer's home were practical. When you see Clara running and chasing the mouse, all of that is a real stage. There's a new part of Pinewood Studios [in London], nicknamed Pinewood east, built on the other side of the road. We were actually the first production in there. They allowed our director of photography to get his crane over the top of our snowy forests.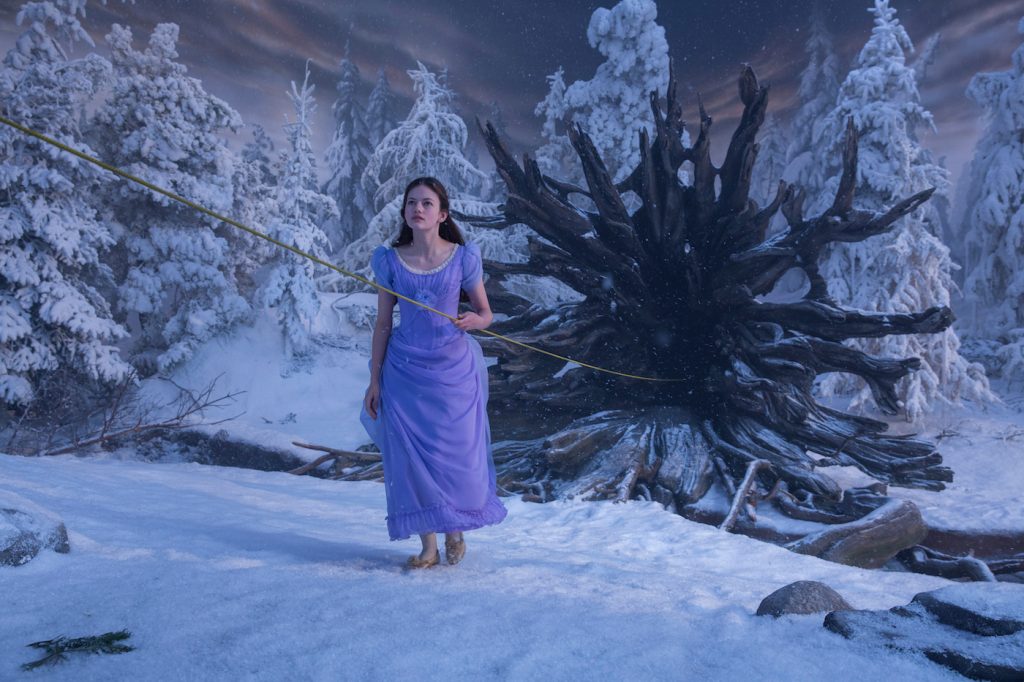 What was your inspiration for the overall look of the four realms?
It was really, really hard. The E.T.A. Hoffmann story was written a long time ago, and subsequently inspired famous books like "Alice in Wonderland" and later, "The Chronicles of Narnia." So here I am trying to recreate the world of E.T.A. Hoffmann and realizing that there were going to be visual similarities to other fantasy worlds we've seen. But in historical chronological order, the Nutcracker came before all these things. So it was quite tricky. There was a really magical interesting journey Clara takes from that garden with the maze, through the corridors, out through a fallen dead tree, which really was my idea to try to separate us from "The Lion, the Witch, and the Wardrobe," where you also have a transition into a snowy forest. In the story, it's ambiguous how Clara got from one world to another. I didn't want to get into teleporting, because that would be a different movie. This dying tree trunk, with Clara coming out from that, felt in a fantasy way like she was being birthed into this new world.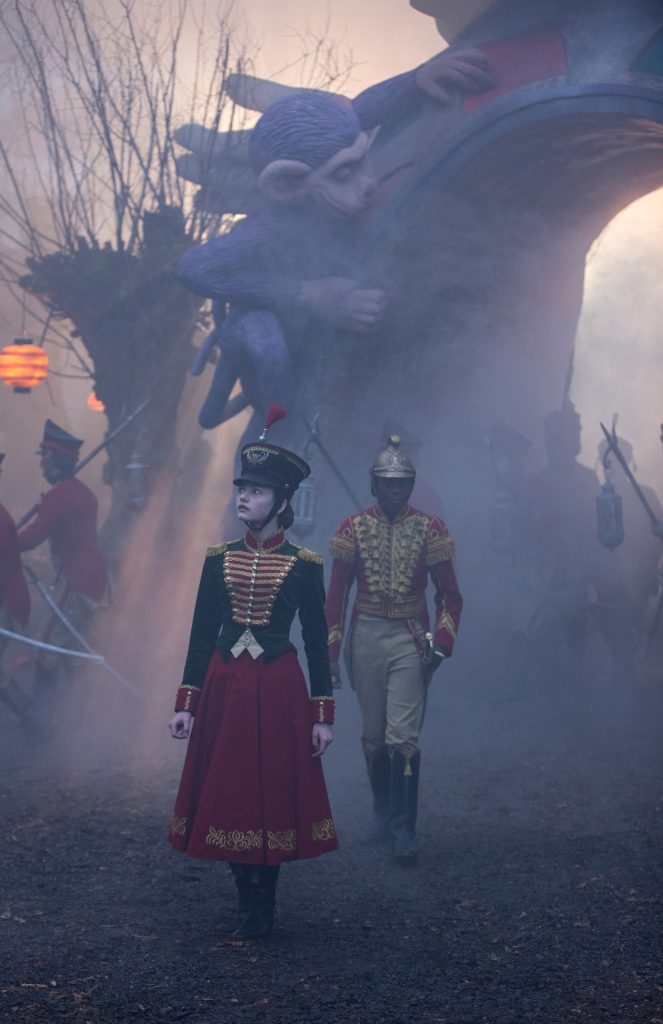 How did you arrive at the idea to film Misty Copeland's scenes in a classical ballet stage setting?
That really was the most exciting of the film for me personally as a designer. Really, the brief was very simple. It said in the script "insert dance number here." Working with Lasse Hallström and the choreographer, I designed what I thought would be the perfect ballet for our story. It's such a dense film, it's so much information to get across to a young audience very quickly. The ballet serves two purposes; we get to see the dance and how the realms were created. I started looking at the Victorian era, which was a time of invention. People were getting very excited about these greeting cards with a pop-up element. It suddenly occurred to me we could have Misty Copeland pop out of a mystery box, and the scenery could rise up around her.
All of those pieces of scenery are real, pulled up by stagehands. All the elements were purposely very old-fashioned. In the land of snowflakes there's a steamship and the camera sweeps behind and you see three men there, crouched, one is fanning a fire, one is turning a handle to move the steamship along, and a third one is wafting snowflakes around the front. It's comical but it also turns the ballet into a three-dimensional experience, where we peek behind the scenery and see the effort put into it. It's just a moment but it's so interesting. When [director] Joe Johnston joined the production for the latter part of the film, there was a layer of additional CGI work from Max and his team, and you'll notice more of everything—flowers, snowflakes—but the foundation of each of those worlds was there on a very black stage setting, purposely very bare, so that we created this almost surreal sense of going to the ballet. On a personal note, I was standing on the side of the stage and it was truly something to watch Misty Copeland dance, she's an absolutely incredible performer and ballerina.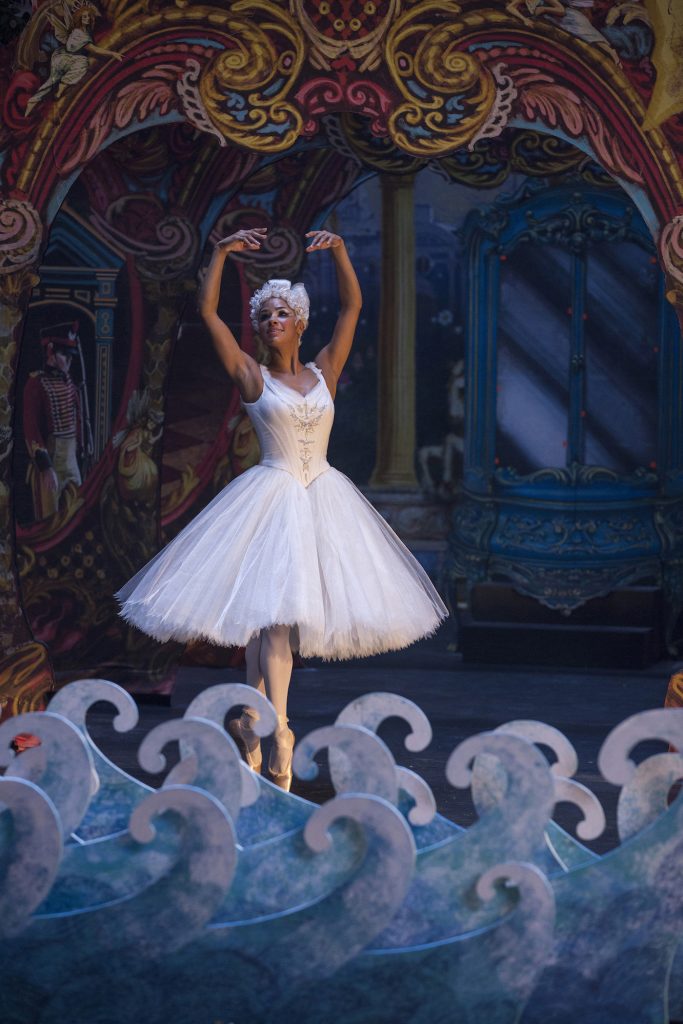 Where did you find your practical locations?
We had a lot of fantasy environments, but in particular, in establishing London in 1879, we really wanted to use locations to establish the city at that time, before entering the fantasy world. We used several locations, most notably the area around the Royal Albert Hall in South Kensington. All those buildings were basically the right period for us and were able to dress them for Christmas in the middle of the summer. We had sweltering temperatures and all our extras were dressed in hats and coats. When we moved onto Drosselmeyer's estate, that was called Minley Manor, which was on the outskirts of London. It was in the process of changing hands from the prior owners to an organization turning it into a hotel, so by chance, we were able to capitalize on this time, dip in, and use the estate. Again, it was the middle of summer, so if you look at Drosselmeyer's cobweb party and the gardens outside, all of that was fake snow and falling snow added beautifully by VFX. Finally, for some of the interiors of that same location, we used a college in London called Dulwich College—I think the great explorer Shackleton was an alumnus there. That school we used for the large ballroom set, with the quartet playing out of a rather eccentric sleigh. Again, we shot that in the middle of the day and had to create a feeling of night, put frost on the windows, and it was all trickery, as it always is. Everything else there was a set build, the corridors, and the adjoining rooms.
It was such pressure to try and realize every schoolchild's fantasy of what the Nutcracker would look like as a world. I felt a huge responsibility. Every kid who goes into the theater needs to leave the theater feeling, wow—I've seen the world of the Nutcracker.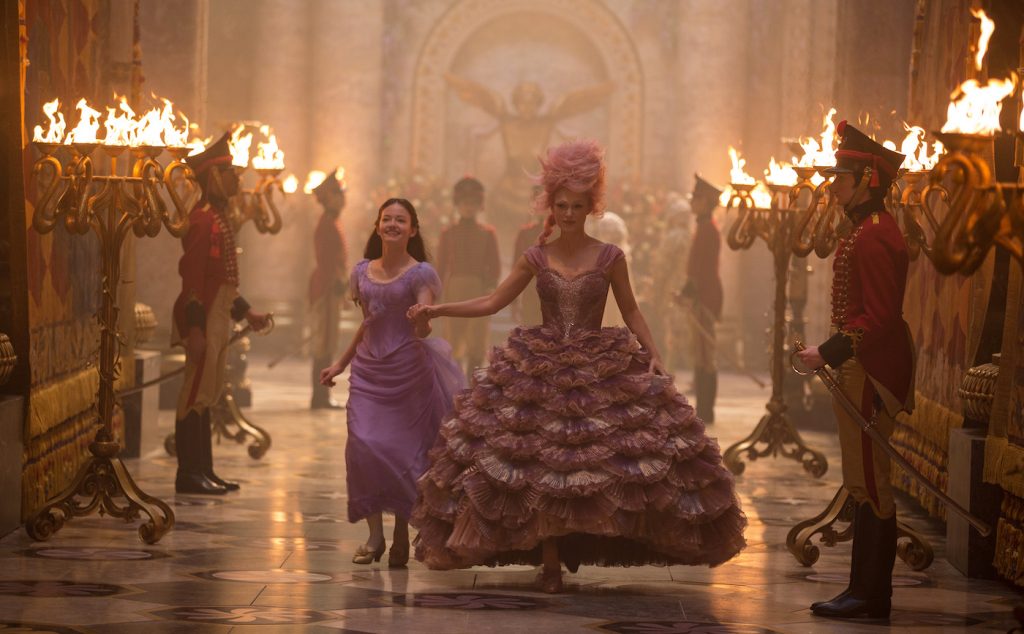 Featured image: Mackenzie Foy is Clara and Jayden Fowara-Knight is Phillip the Nutcracker in Disney's THE NUTCRACKER AND THE FOUR REALMS. Courtesy Walt Disney Studios