Passengers Production Designer Takes Trip to Outer Space
Two actors and one space ship command center stage in Passengers, the science fiction star vehicle opening December 21. Jennifer Lawrence and Chris Pratt hold up their end of the entertainment bargain as travelers on the Starship Avalon who wake up way too early during their 120-year voyage to a distant planet. To craft a backdrop equal to the performances, British production designer Guy Hendrix Dyas challenged himself to infuse the story's familiar trapped-in-space premise with fresh visuals.
Inspired by Jon Spaihts' script, Dyas already had pencil drawings in hand when he met director Morton Tyldum in Los Angeles to pitch himself for the job. "I flew down from San Francisco, where I was working on Steve Jobs, and sketched out my ideas for what the space ship would look like," Dyas recalls. "The design for the exterior of the ship started in the humble shape of a sycamore tree seed falling like a helicopter. I find that nature tends to build things a lot better than mankind, so why not go to the source?"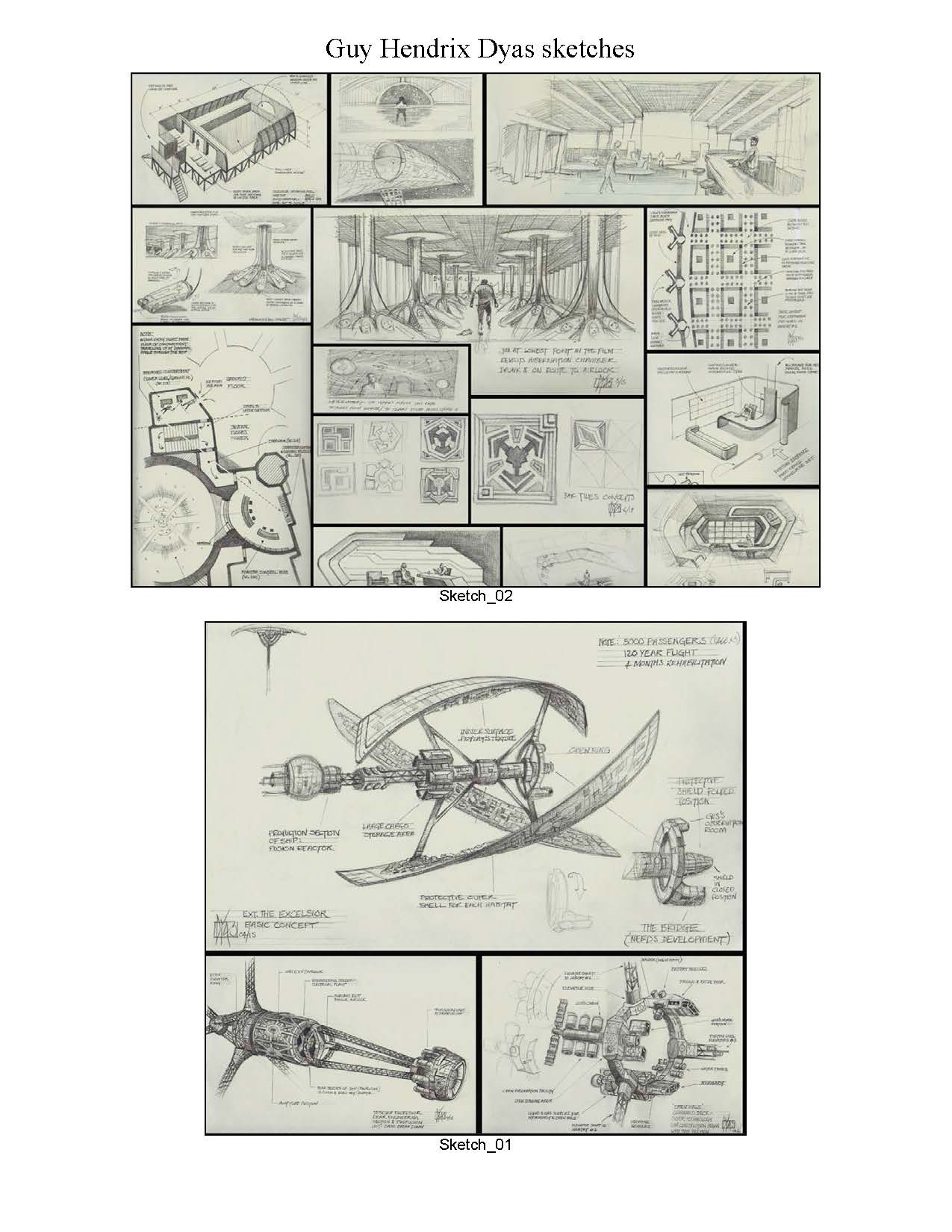 Tyldem hired Dyas on the spot, intent on shaking up standard Hollywood space ship aesthetics. "We both wanted to get off the well-trodden path of traditional sci-fi where you design a shiny metal box, establish one color scheme and keep it going through-out the whole design of the ship," Dyas says.
Instead, the Starship Avalon contains multitudes of mini-environments. "It's essentially a cruise liner with 5,000 passengers," says Dyas, who studied industrial design at Royal College of Arts and designed Sony's Sports Walkman radio before launching his film career as a concept artist at ILM. "The company in charge of this space ship wants to generate revenue from their customers so essentially what you have is a large shopping mall in space. This notion allowed us to broke the mold for typical space ship design by introducing vivid changes in color and texture. We placed all these slightly outlandish sets within the Avalon, everything from art deco bars and French restaurants to futuristic 3-D games and swimming pools.."
Dyas' exercises in space ship escapism include the elegant 1930's-style saloon where Aurora (Lawrence) and James (Pratt) meet for drinks. "In the world of Passengers, if you want companionship you have to go to this Art Deco bar," he says. "To make it seductive, I treated the set rather like a jewelry box decorated in rich red and gold, in contrast to these cold, antiseptic spaces you find elsewhere in the ship. We wanted the space to feel inviting so the audience understands why our characters going back there."
For other locations within the space ship, Dyas fused futuristic eye candy with rigorous form-follows-function logic. During the ten-week pre-production period in Atlanta, where the film was shot, Dyas and his team built luminous deep-sleep pods occupied by comatose "Passengers," mindful that that the travelers required daily infusions of Vitamin D. "Located in the middle of the sleep pods, there's an enormous halo above this rather elegant column which we called a pod tree," says Dyas. "Taking a scientific approach, we knew the human body light needs light if you want to preserve it so we came up with the idea of UV light at the top of the column. It simulates sunlight, feeds the skin Vitamin D and keeps it healthy. From a distance, these pod trees form a maze-like grid that almost look likes flowers opening up."
Equally surprising is robotic bar tender Arthur, played from the waist up by Michael Sheen. Rolling around on chrome wheels, he/it comes to life as a hybrid character, equal parts actor, analog gadgetry and digital re-construction. "Our special effects supervisor Dan Sudick built a rig to which we strapped Michael, and this allowed us to move him up and down the bar at top speed," Dyas explains. "The other end of the movie making trickery came from visual effects supervisor Eric Nordby, who digitally removed Michael Sheen's legs and replaced them with the design for the mechanism that came from our art department. We were all intertwined as part of this amazing team that helped realize the vision for Passengers."