Rami Malek on his Transformation into Freddie Mercury in Bohemian Rhapsody
Music reviewers ridiculed Queen's ostentatious and bombastic song "Bohemian Rhapsody" in the 70s, yet the song went on to become one of the most iconic (and unusual) rock anthems of all time. Now, in Bohemian Rhapsody, Rami Malek's interpretation of Freddie Mercury is intoxicating, thanks to a huge amount of research, a movement coach, and Malek's go-for-broke attempt to conjure one of the most original, talented frontmen in rock history.
"I'm just a musical prostitute, my dear," Malek purrs between draws of a cigarette, playing the flamboyant frontman with a prominent overbite. (As the film explains, Mercury was born with four extra incisors in the back of his mouth; a trait he attributed to his incredible vocal range. Malek dons prosthetic teeth for the role, veneers the actor has since cast in gold.)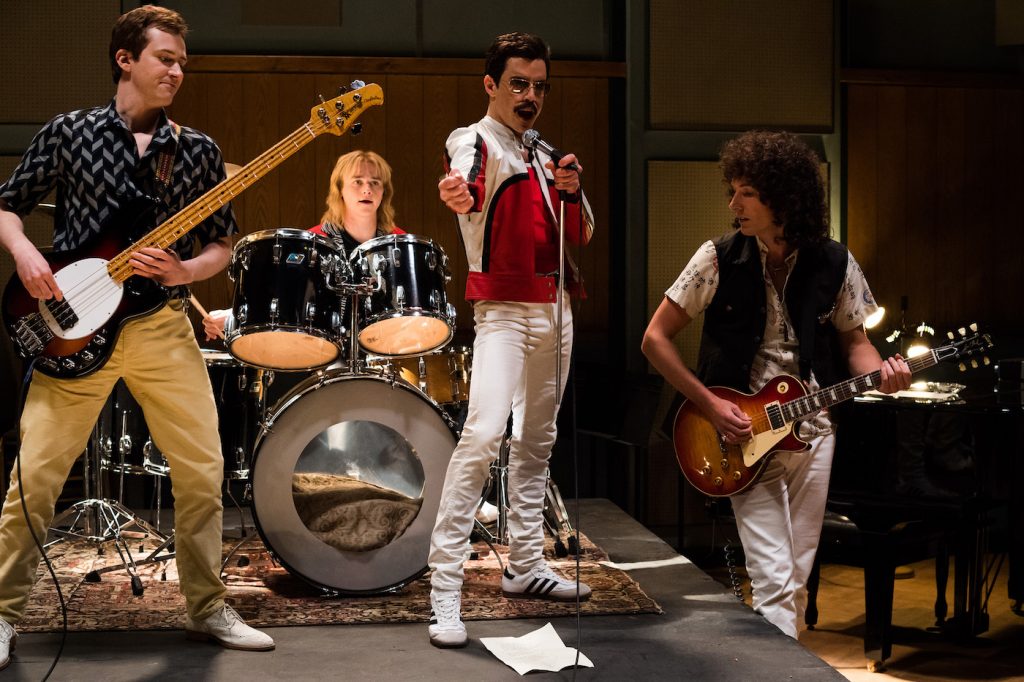 The film succeeds on a level of pure, voyeuristic pleasure. Watching Malek breathe life into Mercury's androgynous and stadium-commanding spirit merits a ticket alone.
"We throw this term 'rock god' out there, but he is a deity, he's an icon," Malek told veteran New York Times contributor Logan Hill during a post-screening discussion. The Times Talk premiere received a standing ovation.
The biopic—injected with Brian May's classic guitar riffs and Freddie Mercury's vocals, occasionally sung by Malek himself—pays homage to Mercury's decadence. Malek sought to perform the singer's presence at his unique "articulation." Eschewing choreographers, he worked with a movement coach to embody the extroverted singer's peacock-like strut and charisma. For instance, he practiced "skiing across the stage" and delivering a soliloquy of "Killer Queen" with the aristocratic air of Marie Antoinette.
"He wasn't choreographed, he was spontaneous in every moment," said Malek, who is known for his starring role as the vigilante hacker in the USA Network drama series Mr. Robot. "In fact, here's his quote: 'If it's planned, then it's boring.' And so, I thought, nothing can be planned."
Malek calls Mercury's refusal to be bucketed or marginalized "revolutionary," and he thinks that brazenness resonates with people today. "Oftentimes, when asked in interviews, he said, 'I'm just me.' No labels. I'm fucking Freddie Mercury and that's all that fucking matters," Malek said.   
Out of the limelight, his character development required more insight. "The guy gets on stage in a crown and a cape, and he almost levitates in a way. So it's really hard to discover who's underneath all of that. Where's the humanity in this human being?" Malek pondered in conversation with Hill.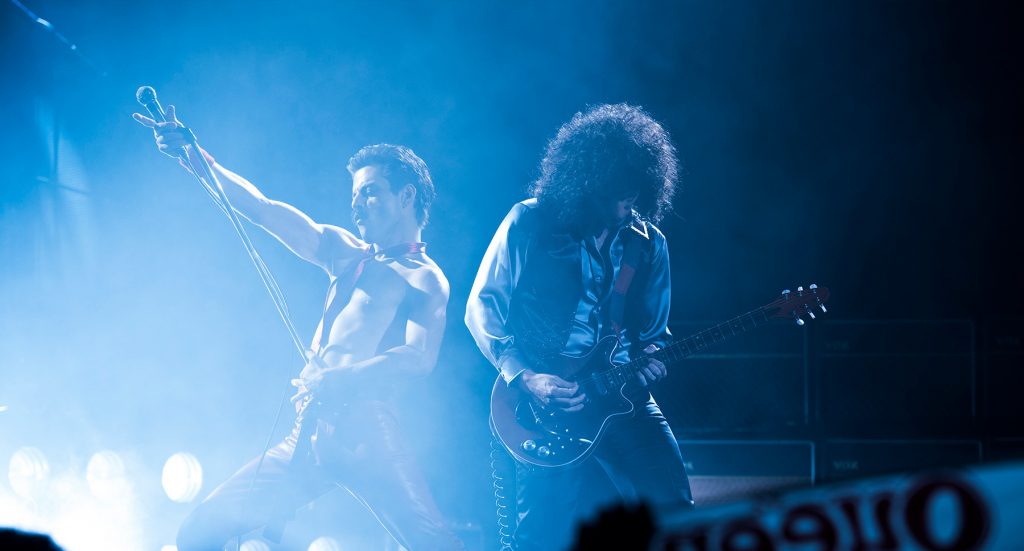 Unlocking the mystery of Mercury behind the glam image was exciting for the actor, who noted the significance of Mercury discovering his sexuality "in a time and place when the stigma of being anything other than heterosexual was horrific. There's this turmoil that's been brewing inside of him; there's a point when that needs to explode. He is Mr. Fahrenheit," Malek said.
The biopic Bohemian Rhapsody begins with the band's show-stealing performance at the Live Aid charity concert in 1985. It then flashes to 1970 when Farrokh Bulsara, who dubs himself Freddie, watches the band Smile perform in a London dive. Smile has just lost its lead singer, and Mercury swoops in at the right time.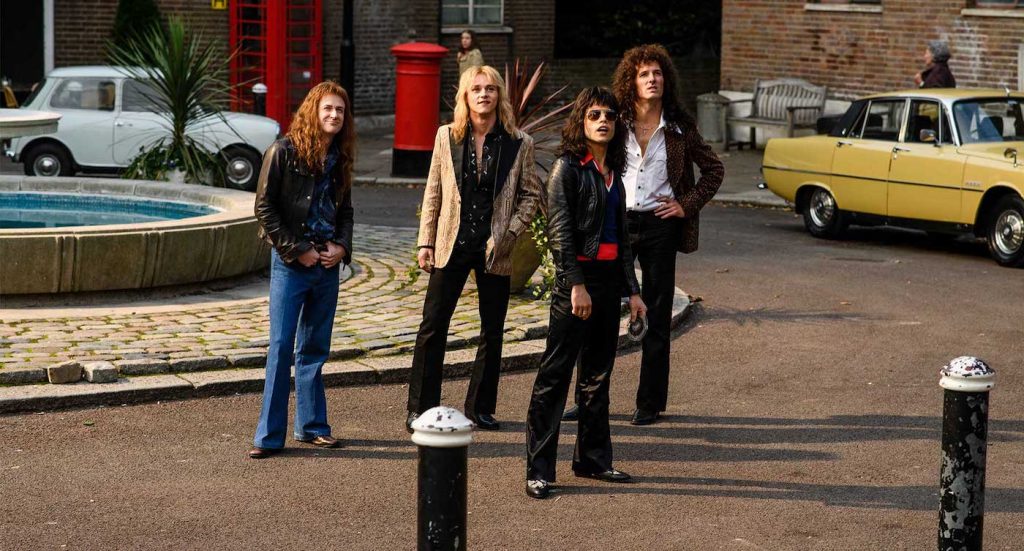 The Zanzibar-born Mercury had only recently arrived in London, at age 18. The son of Parsis from British India, Mercury learned English at a British boarding school in India, where he studied piano. "He's still a fish out of water, majorly," Malek said of Mercury in 1970. "His name's Farrokh Bulsara. He was called Bucky for most of his youth." (A nickname in honor of his buckteeth.)
Malek intimately identifies with the tension and obstacles Mercury faced as a first-generation immigrant. The Egyptian-American actor partly attributes Mercury's radical evolution—from Farrokh Bulsara to Freddie Mercury the superstar—to his immigrant ambition. "I set out to be an actor some, I don't know, over a decade ago. I think something was possibly burning inside both of us. We had aspirations to live our dream. And I'm getting a chance to do that right now in this very moment," said Malek, a first-generation American.
The debut of the song "Bohemian Rhapsody" serves as a turning point in the film, when the band skyrockets to international stardom while inciting derision from critics. The mock operatic masterpiece runs 6 minutes, a staggering length when radio stations allotted 3 minutes max per song. Emphatic about "Bohemian Rhapsody"'s genius, featured on their 1975-release fourth album "A Night at the Opera," Queen refused to modify or condense it.   
Their insistence on showcasing their unconventionality is a theme throughout the film. In the biopic, Mercury describes the allure of the quartet—including drummer Roger Taylor, guitarist Brian May and bassist John Deacon—as "four misfits who don't belong together."
Outcasts united, they appeal to the people relegated to the fringes of society. "He doesn't play to the front row; he always plays to the back to the cheap seats, because those are his people," Malek said.
Malek noted that he and the Bohemian Rhapsody cast received immense support throughout the filming process from the members of Queen. The movie explicitly identifies the bandmates as legends, a sentiment Malek echoes in interviews.
"Queen—they're going to outlast me and all of us," Malek said. "The defy every convention; they're a defining breed; they'll live on forever."
Featured image: Rami Malek stars as Freddie Mercury in Twentieth Century Fox's BOHEMIAN RHAPSODY. Photo Credit: Alex Bailey. Courtesy 20th Century Fox.Photo Credit: Alex Bailey. Courtesy 20th Century Fox.