Rami Malek Captures the Cosmic Energy of Freddie Mercury in Bohemian Rhapsody
If the average music biopic positions a microscope on a single character, Bohemian Rhapsody calls for a telescope. 'Queen' frontman Freddie Mercury is deserving of his chosen moniker. He's a celestial body that looms large in the lives of every character on screen with an irrefutable gravitational pull. He's bold, daring, brilliant, poised, and within moments you forget he isn't Freddie Mercury at all. Mercury was notoriously inimitable until Rami Malek pulled it off. The Mr. Robot star channels a once in a lifetime spirit that is truly mesmerizing.
Mercury's otherness is what makes him a star, but his lifelong relationships are what makes him a legend. He seems so far removed in his genius, but Malek never cuts the tether from his passion for the band, his family, and Mary Austin (Lucy Boynton). It is a delicate nuance that truly showcases Malek's range. There are a lot of performers who could be outrageous. There are very few who could capture both virtuosity and genuine human connection at once.
Mercury, of course, has an iconic look that was delivered by hair and makeup designer Jan Sewell and her team with immense attention to detail. Yet, four extra incisors do not a rock star make. Malek possesses a poise that transcends confidence. It borders on omniscience as if Mercury knows nothing of the pre-fame life he is living, but only of the iconic destiny ahead. The story feels almost as if it plays out backward. Mercury is already at the end and we have to catch up. There is a palpable haze around the early scenes that seem to clear away as Mercury fulfills his own vision. A visual clarity rings through the triumphant climax.
Malek's performance is the core of the film and also lives beyond it. The story itself is a byproduct of his existence. As a result, a familiarity with the true history of the band does not burden the adaptation. In fact, it makes it more fun. At one point, Brian May, played beautifully by Gwilym Lee, stamps his foot twice. The energy in the theater at once shifted as everyone moved to clap. The act means nothing to his bandmates, but more than thirty years later, the anthem remains a cultural phenomenon.
Despite the band's massive influence, director Bryan Singer clears away distractions and gives us direct access to the main attraction. Mercury doesn't even feel famous for much of the film. He acquires lavish things and there's an allusion to excess, but it is always about the musical history being made. There are several behind the scenes moments featuring the making of the famed tracks that have a Paul Harvey 'The Rest of the Story' vibe.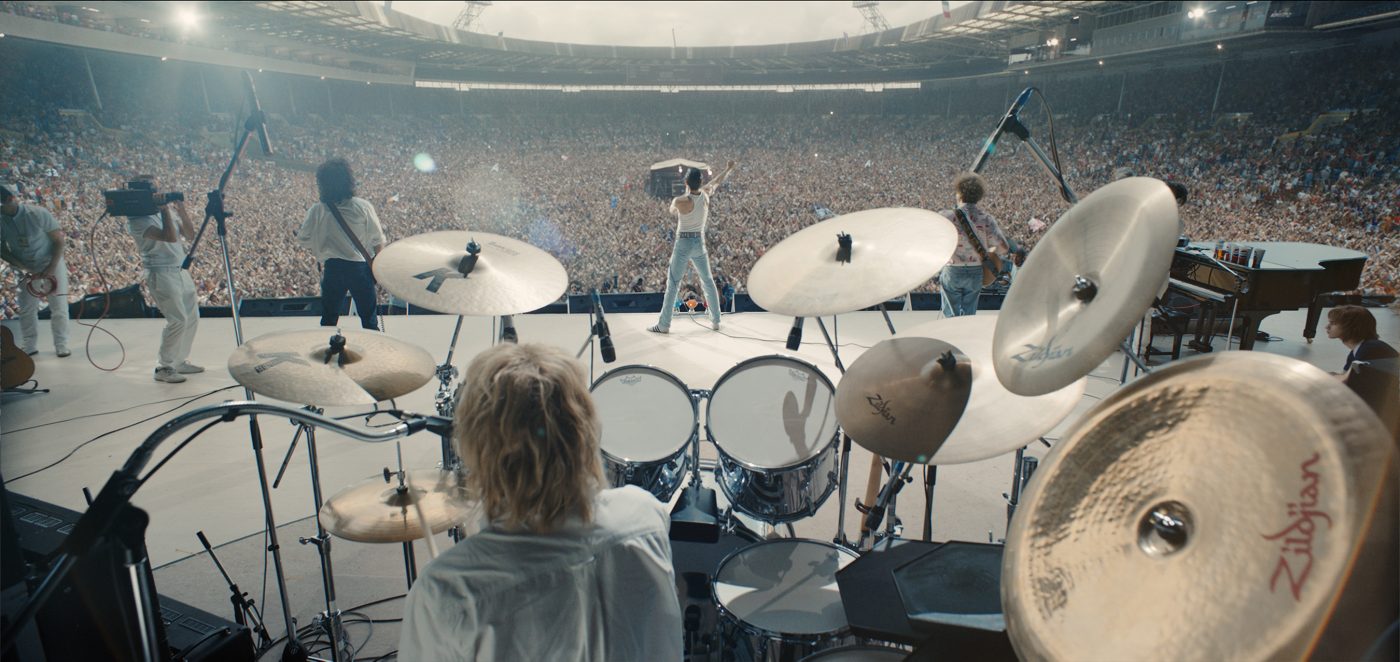 Bohemian Rhapsody is the antidote to the average bulky music biopic fare drenched in personal failure that threatens a burgeoning career. Of course, that's an element to Mercury's life, but he was almost so great his success was inevitable. The music scenes are stabilized by Gwilym Lee, Ben Hardy, and Joseph Mazello. They make for grounded bandmates and deliver rock-solid performances of their own. Lucy Boynton shines as Mercury's conflicted companion Mary Austin and holds down the most emotional scene of the film when she realizes love cannot protect someone you care about. Mike Myers offers a comfortable and nostalgic performance as the foil under heavy prosthetics.
It is something of a miracle to finally be seeing Bohemian Rhapsody on screen. The film was in production for years, and understandably so. How do you contain someone so explosively charismatic between the four borders of a screen? Singer had to take a cue from the film's subject and expel the rules. Bohemian Rhapsody starts off harried, but you soon realize the film is moving at Freddie's pace. There is a concert to get to, after all. Yes, that concert.
The film stages the immortal Live Aid concert in its entirety, which is the crown jewel of the film. After a blast of Queen highlights from over a decade, 20 minutes of music offers an opportunity to sit and soak in the realization that Malek has truly embodied one of the greatest entertainers in one of the most watched performances of all time. At that moment Malek truly earns the inevitable accolades.
Bohemian Rhapsody opens in theaters November 2.
Featured Image: L-R: Gwilym Lee (Brian May), Rami Malek (Freddie Mercury), and Joe Mazzello (John Deacon) star in Twentieth Century Fox's BOHEMIAN RHAPSODY. Photo Credit: Courtesy Twentieth Century Fox.