Behold Rami Malek as Freddie Mercury in First Bohemian Rhapsody Trailer
At long last, our first good look at Bohemian Rhapsody is here. 20th Century Fox has just dropped the first trailer for Dexter Fletcher's biopic, which follows the rise of the iconic British rock band Queen, starring Rami Malek as the legendary frontman Freddie Mercury. Bohemian Rhapsody tracks Queen's staggering ascent into the stratosphere of fame and fortune as one of the 1970s biggest acts (in a decade lousy with them), their near catastrophic fall, and their historic performance at Live Aid in 1985, called one of the greatest performances in rock history.
This trailer passes the goosebump test—if you can watch this nearly plot-free 90-seconds worth of music and not feel the hairs on your arm start to standup, perhaps you're not as big a Queen fan as we are. The promise alone of watching the titular song, their hit single that topped the UK charts for nine weeks and has gone on to be one of the most recognizable rock ballads in history, is worth the price of admission. Yet Bohemian Rhapsody promises to be more than just a glitzy "Behind the Music," and Malek looks—and sounds—fantastic as Mercury.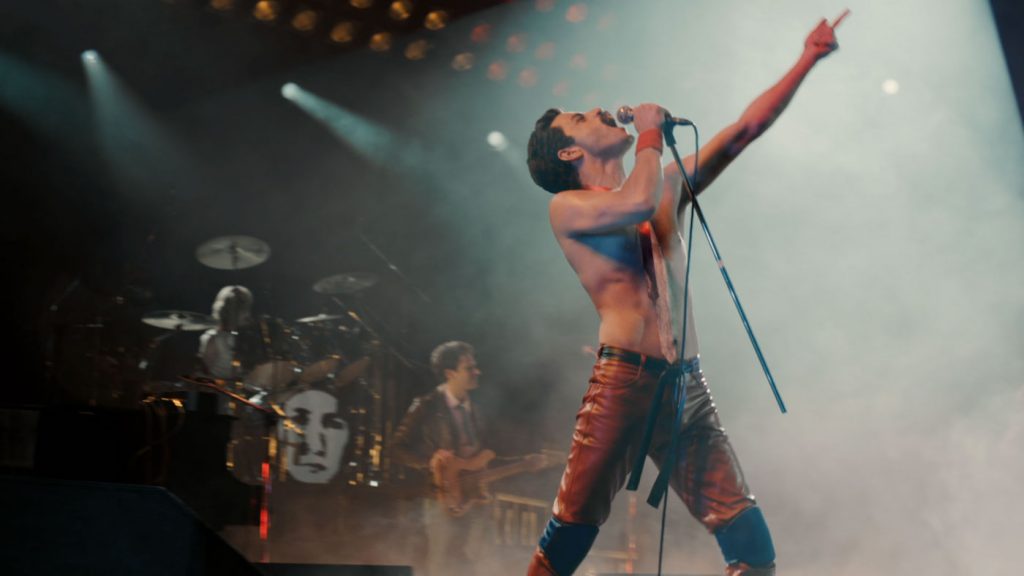 Bohemian Rhapsody has been in development for years, and while the wait has been fairly interminable, this first glimpse at the film gives us a lot of hope. The script is from Darkest Hour screenwriter Anthony McCarten, and stars Aidan Gillen, Tom Hollander, Lucy Boynton, Ben Hardy, Gwilym Lee, Joseph Mazzello, Allen Leech, and Aaron McCusker.
Here's the official synopsis:
Bohemian Rhapsody is a foot-stomping celebration of Queen, their music and their extraordinary lead singer Freddie Mercury, who defied stereotypes and shattered convention to become one of the most beloved entertainers on the planet. The film traces the meteoric rise of the band through their iconic songs and revolutionary sound, their near-implosion as Mercury's lifestyle spirals out of control, and their triumphant reunion on the eve of Live Aid, where Mercury, facing a life-threatening illness, leads the band in one of the greatest performances in the history of rock music. In the process, cementing the legacy of a band that were always more like a family, and who continue to inspire outsiders, dreamers and music lovers to this day.
Bohemian Rhapsody opens in theaters on November 2.
Featured image: Rami Malek as rock icon Freddie Mercury in the upcoming Twentieth Century Fox/New Regency film BOHEMIAN RHAPSODY. Photo Credit: Nick Delaney; Copyright © 2017 Twentieth Century Fox Film Corporation. All Rights Reserved